Abby always knew what kind of wedding she wanted - elegant, classic, decorated in soft colors, and accessorized with white roses. Her dream came true when she married her now husband Jonathon, and they hosted a timeless celebration in a picturesque, secluded park in the heart of Austinmer, New South Wales. We spoke to Abby about how she prepared for the wedding, as well as the love story with Jonathon.
How did you meet?
Our meeting is a contentious issue and one I try to hide... We are a Tinder couple disguised as "meeting at a pub". My husband and I lived one street away from each other but never crossed paths until our fateful online date. We also worked out we had some mutual friends so it is funny to think we had probably seen each other before.
Tell us a little about yourselves.
I am a primary school teacher and Jonathon is an electrician. We have a beautiful rottweiler named Bentley who takes up most of our spare time. We are both really social and love spending time with family and friends.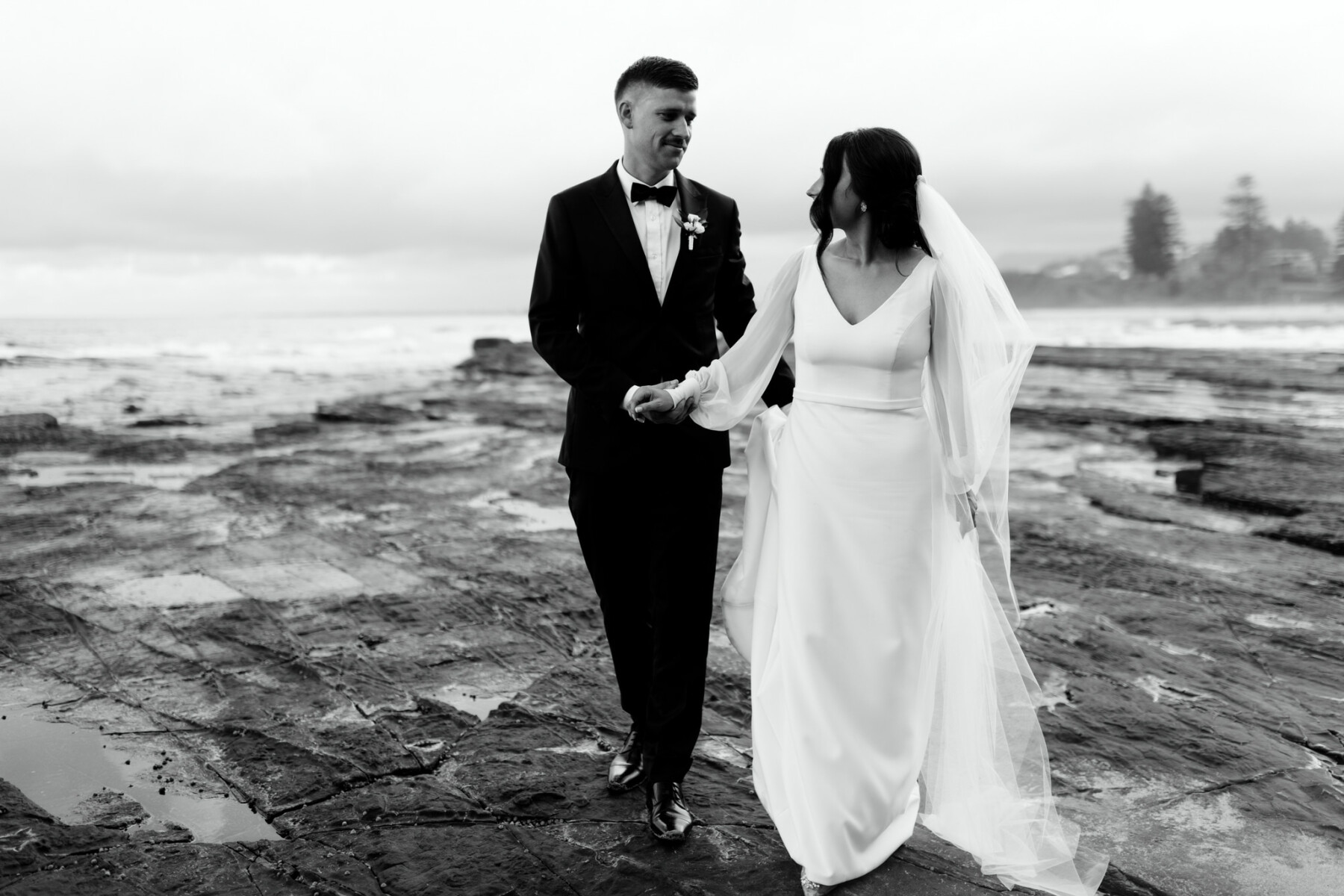 What was the concept behind your wedding and how did you find your inspiration?
I have always loved classic and timeless weddings that were not exactly "on trend" but would also never date. Since I was little, I have been obsessed with soft florals and in particular white roses. White roses always reminded me of both of my grandparents and their gardens so they have always felt special to me. Also as a bride-to-be, you tend to become captivated by weddings found on Instagram and other platforms. Every wedding with classic florals, bridesmaid dresses, and groomsmen's suits just stood out to us. Our overall look was soft, white florals with a white and black-tie theme. I just feel like it was perfect for both of us. We aren't really the type to do anything "wild" or out of the ordinary. It really suited our personalities. 
Where was your wedding? Why did you choose this venue?
We wanted a holiday area where guests would be able to feel like they had some time away. We have always loved Austinmer in Wollongong, my aunty lives down there and it's always felt like a special place to both of us. We found Glastonbury Gardens (where our ceremony took place) when we were driving around there one day and from the moment we saw it, we knew that that was where we wanted to be married. It still gives me goosebumps picturing it. 
How many guests did you have?
Growing up, I thought I had a huge family until I met my now husband. He takes the cake with nearly over 100 first cousins! So we had 155 guests which comprised mainly family members and our closest friends. We both wanted to make sure we really took in the atmosphere, so we went outside to have a quiet drink together and just watch our guests for a while. It is a feeling I'll never forget, seeing everyone you love altogether.  
Tell us about your outfits.
Firstly, if I could wear them every day, I would! For my ceremony dress, I really wanted something classic, timeless and elegant and that's exactly what Kelly from Atelier Rose designed for me. When I was shopping for wedding dresses it was peak COVID, so I was unable to try on anything or visit boutiques to look and try dresses on. It honestly worked out amazing and led me in finding Kelly! A true blessing in disguise, it was everything I had dreamt of since I was little. My second dress (because why not?!) I had a stunning feather piece from Rachel Gilbert. It truly was the perfect dress for a fun reception vibe! I absolutely am obsessed with feather pieces, so it truly was everything I didn't know I "needed"!
What was your first dance song?
We absolutely love the song "Everywhere" by Fleetwood Mac although we both aren't the most amazing dancers, so we decided on a cover of this song which was a little slower. It was by a band called Lusaint. It is such a beautiful song that encompasses how we both feel about each other. Halfway through our first song, my husband Jonathon surprised his mum and went and grabbed her from the audience, so they had a special dance too. My father-daughter dance was more upbeat to "Sweet Disposition" by The Temper Trap and I cannot wait to see the footage!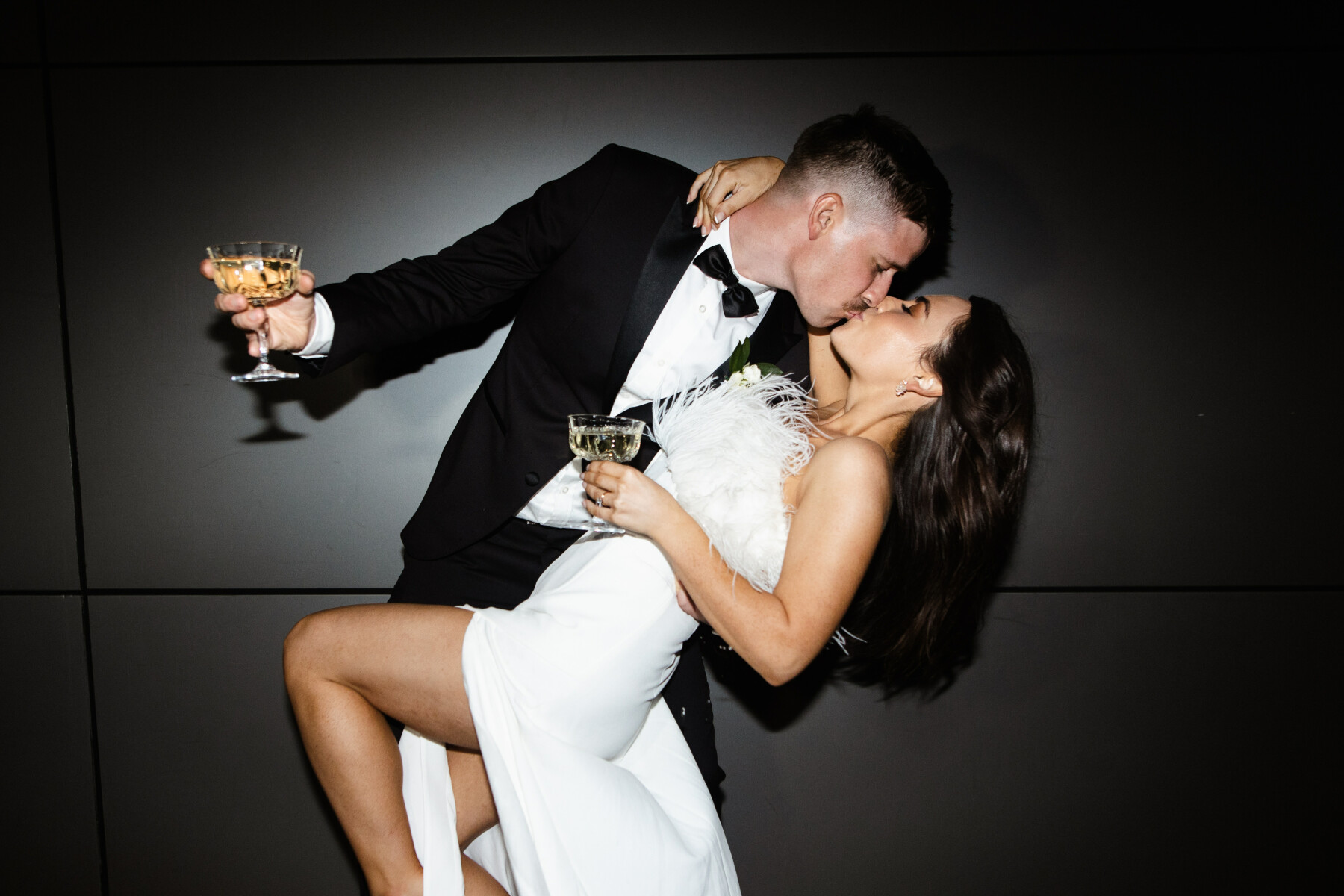 What flowers did you choose for the bride's bouquet and why?
I had white reflexed roses for my bridal bouquet and oh my goodness Steph from Nunu Designs made me burst into tears of happiness seeing them for the first time! They were the most beautiful flowers I had seen. 
What was your wedding cake like? And where did you order it?
We didn't have a wedding cake actually, we opted for a champagne tower instead! We already had dessert offered to guests, but we also thought it was so much fun to have a champagne toast. Funnily enough, it got knocked over and the photos of the tower are after this occurred and it had been fixed! It made for a funny story.  
Are there any vendors that you would like to tell us a little more about?
Yes! I will happily shout to anyone who will listen about our incredible vendors. Not only were they all insanely talented and exceptional in their field but they are also really beautiful people. They are all so kind and thoughtful and truly made the process stress free. I genuinely miss emailing them and chatting through ideas! I really couldn't recommend them enough. 
Bride @abbylouisebennett
Flowers & Styling @nunuau
Makeup and Hair @makeupbybonnielee, @mblbride
Videographer @bonnielassfilms
Photographer @houseoflucielove
Dress @atelierrose
Celebrant @marry_me_nicky