Ale and Michael are based in Los Angeles. They got engaged in Paris, the City of Love. And decided to celebrate their love with a wedding in the Loire Valley, in the magnificent Grand de Luce Chateau. We touched base with Ale to find out all the details on the planning process, as well as her love story with Michael. 
How did you meet?
We met when we were 19 years old, one summer in Chicago. It was the first day of "summer weather" (not the actual first day of summer). Everyone that lives in Chicago at least once in their lives knows that distinction, and that you look forward to that day all year. That year it happened in June. June 3rd to be exact (thanks Facebook), which I now realize was exactly halfway between my birthday and his. All of Chicago rushed to North Ave beach to soak up the summer we had all been patiently waiting for. We met through mutual friends. My roommate and best friend from college introduced me to two of her high school friends, one of them was Mike.
Later that day, we discovered that we had another connection — he went to college with my best friend from high school. It's as if we would've been destined to meet, one way or another. We ran into each other again that same night at a bar called Joe's. Our personalities clicked, and we slowly developed a friendship that we both would come to cherish. That is until Mike grew the confidence to ask me on a date, and the rest is history.
What do you and your spouse both do professionally?
We both work in private equity. I am the Director of Business Development for my firm and Michael is a private equity investor for his firm.
How long did you date before the proposal happened?
We dated for seven years before we got engaged.
Please describe the proposal.
He proposed in Paris, my favorite city. I thought this was just another one of our summer vacations, but little did I know he had planned the perfect proposal with help from my best friend, who had convinced me that she and her boyfriend were going to be in Paris by coincidence for a family event. We stayed at one of my favorite hotels in Paris, the Shangri-La. When we checked in, he got the front desk to pretend they had upgraded us because we were American Express Platinum holders. When we walked up to our room, I could not believe my eyes. It was an absolute dream — a perfect Parisian room with stairs that led to our own private rooftop patio with the most incredible view of the Eiffel Tower I had ever seen. I immediately called all my friends demanding that they all also get American Express platinum cards — they had the most unbelievable perks with upgrades like this!
The next day, we had plans to meet my best friend and her boyfriend for dinner. So we decided to spend the day walking around Paris and getting lost in my favorite city. When we got back to our hotel, I got a phone call from my best friend "having to cancel" our dinner but she assured me we would meet for drinks later…. "Maybe on your rooftop!". I was somewhat relieved as all the walking had made me exhausted. I told Mike I just wanted to stay in and order room service – which was all part of his genius master plan. We ordered room service from the restaurant downstairs and when they came in to deliver our meal they asked if we wanted to set up outside. "What a great idea!" I said. When they came down and told us it was ready, I walked up to a dinner scene out of a movie. White table cloth, perfect plating, and a beautiful meal coupled with the Eiffel Tower in the background. "Amex Platinum rocks!!!" I thought to myself again, as I couldn't believe our view and the level of service we were getting. After dinner and dessert, he got down on one knee and asked me to marry him. It was a feeling I really can't describe… a moment frozen in time. And of course, the answer was…. Duh! After our dinner, my best friend and her boyfriend came over with balloons and champagne and spent the night celebrating with us as the Eiffel tower lit up the sky.
How did you choose your wedding venue and aesthetic?
I wasn't one of those girls who started planning and dreaming of her wedding when she was little. But as soon as we were engaged, I knew I wanted to do it in France. We had a lot of special memories there and since we had friends and family scattered all over the world, we weren't tied to one specific location. I loved the idea of hosting our loved ones for an intimate weekend at a chateau, so I quickly got to researching. Chateau du Grand Luce was the first one I found, and although we ended up touring many, it was always the one. 
I've always been inspired by Sophia Coppola's rendition of Marie Antoinette. The juxtaposition of traditional and modern depictions of the era created by scenes with limited dialogue and bold, contemporary music was something that always stuck with me. The Chateau itself incorporated those elements perfectly. A historic chateau built in the 1760s surrounded by a medieval wall and perfectly manicured classic French gardens, with an interior filled with striking, modern wallpapers. It checked every box. I wanted everything else to be complimentary. Delicate yet bold. Classic yet contemporary. And always with a touch of something that added a bit of je ne sais quoi.  
How did you choose what you wore? Can you walk us through your thought process for clothing, jewelry, and beauty? What did your spouse wear?
The thought process for my dresses was very similar to that of my wedding planning. I drew the same inspirations. I wanted something classic and romantic but added my own design elements to each dress to make it my own and a bit more "modern." I opted for custom Monique Lhuillier dresses for my rehearsal dinner, wedding ceremony, and reception. I wanted to let the dresses do the talking, so when it came to jewelry, hair, and makeup I kept it very minimal. 
Mike wore a full Tom Ford look — tux, shoes, shirt, and bow tie. He chose to do navy as it was classic yet youthful, with a bold shawl collar.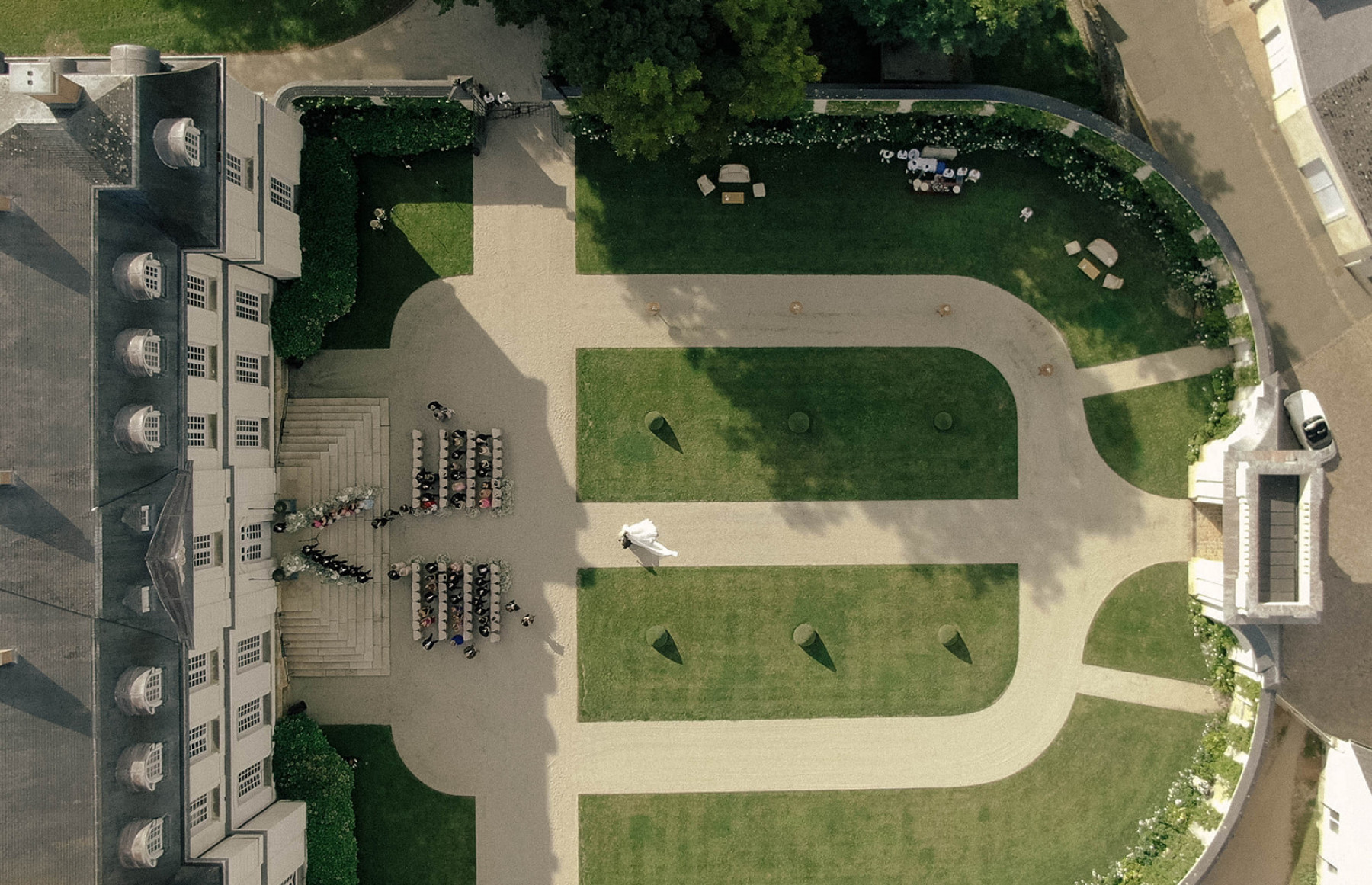 What did your wedding party wear? 
I wanted my bridesmaids to look and feel their best. "Look so good you make me wish I was wearing your dress instead of mine" was the vibe. I wanted everyone to look beautiful and individual. Pink, powder blue and black (again playing on the theme of the weekend — juxtaposition) was the color scheme and I let them pick any dress they wanted. And they nailed it — they looked perfect. The groomsmen wore black tuxes with peak lapels, in order to contrast Mike's navy tux with a shawl collar.
Please describe the ceremony.
Our ceremony was in the front garden of the chateau, right out of a French storybook. It felt romantic and traditional, so I decided to add boldness with unexpected music. Instead of the conventional wedding instrumentals, Michael and our wedding party walked down the aisle to Bittersweet Symphony by the Verve. Then, through the front entrance as the doors slowly opened, Big Jet Plane by Angus and Julia Stone played as I walked down the aisle with my dad. It was perfect. It was an intimate moment, surrounded by all the people we love, in our favorite place.
How did you feel during the ceremony?
I felt calm. I can easily get anxious in big moments, but there wasn't an ounce of it on the big day. It felt like I was exactly where I was supposed to be, doing exactly what I was supposed to be doing. I've always been a big procrastinator, so in the spirit of staying true to myself, I wrote my vows an hour before the ceremony and never actually read them out loud. So I expected to be nervous when it was time to deliver them in front of all my friends and family… but again all I felt was calmness. Walking down the aisle hand in hand with my dad as I looked and saw Michael, standing next to his best man — my twin brother was one of the most special moments I have experienced.
Please describe the reception. What was served? Was there dancing/entertainment? Were there toasts? If so, who gave them?
The reception was on the other side of the chateau, in the center of the gardens. I wanted a long table so it would feel like we were hosting an intimate dinner party instead of a wedding. Abundant florals filled the tables, spilling over the sides. I chose gypsophilas — white, clean, and simple, contrasted with black accents — black candles, black chandeliers, and black bows.
We wanted to deliver a gastronomic experience to our guests, and the chateau delivered exactly that. We served tomato chutney with mozzarella di buffalo pannacotta and Jamon Iberico as an appetizer, followed by a filet topped with foie gras, seabass, roasted duck breast, or vegetarian polenta. For dessert, we served a vanilla tart with a strawberry mouse.
We had a wonderful band play all three days. We had three toasts during the reception—my dad gave one of them, my maid of honor and the best man, who was actually my twin brother! 
What song did you dance your first dance to?
Since we first started dating in college, we'd spend a lot of our weekends out at clubs together while the song Cinema by Benny Benassi was blasting through the speakers. That song always reminded us of our beginning, so we opted for the acoustic version of Cinema by Gary Go.
What was your favorite part of the reception?
My favorite part of the reception was looking down at our long table, and seeing all the people that we loved sharing a meal together, having good conversations, and lots and lots of drinks! I wish I could host that dinner every weekend.
What happened after the reception?
At the end of the dinner we surprised our guests with a champagne toast and the most beautiful display of fireworks—as one of my favorite songs played- Ella es mi fiesta by Carlos Vives. All our guests are still talking about that moment!
After that, I went upstairs with my bridesmaids to change into my second look, while our guests made their way to the after-party in the ballroom of the chateau. The band played on stage all night—it felt like we were at a concert. We danced until morning and powered through thanks to our late-night burgers and fries that we surprised guests with after midnight. And the wedding cake! 
Where did you go on your honeymoon?
We started out in the Seychelles and then went on safari in Kenya and Tanzania.
Bride @aleamesquita
Groom @mdursk
Wedding Planner: @matthew_oliver_weddings
Venue @chateaudugrandluce
Photo & Video @baileyannoriginal
Florals @floraisonparis
Entertainment @salutband
Beauty @allisondepmuah
Catering & Cake @syniesparis
Stationery @emilyandjo