Time-tested love, the closest people on the guest list, the breathtaking nature of Okanagan Valley, and an enogastronomic dinner. We got all the details of Alexandra and Alby's wedding as well as their love story first-hand. 
How did you meet? 
Alby had gone to Toronto for a friend's wedding and ended up going to a friend's house party (one of his best men). He met one of my best friends at the party who thought he was very cute and made some passes at him and soon realized that Alby was not interested. So immediately, he thought of introducing us as he thought we would hit it off. Several text messages and one semi-blind date later - here we are today, almost eight years later.
How do you spend your quality time?
We always loved to travel together, and since relocating to West Coast we love to hike - those gorgeous British Columbia mountain and ocean views never disappoint!
What was the concept behind your wedding, and how did you find your inspiration?
When we first met with our lovely wedding planner Beth from Sweetheart Events, we told her that we really wanted our wedding to feel like this was a celebration for our closest friends and family as much as for us. We truly wouldn't be there if it wasn't for all of them and the individual impact they all have had on us, both as individuals and as a couple. We wanted the event to be as informal as possible and for a party atmosphere to be felt from the beginning. To kick it off, as soon as guests arrived at the venue they were greeted with drinks and a DJ playing house music in the background. And this vibe carried through the night, from the ceremony to cocktail hour, the reception, the party, the after party, and the after-after party. Esthetic-wise, we prefer effortless and modern decor. The venue was so beautiful, with modern landscaping, and gorgeous views of the Okanagan Lake and vineyards, so we leaned into it and tried to carry that same aesthetic into florals, linens, and table settings. The color theme was soft white linens, with gold details in flatware and candleholders all tied together by field flowers in small vases scattered around the tables.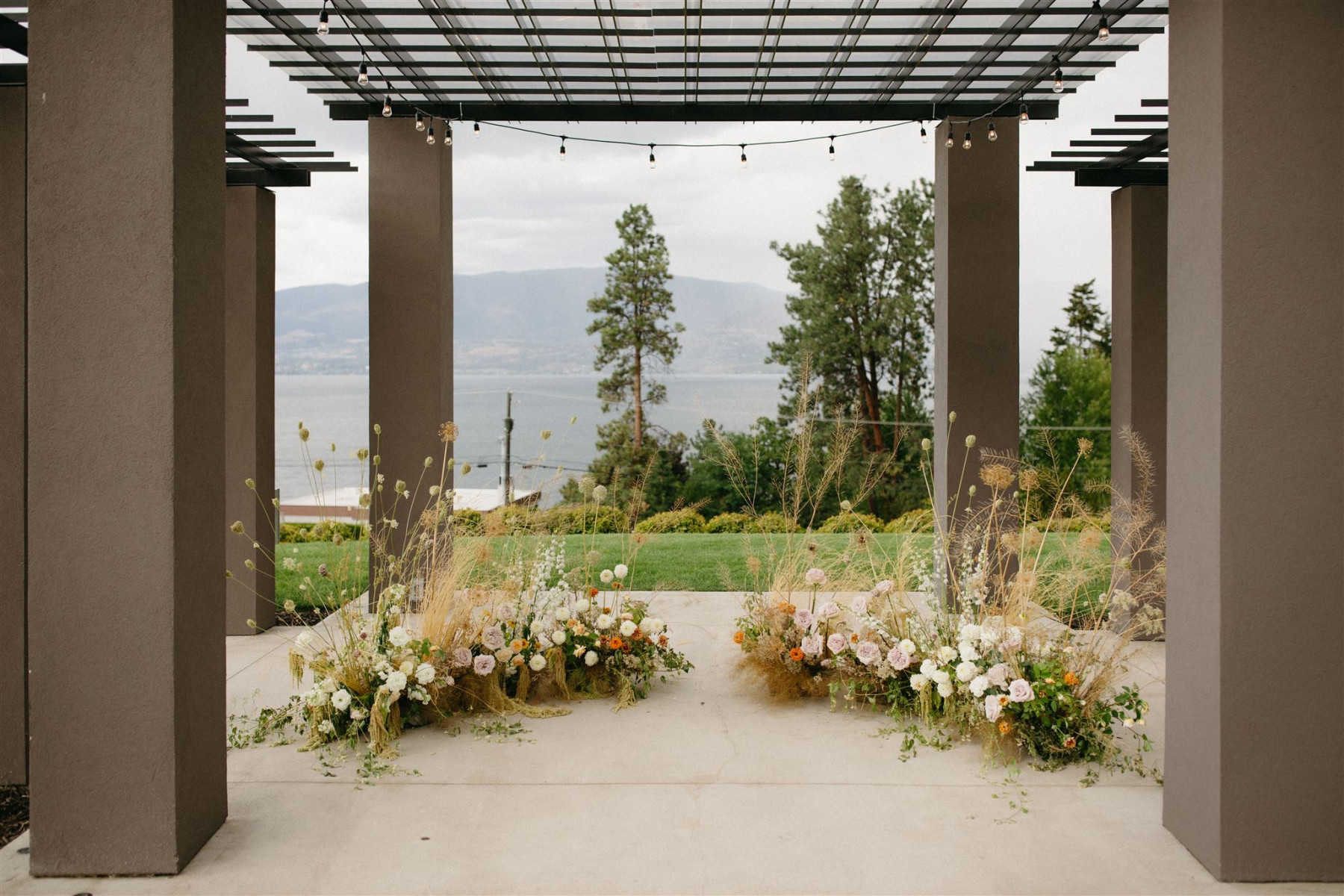 Where was your wedding? Why did you choose this venue?
Our wedding was at CedarCreek Winery in Kelowna, British Columbia. We went for dinner at their amazing CedarBlock restaurant last summer and were blown away by the amazing food and wines and just had the most perfect evening. So when we started to plan our wedding in February 2022, I decided to shoot my shot and see if by any chance CedarCreek would have any availability left in 2022. When they told us that they still had one Saturday left this summer, we knew we had to go for it.
How many guests did you have?
We had about 65 guests at our wedding. It felt very intimate.
Tell us about your outfits.
Because we started planning our wedding about 6 months before our wedding date, we quickly found ourselves limited in options. I have to shout out the lovely team at Everly Bridal who helped me secure the Dove by Katherine Tash gown that matched my vision of a simple, modern and timeless gown. My veil was by Atelier Elise, a local Vancouver accessory designer. After our first dance, I changed into a mini dress I picked up from Mango that was perfect to dance the night away.
Alby wore a two-piece tux, custom-made by Style by Sarai. Alby has been friends with Jason Sarai since their university days, so it was a bit of a full circle moment for them, having Jason design Alby's tux all these years later. The shirt, suspenders, and bow tie were also from Style by Sarai. Alby also wore cufflinks with his aquamarine birthstone, my gift to him from my trip to India a few years back. 
What was your first dance song?
"Just the Two of Us" by Glover Washington Jr. and Bill Withers. Halfway through the song, our DJ sped it up in to dance remix to kick off the dancing and lure all of our guests to the dance floor.
What flowers did you choose for the bride's bouquet and why?
Our florist Emma from Keep Floral chose garden roses in soft peach, blue tweedia, white dahlias, scabiosa, and camelia for my bouquet! We wanted to make it very light and whimsical and not too structured. To make it extra special, Emma grew almost all the flowers herself, for our wedding at her farm on Denman island
What was your wedding cake like? And where did you order it?
Cake for Breakfast made us the most delicious coconut-based cake with lemon cream and fresh raspberry filling.
Wedding Planner @sweetheartevents
Venue @cedarcreekwine
Photographer @tessashannonphoto
Florist @keep.floral
Wedding dress @katherinetashbridal @everly_bridal
Tux @stylebysarai
DJ @selectaabel
Cake @cakeforbreakfastbc