Averie and Tim did not want their wedding to be a pompous celebration with overwhelming decor and a strict program. The couple got married in a church surrounded by loved ones and then arranged a stylish modern reception in one of the best hotels in Des Moines. We asked Averie about how it was, as well as learned more about her love story with Tim.
About the bride & groom
She's a small-town girl from the humble midwest. He's an east coast guy with deep Boston roots. The entertainment industry called them both to 'The City of Angels' – Averie as a professional dancer and Tim as an actor/writer/director. They chased their dreams and found each other.

How did you meet? 
Our first encounter was in typical East Coast fashion: starting a debate over sports. He's a Celtics fan, she was dancing for the Lakers at the time. Tim thought it necessary to advocate for his team. He had the Boston accent she wasn't ready for, she had the quick-wit he definitely wasn't ready for. She smiled. He laughed. The rest is history.

What are your hobbies?
We have a French bulldog (Kevin) – he's our hobby. And then some others like going on coffee dates, watching old funny sitcoms, seeing our family when we can, playing tennis. We also have nightly games of Rummikub which can get competitive since we keep a running score (she's winning).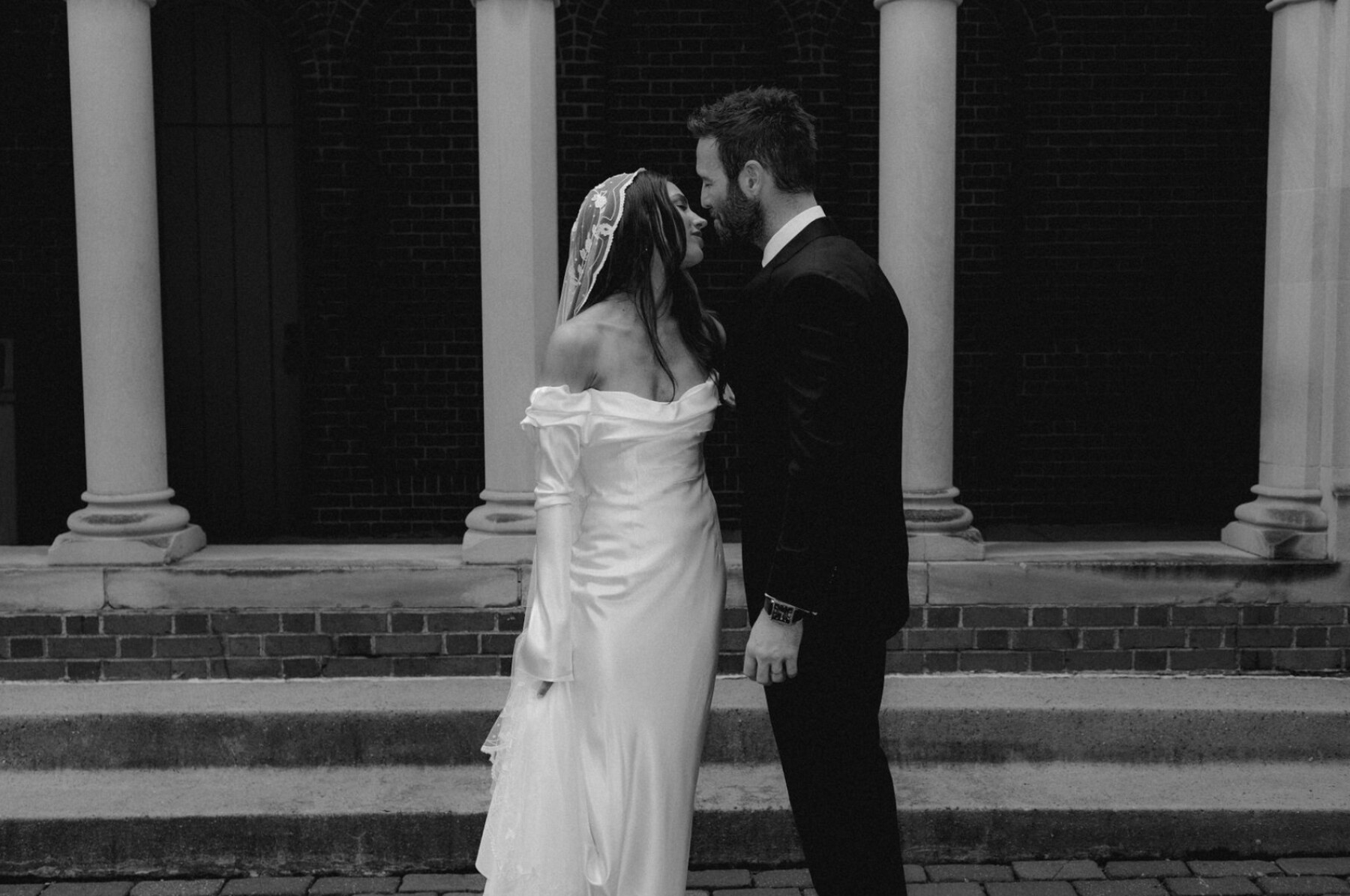 What was the concept behind your wedding and how did you find your inspiration?
We initially were thinking of doing our wedding abroad because we wanted that south of France setting. Doing a destination wedding however meant restrictions around the pandemic as well as restrictions on who could be there with us. If we couldn't bring all of our loved ones to Europe, we were going to try to bring Europe to them. Our aesthetic also leans into minimalism, so that was another style note about our wedding. For example, in the church, we did nothing - no flowers, no candles, literally nothing. This Cathedral was so stunning it didn't need it. But the main note of focus for our entire wedding was love. We wanted everyone to experience and feel its presence. It was just a day filled with love and it filled up every space. We brought heart to the heartland.

Where was your wedding? 
Our wedding was in Des Moines, Iowa. Averie grew up there and it was a good halfway point for all our coastal guests. The ceremony was at St. Ambrose Cathedral and our reception was at The Tea Room. Tim was raised in the Catholic Church and we wanted a formal, traditional ceremony. And when you see this Cathedral, it speaks for itself. The second we walked in, we were swallowed up by its grandeur. We adored our reception venue because of its history. The original Tea Room was the social spot of the 60s until an unfortunate fire almost demolished the entire space. It was saved and restored to its former beauty by honoring timeless architecture. There was also personal history for the bride's family, as her mother still remembers going as a child with her mom, Averie's grandma.
How many guests did you have?
We had around 90 guests.

What was your first dance song?
'Into the Mystic' by Van Morrison.

What flowers did you choose for the bride's bouquet and why?
Our flowers were all white with some natural greenery. All the florals were unmanicured; we wanted them to be natural and effortless.

What was your wedding cake like? And where did you order it?
The cake was made by DORE; called a "naked cake" because there wasn't an outside layer of Fondant, which neither of us cared for. Additionally, you could see the layers of cake and cream filling, with fresh berries on top. Our request was not an easy one wanting it dairy-free, gluten-free, and sugar-free. But it turned out amazing and everyone was able to enjoy it. Our cake topper was vintage.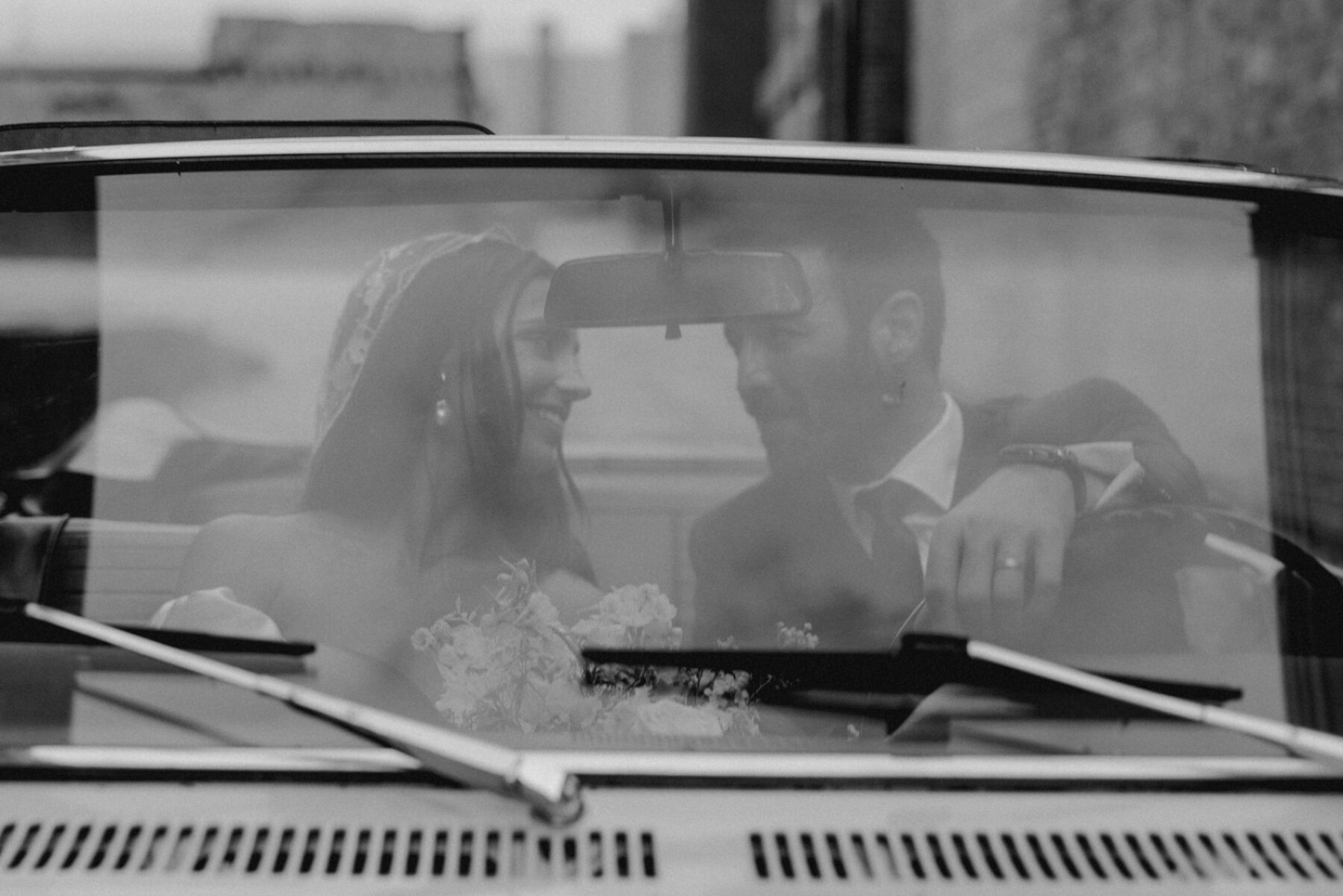 Are there any vendors that you would like to tell us a little more about?
We are absolutely grateful to our photographer Anna Jones. She came through for us last minute and it couldn't have been more fateful. Her artistic eye is unmatched. Planning a wedding is in itself an undertaking but planning one thousands of miles away is nearing impossible. Taylor Boesen and her team at White Willow Events made everything possible. She was the reason we could have our day to enjoy and just altogether heaven send. There's no way we could sing her praises loud enough or thank her enough. Our caterer Trellis was so good! True professionals at what they do. We are somewhat high maintenance when it comes to food and they went above and beyond to produce exactly what we wanted. The accommodations where we stayed, Surety Hotel, was gorgeous. Staff and customer service is 10/10. And when we say dream bathrooms… The guys from KC Flo band brought it. So fun, so talented! Had everyone on the dance floor - and we mean everyone; uncles who 'never' dance, and 87 years old grandparents who were the last ones on the dance floor. We didn't want the cliche style wedding video, we wanted someone more like a vintage short. We chose Jon Danovic. Being an actual director working in Hollywood, and a friend of the groom we got just that. Tim's dad watches it (even more than us!) like his favorite movie. It deserves a spot at Sundance, but we may be biased. Rosalin Blackman from Antique Lace Heirlooms is overseas and still worked with me to make stunning custom veil by hand out of antique Belgium lace. Make-up artist Nia S. Joy is the real deal. She flew in, woke up at the break of dawn, did everyone's face by herself, and turned around to jump on her plane. Her energy is what you always want around you and especially on your wedding day. Made everyone feel good on the inside and outside. Hairstylist Jaycee Mnirajd is in one word kind. In two words, kind and talented. So easygoing and calm and also did the entire wedding party solo. Would hire him a million times over. 

Bride @ladyahah
Groom @fieldst20
Planner @whitewillowevents
Photo @annajon.es
Video @jdanovic
Venue @suretyhotel
Gown @daniellefrankelstudio
Tux @jcrewmens
Band @generationrelevant
Cake @dorebyletao
Muah @niasjoy, @jayceemnirajd