Bianca and John's wedding was all about an electrifying tone. The couple's passion for music took center stage, with unforgettable performances including singing "Tusa," a shaking dance floor during "Pepas," and a surprise appearance by the legendary Sugar Hill Gang. The festivities extended into the early morning hours with a New Orleans second line that kept the celebration alive until 3 am, making it a night no one wanted to end. Explore more details of the wedding in Bianca's interview and photos by THE WED members Love Bears.
Tell us a little about yourselves. 
My husband and I, John Leglue, met during our freshman year of University. We were both student-athletes at Tulane University in New Orleans. I was a volleyball player, and John was a football player. Naturally, as student-athletes, we ran in the same circle but never truly had the chance to get to know one another. It wasn't until the end of our first year at university that John finally made a move. He spotted me outside of our university bar, and with a little bit of liquid courage, he finally asked for my phone number. We built this incredible bond that eventually led to where we are today.
What do you do for a living?
After university, John pursued his dream of playing in the NFL. He is now entering his 5th year in the league. The best part of finding the love of your life at such a young age is watching their dreams unfold right alongside you. I've been cheering John on for the past 10 years, and I can't wait to continue to do so for the rest of our lives.
I work in Marketing for Boston Children's Hospital. I am the Paid Search Manager and thoroughly enjoy my job. I have a passion for all things creative, so naturally, I fell into digital marketing. Fortunately, I've had the privilege of working from home for the last few years, so I have the flexibility of traveling to John's games and moving from city to city with him.
What are your hobbies?
Our hobbies include a lot of traveling, eating, cooking, spending time with our dog (Disco), and more eating. We are self-proclaimed foodies (like everyone else now, haha). We love to travel and experience other cultures through their food.
Can you share your engagement story?
Here's our engagement story as written by my husband for our wedding website:
"When you know, you know." I heard that quote used time and time again, and it was always difficult to understand what it truly meant. How do you truly know someone is the one for you? But then Bianca walked into my life, and I finally understood. There are no words to describe that immense feeling of knowing that this is the person you're meant to spend the rest of your life with.
Trying to decide how I would propose was tough. We were living in Pittsburgh when I purchased the engagement ring. I bought it back in October (2021), and it was now late December (2021). Those 2 months of picking the "perfect time" to propose were stressful. I was so eager and ready! The original plan was to propose in the offseason on our trip to Europe, but I decided I did not want to wait that long.
It was New Year's Eve, and for the weeks leading up to it, I had told a few of my teammates about my proposal plans. I was getting frustrated because every time I tried to plan something, it would fall through. My teammates assured me, "John, you will know when the timing is right." So on New Year's Eve, I had left the practice facility and decided that today was going to be the day.
Because it was NYE, we had plans that night to go to a really nice dinner with the best view of Downtown Pittsburgh. The next day, my whole family, as well as her family, were also coming into town for the Steelers game. I realized that if I proposed then, we would get to celebrate all weekend long with our friends and family. The timing finally felt perfect.
So on NYE, I get back to the apartment ready to somehow convince Bianca to go on a walk with me but realize that Bianca and Disco were already on their way to the dog park. I called Bianca and told her to wait for me. When I got outside, my heart was racing because I had grabbed the ring from my shoebox. Bianca looked beautiful like she always does, and we began our walk to the dog park. We were talking, and Bianca had told me she was contemplating posting on her social media `Top 10 memories of 2021". I thought to myself, "you may have to hold off from that." As we were walking Disco, I just kept looking at Bianca and thinking, "I cannot wait for her to be my wife/best friend forever."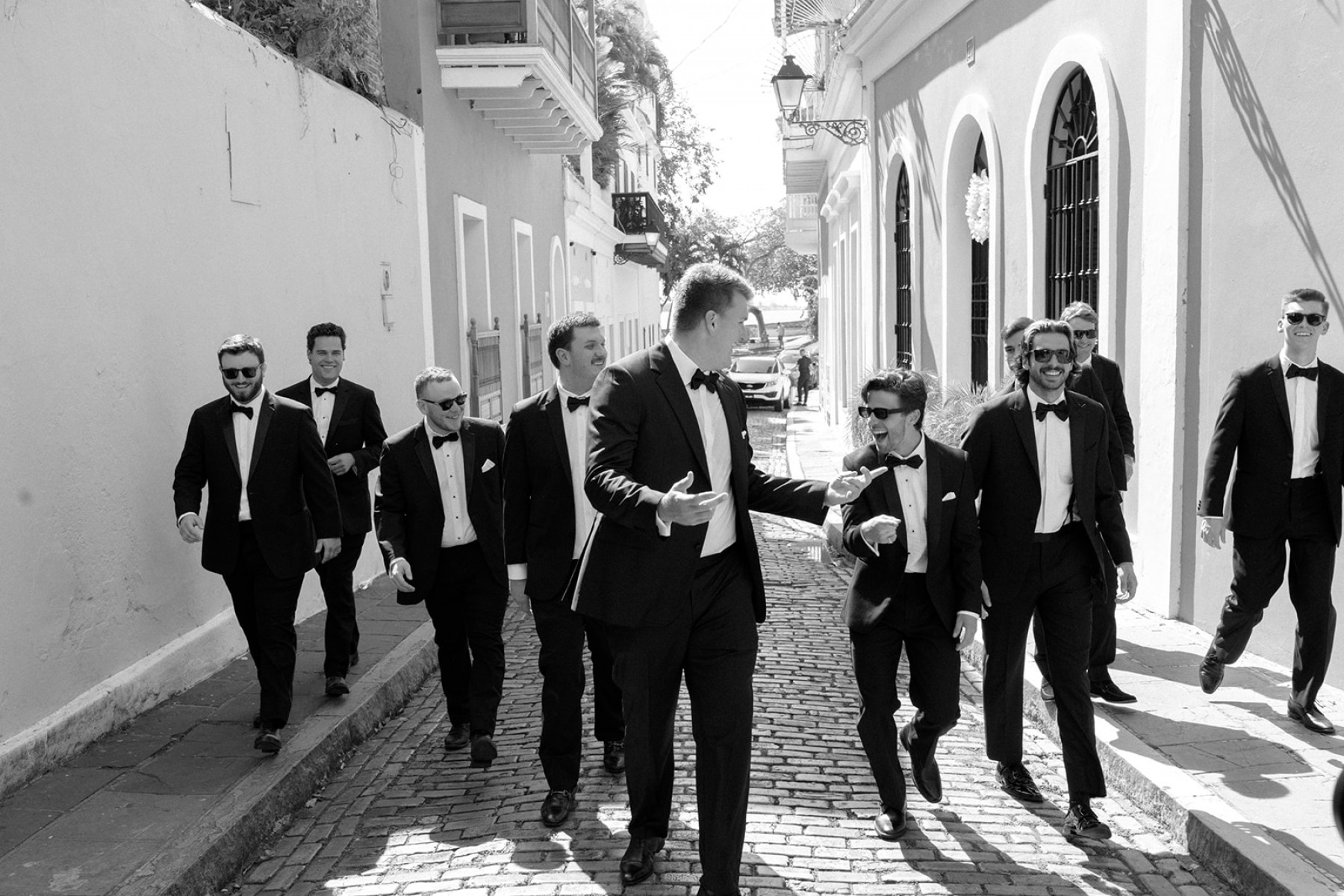 As we were leaving the dog park, I sneakily convinced her to take the scenic route home so that I could propose in front of the Allegheny River in Pittsburgh. About 3 minutes into our walk, I grabbed Bianca by the shoulder, turned her around, looked her in the eyes, and said, "I've been meaning to ask you something for a really long time." As she looked at me with complete shock, I continued, "I cannot wait another second, day, or year to not have you as my forever." Looking into her eyes, I began to tear up and cry. She started crying as well. I then asked her if she would marry me, and it was the best decision of my life. She was so in shock the only thing that was coming out of her mouth was "What??? What?? No! OMG! What?" I nervously responded "Soooo is that a yes?? Haha." And then we both continued to cry a little more as we broke the exciting news to our friends and family.
We celebrated at dinner that night with friends, and then the next night with both of our families. Her mom was in Spain at the time, so we celebrated with her in Puerto Rico a couple of weeks after. My heart has been so full of love ever since that day. I am so thankful to take on life with someone as special as Bianca. All of the support from family and friends has been unbelievable! Bianca and I are so blessed and cannot wait to spend the rest of our lives laughing and enjoying life with one another.
Where was your wedding? Why did you choose this venue?
Our wedding was in Puerto Rico, which is where I'm from. Choosing a wedding destination was quite easy. The first trip John ever made with me to Puerto Rico in 2015, he fell completely in love. By the fourth trip in 2017, he was already mentioning how he couldn't wait to get married there.
We knew that a little over half of our wedding guests were foreigners, many of whom had never visited the island. Our goal for our wedding was not only to celebrate our love but to share the place that we both loved with our guests. So, we put together an entire wedding weekend - a four-day celebration that, as a whole, showcased what Puerto Rico has to offer.
Day 1, The Welcome Party: A lively beachside extravaganza featuring a cigar roller, local hat wall, cartoonist, spiked piraguas, live band, and local cuisine, all with a tropical breeze. Guests were then taken to "La Placita" for more festivities.
Day 2, Rehearsal Dinner: Held at a mountainside farm, an intimate and romantic gathering under string lights with a saxophonist, locally sourced dinner, and heartfelt speeches.
Day 3, Wedding!
Day 4, Farewell Chinchorreo: A Puerto Rican Bar Crawl through the mountains, featuring stops for lechon, empanadas, and salsa dancing. Guests raved about this unique culinary journey.
What was the concept behind your wedding, and how did you find your inspiration?
For our wedding day, we wanted to stay as authentic to Puerto Rico as possible. We gained a lot of our inspiration from highlighting Old San Juan's old-world charm. We both knew we wanted to get married in La Iglesia de San Jose in Old San Juan. It is the oldest church in Puerto Rico and the second oldest church in all of the Americas. That was the first venue we booked. Once we booked the church, we knew we wanted to keep the theme of old-world charm, so we booked the Antiguo Casino of Puerto Rico, a beautiful old historic building.
How long did it take to plan your wedding? Did you encounter any challenges during the planning process?
Our wedding took a little over a year to plan. We truly didn't encounter many challenges. We had a pretty seamless planning process, mostly thanks to our wedding planner, my parents, and our connections on the island.
How many guests did you have?
We had 260 guests.
Tell us about your outfits. How many different styles have you tried?
Wedding Day: My wedding dress was also inspired by our wedding venue and location. I wore a Liz Martinez dress. The dress was completely see-through and mesh with little floral detailing. I loved that it was a long sleeve, high neck, classy dress that also felt really sexy with its sheerness. I also loved how unique the dress was. I paired the dress with some beautiful Mach & Mach white pearl heels. For my second dress, I wore a more classic and simple strapless white dress from Alexis with a pearl necklace gifted by my husband. Unbeknownst to me, he had bought the pearl necklace on a trip we had done for my birthday in Mexico City. I paired the dress with some very comfortable Jimmy Choo sneakers.
Rehearsal Dinner: My rehearsal dinner dress was a beautiful Monot high neck dress with an open back. I chose this dress because it was exactly the style that I thought I'd wear on my wedding day before I fell in love with my wedding dress. So I opted to wear it as a rehearsal dinner look. Fun fact, the earrings I wore to my rehearsal dinner were the first present that my husband ever gifted me back on my 19th birthday. We were such babies, haha.
Welcome Party: I actually can't remember that brand now, but I bought this dress from Mytheresa. Such a cute dress with flowers on it that was fun for the theme. Hailey Bieber actually wore this exact same dress 3 weeks later, lol.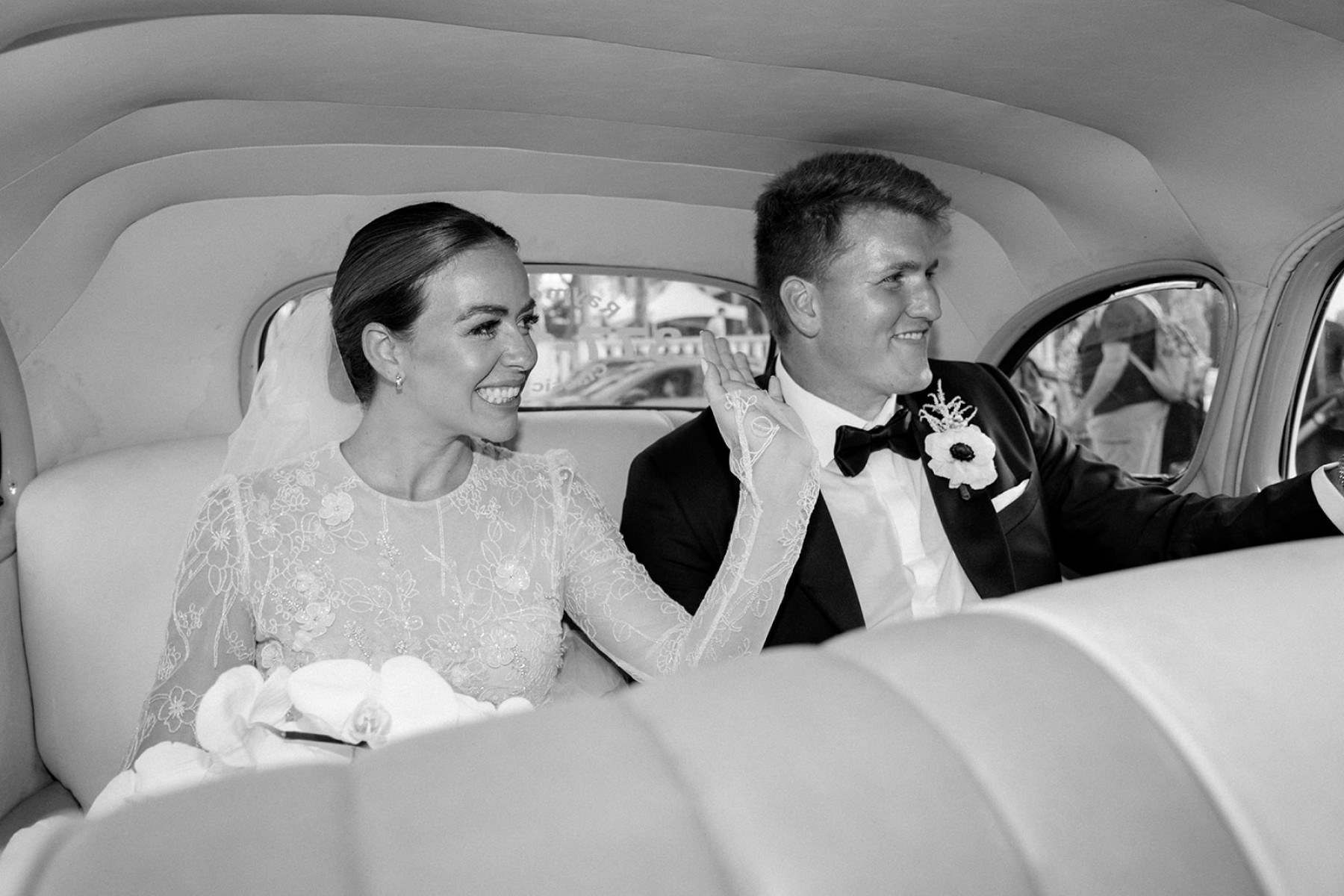 What was your first dance song? Did you choreograph or improvise?
Our first dance song was "At Last" by Aretha Franklin. In a way, it's always been our song. We've both been obsessed with it for as long as we can remember. We improvised our dancing, and I'm so happy we did. I think it made that moment just so raw and authentic.
Did you have any special performances or entertainment?
We did! My husband and I are both "party" people and love to sing and dance. Naturally, music was one of the more important things for us when planning a wedding. As the main forms of entertainment, we had an awesome band called Cuenta Regresiva and a DJ for later in the night. Scattered between the wedding were Pleneros (a typical Puerto Rican folklore band that comes in stilts and masks almost like a Carnival), a New Orleans Second Line (a jazz-like band that is typical in Louisiana, where my husband is from, and known for playing at weddings), and the highlight of the wedding, the group Sugar Hill Gang. Sugar Hill Gang is the first rap group to ever exist. Their song "Rapper's Delight" is the first rap song ever. That song also happens to be a very special song for my father and me. Ever since I could talk, we've been singing that song together. Their performance at my wedding was a complete surprise by my dad. He called me up on stage, and I thought we were just going to sing the song together like we always do, and out comes the Sugar Hill Gang. I cried so many tears. It was EPIC!
What was the most memorable moment from your wedding day?
This is a hard one. There were so many special moments, but if I had to pick one, I'd say my arrival at the church and walking down the aisle. I truly felt like I was living in a princess movie. When the church gates opened, and I saw my soon-to-be husband at the end of the long aisle, instant tears rolled down my face.
What advice would you give to couples who are currently planning their wedding?
The best advice I can give is to take it easy, enjoy the process, and stay true to yourselves. There are going to be so many outside opinions, but you have to remember that this day is about both of you and your love. Make sure to only do the things that feel authentic to both of you as a couple. I think John and I did a really good job of making sure that our wedding felt authentic to us as a couple, and that's what made it such a beautiful and special weekend.
Did you have any special or unique elements at your wedding?
We had a mixologist at our wedding, which was something that was really important to me. I'm a huge cocktail girl! We had about six different options. A Gimlet, Espresso Martini, Watermelon Mojito, Spicy Margarita, Smoked Old Fashion, and a Negroni. Each drink had really cute and fun names. For example, the Gimlet was "Disco Fever," the mojito "Welcome to Paradise," the spicy margarita "Que Pasa chica." During cocktail hour, apart from the pass-around hors d'oeuvres, we had a leg of Cinco Jotas Jamon Iberico. Our late-night food was Chick Fil A, which is my husband's favorite, haha.
What helped you cope with the anxiety before the wedding?
Knowing that I was about to marry the love of my life.
Bride & Groom: @therealbianca8, @john_leglue
Planner: @ana.agosto
Photo: @lovebears.co
Video: @bluecouchpr
Gowns: @lizmartinezbridal, @amablebridal
Reception venue: @antiguocasinopr
Decor: @tempuseventspr
Cake: @enpuntotp