Thirteen years of shared memories, a breathtaking proposal in the world's most romantic city, a one-of-a-kind ceremony, a bride adorned in a Daniel Frankel dress, and a joyous celebration on a modern and intimate farm — these are just a few of the remarkable moments in Brit and Mike's love story. Yet, we yearned for more. With a desire to delve deeper into their journey, we sat down with the bride to unravel the intricate details of their wedding day and uncover the profound essence of their love story. Intrigued by their journey, we delved into the intricacies of their wedding day, eager to uncover every enchanting detail and learn more about the depth of their love.
Tell us a little about yourselves.
I'm Brit, and my new hubby is called Mike. We have been together for 13 years but were best friends for a few years before that as well. We are northerners from Manchester and have lived together in London for the last 8 years. Mike manages the Global Talent Team at Just Eat, and I'm an interior designer working at an architect's practice in Camden.
We both like to focus on health and wellbeing, enjoying the gym, pilates, yoga - anything to get the body moving - and Mike loves a sauna as well. We like going for strolls through the parks in London, and our Sunday morning ritual is to visit Queen's Park market, pick up our groceries for the week, and stop for a coffee/matcha and almond croissant before our walk through the park.
We are both super family-oriented and love heading back to Manchester to see everyone and have a home-cooked Sunday roast, with extra gravy!
Can you share your engagement story?
Our engagement story began in 2013 when we placed a padlock on the love lock bridge in Paris. Although the padlocks were eventually removed due to the bridge's weight, the bridge itself remained. Paris has always held a special place in our hearts, so it was only natural that Mike chose it as the perfect location to propose.
In 2022, we visited Disneyland Paris with our two closest friends. The day after, we took a stroll through the city. Mike had initially planned to propose on the love lock bridge, where we had left our lock all those years ago. However, in true Mike fashion, he missed the bridge, and we ended up walking all the way to the Eiffel Tower. Despite not being the intended location, it was still a perfect moment, and I was completely surprised. Of course, I said yes! We celebrated with a joyful lunch at Giraffe and shared the good news with our parents via FaceTime.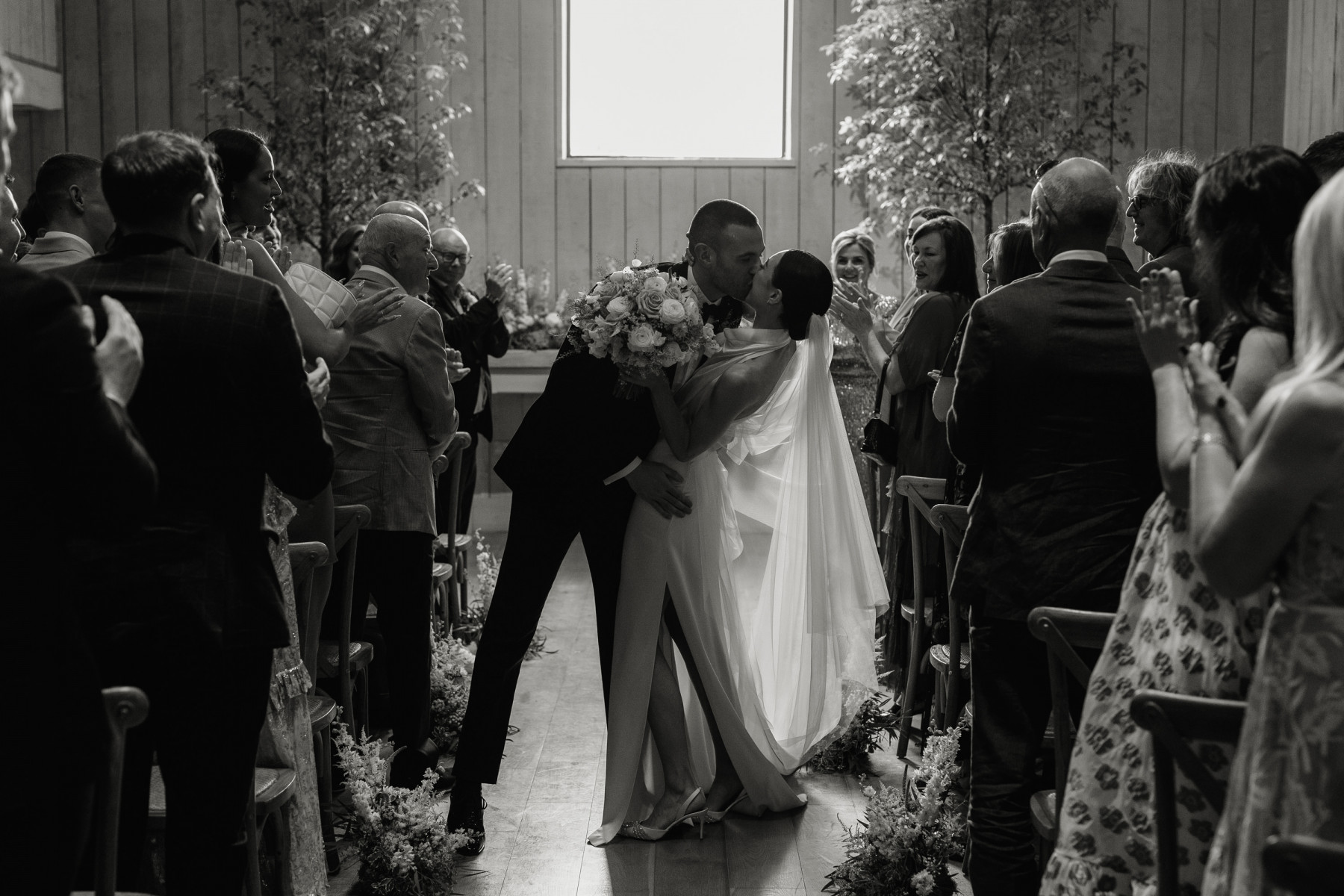 Did you have any pre-wedding events, such as a rehearsal dinner or bridal shower?
I had my bachelorette party in Manchester, which turned into a full-day affair. We began with a workout session at Barry's Bootcamp, where my bridesmaids dressed me in a white activewear set and a "Bride" cap. Afterward, we had our hair and makeup done before enjoying lunch and bridal games in the private dining room at Piccolino Manchester. During the Mr. and Mrs. quiz, Mike even made an on-screen appearance (pre-recorded, of course). We then headed to the Gotham Hotel for cocktails, and the highlight of the day was our private karaoke room. With a stage and all 20 of us, we had a fantastic time singing 90s pop classics and creating lasting memories.
Where was your wedding, and why did you choose this venue?
Our wedding took place at Primrose Hill Farm in Oxfordshire. From the start, we had our hearts set on getting married in the Cotswolds. Living in London, we wanted to escape the city and have the beautiful English countryside as the backdrop for our special day. The rolling hills and expansive fields in the Cotswolds embody peace and serenity, making it the perfect setting for our celebration.
The ceremony barn at Primrose Hill Farm was absolutely stunning, with its high ceiling and central window, giving it a church-like ambiance. Coming from an architectural background, I have a deep appreciation for beautiful spaces, and Primrose Hill Farm exceeded our expectations. Not only is it aesthetically pleasing, but the layout of the venue is thoughtfully designed to accommodate the flow of the day, allowing guests to seamlessly move between the ceremony, dining, and courtyard barns.
What was the concept behind your wedding, and where did you find your inspiration?
Our vision was to embrace the English countryside with a modern twist. Primrose Hill Farm perfectly captured this blend of farmhouse and contemporary aesthetics. We were particularly drawn to the black-stained timber cladding and the abundance of glass windows in the dining barn.
For our florals, we opted for fresh and neutral tones, incorporating white flowers and plenty of green foliage to reflect the natural beauty of the surrounding Cotswolds countryside. The bridesmaids' dresses also followed a neutral palette, featuring various shades of champagne. This choice, paired with black-tie suits, added an elevated and refined touch to our country wedding.
Every detail of our wedding had a handcrafted quality to it. The ceramic candleholders were individually made and adorned in earthy tones, while the place names on the stationery were handwritten, adding a personal touch.
How long did it take to plan your wedding, and did you encounter any challenges during the process?
We began searching for venues in November 2022, initially planning for a wedding in May 2024. However, when we visited Primrose Hill Farm, the owner mentioned an available slot in May 2023. Without hesitation, my partner and I looked at each other and decided to seize the opportunity. Consequently, we had a total of 7 months from booking the venue to our big day.
We were relieved that the planning process was swift, allowing us to move quickly and secure all the necessary bookings. Fortunately, I had compiled a list of vendors from years of research, and I had a clear vision of what we wanted. This made decision-making relatively straightforward—just a matter of confirming everyone's services.
The only factor beyond our control was the weather. With the stunning gardens and grounds at Primrose Hill Farm, we wanted to make use of the entire space. I had heard from the Nearlyweds podcast that planting sausages could bring good weather on your wedding day. So, it's safe to say that a few sausages are buried in the Cotswolds, and thankfully, it worked! We enjoyed beautiful sunshine throughout the day.
How many guests did you have, and what was the seating arrangement at the wedding?
We had 120 guests, which may not sound like a lot, but ensuring we had time with each person made us realize it was a considerable number. However, every guest brought their A-game, creating an unforgettable atmosphere and a truly special vibe.
Our seating arrangements consisted of three long trestle tables, accommodating 20 people on each side. We decided against having a traditional top table to ensure that everyone could be seated together and share the moment. Being surrounded by our bridal party, friends, and family was a wonderful experience. We opted for a feasting-style dinner, featuring bavette steak, Mumbai spiced chicken, and a vegetarian option of Stuffed Butternut Squash. This seating arrangement facilitated sharing, chatting, and laughing with our guests, perfectly complementing the celebratory atmosphere.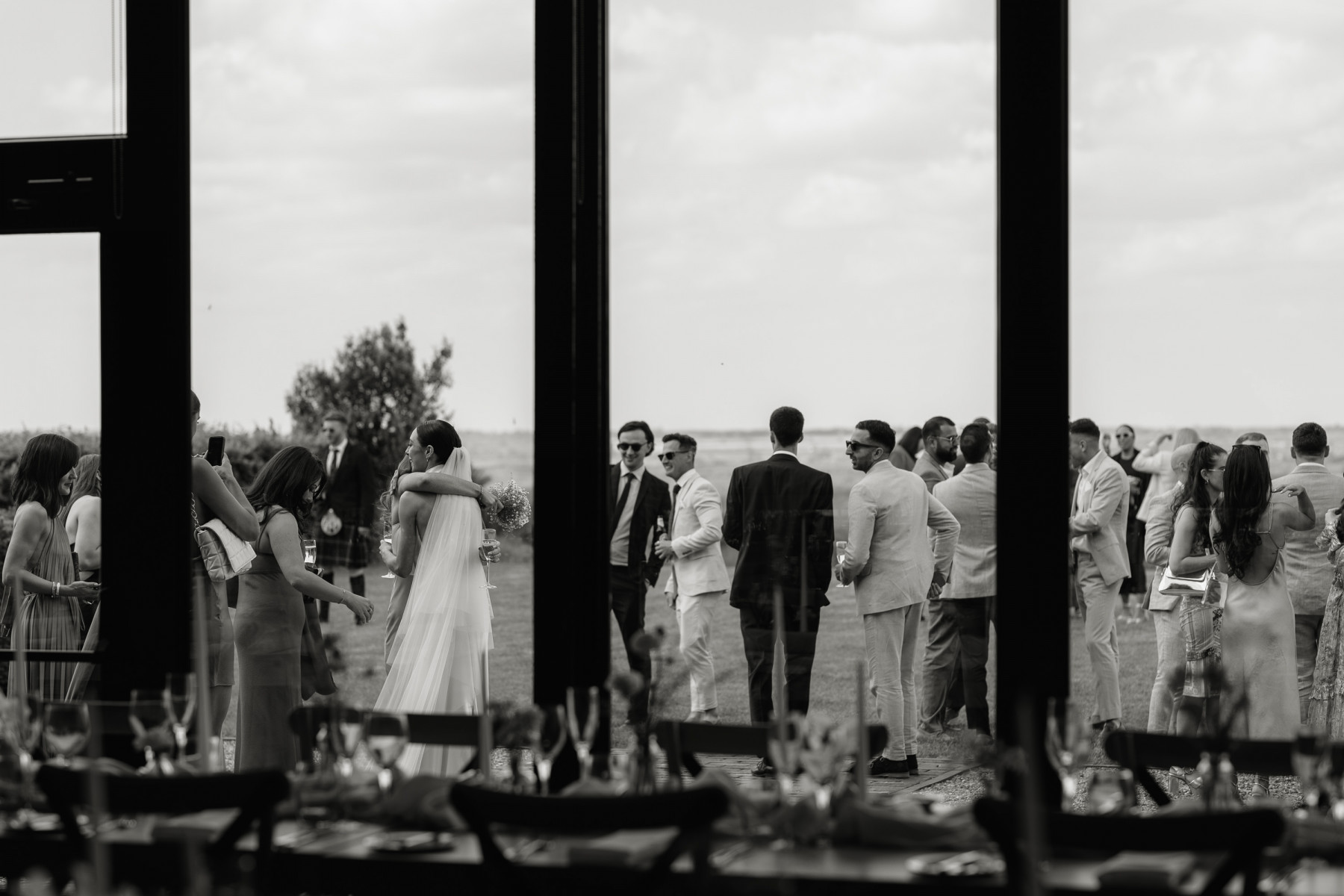 Tell us about your outfits. How many different styles have you tried?
For my wedding day, I wore a stunning dress by Danielle Frankel. I had discovered her designs years before getting engaged and knew I wanted to wear one of her creations. Fortunately, there was a Danielle Frankel trunk show in London the weekend after our engagement in February 2022. Both of our moms joined me for the trunk show, where I had the opportunity to try on five of her dresses. I was immediately convinced that I had found "the one."
Following the trunk show, I was delighted to find out that Danielle Frankel's designs were stocked at Browns Bride London. I revisited the boutique and tried on my chosen dress again, along with a few other designs. It was during this visit that I fell in love with another one of her dresses, feeling it was better suited to the season of our wedding.
Natalie, the lady who fitted me at Browns Bride, made the experience truly special. Trying on those incredible gowns with my loved ones was a memorable moment. At Browns Bride, I also had my two-tier veil made, which I wore over my face as I walked down the aisle.
All the alterations for my dress were skillfully done by Grace Lane London. Visiting her studio was a delight, and each visit included planning discussions before I even stepped into my dress. Since Grace had recently had her own wedding, we had plenty to chat about and share.
Mike and the groomsmen donned black-tie attire to make the day even more special for them. Mike's suit was made to measure by Richard James on Savile Row. The process was fantastic, and the suit looked truly unique with its ink blue velvet jacket that transformed in different lighting conditions.
What was your first dance song? Did you choreograph or improvise?
Our first dance song was "The Real Thing - You to Me Are Everything." We desired a timeless classic that reflected our personalities and our relationship. Instead of opting for a slow, melancholic tune, we wanted something that would make everyone sing along and feel joyful.
This song has always held a special meaning for us, making it a perfect choice. We didn't have a choreographed routine; we simply allowed ourselves to go with the flow. Mike has a natural sense of rhythm, while I, unfortunately, lack it.
Did you have any special performances or entertainment?
Throughout the day, we had a saxophonist and a bongo player as part of our entertainment. They also served as our DJs during the evening.
Si and Andy were phenomenal; their song choices seamlessly accompanied the different parts of the day and truly ignited the party atmosphere in the evening. They engaged brilliantly with our guests, moving through the crowd with their instruments and even inviting people to join in!
During our aisle procession, Si played the saxophone, adding a live element to this significant moment. Our immediate family walked down the aisle first, starting with Mike and his mom, followed by the bridal party, and finally, my dad and me. Having live music during this part of the day added a special touch to the experience.
Did you make a gift for guests, and what was it? What did you give each other as a gift?
For our wedding, we had custom ceramic candleholders made for our tablescape, with our initials and the date printed on the bottom. These candleholders served as wedding favors and a special keepsake for our guests.
As for gifts to each other, I got Mike a pocket scarf and cufflinks with his initials engraved on them, adding a personal touch to his outfit. In return, Mike surprised me with a photo book featuring a shot of the Eiffel Tower on the cover and photos of us throughout the years. Inside the book, he wrote a sonnet celebrating our relationship and the big day ahead.
What gift from guests do you remember the most?
Most guests contributed towards our honeymoon, which we have yet to plan. We hope to embark on a trip to Africa next year, creating unforgettable memories. We are incredibly grateful to all our guests for their generosity, which will make our dream honeymoon possible.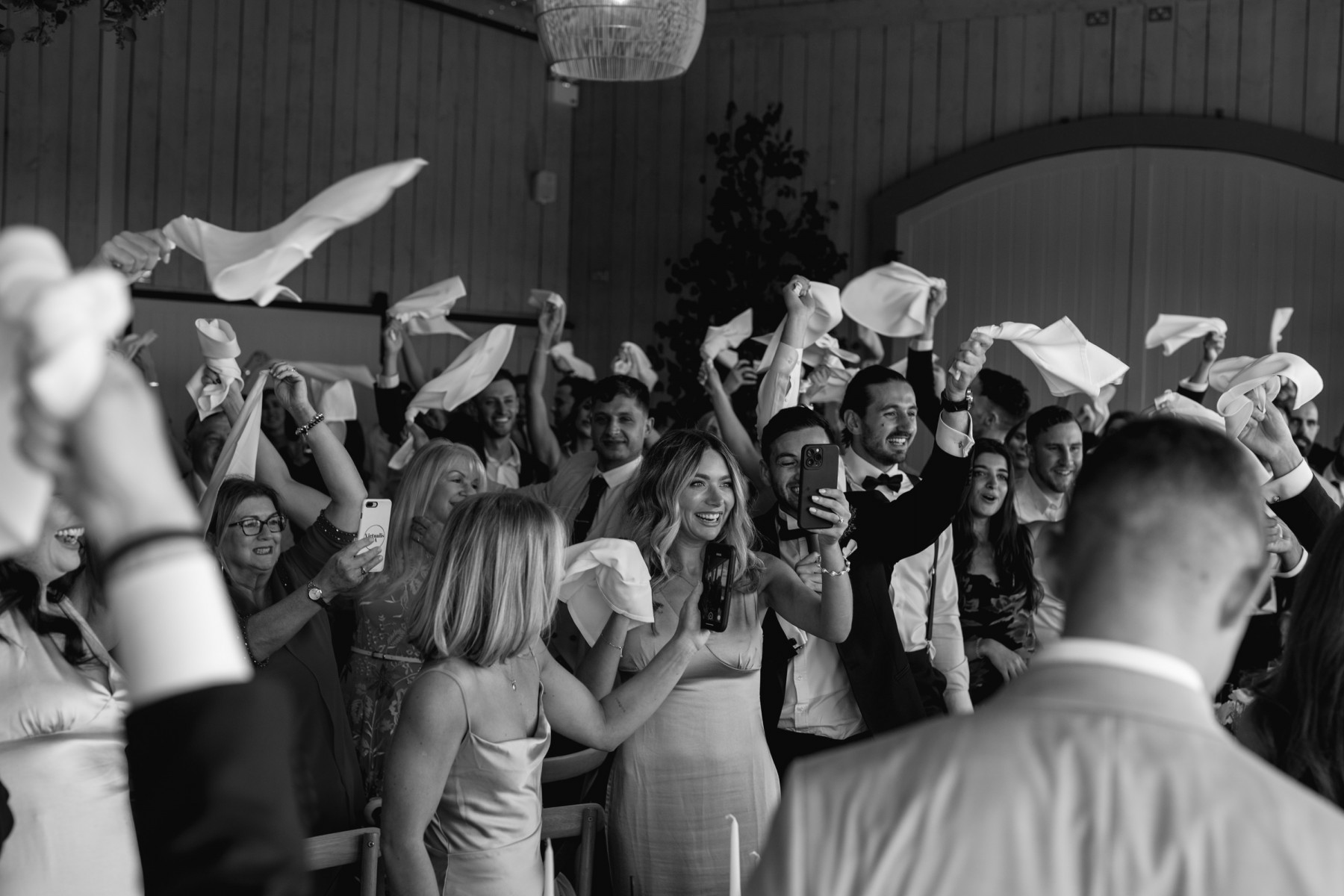 What was the most memorable moment from your wedding day?
The ceremony holds a special place in my heart. Instead of getting married in a church, we chose the ceremony barn at our venue and had a registrar officiate the wedding. The original ceremony content provided by the council felt impersonal, so we decided to rewrite the entire ceremony, including our "love story." We even had my sister-in-law read a poem, making the ceremony truly unique and meaningful.
Another unforgettable moment was getting ready with my closest girls, my mom, and mother-in-law. Despite feeling stressed and anxious leading up to the day, I surprisingly felt incredibly calm and relaxed. When I put on my wedding dress and nerves started to creep in, we turned on the Spice Girls and began singing like we were in our very own girl band.
What helped you cope with anxiety before the wedding?
My mom, my best friend, and my bridesmaids were my pillars of support. Mike is always calm, so having the unwavering support of my loved ones was crucial. I also have three other close friends getting married this year, and we provided each other with emotional support throughout the planning process. It's comforting to have a group of girls who understand the experience and are on the same journey. Since we're the second couple to get married among our friends, we can now relax and enjoy the remaining weddings ahead.
Are there any vendors that you would like to tell us a little more about?
Our photographer, Natalie from Agnes Black, was absolutely amazing. Instantly connecting because we're both northern girls, Natalie made both Mike and me feel comfortable in front of the camera. As we're not used to being photographed, we anticipated awkwardness during the couple's photo shoot. However, Natalie's expertise and ability to provide clear direction helped us feel relaxed, resulting in beautiful shots. We are thrilled with her style and the stunning photos she captured.
Our videographer, Gareth from Analogue and Light, filmed our wedding using Super 8mm Film. We wanted something different from the usual HD film, and the classic aesthetic of super 8mm perfectly complemented Agnes Black's photos. Gareth, with his background in photography, provided clear direction, and his collaboration with Natalie was seamless.
Our florist, Louise from Sandra McGill Florist in Manchester, is a dear family friend. Despite the early hours, Louise traveled from Manchester to the venue to set up for our special day. She added personal touches to our floral arrangements. To honor my late grandmother Veronica, who I cherished, Louise included Veronica flowers in my bouquet, along with white Sweet Peas, a favorite of my late grandfather.
Instead of a traditional sit-down dessert course, we opted for an ice cream cart on the lawn. Guests could enjoy ice cream at their leisure, and it was a delightful touch, especially considering the warm weather. Everyone loved indulging in ice cream while enjoying the sunset, creating a memorable experience.
Our cake, created by Karen from Cakes Fabulous Cakes, was truly fabulous. Since we didn't live nearby, Karen sent us a sample box of her cake flavors and tea bags, allowing us to taste and collaborate remotely. We decided on a tier of lemon and a tier of chocolate. The final cake, both visually stunning and delicious, exceeded our expectations.
I gifted my bridal party personalized robes from Meeka, a beautiful sustainable brand I discovered on Instagram. The robes were elegantly embroidered with each person's initials, and it's been heartwarming to see them continue to wear the robes since the wedding.
To incorporate "something blue," Mike arrived at the venue with his four groomsmen in a vintage Rolls Royce Corniche. We rented the car from Webbs of Weybridge, adding a touch of classic elegance to our special day.
What advice would you give to couples currently planning their wedding?
Regardless of your vision for the big day, my advice is to enjoy the process. Planning a wedding can be stressful, but looking back, the time and effort invested are worth it. Embrace the seven months of planning as part of the journey, and let it build excitement for the momentous day that awaits you.
Bride & Groom @britwoodruff @mike.masterson93
Photographer @agnes.black
Venue @primrosehillfarm
Musicians @sisaxmusic @king_konga_percussionist
Videography @analogue_and_light
Stationary @papermillcalligraphy
Cake @cakesfabulouscakes
Flowers @sandramcgillflorist
Rings @smithgreenjewellers
Bride's Gown @daniellefrankelstudio @daniellefrankelbride
Bride's Shoes @aquazzura
MUAH @emmadevinemakeup @modebridalhairandmakeup
Groom's Tux @richardjamesofficial
Bridesmaids' Robes @meeka_co
Bridesmaids' Dresses @prettylavishbridal 
Bridesmaids' Make Up @mascaralogan
Ice Cream Cart @daisy.co.catering