Under the heading "Real Weddings," real couples trust us with their stories, from how they met, to their engagement and, of course, their actual wedding celebration. Immerse yourself in someone else's special day and get inspired by stunning wedding venues, unique décor details, individualistic use of wedding trends, and one-of-a-kind celebrations. Here is the wedding story of the exceptional Courtney and Colin.
Tell us a little about yourselves.
Colin grew up on a farm in the central valley of California and I grew up in Wisconsin. I went to school in Chicago for fashion business and never left after college. Colin has always been in the hospitality industry. Currently, he manages the wine program for a restaurant group in Chicago called Bonhomme, which is the group that includes all of our venues. In our free time, Colin and I enjoy sharing meals together, visiting art museums, traveling, and spending time in nature. Colin has an expansive record collection, and Courtney enjoys sourcing vintage for both home and wardrobe.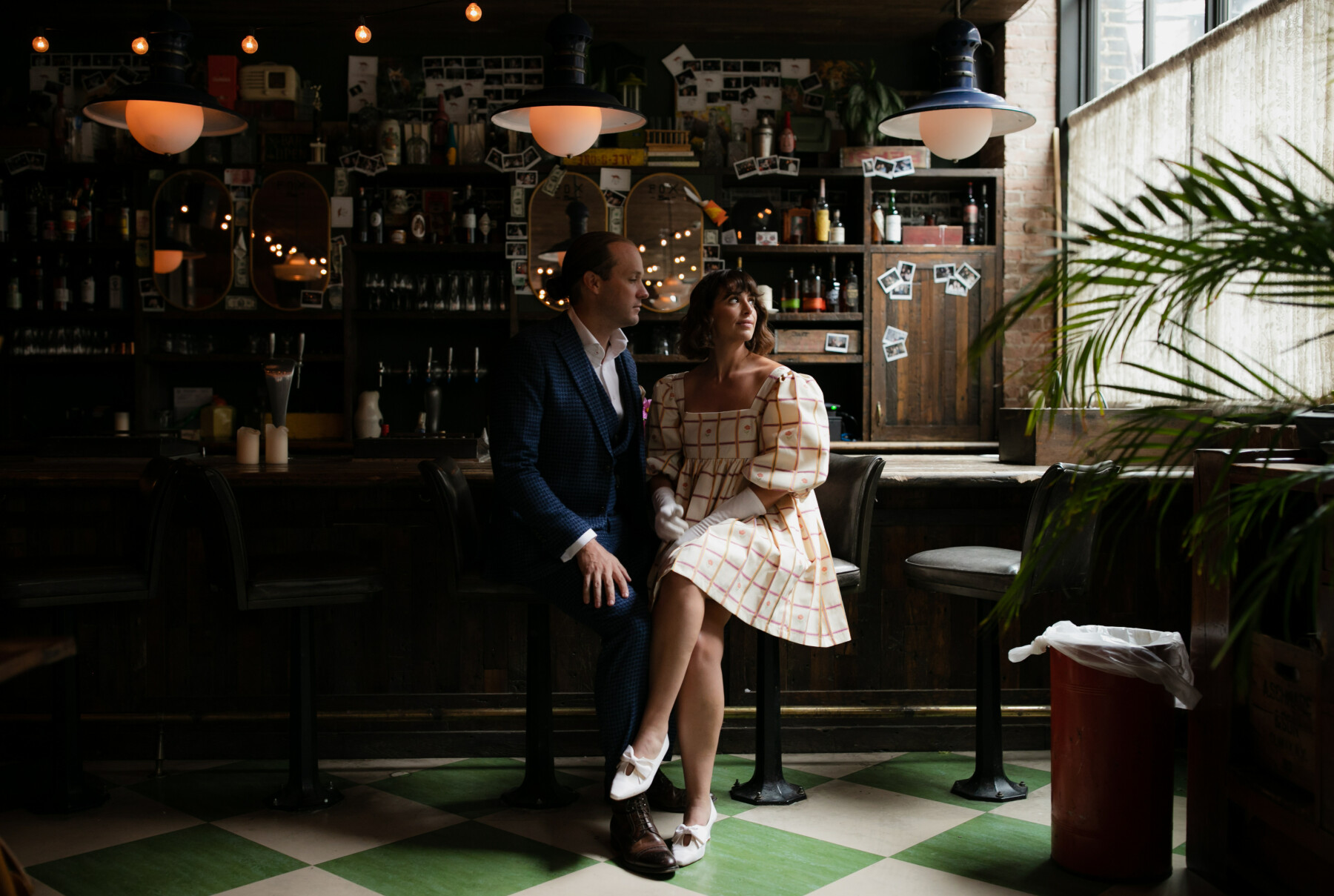 How did you meet?
Colin and I met at Soho House in Chicago, he worked, and I was part of the membership club. My parents were in town visiting for a holiday and Colin took care of us at the bar one afternoon. My chatty father struck up a conversation with Colin, and he piqued my interest. We began crossing paths regularly, and eventually I worked out the courage to ask him out. Our first date was at a boozy live jazz bar in Chicago called the Whistler.  
What was the concept of your wedding and how did you come to it? 
Colin and I were engaged in April 2021, we wanted a short engagement and took the non-traditional route. Originally, we thought we would elope or do a courthouse wedding, but with Colin's access to beautiful spaces through his role, we opted to turn it into what we called "disco nuptials." With the pandemic hitting, nearly a year and half of missed celebrations, we saw an opportunity to get our closest friends together for a delicious meal and evening of dancing. With both of us coming from large families, we've decided to celebrate more intimately with our families this summer.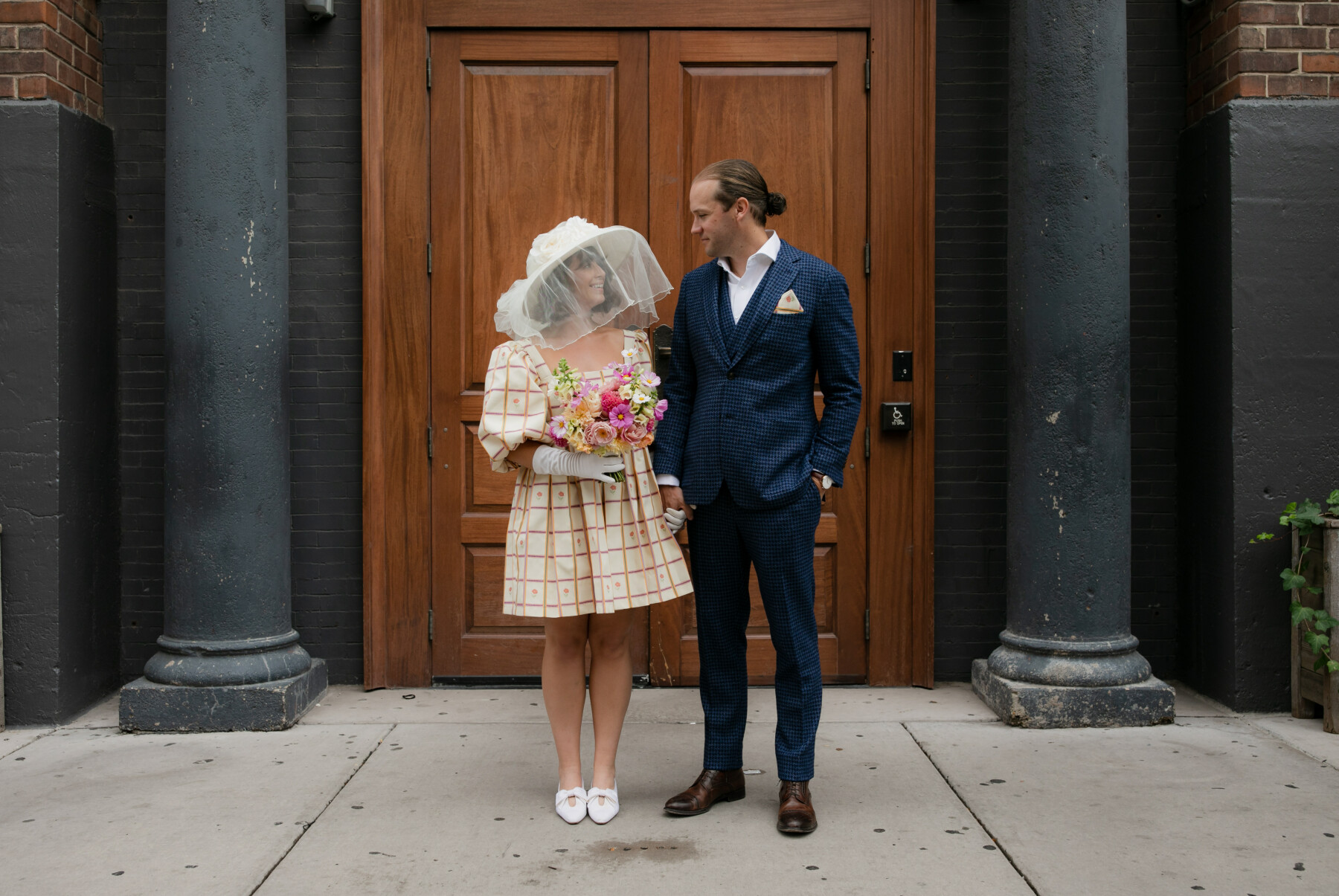 Where was your wedding? 
Our wedding hopped around the city to a few different venues. We decided to stay at Soho House as an ode to where we first met, and to give us the feel of a "staycation" with the ability to be fully free of distractions. Our micro ceremony was at Beatnik on the River. We exchanged our vows in a tiny private room within the restaurant that is called the "jewelry room." It is in fact just that, a 1913 Nashville jewelry shop reassembled piece by piece in the middle of the restaurant. Mirrored walls, original crystal chandeliers, and glass-fronted cabinets that once housed precious jewels. That evening we had dinner at Botánico. It exudes a Hollywood regency vibe, with floral velvet couches and dim lighting. We served a family style Spanish menu featuring home recipes from Chef Marco's himself, all accompanied by wine pairings selected by Colin. We capped off the night at DISCO, a dance space influenced by the legacy of 1970s NYC, Paris & Rome. A nightlife sanctuary featuring wall-to-wall LED dance floor, custom retro wall coverings, mirrored ceilings, and lucite furnishings.
How many guests did you have? 
Dinner was 28 of our closest friends and family, with another 30 showing up to the disco dance party later in the evening.    
Tell us about your outfits.  
I wore two outfits. My baby doll dress was custom-made by a small designer. It was produced from a cream vintage fabric with a windowpane and floral print. I paired it with cream-colored bow court shoes, elbow length gloves from my grandmother, and blue heart beaded earrings from local designer Cities In Dust. Colin wore a 3-piece, hounds-tooth, navy suit from suit supply, with a pocket square panel from the fabric of Courtney's dress. For the evening, we shifted into our disco inspired attire. I wore a set from independent designer - Rezek studio that featured high-waisted "hustle pants" and a "foxy" shimmery top with ostrich cuff details, and a gold snake cuff from my other grandmother. The shoes were 4 inch blue platforms decked out in beads, and Colin wore a vintage disco button down. 
How did you spend the morning before the wedding?
We had a very slow and easy morning, enjoying breakfast in the club at the house, and a bubble bath for the bride. 
What was your wedding cake like?
We did not do a traditional wedding cake, instead we had executive pastry chef Shannah Primiano make some small but mighty bites featuring the bride & grooms favorite flavors. Peanut butter chocolate brownies, and the crowd pleaser raspberry caramel gooey butter cake.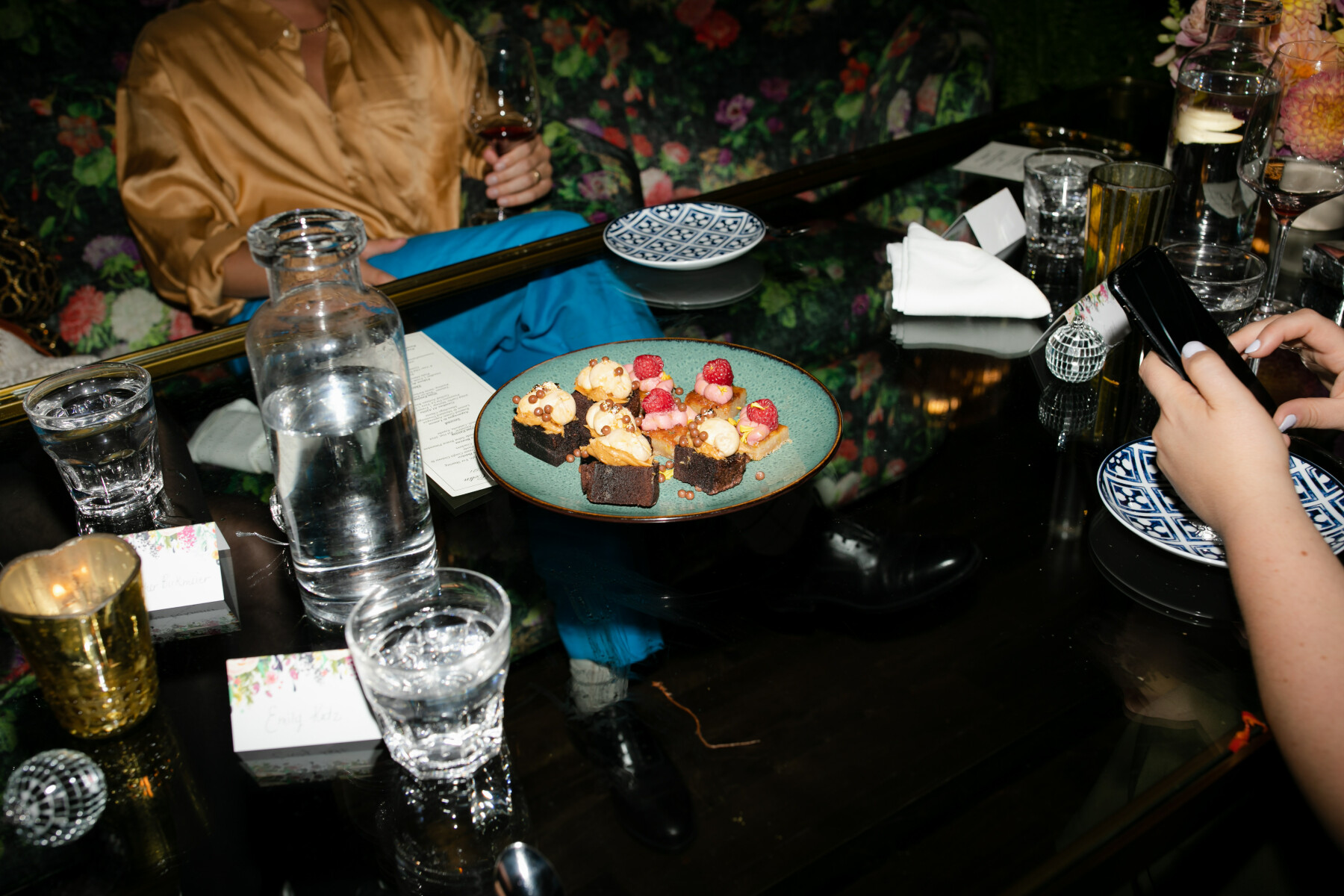 Are there any vendors that you would like to tell us a little more about? 
Working with Bonhomme group, it was a one-stop shop. It gave us the creative freedom to make the day truly ours. Melody Joy Co captured the day effortlessly. The photos to commemorate our union are breathtaking, and we could not be more grateful for these memories. Taxa Flora did our arrangements and bouquets. Tara brought to life the playful, colorful dream I had in my brain. She even purchased an oyster mushroom grow kit to give us art driven centerpieces that brought together our entire dinner vibe.
Photos: Melody Joy Co.