Danielle and Matt are from the USA, but their wedding took place in Spain. The couple arranged a bright and colorful celebration and did a lot to make their guests feel comfortable so far away from home. We spoke with Danielle about the details of her destination wedding as well as her love story with Matt.
Tell us a little about yourselves.
Matt and I met when we were 11 years old. In high school, we re-kindled our short-lived middle school relationship and have been together ever since. Matt went to Marist College in Poughkeepsie, NY and I attended Wesleyan University in CT and then NYU for my Master's Degree. We both were collegiate athletes and also served in the U.S. Peace Corps in South Africa as early childhood educators together. Matt currently works for a software company and I work at the U.S. State Department as a Foreign Affairs Officer. We love spending time with our new puppy, Kobe, finding new ways to stay active, and traveling the world. 
What was the concept behind your wedding and how did you find your inspiration?
Our inspiration was rooted in making sure our loved ones felt a part of the wedding. We're very family oriented and we felt that this was just as much a celebration of them and their support, as it was of our relationship. We loved the idea of an intimate gathering, so we designed the ceremony in "snail formation." We also littered the venue with pictures of the two of us with our guests throughout the years and we hope it had a personal and nostalgic feel for our guests. 
Where was your wedding? Why did you choose this venue?
We loved the idea of the venue being steeped in its own history. The smaller Mediterranean details of the venue were what moved us when we visited. Xalet del Nin was originally built as a home for Ferrer Nin, the son of the then Mayor of Barcelona, and his family so, the venue's story really aligned with what was most important to us - family. As previously noted, Matt and I really enjoy traveling, so having our celebration in Spain was a no-brainer. The venue being beachfront was a plus. 
How many guests did you have?
We had 85 guests.
Tell us about your outfits.
Danielle wore Rosanna by Sarah Seven (NYC). Rosanna was made to order and has rouged, tulle long sleeves and a square neck - romantic and chic but somehow also minimalist. Danielle also wore a floral laced mantilla veil from Etsy, a nod to Spanish tradition. Her shoes were Jimmy Choo stilettos with a white leather/PVC translucent slant detail. The bride wore two pairs of earrings – one from Matt and one from her Dad. She pinned a broach with a picture of her mom and dad on her veil, gifted by her mother and father-in-law. Her makeup and hair were styled by Tara Gervacio, her sister and amazing makeup artist. 
Matt wore a formal jacket by Gucci. The jacket was crafted from deep blue matte velvet, complimented with gold-toned textured buttons and ivory satin lining. The jacket was single-breasted and had a peak lapel and front patch pockets. His shoes were Gucci black leather loafers with a gold enameled interlocking G Horsebit. His tuxedo pants were Italian stretch wool paired with a white tuxedo shirt, custom fit by Bonobos. For accessories, Matt wore a black silk bow tie by Yves Saint Laurent and his great-grandfather's gold Omega watch. Matt's haircut was a skin fade with a traditional comb-over done by Rich Mendoza based out of Queens, NY. 
What was your first dance song?
A doo-op rendition of "I Only Have Eyes For You" by the Complexions and the Flamingos (from a beloved NY-set movie, "A Bronx Tale" - Matt and Danielle's favorite movie). It brought a little of home to Spain.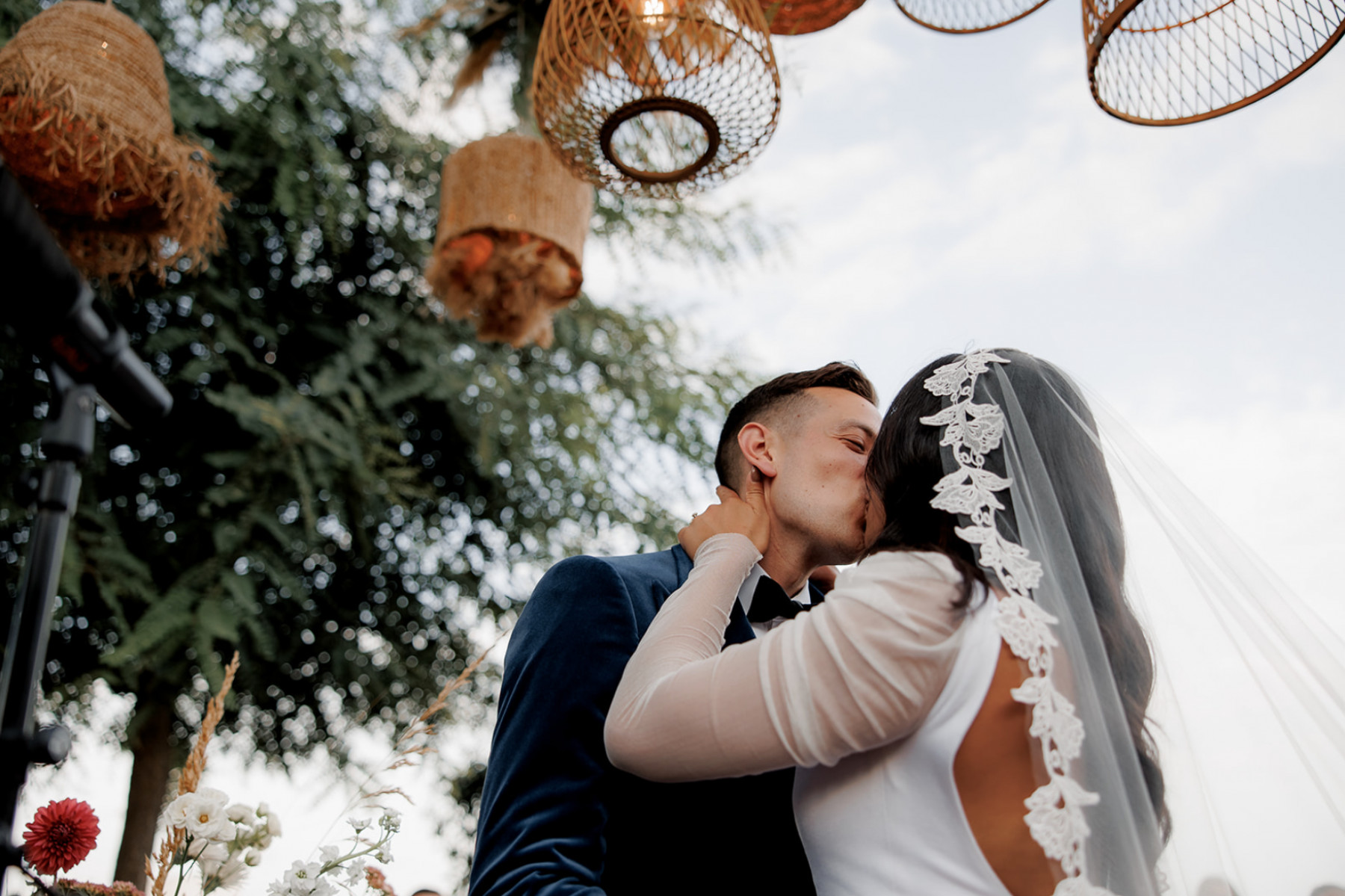 What flowers did you choose for the bride's bouquet and why?
We wanted the decor to align with the feel of the venue - to be light and airy and romantic - so Danielle chose a bouquet with pampas and lily details. The bridesmaids had similar bouquets.
What was your wedding cake like? And where did you order it?
We opted out of a traditional wedding cake and did a donut wall instead! We also wanted late-night food so we offered pizza as well as sweet and savory crepes, served from 1pm to 3pm. Guests took advantage of it all!
Are there any vendors that you would like to tell us a little more about?
Planner: Owner of Awe by Kerry, Kerry Gittle, and her guidance were so incredibly helpful through what should have been a stressful planning experience. When we told her our vision involved a wedding overseas - she welcomed it and took on the challenge, full throttle. Every detail over the next 10 months was refined and made special through her expertise. Up until the wedding day, we felt, heard, taken care of, and supported. She accommodated all of our crazy ideas and worked seamlessly with our vendors overseas to make our dream a reality.
Caterer: Maria JV from Sensacions is absolutely unbelievable. There is always a chance that "banquet food" or food made in high volumes, will be disappointing. Not with Sensacions. We were blown away by the mastery, professionalism, and overall high quality of the food. They really take the extra effort to make sure your experience exceeds your expectations. We had a cocktail-style wedding, with Sensacions' buffet option and it was a perfect fit for our guests to mingle and explore the venue, be social, and enjoy the food at their leisure. Most of all - dinner didn't feel stagnant for our guests. Often, with seated, assigned dinners, you have guests chatting with the the same guests at their table throughout the entirety of the dinner portion. It was a great surprise to see that, every 10 minutes, we had a new make-up of a table - guests were sitting, eating, and talking with different guests. Every single person we've talked with after our wedding has all had the same thing to say about our food "it was more than just a wedding caterer; it was the best food we had in Spain." Now, on to Maria. Maria basically took on the role of our wedding planner in Spain. She liaised on a number of things including lighting, furniture, decor, and flowers. She is not only a well-rounded professional and truly amazing at what she does, BUT she is a wonderful human and a good friend. The Sensacions serving staff were also raved about by our guests. They were all so kind, accommodating, and knowledgeable about the food.
Floral, Decor, Furniture: Flors Amelia was our florist and Nuria Torres Curulla was an absolute joy to work with. She knew exactly how we wanted to decorate and helped immensely with the "snail formation" of our ceremony. She handled all of the important details with care and professionalism and enhanced our vision for the wedding. 
Photography: Dani was amazing. We've never done a photoshoot as a couple, but Dani made us feel so comfortable before our wedding ceremony. We were initially drawn to Dani's work, not only because of the high quality of his work and his artistic approach but because we knew we wanted to be present and experience our wedding without posing for more than half of it. Dani was so incredibly good at catching our special moments, organically. More importantly - being around him as he worked was fun and stress-free. He was kind, and professional, and offered a lot of guidance. He is truly talented at capturing the essence of the day.
Music: We had the great pleasure to work with Barcelona based company, Suit&Music. They were wonderful in being open to what we would like played at the wedding. It was easy to prepare with them, as we sent them a playlist of what we'd want to hear and what our guests would love to dance to. This was a huge part of our wedding and we were worried about finding a DJ in Spain but Iván was so easy-going. He also read the crowd beautifully. 
Videographer: We worked with Sublime Films based out of Portugal. Marta and Rui were phenomenal, they were patient with us and easy to work with. They gave us feedback and guidance. Their work is beautiful and we can't wait to see how our video comes out.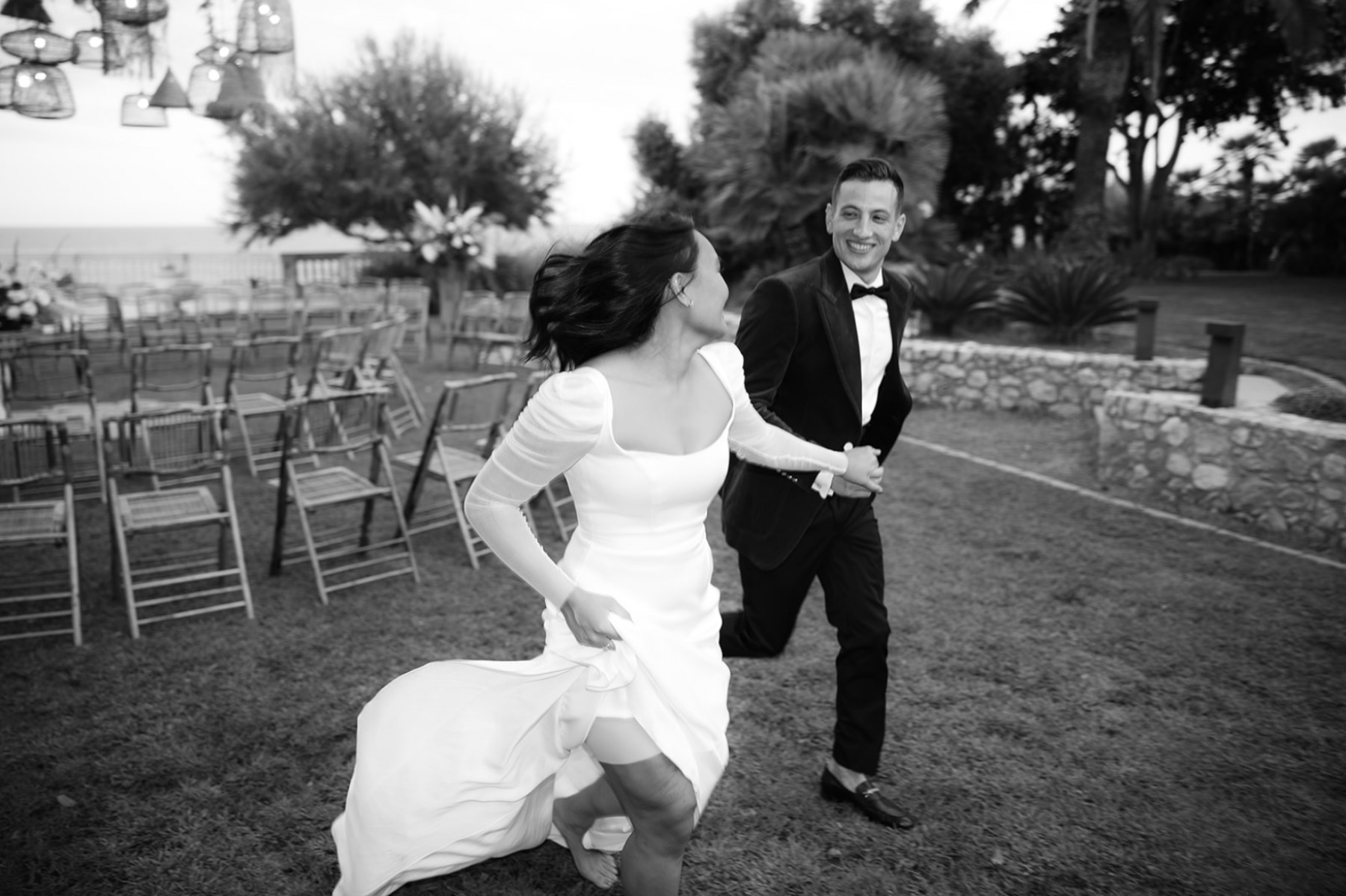 Venue: Xalet del Nin was more beautiful in real life (believe it or not). The venue houses intimate gardens, a glass house that we used as a sitting area and lemonade/cava stand before the ceremony, and a pool that overlooks the Mediterranean Sea. The house has a terracotta roof and green glass details. Carlos, the venue manager was helpful and accommodating. He made the space very welcoming.
Beauty: Danielle's make-up was done by Tara Gervacio MUA. Tara specializes in refined soft glam - the perfect approach to the romantic and intimate setting of the wedding. Tara was easy to work with, understood the style of the wedding, and was extremely accommodating. Her work was beautiful. Danielle's eyelashes were done by Isabella Valenti, co-owner of the Modern Babe in Westchester, NY. The bridesmaid's make-up was done by Agata Julia based in Barcelona. Agata was kind, professional, and worked incredibly fast. All of the bridesmaids who used her services were so pleased with their glam. Similar to Tara, Agata's approach is refined soft glam.
Barber: Rich Mendoza of Filthy Rich Barber Shop (Queens, NY) is an expert at his craft - he's also incredibly warm and easy to work with. He cuts the best hair in NYC. Rich told Matt that he is "always honored when people choose (him) to cut their hair for their wedding."
Bride @dgeeee3
Groom @mattbelitz3
Venue @xaletdelnin
Planner @awebykerry
Photo @bringmesomewherenice
Food @sensacionsbarcelona
MUAH @taragervacio_bridal
Dress @sarahseven
Music @suitandmusic