A dream wedding dress by Monique Lhuillier, guests from 6 countries, a ceremony at an Art Museum, and Mexican flavor - these are the details of Elizabeth and Patrick's wedding. The bride shared with us the story of preparing for her Big Day, as well as her love story.
How did you meet? 
Patrick and I met in Washington DC when he was going through Marine Corps training at Quantico, Virginia. Even though he had to do grueling hikes for his day job, he still agreed to go on hiking dates with me on the weekends. Patrick proposed at Mount Bonnell in Austin, Texas during our first trip together back to my home state of Texas. 
What was the concept behind your wedding and how did you find your inspiration?
My family is scattered between Texas and California and Patrick's family lives in France and England. We've both lived in several different countries and knew our wedding would be the first and only time all of our friends and family from around the world would be in the same place. We wanted the wedding to be focused on community and togetherness. We also wanted to honor my Father's memory by incorporating elements of his life into the setting. He loved to play Spanish guitar, so we had David Córdoba play alegrías music during our ceremony and cocktail hour. We also celebrated his hometown of El Paso, Texas by lining the walkways with white luminarias, and my aunt read Spanish poems for our ceremony. 
Where was your venue and why did you choose it? 
We chose Laguna Gloria, a beautiful outdoor sculpture garden overlooking Lake Austin, Texas that was the city's original Museum of Art. We care deeply about the outdoors and were so inspired by the extensive gardens on the venue's property.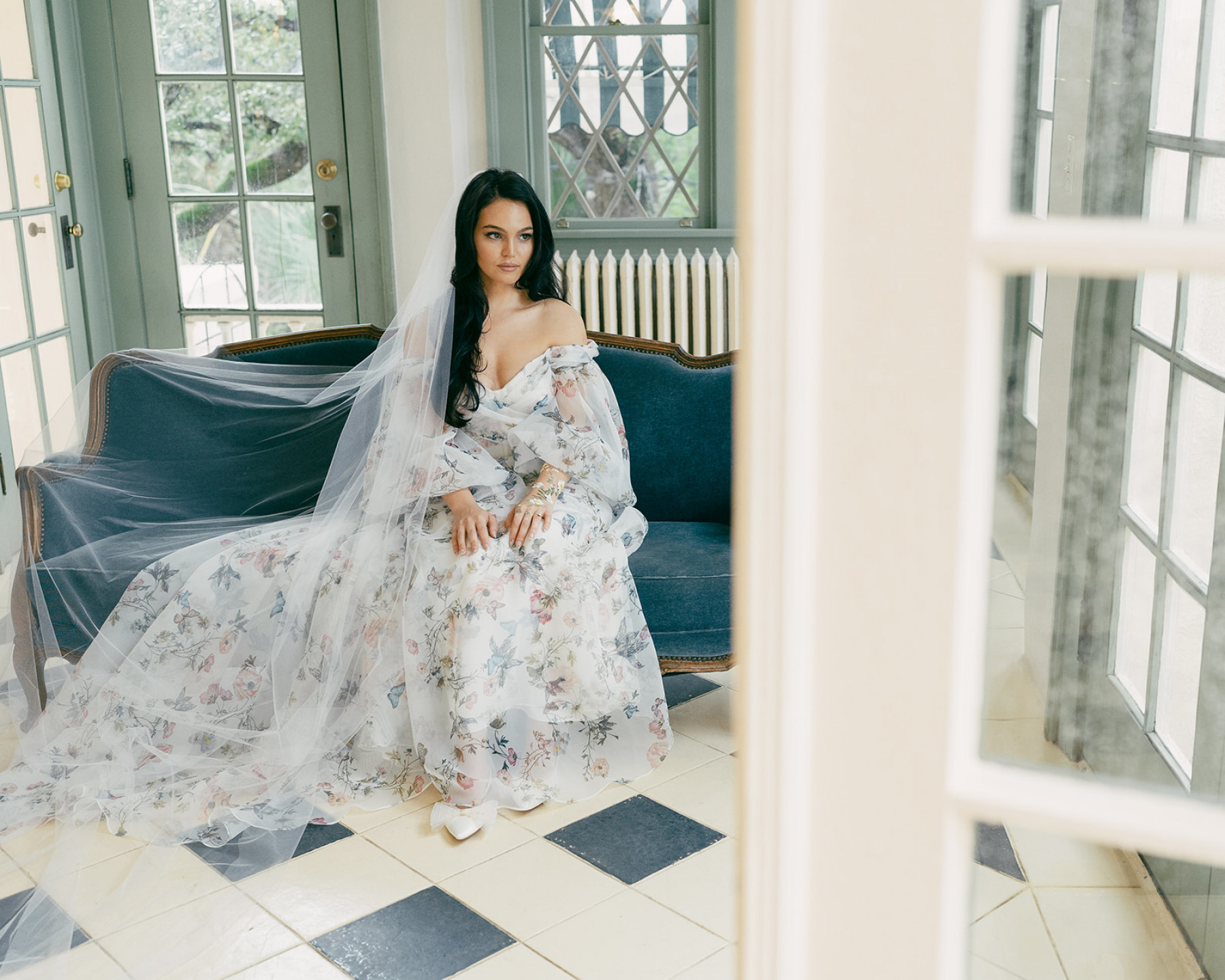 How many guests did you have?
We had 125 guests come from all over the US, France, England, Senegal, Mexico, and South Africa. Seeing all our friends and family dancing together and meeting each other was the highlight of the whole event for us. 
Tell us about your outfits.
I went to Monique Lhuillier without a plan or expectations and really just wanted to see the incredible floral gowns up close. The third gown I tried on was the Jardin, and I fell in love with it immediately. Paige, an incredibly talented artist in Austin, handpainted my nails with the same butterfly and flower design as the dress. Patrick chose his Marine Corps dress blues and ceremonial sword. Our planner Cillia brought unique floral body art that we incorporated into my look as well. 
What was your first dance song?
We probably did the most research and vetting to find a DJ. Thankfully we found DJ Helios, who crafted the most perfect setlist. She incorporated a little something for everyone (80s hits, cumbia, Texas country, reggaeton). We kicked it off with Dreaming Of You by Selena, and from there it turned into a Tejano dance party.
What flowers did you choose for the bride's bouquet and why?
Since our venue was a lush garden, to begin with, we looked for minimal, seasonal flowers that complemented the setting. We wanted our guests to be able to interact without distracting table settings, so our wedding planner and floral designer Cillia decorated one very long tablescape for everyone with single white anemone stems in ikebana vases. I've been collecting orchids for ten years, so she included a draped orchid stem in my bridal bouquet. 
What was your wedding cake like? And where did you order it?
To honor my Father's side of the family and introduce Patrick's family to our traditions, we had biscochitos (Mexican wedding cookies) instead of cake. We also served arrachera, esquites, and chayote with tajín palomas and mojitos, our favorite cocktails. 
Are there any vendors that you would like to tell us a little more about?
Our photographer, Kelly, actually played a huge role in conceptualizing the design of the wedding in addition to the photography plan. She knows the wedding industry well and helped build a timeless design that truly reflected us as a couple. Kelly somehow captured every beautiful, candid moment on film and digital, and we had a blast working together. Pam Dioquino was my hair and makeup artist and flawlessly created natural looks for myself and two best friends.
Bride: @elizabeth.cirenza
Photo: @kellymour__
Venue: @contemporaryatx
HMU: @pameladioquinohair 
Planning/Florals: @marionevents 
Gown: @moniquelhuillierbride