The concept behind Geyse and Adam's wedding was inspired by the aesthetics of contemporary art galleries. The couple chose a wedding venue with stunning mountain views in Arizona and turned it into an exhibition of stylish interiors and sculptures. Wedding guests dressed up in black and white to emphasize the style of the event. Even the wedding cake(s) looked more like a work of art than a dessert! We reached out to Geyse to find out how she arranged her special wedding, as well as her love story with Adam.
How did you two meet?
Adam and I first saw each other at the gym. I could tell we had noticed one another, but gym etiquette is real. Trying to pick up strangers at the gym is right up there with not wiping down your equipment after a sweaty set. So, the months passed and we were still just gym crushes at a distance. We finally ran into each other at a bar in downtown Columbus, Ohio. He was there with a group of friends we had in common, and I finally got to introduce myself. Nothing came of it that night, but things progressed at the gym. Quick pleasantries in passing, then small talk before or after workouts, then asking about weekend plans, then inviting each other to friends' gatherings, culminating in the long-awaited first date.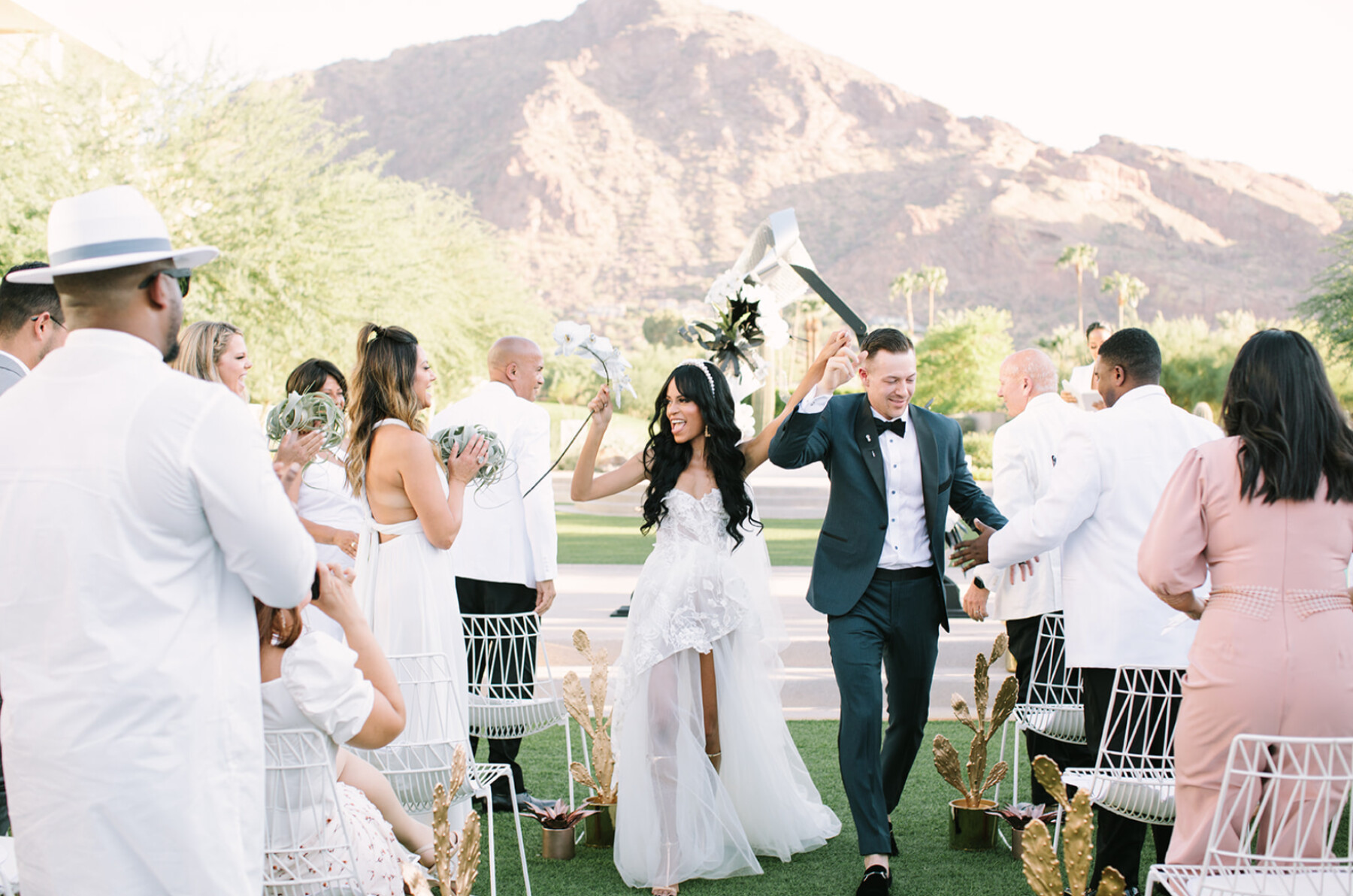 What do you do for a living and for fun?
I am a small business owner, and Adam is a commercial real estate appraiser. We both work from home. As far as hobbies, we both love to cook and try new foods. He's really into collecting bourbon and making craft cocktails, and I am his enthusiastic guinea pig for new recipes. He's an avid gym goer, while my exercise nowadays is marathon shopping (mostly for baby girl things since we had our little girl nine months ago). We both enjoy binge-watching shows, traveling, discovering new music, interior design, visiting museums, and hosting friends and family. 
What was the concept behind your wedding and how did you find your inspiration?
The concept for the wedding was an upmarket art gallery opening. The inspiration was modern art and interior design. I wanted a clean, yet sexy, modern look. Black and white were major factors in the aesthetic, as well as having the centerpieces as the featured art sculptures. 
Where was your wedding?
The ceremony and reception took place at Mountain Shadows resort in Paradise Valley, Arizona. We wanted a destination wedding that didn't require a passport, and one of our favorite trips as a couple before getting engaged had been Scottsdale. The venue itself spoke to us because it fit our modern aesthetic perfectly, and had spectacular mountain views for the ceremony. We had stayed at Mountain Shadows while scouting out venues, which further cemented our choice. The decor, the room, the food, the drinks, and the staff were flawless. 
How many guests did you have?
We wanted to keep the wedding intimate, so we had 37 guests. 
Tell us about your outfits.
My gown was a customized Galia Lahav, and his tux was a custom Tom James creation. My shoes were Francesco Russo, and his were Paul Stuart velvet loafers. I pulled a quick outfit swap for the latter half of the reception and changed into a white fitted romper, long sheer cape, and clear pumps.
What was your first dance song?
The first dance song was a live performance of Rihanna's "Shine Bright Like a Diamond" by our friend Courtney Wykoff. Had us all in tears. 
What flowers did you choose for the bride's bouquet?
I'm not a flower fan but I needed something to soften the look. We chose a single stemmed white orchid with black veins as my "bouquet".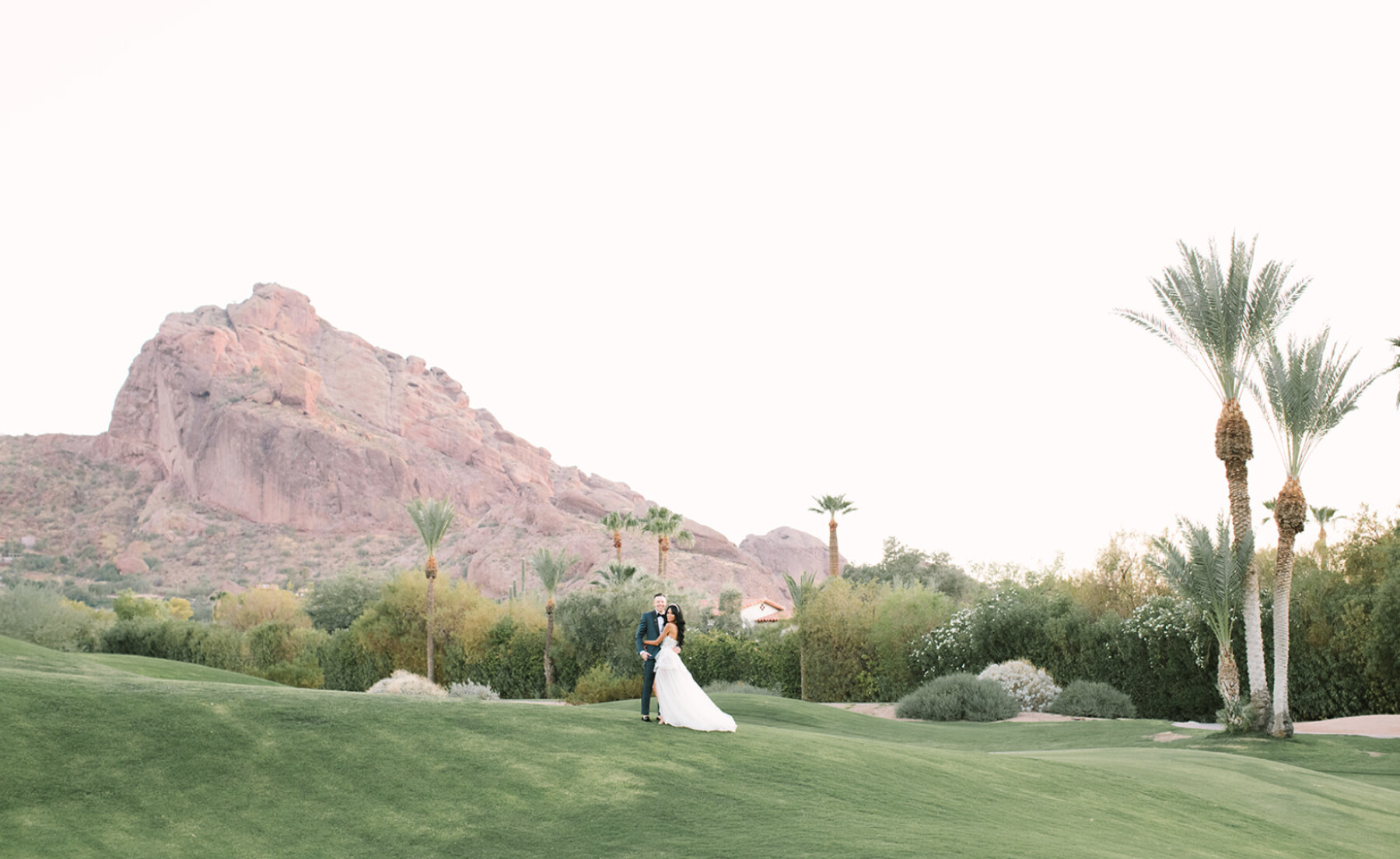 What was your wedding cake like? 
We had two cakes because of exclusivity/food and beverage venue guidelines. A classic sheet cake was provided by the venue for our guests to eat, and a fake one for aesthetics and pictures. I needed the cake to have a very specific modern art design, which was realized in a collaboration between A Bakeshop and Idieh Design. Everything needed to look like a piece of art.
Are there any vendors that you would like to tell us a little more about?
All vendors were absolutely incredible. Not only did they gracefully freshly navigate the pandemic challenges but also delivered expertly on such a different concept. 
It's not an exaggeration to say that it could have never been done without our wedding planners Kris and Tyler Zeman from Konsider it Done. Tyler was the practical half of the operation, with special attention to giving the groom a voice. Kris was able to translate my insane ramblings about modern art and interior design into actionable information and pulled together the most amazing team of vendors. They delivered beyond my expectations at every level. 
Idieh Design created a custom, modern art design that became the anchor for the aesthetic. Idieh Design partnered with The Details Duo to literally build our custom escort display art installation, complete with a plaque for authenticity. It was a massive undertaking for everyone involved, and truly a showstopper.  
Another heavy hitter on the production team was Bloom + Blueprint. I wanted the centerpieces to be metal sculptures using mesh metal sheets. They ingeniously incorporated the metal sheets into floral arrangements spray painted in different metallic tones to create monochromatic structures that very much looked like sculptures. 
Last but certainly not least, our editorial wedding photographer team led by Lea Bremicker blew our collective minds. Her creativity, her eye for angles, composition, and general ability to perfectly immortalize the feeling of the moment makes her work positively stunning. 
Please note that no matter how big or small vendors' roles were, they all stepped up to the challenge in a way that still makes me tear up. How these wonderful people came together in such a time as 2020 turned out to be. They didn't owe us a thing, really. It would have been absolutely within everyone's right to cut and run. This was a team of professionals so great, so careful, so determined, and so meticulous, that they managed to create an entire world that was mine and my husband's. There has not been a word invented to express our gratitude. 
Bride @h.to.the.ov
Groom @avellucci9  
Venue @mountainshadowsaz
Planner @konsideritdone
Photo @leabremicker
Gown @galialahav,@whitebridalboutiques 
Tux @tomjamesclothing
Florals @bloomandblueprint
Stationary @idieh_design
DJ @ingramentertainment
Rentals @primrentals, @dang.finerentals, @brighteventrentals, @eventrentsaz
Linens @bbjlatavola
Cake @abakeshop, @pieceofcakeaz 
Muah @makiajbeauty
Custom Pieces @thedetailsduo