With fifteen months of preparation, drawing inspiration from Italian aesthetics, and aiming for a classic yet sexy bride look, Jess and Sean's wedding was a true spectacle. We had the opportunity to speak with bride Jess about the meticulous details of their wedding preparations, as well as hear the heartwarming story of how she and Sean first met and got engaged.
Tell us a little about yourselves.
We have known each other for 15 years but reconnected at a festival. We both are social butterflies, so this is not unexpected haha. We both enjoy dining and drinking out a bit too much! I own a hair salon in Perth, and my partner works in marketing. We literally socialize for a living.
Can you share your engagement story? 
Of course! He planned a trip down south for my birthday, and just before dinner, we went for a walk along some rocks near a beach. He said we should take a self-timer photo (this isn't unusual for us). I started fixing my hair and posing for the shot, and then he was on one knee! I was so confused and shocked I was swearing the whole time, "ARE YOU F**K KIDDING!?" It made for a really funny Instagram upload afterwards. I was stunned that he designed the ring himself, and I feel sorry for him because we never had any conversation about it, so the poor guy went in blind. He nailed it! I wouldn't have known what ring I would want anyway.
Where was your wedding? Why did you choose this venue?
Our wedding was at the University of WA. I am European, so the gardens and buildings reminded me of Italy.
What was the concept behind your wedding, and how did you find your inspiration?
The inspiration behind our wedding was Mediterranean but romantic. I am Italian, and my family was born there. We wanted to feel like we were in the gardens and streets of Italy. We worked with a planner, Bertie Does, and she absolutely nailed the brief! I gave her full creative control.
How long did it take to plan your wedding? Did you encounter any challenges during the planning process?
It took 15 months from the start of the consultation process with Bertie Does until the day. Sticking to the budget was the biggest challenge for sure. We had to make a few cuts, but not so much that it would affect the aesthetic we wanted.
How many guests did you have? And what was the seating arrangement at the wedding like?
We had 165 guests on a long table seating arrangement, and ourselves and the bridal party were in the middle of everyone!
Tell us about your outfits. How many different styles have you tried?
I tried on about 10 types of wedding dresses, I think! The one I went with was the J Andretta Cafe De Flore gown, and it was one of the very first ones I tried on. J Andretta has only made this dress for 8 brides before, and it was an extremely delicate piece which took 10 months to make! I also really wanted a unique mini dress for the party afterwards, so I got that made from Christie Nicole.
What was your first dance song? Did you choreograph or improvise?
Our first dance song was "That's Amore!" and our nonna taught us a dance, which was very special.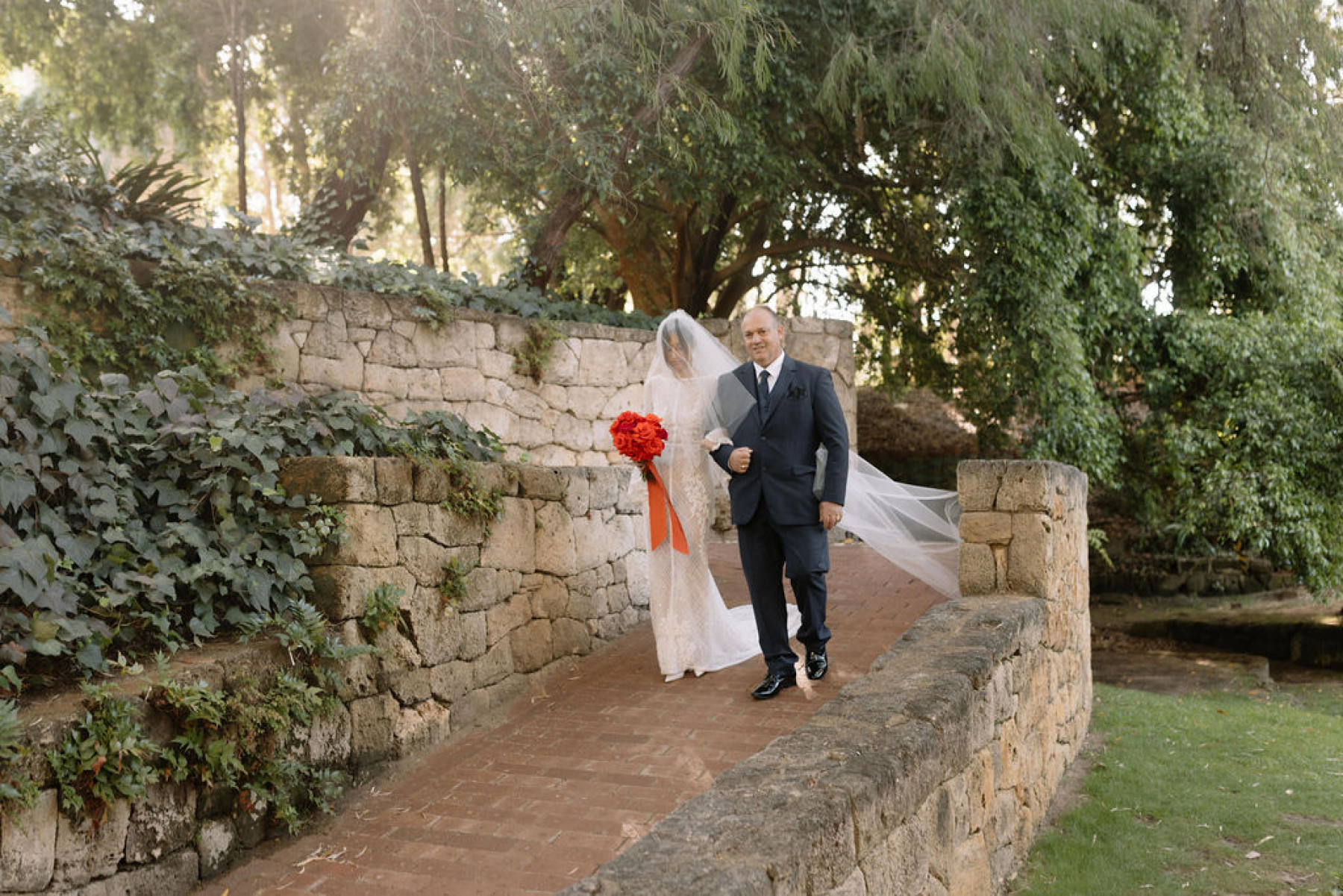 Did you have any special performances or entertainment? 
We had a very special first dance, and I also surprised everyone and chopped my hair off pre-party and dress change. I even hid it from my bridesmaids, which was so hard!
Did you make a gift for guests, and what was it? 
We had personalized limoncello cocktails for our guests.
Did you have any pre-wedding events, like a rehearsal dinner or bridal shower?
We had plenty of pre-wedding dinners, bucks and hens parties, plus a bridal shower! The few months in the lead-up were magical.
Were there national/religious traditions at your wedding, and how did you implement them? 
We did the Tarantella dance, and a few Italian songs were played after the first dances.
What gift from guests do you remember the most? 
All of our guests gave us money towards our honeymoon down south afterwards.
What was the most memorable moment from your wedding day?
Our speeches were the most heartfelt and memorable, for sure!
Are there any vendors that you would like to tell us a little more about?
Our beautiful photographer Sarah Tonkin and videographer Auburn Hour were incredible. My Circles of Hair girls that did my hair and the bridal party as well as my surprise haircut halfway through the night!
What advice would you give to couples who are currently planning their wedding?
Something I wish people told me more was to enjoy the planning/creative process. Everyone is always so stressed about the budget, guest list, etc., but my absolute favorite part was the lead-up moments. Complete transparency and communication with your partner are absolute keys to make the process stress-free!
What helped you cope with the anxiety before the wedding?
Honestly, I did not have any anxiety! I loved the process, and I would do it all again in a heartbeat! Rare, I know.
Photographer: @sarahtonkinphotography
Videographer: @auburnhour_films
Planning/ Styling: @bertie_does
Florals: @naturalartflowers
Bride: @jessmariedel
Dress: @j.andretta_
Party dress: @christienicole_bridal
Hair: @circlesofhair