Jo and Alex's wedding was timeless and classic. The couple chose one of the most picturesque wineries in Australia, where they hosted a reception with oysters and wine. Their reception dinner overlooked the water and after, their guests enjoyed an open-air party under the garlands of fairy lights. We asked Jo about the details of her wedding, as well as her love story with the groom, Alex.
How did you meet?
Alex and I met at a mutual friend's birthday party. We had been introduced twice previously over the years without remembering each other. I guess timing is everything!
What do you do for a living and for fun?

We're both from Western Australia, but Alex is a country boy and I'm very much a city girl – the definition of 'opposites attract'. I worked in institutional real estate when we met, and Alex was (and still is) a builder. We now work together in our own construction and development business.  
What was the concept behind your wedding and how did you find your inspiration?
I think the first brief I gave to my planner (Lara of White Events) was a modern wedding with lots of textural flowers and disco balls! I loved the idea of flowers as an art style installation rather than traditional wedding flowers and took some inspiration from Berlin florist Mary Lennox. I wanted the flowers en masse with no greenery at all. Our florist, Natural Art Flowers, absolutely nailed it! For the rest of the styling, we had a modern palette of white, pale blue, and taupe with touches of black. The disco balls were the perfect finishing touch to make sure it felt more like a party than a wedding reception.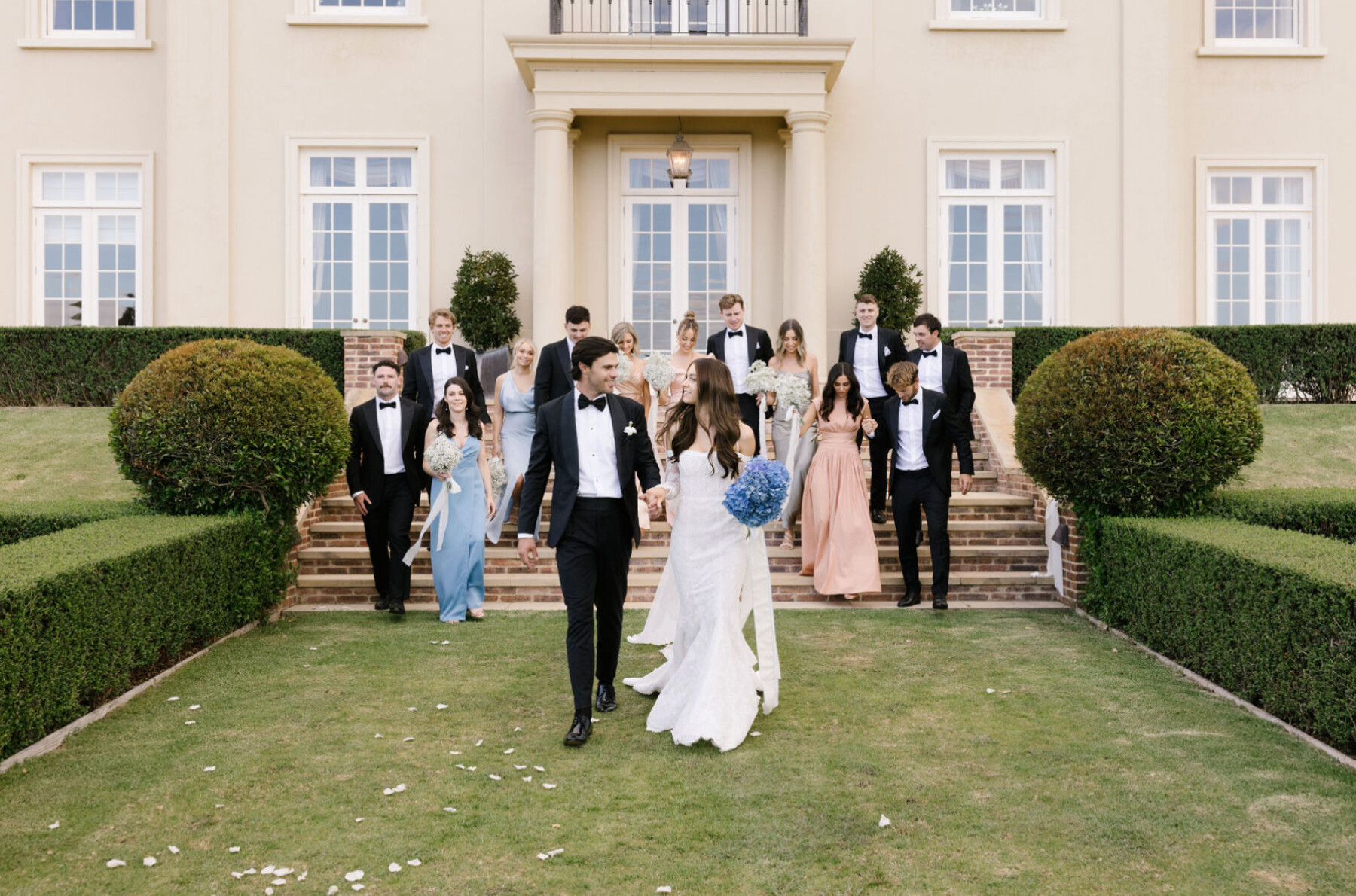 Where was your wedding? Why did you choose this venue?
We were married at Fraser Gallop Estate, a vineyard, and winery in southwest WA. After seeing the estate, nothing else compared. We loved that we could use the gardens, residence, and lake as a backdrop, with everything else brought in to really make the venue our own. Alex and I both love our food and wine. One of the most significant considerations for us in planning the day was making sure our guests were served exceptional food and wine, so it certainly helped in our decision that Fraser Gallop produces some of the best wine in the region.
How many guests did you have?
We had 134 guests. Looking back, we were very fortunate to not be impacted by COVID lockdowns, guest limits, border closures, or enforced mask-wearing mandates, given we were in the middle of the pandemic. 
Tell us about your outfits.
Alex had his two-piece tuxedo custom made by Khirzad, with a shirt, shoes, and bow tie from Parker & Co. His cufflinks were mechanical cobras with blue Swarovski eyes from Tateossian. I wore a custom gown by Elle Couture. I knew I wanted a traditional lace gown, with fashion-forward details. Ellie from Elle Couture created a design with a straight neckline and double strap style shoulder detail which continued down the sheer false back, fabric-covered buttons, and slightly flared long sleeves with more button detail at the wrist. Ellie also helped me source the most gorgeous mix of corded French laces for the dress and veil trim. She put so much time into cutting, placing, and sewing all the different laces by hand onto the dress. I had a full-length two-layer cathedral veil with lace trim. It added so much softness and drama and photographed beautifully. I wore Amina Muaddi pumps with flared heels, which were perfect for our ceremony and reception being on grass. I spent such a long time trying to get my hands on these shoes. I finally found them and pre-ordered them three months prior and they arrived one week before the wedding. After dinner, I changed into a custom Khirzad Femme white silk gown, accessorized with a diamante belt.
What was your first dance song?
Coming Home by Leon Bridges. We did dance lessons and learned a choreographed first dance with Chase Dance. Both of us have two left feet and we thought we had our little routine pretty much down pat, however after a few wines on the night it didn't exactly go as rehearsed. The dance lessons were still worth it and still so much fun! 
What flowers did you choose for the bride's bouquet and why?
I wanted something fluffy and textural in a soft color to stand out from my dress and veil. I settled on an irregularly shaped bouquet of blue hydrangeas, and Natural Art Flowers surprised me with two bouquets on the day – one with pale blue preserved hydrangeas and a second with deep lilac-blue fresh hydrangeas.  
What was your wedding cake like? And where did you order it?
We decided to scrap the traditional wedding cake and instead served Custard Cannoncini and Limoncello shots on the dance floor. It meant everyone could continue partying and the Limoncello shots definitely took the dance floor up a notch!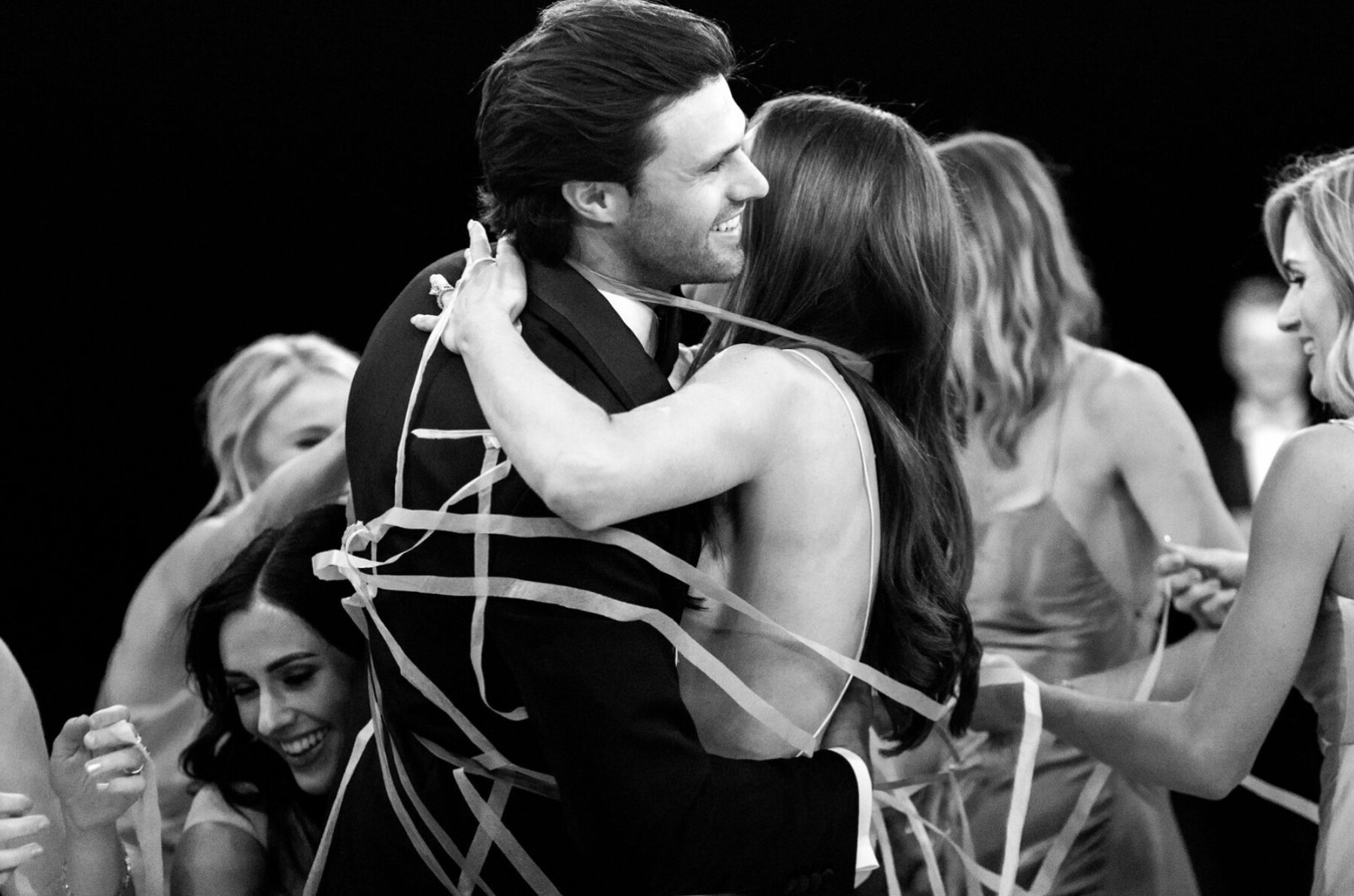 Are there any vendors that you would like to tell us a little more about?
Yes, all of them! Our day couldn't have run more perfectly, we were able to relax and enjoy ourselves while White Events took care of every little detail… and her styling was just next level! Sarah Tonkin Photography captured the day perfectly and made us feel so relaxed, considering neither of us really feel comfortable in front of the camera. Our videographer, Chris Martin Cinema, was so stealthy in the background on the day, we didn't even know he was there. He captured all the little moments you just can't capture in photographs. As I mentioned Alex and I love our food and fine dining, so choosing a caterer was a big decision. Supper Road catered all the food, and all our guests commented on how delicious everything was. Our menu included canapes and an oyster shucker to start, charcuterie at the table before dinner, a guest selection of three à la carte main courses, and a pulled pork toastie at the end of the night to make sure no one went home hungry.
My hairdresser and make-up artist were not only amazingly talented but also made the day getting ready with my bridesmaids so fun and relaxing. Kyra from Pepper Hair styled our hair, and Kinga Markovic was our make-up artist. Our DJ, Simply Entertainment, had the vibe of the entire night on point. Rob was thorough in planning song preferences beforehand, playing the perfect selections to suit pre-dinner drinks and dinner, and getting everyone on the dance floor later in the night.
Bride @jo.bormolini
Groom @alex_bormolini
Photo @sarahtonkinphotography
Planner @white_events
Floristry @naturalartflowers
Lighting @micktric_events
Hire @hire_in_style_wa @hiresociety @festoon_lighting @sideserve @eventartillery 
Stationery @sophiehope_creative
Venue @frasergallopest
Gown @ellebridalcouture
Hair @pepperhairau
Make-Up @kingamarkovic