When a wedding planner arranges their own wedding, it becomes an intriguing affair. After all, who else but they would be fully informed about the latest trends, intricacies, and nuances of collaborating with vendors? However, is it really all that distinct from a "mere" couple in love who envisions uniting in marriage? We sat down with Francisco and Julian, whose wedding was held last November, to delve into the intricacies of their wedding planning and simultaneously discovered their journey as a couple.
How did you meet?
We met on Tinder, twice! The first time Julian was ready to move forward but wasn't able to articulate it quite correctly, so Francisco went a different direction, and we drifted apart. Then after trial and error in our own separate lives, we ended up reconnecting on Tinder, and this time we were both in the perfect place to move forward!
Can you tell us about your first date?
Since this was our second first date, Francisco made it clear to Julian that it needed to be a proper date — with a beginning, a middle, and an end. If it didn't work this time, we just needed to be friends. Thankfully, Julian made sure to pick the perfect place. His criteria were: no reservations to be able to chat longer, great food but slower service to increase the time at the table, and a wonderful dessert menu! It was a resounding success, and we haven't been apart since.
Any cute or special memories from while you were dating? When did you know you wanted to marry your partner?
Julian: Our first travel trip was to visit London for the wedding of Meghan Markle to Prince Harry. Julian was covering the wedding for a national radio show and invited Francisco along. The beginning of the trip was quite rough, as it didn't look like we were both going to make it on time. But long story short, we made it, and I knew Francisco was the one. He was calm under pressure, scrappy, willing to do anything, and truly made the most of our weekend in London! Our travel adventures have been quite amazing since, and we haven't looked back!
Francisco: I knew I wanted to marry Julian when we started dating the second time around. I was still working a 9-5 job before opening my own business. Julian would surprise me constantly at my office with flowers and cute notes. The girls at my office were always jealous, haha!
Share a little bit about the proposal.
Julian surprised Francisco with a proposal in St. Barth. We were working on a wedding in St. Thomas and decided to extend a bit and visit St. Barth as well. A hurricane derailed our plans by a day, but we eventually made it, stayed at the super fabulous Cheval Blanc, and Julian proposed on a catamaran at sunset. Francisco was quite surprised; when we got on the boat, he thought for sure it wasn't happening, as there wasn't a photographer on board. Luckily, Julian had hired a photographer with a sense of fun, disguised as a deckhand serving drinks and canapés. Then, surprise, he turned out to be a professional photographer when Julian popped the question. Our rings are from David Yurman, and Julian had Francisco select three that he loved, and then Julian ultimately selected for both of us.
How long were you engaged?
A year and a half.
What was your planning experience like?
Our planning experience was quite unique. Being a wedding planner myself, I knew I wanted to have my team handle most of the planning, so we worked Francisco and me into our normal workflow. We had meetings all together to ensure decisions were made in unison, brought together design inspiration from each of our cultures and personalities, and ultimately left it in the capable hands of Sarah Kane, the lead project manager of Julian Leaver Events. She guided us the entire way, and it truly wouldn't have happened without her!
Where did you get married, and why did you pick the venue and the city specifically?
We got married at Hall of Lights in Carrollton, Texas. We chose this location because Julian had been one of the consultants on the project from the very beginning and really helped shape the way that events were conducted and would look at the venue in the future. It was also somewhere that Julian had never worked previously, making it feel more like a wedding and less like work!
If you were to give your theme a name, what would you call it?
Dark and Moody! We were inspired by the stunning sunset and nighttime vibe of our venue and wanted it to feel and be as sexy of an evening as possible.
Tell us about your ceremony and reception décor.
I mean, where on earth do we start? The theme again here is trust your vendors. Sarah had a real vision for the way that all of our wild and crazy ideas were going to come together, and we truly trusted her to help make that happen! I think the images really speak for themselves, but I would say the highlights are… the ceremony tent, the mini charcuterie escort cards for each guest, the Julisco Coke station (Julian has been sober for 7 years, and this was a way of incorporating non-alcoholic beverages), the specialized decor items on all of the bars from Francisco's interiors business, Casa Bella Staging + Design, the Julisco disco after party items, the unique stage design, and the incredible lighting by the incomparable team at JacobCo Creative. And then there was the floral from Gro and the tabletop from Top Tier! It felt like each detail was perfectly curated to represent our story and the way we like to live our lives!
Did you incorporate any cultural, traditional or sentimental elements into your wedding day?
Yes! Since we come from two distinct cultures, we wanted to make sure that both Spanish and English were prominent in our ceremony and throughout the night. At the ceremony, we had the program in both English and Spanish and had two different officiants who conducted parallel ceremonies at the same time in English and Spanish, coming together for the significant moments in English. This spilled over into our music selections, with the pre-ceremony music being soft rock and the cocktail hour featuring a Latin trio. We also had a full band, a Mariachi, and a club DJ who could spin both Latin and American hits!
Did you intentionally break with tradition in any way?
Yes, we chose not to have a first look or wait until we saw each other at the altar. Instead, we both got ready together, drove to the venue together, and saw each other the entire day! It was magical! Another thing we did, which Sarah suggested, was to drive to the venue together and alone. It was the best decision for us, as it was the only time all day that we had a minute to ourselves.
Did you have any unexpected ceremony music choices or readings?
We did! To get everyone's attention at the beginning of the ceremony, we chose to do a Call to Celebration and had our neighbor, Garrett McGrew, sing Adele's "Make You Feel My Love." It was a moving experience, as Francisco, me, and our parents were all waiting a distance from the tent and took in this incredible moment together.
Did you write your own vows? If yes, can you share some highlights?
Julian to Francisco:
Francisco,
From our first date in 2014 to our second first date, five years ago this weekend, you have had my heart. Sometimes I have a hard time expressing that fully to you. We both know that on occasion I get in my own way and botch it all up. So here today let me make it very clear.
I love it that you push me to be the best man I can be. I love it that you're adventurous and help me to see outside of my normal boundaries. I love it that you bring spontaneity to my sometimes too-planned-out life. I love it that you make me laugh harder than I have ever laughed before. I love your dancing, your funny faces, and your ability to go from zero to 100 in seconds. I love your kind heart, emotional soul, and soft spot for your grandparents, Olivia, and literally every small dog you see. And most of all I love you, all of you, the very most.
And now for the promises.
I promise to love you with all my heart. Even the parts that have yet to be unsealed. I promise to continue to work on our communication. It is our foundation and the key to our success. I promise to encourage and support you in all that you do. Your willingness to take the leap into your business has been one of the most inspiring journeys I have ever witnessed. I promise to love your family like my own. They are an extension of your heart, and I will do everything in my power to protect them! I promise to be open to adventure and adversity. Both of these have helped us grow stronger together, travel to great heights, and we are just getting started. I promise to be by your side through sickness and in health, poverty, and in wealth, forever and always.
And as Nathan Sykes says in our first dance song:
"…Don't ever think I need more
I've got the one to live for
No one else will do, and I'm telling you
Just put your heart in my hands
Promise it won't get broken
We'll never forget this moment
We'll stay brand-new 'cause I'll love you
Over and over again".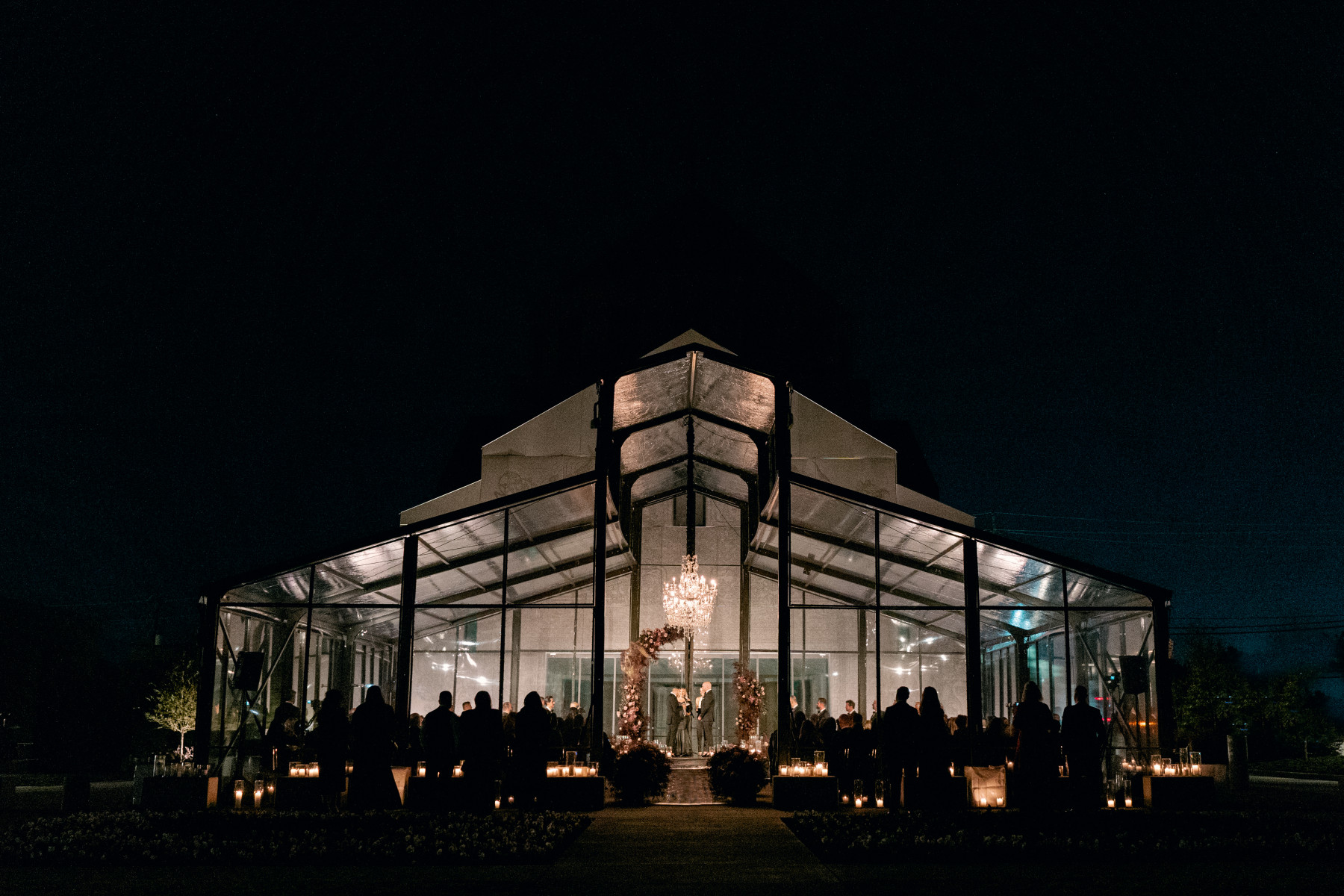 Francisco to Julian:
Julian,
November is our month! It all started eight years ago. Our first date was on November 21st. Timing wasn't in our favor then, but I knew you were the one. Then, five years ago, we reconnected again on November 14th. Pixie then joined our lives 3 years ago, and her birthday is November 20th. And it's so fitting that now we are here on this beautiful evening in November!
Julian, I love you because you make me proud. You're adventurous, not as much as me but pretty close! You are the dream I never dreamed would come true. I love you because you believe in my dreams and support my crazy ideas. My life with you has been nothing but a beautiful adventure together! It's so easy to love someone as unique, special, strong, creative, and joyful as you are. With my heart filled with joy and gratitude, I have the privilege to stand here before our family and friends to vow my love to you.
I promise to love you for who you are, and for who you are yet to become. I promise to nurture your dreams and help you reach them. I promise to share my whole heart with you and to remember to show you how deeply I care for you, no matter the challenges that may come our way. I promise to hire a professional, even if I really want to try to do it (and probably make it worse) myself.
And last but not least, when I say, "I do," I don't mean the laundry!
Describe your cake and any other desserts.
Our cake was inspired by the venue! It had various flavors. A funny story about the cake plateau is that we couldn't find one we loved, so we ended up going to CB2 and purchasing a marble charcuterie tray and a marble wine cooler, gluing them together to make our amazing base! We'll use it at home to chill champagne and hold glasses!
What did you dance to for your first dance?
"Over and Over Again" by Nathan Sykes. We chose this song because it spoke to our relationship and finding each other again after a separation. One day we were driving in the car, and I just looked at Francisco and said this is going to be our first dance song! And it was.
Looking back, what was your favorite moment of the wedding?
Julian: I have two. My first favorite moment of the wedding was the ceremony because the love in the room was incredibly electric. Every single person in that room had fought for us to be there, to make it, and to be loving each other in this way. It was an unreal feeling. My second favorite moment was when our brothers spoke. They both gave speeches; Francisco's brother was funny, sweet, and sad in English and Spanish, telling the story of a family that dreamed of a better life for their children. My brother stood and spoke for 15 minutes straight without stopping, and every person in the room sat riveted on the edge of their seats, waiting for his next sentence. It was the most moving thing I have ever heard him deliver and brought us all to tears.
Francisco: I have 2 special and favorite moments! Walking up to the ceremony and seeing how beautiful it was and feeling all the love from our friends and family was incredible. Number two would be dancing the night away with all of our loved ones and the incredible party unfolding exactly as we had planned it.
What advice would you offer to other couples currently in the throes of wedding planning?
If you haven't already, hire a planner! And second, breathe. It is all going to be ok; ultimately, you are going to be married, and that is all that actually matters. This is a celebration, a moment, and it's not all going to go perfectly. Just remember that, and you will be headed in the right direction!
Grooms: @julianleaver & @francisco_diaz06
Planning: @sarahlizkane for @julianleaver 
Cinema: @candlelightfilms
Photographer: @abbyjiu
Venue: @halloflightsevents
Catering: @bluefiretotalcatering
Alcohol: @specs1962
Floral & Design: @grodesigns
Rentals: @toptiereventrentals @percheventdecor @partydallasrentals @nuagedesignsinc @centerstage_floors
Ceremony Music: @justinrcash
Tent: @sandoneproductions
Mariachi: @mariachi_fiestausa
DJ: @djhooligan79
Band: @jordankahnorchestra
Beauty: @maiteemiles
Lighting: @jacobco_creative
Accommodations: @hotelcrescentcourt
Getaway Car: @dfwvintagecars
Transportation: @premierofdallas
Stationer: @southernfriedpaper
Photo Booth: @thepictsybooth
Fashion: @qclothier @suitsupply @louboutinworld @dior
Rings: @cartier @davidyurman @davidyurmanmen
Travel: @wedawaystravel