Lyndsey and Edouard are from very different countries. This fact, coupled with the COVID-19 pandemic, made the planning of their wedding undoubtedly complex. But in the end, love always wins and their marriage ceremony took place after long last! On the first anniversary of their marriage, the couple arranged a stunningly elegant celebration in Paris for all of their loved ones and friends. We learned all the details from Lyndsey herself. 
Tell us a little about yourselves.
Edouard and I met at a dinner party in London, he was in town for work and I was there on a girl's trip with my best friends. At the time, he was living in Switzerland and I was living in New York. We dated long distance for a year before we got engaged and luckily my job was bringing me to London so we would be a little bit closer! I work for Condé Nast US as the Vice President of Fashion and Luxury and Edouard is a commodities trader. I would say our shared hobby is that we love sports and being active. Edouard especially loves the outdoors and being in the mountains.  
What was the concept behind your wedding and how did you find your inspiration?
We got engaged prior to COVID, and being an international couple, the pandemic made it impossible for us to bring our families together. Edouard and myself were even forced into separation for six months until we eloped! Once we were legally married, Edouard was able to travel to the US so we could have a wedding with my family and a year later we were finally able to celebrate with his family and friends. That was actually the first time our parents met in person! Because of this, we kept the church ceremony to only our immediate family and Edouard's best men. Since this was our moment to celebrate with his family in France, we wanted the day to be unique but very authentic.
We drew inspiration from our gorgeous church and venue in Paris. The venue is very special to us because Edouard's parents and sister were both married there. After having such a difficult time planning through covid we wanted to keep things simpler. We worked with a local florist and really trusted her to bring our vision to life while letting the gorgeous architecture shine. The weather was also a great help that day, we did not need to add much!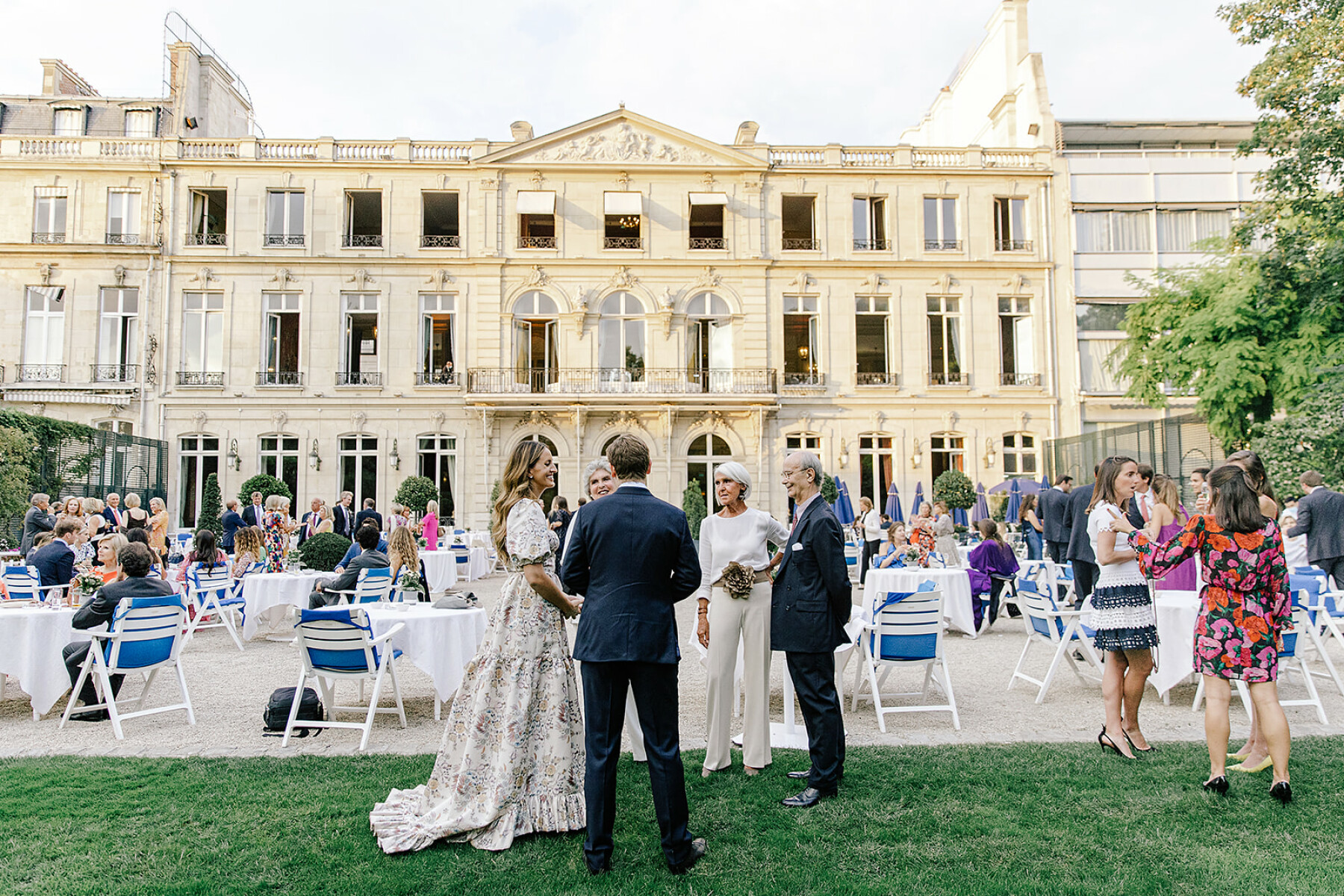 Tell us about your outfits.
I took the opportunity to have a bit of fun with my dress. I had admired a Markarian dress for a very very long time and it felt like the perfect opportunity to wear it. It felt classic but with a modern twist and absolutely matched the venue perfectly. For the church, I decided to wear a veil. My mom bought the veil actually. Edouard wore a suit from an English company named Hackett since he is half English and half french.  
What was your first dance song?
Our first dance was to Soldier by James TW. The lyrics speak for themselves. We just love this song and it brings back so many memories. 
 What flowers did you choose for the bride's bouquet and why?
I showed the florist the flowers from our wedding and told her I love blue and white. She perfectly brought together a touch from our wedding with seasonal flowers in France. 
Are there any vendors that you would like to tell us a little more about?
Our photographers! After having a non-traditional wedding experience due to the pandemic we were so happy that our photographers could capture both experiences for us. It helped bring a cohesiveness to both events, a year apart, as well as provide both families with gorgeous images.   
Bride @lnatale
Photo @mashaida.co
Gown @markarian_nyc
Churc Eglise Saint Roch
Venue Circle de l'Union Interalliee