Classic, yet far from boring; modern, yet tinged with a hint of retro charm; grand in scale, yet exuding coziness; romantic, yet infused with fun—such a striking contrast defined the wedding of Madeline and Killian. As we delved into the details of their special day, we also unraveled the captivating story of their love and engagement. Continue reading to discover the intricacies of their remarkable story and explore the enchanting wedding captured in the Petite Visuals shoot.
Tell us a little about yourselves.
Killian and I met in high school in Canberra. After a bit of a false start (read: a failed date in year nine, haha), we rekindled our friendship in our final year of school through a shared love for our photography classes. Our romance naturally flowed on from there, and we tied the knot after 12 wonderful years creating a life together.
I am the Director of Events for a professional event-planning business - so yes, I definitely felt like I had a bit of an unfair advantage during the planning phase. My husband Killian is the Head Coffee Roaster at a boutique Melbourne coffee roastery.
Killian is a very talented rock climber, and he spends many mornings each week hitting up the local climbing gym with his friends. We are avid travelers and have been so lucky to have visited many countries around the world together. I am about to finish a Master of Business Administration (MBA) at the end of this year, but when I'm not working or studying, I love photography, pilates, drinking wine with friends, and walking our sweet paraplegic dog Frankie.
Can you share your engagement story?
Oh, absolutely, I love this story. We were in Freycinet Bay in Tasmania for a single night as part of a bigger trip, and Killian had planned on proposing on a sunrise hike we had planned. Completely oblivious to this, I was convinced by the hotel manager that the sunrise from our room would be just as good, and I unknowingly ruined Killian's plans in the process. The next morning I rolled out of bed to watch the sunrise over the ocean from the balcony. Killian came out, got down on one knee, and asked me to marry him, while I sat there bleary-eyed and in my pajamas. We still went for the hike afterwards, and I spent the entire time trying not to trip and fall on my face as I was too busy looking at the beautiful ring on my hand.
Where was your wedding? Why did you choose this venue?
Our wedding was at Mitchelton Wines in Nagambie, Victoria. I stepped onto the grounds and immediately knew it was the one - it was the perfect combination of modern and retro. But not only is Mitchelton Wines incredibly beautiful, the food and wine are nothing short of spectacular. My husband and I also wanted a venue where everything was onsite: accommodation, the ceremony location, the reception venue, we even did our recovery brunch there the following day.
The venue is about two hours north of Melbourne, which is just far enough that all of our guests made a weekend of it. Removing them from the hustle and bustle of their daily lives meant everyone was even more immersed in the festivities.
What was the concept behind your wedding, and how did you find your inspiration?
I used Pinterest a lot in the beginning, pinning styles and inspiration that resonated with both of us and from there, I looked for consistent themes and moods and narrowed it down. One of the best pieces of advice I received while planning the wedding was to choose three or four words to describe our wedding 'vibe' and make sure whatever we chose would fit within those descriptors. We landed on elegant, romantic, and soft, with some retro elements. I also wanted to pay homage to Killian's French heritage with some subtle French touches. Bek from Tremella Botanicals took our brief and created absolute magic with flowers, tulle, and fabric.
How long did it take to plan your wedding? Did you encounter any challenges during the planning process?
When I started planning, the first step was to work out the guest list and a draft budget. I was then able to book a venue once I knew how many people I needed to fit - this was about 12 months before our wedding date. Overall it took around 15 months to plan, and I really enjoyed every minute of the process.
Thankfully, we didn't run into any major challenges during planning - I attribute this to working with amazing and experienced suppliers.
How many guests did you have? And what was the seating arrangement at the wedding like?
We had 70 guests on two long tables, with the two of us sitting happily in the middle.
Did you have any pre-wedding events, like a rehearsal dinner or bridal shower?
As almost all of our guests were spending the weekend away with us, we hosted welcome drinks the day before the wedding, as well as a recovery brunch the day after. I would repeat this format again in a heartbeat. Our welcome drinks allowed guests to meet one another or to catch up over a few wines at the stunning Nagambie Brewery overlooking the lake. Our post-wedding brunch allowed us to reminisce with guests and hear stories from the night before that we would never have heard otherwise.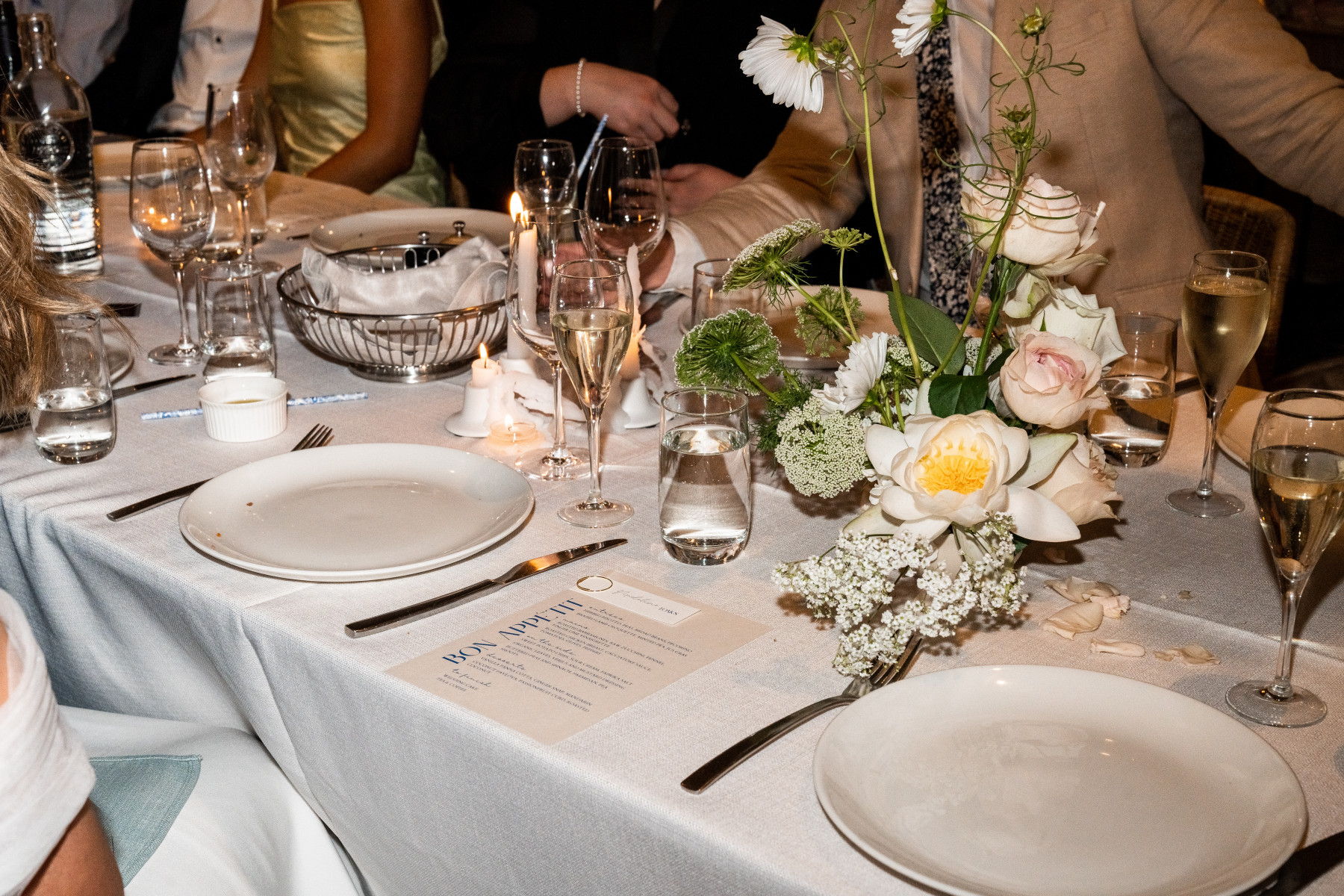 Tell us about your outfits. How many different styles have you tried?
My dress, overskirt, and lace veil were all from Kyha Studios. I had the most wonderful experience with the Kyha team in the South Yarra store. The Phoebe dress that I chose was the first dress I tried on there, and I fell in love immediately. The incredible Wren overskirt added some 'drama' to the look, and the lace veil added a subtle vintage touch.
Killian's custom tuxedo was expertly conceived and crafted by the incredible team at Oscar Hunt in Melbourne's CBD. I came along for the first appointment and was blown away by the level of service and care they show their clientele. I know Killian had such a wonderful experience from start to finish, and he looked so handsome.
What was your first dance song? Did you choreograph or improvise?
"Best Part" by Daniel Caesar featuring H.E.R. It's a beautiful and romantic song that was the perfect tempo for us to move slowly to (a.k.a. basically hug and sway with each other). I have some hilarious videos of us from the night before our wedding where we decided (on a whim) to film and practice our first dance for the first (and only) time. This was after we'd spent the afternoon at our welcome drinks, so we are giggling and being silly, and I actually love those memories so much.
Did you have any special performances or entertainment?
La'Fell from Melbourne Entertainment Co is an incredibly talented musician who performed a few acoustic sets at the beginning of the event and had everyone up and dancing (and dropping it low) when he DJ'd in the evening. Special mention to my friend Mia who expertly executed the 'worm' on the dancefloor - incredible.
What did you give each other as a gift?
My husband and I exchanged wedding perfumes - scents that we had picked for each other that would go on to serve as reminders of our special day.
What gift from guests do you remember the most?
My sister Hannah handcrafted two incredible cake toppers for us in our image. She nailed every single detail, from Killian's tux to my dress details - even my bouquet colors matched perfectly.
What helped you cope with the anxiety before the wedding?
Thankfully, we had very little stress overall, but whenever the wedding pressure started to get to us, we reminded ourselves of one simple thing: marrying each other was the most important part. We held onto that thought, knowing that as long as we were together, everything else would fall into place.
What was the most memorable moment from your wedding day?
Our ceremony, without a doubt. We made the last-minute call to move our ceremony from the outdoor area to the underground cellar because of the wind, and wow I am glad we did. There is a long brick-arched passage that leads to the ceremony location and is completely lined with candles. It set the tone perfectly for our very emotional ceremony. Before the aisle music started, you could hear a pin drop – everyone was completely present and immersed in the moment. There were very few dry eyes in the room.
Are there any vendors that you would like to tell us a little more about?
Where to start? We had the absolute dream team. Morgane from Petite Visuals captured our day with such incredible finesse and skill. Corinda, our celebrant, was so bubbly and warm and made our ceremony both intimate and personal. Bek and her team at Tremella Botanicals created the most jaw-dropping floral and tulle installations. La'Fell from Melbourne Entertainment Co performed our aisle song so beautifully.
What advice would you give to couples who are currently planning their wedding?
Don't skip videography - it is worth every single penny.
Bride @maddytonks
Groom @killianbjones
Photography and video @petite_visuals assisted by @byjackcurrie
Flowers @tremellabotanicals
Venue @mitcheltonweddings @mitcheltonwines
Entertainment @lef__music @melbentco
Celebrant @corindaisacelebrant
Cake @mali_bakes
Stationary @willowandbloomdesignco
Hair @hairbycarolinne
MUA @ld_makeupartistry