Love since high school, a meticulously planned wedding concept, and personal decor details that the bride collected herself over 6 months. The wedding of Madi and Cliff was a beautiful blend of dollhouse aesthetics and sentimental moments shared with loved ones. In an interview, the bride shared the delightful details of their special day as well as their love story.
Tell us a little about yourselves. How did you meet?
Cliff and I actually met in high school! We were both members of the drama department and only had one class together. Five years after high school, Cliff asked me out on a random date, and we had a good time. However, it wasn't until 2021, right before I was about to move to NYC, that we started talking on the phone frequently. At the time, he was living in Chicago, and I was in Orlando. We would watch movies together on FaceTime and stay up all night laughing and making plans to visit each other. Then, on Valentine's Day, he sent me flowers and a card, asking if I would be his Valentine. Since then, we've been together! Cliff moved to NYC with me, and we spent a year falling in love in a tiny Brooklyn apartment. He even proposed to me there.
What do you do for a living? What are your hobbies?
I am a kindergarten teacher, and Cliff is an advanced emergency medical technician (AEMT). We enjoy watching films, visiting museums, and engaging in various activities together. We also like to go jogging and spend a lot of time reading.
Can you share your engagement story?
Cliff planned a Thai dinner in Crown Heights and mentioned that he wanted to take me to the beach afterward to watch the sunset. I was thrilled because our first real date had also been on a beach, and I had a feeling he might propose soon. However, when we arrived at the beach, our Uber driver dropped us off about a 20-minute walk away from the intended spot. So there we were, walking in the sand for what felt like an eternity, in high heels and dress shoes no less. To make matters worse, it was about 40°F! We trudged on until we spotted a lone person by the ocean, and at that point, I couldn't bear it any longer. My feet were frozen, and the wind was relentlessly pushing us back. Cliff asked if I wanted to leave, and I immediately said yes. We waited on the side of the road for another Uber, enduring another half an hour in the cold. When we finally got home, Cliff prepared a bubble bath to warm us up and joined me. He told me that I was the most beautiful person he had ever seen and that he had loved me for years. Then, he pulled out a ring box from the side of the tub and asked me to marry him! It turned out that the person by the ocean was actually my friend, ready to capture our beach moment with photographs. I couldn't believe that I had unintentionally disrupted Cliff's carefully planned proposal, but we laughed it off and enjoyed our romantic bubble bath. In the end, I think it turned out even better than planned.
Where was your wedding? 
Our wedding took place in Snellville, GA, close to where we had moved. Since we plan to start a family in Atlanta, we decided to find a venue there. We discovered Vecoma at the Yellow River a year in advance because it was both beautiful and reasonably priced. Additionally, they agreed to prepare an entirely vegan menu, which was important to us.
What was the concept behind your wedding, and how did you find your inspiration?
We referred to our wedding theme as "dollhouse cottage" because we incorporated vintage plates and focused on pastel colors, primarily pink and blue. I have always been fond of feminine things and dreamed of wearing a unique wedding dress. When I came across pictures on Pinterest where others had used vintage plates for their receptions, I thought, "we can do that!" From that point, I began collecting floral and cottage-style plates for the six months leading up to our wedding.
How long did it take to plan your wedding?
It took us exactly 1 year and 1 month to plan our wedding. I started planning the day he proposed.
Did you encounter any challenges during the planning process?
Absolutely. We decided not to hire a wedding planner due to financial constraints, so we took on all the planning ourselves. One of the biggest challenges I faced was feeling like we had to make decisions every single day. Many evenings, Cliff would suggest putting the wedding discussion on hold so we could enjoy our time together. However, I found it difficult to set it aside even for a short while. I was excited but also nervous about running out of time.
How many guests did you have? And what was the seating arrangement at the wedding like?
We had 80 guests, and the venue provided round tables of 10. So, we had 8 circular tables.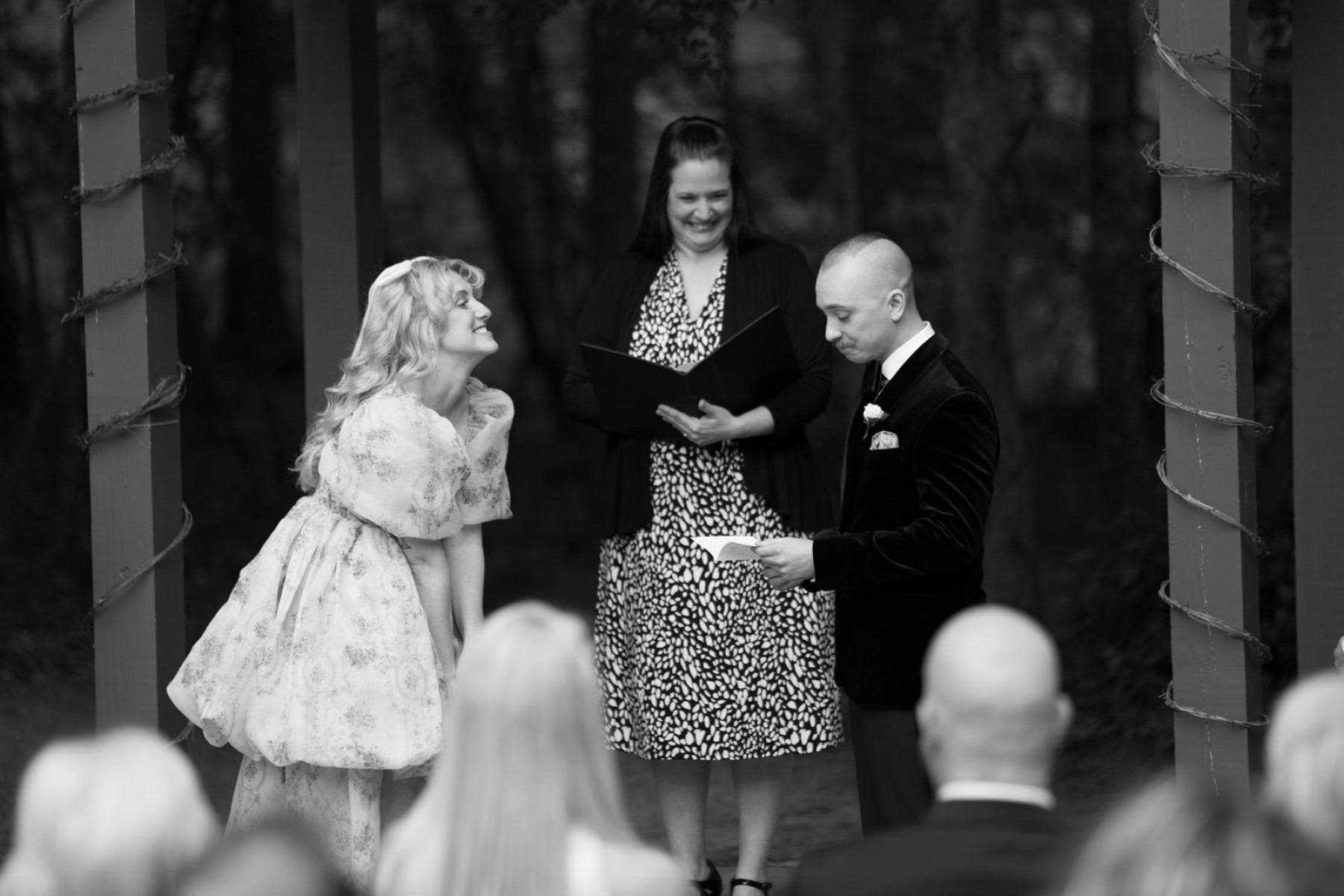 Tell us about your outfits. How many different styles did you try?
It's hard to believe, but I only tried on one wedding dress! I had no idea what I wanted, but when I saw the Selkie La Belle Etoile Fairytale Dress online, I thought I could return it if it didn't work out. However, I later discovered that it was a final sale, and they never made them again! I fell in love with the dress and didn't change my mind for an entire year.
Cliff initially wanted to wear a black tux, but he tried on a velvet suit jacket and liked it even more. One of his groomsmen made custom pocket squares for each groomsman, matching the bridesmaid they would be escorting. It was a sweet gesture!
What was your first dance song? Did you choreograph or improvise?
Our first dance song was "Invisible String" by Taylor Swift. We choreographed it ourselves, keeping it simple, and practiced in our living room.
Did you have any special performances or entertainment?
Our officiant was our high school drama teacher, whom we hadn't seen in almost 10 years. She sang "Everlasting Love," and the father of the groom sang "Love Me Tender," which he had also sung at their own wedding over 30 years ago. It was incredibly special! Additionally, I hired two violinists who teach at my school to perform all the ceremony music. Through the Thumbtack app, I found a wonderful pianist who played during the reception meal and in between speeches and performances. For the dance floor, we created a playlist of our favorite songs from different decades, like "September" and "Love Shack."
Did you have any special or unique elements at your wedding, such as a signature cocktail or fragrance?
We had an 11 am service, so we decided to have a brunch reception with mimosas! I ordered some edible flowers to float in the mimosas, which made the drinks look incredibly beautiful.
Did you make a gift for guests, and if so, what was it? What did you give each other as a gift?
As a gift for our guests, we ordered lovely blue matchboxes from Etsy. These matchboxes featured our names, wedding date, and the sweet phrase "Light of my Life." They were a cute and memorable addition to the celebration.
What was the most memorable moment from your wedding day?
I would have to say my maid of honor's speech. We have been friends since 4th grade, and when she started talking about our shared journey, I couldn't help but cry like a baby. Time seemed to stand still, and I was overwhelmed with love.
Are there any vendors that you would like to tell us a little more about?
I must mention that my bakery and photographer in Atlanta were outstanding. "Southern Sweets Bakery" in Decatur provided the most delicious vegan cakes one could ask for! They allowed us to choose three different flavor and icing combinations, and the cake was beautifully decorated in a true 1950s fashion.
My photographer was the second vendor I booked, about a year in advance. Since I was still in Brooklyn at the time, I had to rely on portfolios. Thankfully, Crystal from Crystal Anne Photography was amazing throughout the whole process. She sent us videos introducing herself, asking us questions, and sharing her ideas, despite the long timeline. Even with her lowest priced package, she provided a second photographer on the wedding day who was equally outstanding and on the same page as her. Crystal knew I wanted art not just wedding portraits so she gave me lots of black and whites, movement and organic family interactions that I will treasure forever. 
What advice would you give to couples who are currently planning their wedding?
Plan dedicated time for wedding planning. Don't let it take over your relationship or cause unnecessary frustration outside of those designated planning sessions. Of course, you can still indulge in activities like visiting thrift stores after work to find vintage plates every day if you enjoy it! However, try to be intentional about when and how long you discuss the wedding, as each day leading up to it is important for your relationship too!
Bride: @m.rosecolored_
Photo: @crystalannephoto
Bakery: @southernsweetsbakery
Dress: @selkie