When selecting a location for a destination wedding, it is crucial for it to resonate not just on an aesthetic level, but also on an emotional level. Mariana and Richard made the decision to have their wedding in Mexico, which holds significance as the bride's home country and a place the groom fell in love with during his initial visit. Their big day was filled with vibrant summer attire, festive celebrations, rhythmic guitar melodies, and endless laughter. As we delved into the wedding's intricate details, we had the pleasure of uncovering their touching love story through the eyes of the bride. Keep scrolling to see the full story and the enchanting photos captured by the talanted The Wed member, St. Chelle.
How did you meet?
We both lived in Austin, Texas at the time, and it was through a dating app called Hinge that we first connected. What really sealed the deal was Richard's adorable 12-week-old labrador, Kit Carson. The moment we saw each other, there was an instant connection. From that point on, we started seeing each other every day. Little did we know that our relationship would take a major leap forward due to the unforeseen circumstances of COVID-19. As the pandemic hit, we made the decision to quarantine together, and eventually, we moved in together. Spending so much time in each other's company allowed us to get to know one another on a much deeper level. Our love for food, wine, and cooking became a shared passion that brought us even closer.
What do you do for a living and for fun?
In terms of our professional lives, Richard is a self-employed entrepreneur in the software industry, while I work in Digital Marketing. We both have thriving careers that keep us engaged and fulfilled. When it comes to our hobbies, Richard enjoys the great outdoors. He finds solace in activities like fly fishing, hunting, and simply immersing himself in nature. On the other hand, I have a creative side and find joy in pottery and practicing yoga. We both share a love for being outdoors, exploring new places, and embracing adventure.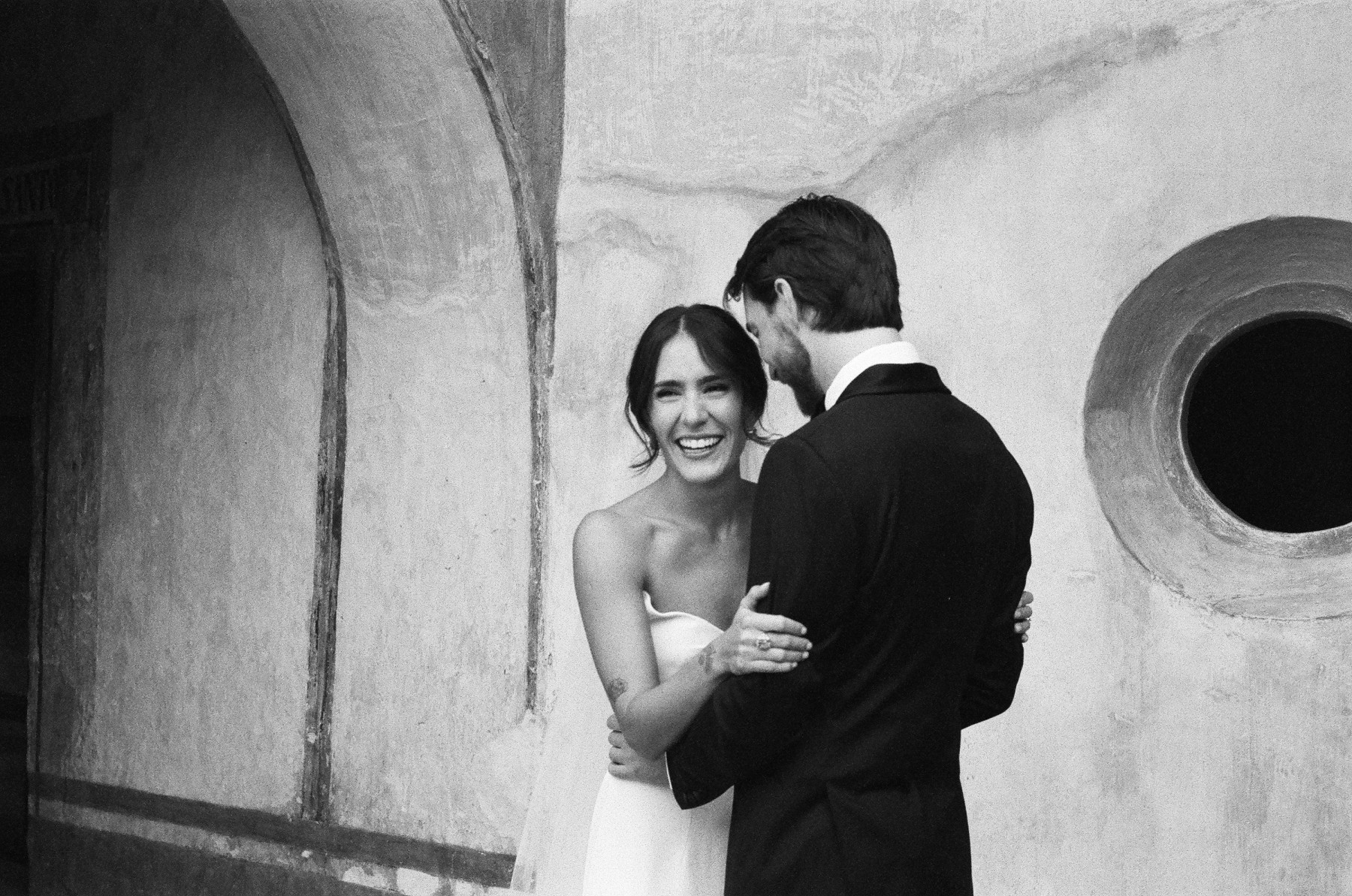 What was the concept behind your wedding?
When we started planning our wedding, we wanted to incorporate our individual backgrounds and experiences into the celebration. As someone originally from Mexico, it was important to me to showcase my culture during this special occasion. Fortunately, Richard fell in love with Mexico too when we visited Oaxaca the year before our wedding. The city, its vibrant food scene, and its rich artistic heritage captivated both of us. It was Richard who suggested that we get married in Oaxaca, and I wholeheartedly embraced the idea. Oaxaca, with its authentic Mexican culture, felt like the perfect place for our wedding. Many of Richard's friends and family from Alabama had never been to Mexico, so we saw it as an opportunity for them to experience the country's beauty and traditions. The city's charm, the diverse cuisine, and the talented artisanal communities made Oaxaca an ideal choice.
How many guests did you have?
Our wedding was an intimate gathering with 150 cherished guests. 
Tell us about your outfits.
For the welcome party, Richard wore a unique Oaxacan artisanal shirt, showcasing the local craftsmanship. I opted for a custom linen top and skirt, keeping it elegant yet comfortable.
At the rehearsal dinner, Richard looked dashing in a custom linen suit, while I wore a traditional Oaxacan outfit specially designed by Narcy Morales, the talented owner of Rocinante Oaxaca. The outfit was lovingly handmade by artisans from the San Pablo Tijaltepec region in Oaxaca, adding an authentic touch to the occasion.
On our wedding day, Richard looked incredibly suave in a custom-tailored tuxedo, exuding sophistication. As for me, I wore a stunning wedding dress called "Jack," designed by Sarah Seven.
What was your first dance song?
Our first dance was a combination of two songs that hold significant meaning to us. We started with "The Meaning" by The Fruition, a heartfelt tune that resonated with our journey together. Then, we transitioned into "Tu si sabes quererme" by Natalia Lafourcade, a beautiful Mexican song that symbolized our love and connection to my Mexican roots.
What flowers did you choose for the bride's bouquet and why?
For the bride's bouquet, we drew inspiration from the vibrant colors of Oaxaca's landscape. To represent the essence of the region, we incorporated Quiotes, the blooms from the agave plants used in Mezcal production. Additionally, my florist added dried tomatillos, dried corn husks and corn, and a dried gourd called "guaje," traditionally used to make Mezcal cups. The bouquet embodied the spirit of Oaxaca and added a unique touch to the floral arrangements.
What was your wedding cake like? And where did you order it?
When it came to our wedding cake, we opted for a classic vanilla flavor with a delectable Cajeta filling. Keeping it simple, the cake was elegantly decorated with flowers, complementing the overall theme of the wedding. We entrusted the task to Angela Esparza.
Bride @mariana_floresestrada
Groom @richardbaugh
Planner @maricarmenjuncoe
Photo @jamiestreetphoto @st.chelle
Florals @bukefloraleventdesign