Some want their wedding to reflect the current trends, incorporating as many as possible into the concept. Others dream of a timeless celebration. Shelby and Tyler, however, desired their wedding to mirror their present emotions. We spoke with Shelby about the wedding's details while also uncovering the story of how she met Tyler.
Tell us a little about yourselves.
Tyler and I met during the first semester of our freshman year of college. We'd both found ourselves in this giant group of friends, so we were always hanging out but barely knew each other. We ended up texting all winter break and had our first date the next semester. I recently quit my corporate job and am loving working part-time at a cute little home and gift shop, and Tyler is a supervisor at a tire center. We're both still young and figuring out what we really want to do with our lives, but we're enjoying the journey as we go.
Can you share your engagement story? 
We got engaged at Mozart's Coffee Roasters after the Christmas light show. It's my favorite Christmas tradition and it felt so special to get engaged there. He proposed right after the show ended, while standing under thousands of lights and it felt magical. One of my best friends and her fiancé were actually there the whole time hiding, waiting to take photos of the whole thing and I had no idea! It was such a fun surprise and made the night even better being able to share the excitement with friends.
Where was your wedding?
Our wedding was in Austin, TX, which is where I'm from. It's my favorite city in the world, and I knew I wanted to get married there. Plus, it made sense for everyone to be able to travel in easily since Tyler's family is from Dallas. We chose The Arlo as our venue, and it was absolutely stunning. I knew I wanted a clean and modern venue, which isn't the easiest thing to find in Texas, but The Arlo was exactly that. As soon as I walked in, I knew it was the perfect place. It's full of wide spaces with the most beautiful giant windows which let in the perfect amount of light to warm up the space. The exterior is just as beautiful as the inside, nestled deep in the hill country. It really is a beautiful balance of nature and modern architecture. It was the perfect blank canvas and was so fun to dream up designs for.
What was the concept behind your wedding, and how did you find your inspiration?
I've had a wedding board on my Pinterest since I was 16. Over the years it has completely evolved several times, but ultimately I just wanted something simple, modern, and true to this version of myself. I didn't want to focus too much on trends or timelessness. I wanted to be able to look back at our wedding photos years later and relive how that time in our lives felt. If I had to name a theme, I guess I would call it "undone elegance." I chose shades of white for almost every element, with subtle pops of a light pink and black in the stationary. The florals were the main source of color, and that was all we needed. I chose every flower and designed the florals with the help of my mom and our amazing neighbor Elida. I wanted ikebana style centerpieces, which my mom and I actually made ourselves the morning of the wedding. Elida made everyone's bouquets, boutonnieres, and the broken arch we used for the ceremony. She understood exactly what I wanted and did the most beautiful job with everything. My goal was for the spaces to feel elegant but with a sense of ease. Like we weren't trying too hard and left room for things to be organic and imperfect.
How long did it take to plan your wedding? Did you encounter any challenges during the planning process?
We got engaged in December, so we had around 8 months to plan and finalize everything, but if I'm being honest, I actually started planning a few months before we got engaged. I knew it was coming soon, so I wanted to get a head start on booking the venue and photographer, which I did end up booking before we were actually engaged. And I'm so glad I did! We wouldn't have gotten the venue we wanted if we didn't book it when we did, so even though I felt a little silly, it ended up paying off.
How many guests did you have? And what was the seating arrangement at the wedding like?
We had around 120 guests, which was honestly the perfect amount for us. We had most of our family and our closest friends there to celebrate us, and it felt so special to get to see our favorite people meet each other. We had round tables scattered throughout the room, leaving some space in the center for the dance floor.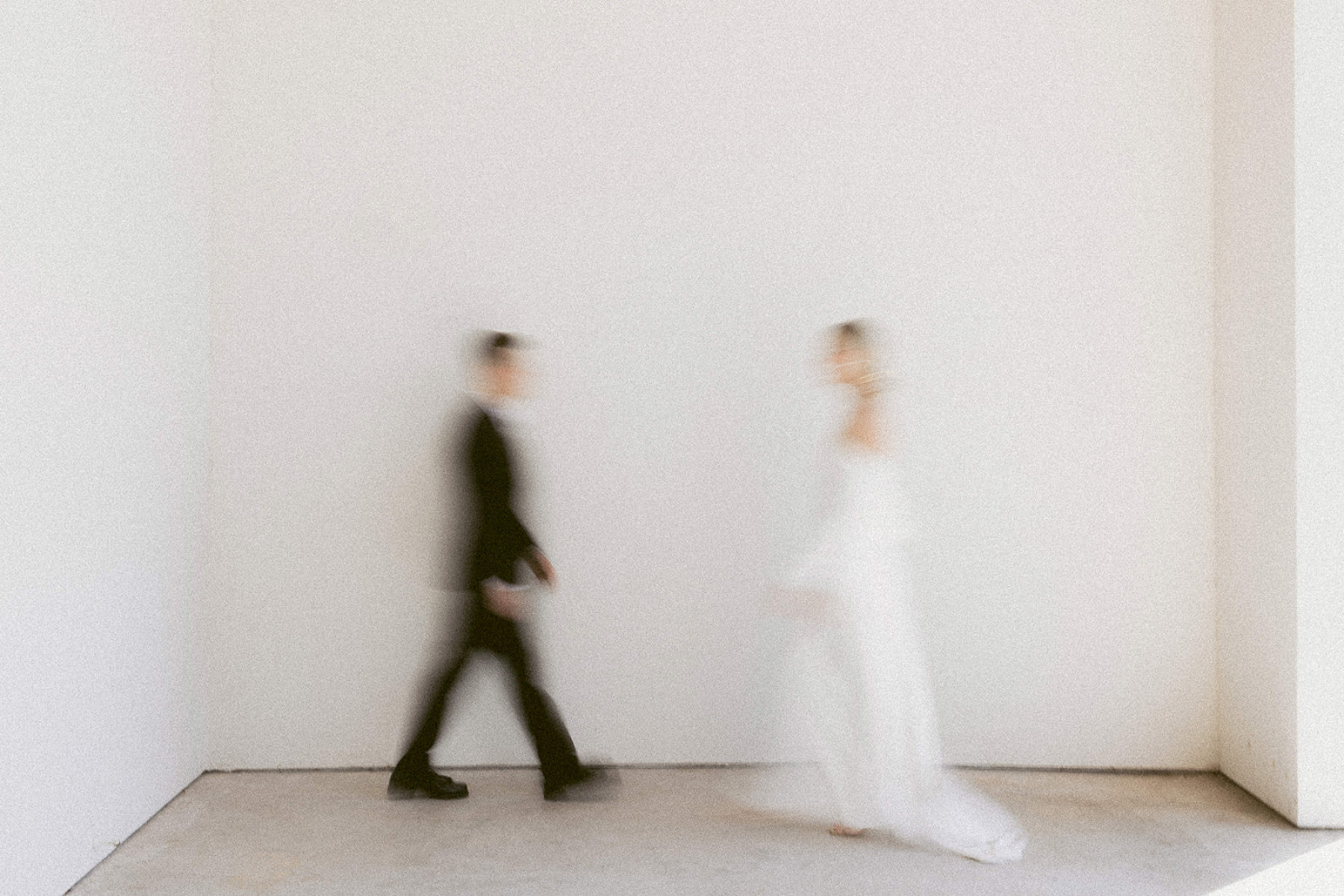 Tell us about your outfits. How many different styles have you tried?
I chose to have two looks for the day. My ceremony dress was BB:05 by Bon Bride. I'd tried on lots of dresses in different bridal shops, but nothing was even close to what I was wanting, so I ordered two dresses from A. B. Ellie that I had been drooling over for quite some time, one of which being BB:05. I was positive I was going to choose the other dress I had ordered, but when I put it on, it just didn't feel right. As soon as I saw my dress on me, I knew it was exactly what I wanted. It was simple but had a little drama with the deep swoop back and off the shoulder neckline. The way it lays makes it almost look like it's going to fall off, which felt like the perfect kind of effortless look to match our overall theme. My second look was a sheer organza maxi dress with an off-white mini slip dress underneath that my mom made for me. It was so much easier to move in and made the rest of the reception so fun. I kept the same shoes and jewelry for each look, but still ended up with two completely different styles that equally fit my personality.
What was your first dance song? Did you choreograph or improvise?
Our first dance song was 'I'm so Glad' by Royal Wood. I first heard this song when I was a junior in high school and immediately decided it would be the first dance song at my wedding. Five years later, when it was time to actually plan our wedding, we listened to countless songs trying to find the right one. But we kept coming back to this song. It perfectly describes how we feel about each other and the kind of love we have. As far as the dancing goes, we definitely improvised. We're both terrible dancers and didn't want the pressure of choreography, so we basically just swayed together in a circle. My dress also posed a challenge with the neckline being off the shoulder. I could barely move my arms up to hold Tyler, so I looked a bit like a T-Rex. But no lack of rhythm or T-Rex arms could take away from how special and surreal that moment felt for both of us.
Did you have any special performances or entertainment? 
We had a DJ for our reception, and he was so fun and energetic, it made the night so much more fun. Every time I looked over at him, he was dancing harder than anyone else! Tyler's mom also surprised us with a little performance of her own. We decided on Maui for our honeymoon, so she decided to sing us a little song she had learned at a luau in Hawaii when she was a little girl. She still knew every word to the song and it made the cutest little surprise for us at the end of the night!
Did you have any special or unique elements at your wedding? 
We had two signature cocktails. First, we wanted something classic so we chose a Moscow Mule, and then for something a little more fun, we had a rose pear margarita. We also had a signature scent from Jo Malone London. I decided on Nectarine Blossom and Honey for the scent because it felt like the perfect scent for the late summer weather. I sprayed the perfume on every invitation before mailing them, and wore it on the day of. We also burned the candle and had a diffuser out while getting ready to really set the mood for the day. Smell is such a huge part of memory, so it was important to me to have a signature scent that I could continue to use to take me back to that day.
What was the most memorable moment from your wedding day?
This is a hard question to answer! There were so many incredible moments I could talk about, but other than actually walking down the aisle to Tyler, the first thing that comes to mind is making the ikebana arrangements with my mom. It was so much fun to be able to do that together, and having a moment at the beginning of the day to do something creative and use my hands really calmed my mind and set me up for a better day. The other thing that comes to mind is my dad and sister going absolutely crazy dancing with our DJ. It was definitely the funniest part of the night.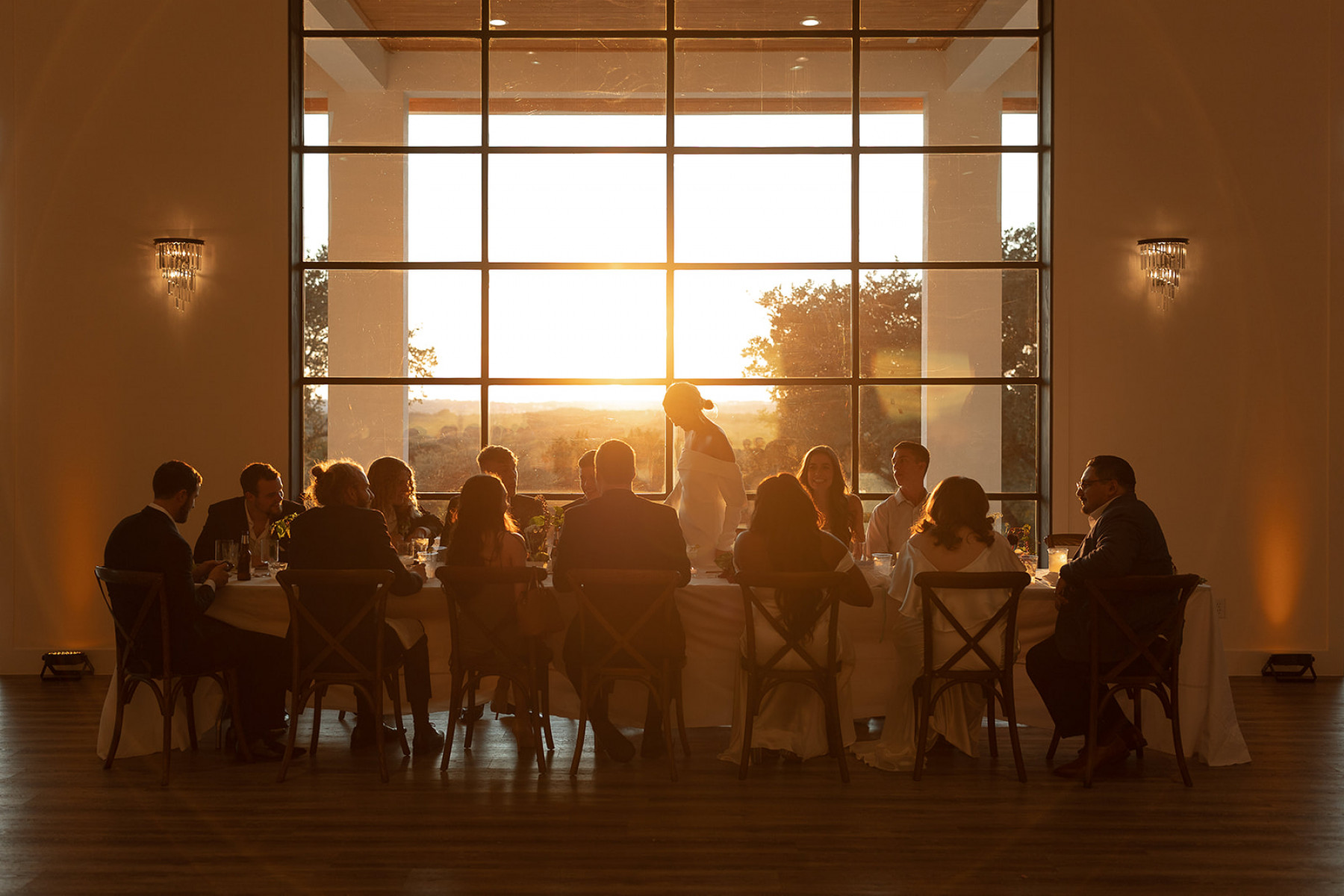 Are there any vendors that you would like to tell us a little more about? 
Our photographer, Valerie Thompson, was an absolute godsend. I've said it before and I'll say it again: I could write a love letter about Valerie and the magic she creates with her photos. I scoured the internet for months looking for a photographer whose style I really connected with. Honestly, the second I came across Valerie's page, I knew I was done looking. Her photos have feeling, and that's what mattered the most to me. I also really wanted someone who was comfortable shooting film, so the fact that she used both Polaroid and 35mm made me so happy. Working with Valerie was so much fun! She shot our engagement photos and my bridals as well and made us both feel so comfortable and confident in front of her camera. She created an environment where we could just be ourselves, which really comes through in the photos. I also want to brag about my HMU artist, Maty Schafer. I've actually known her since I was in middle school, but I would have chosen her regardless. I kept coming back to her page when looking for a HMU artist and knew that she would be the perfect person to make me look elevated but still myself. Maty immediately got the vision when I showed her my inspo photos, and she executed it so perfectly! On top of that, she is also the sweetest person ever and made the whole process so easy and stress-free.
What advice would you give to couples who are currently planning their wedding?
I would say to pick two or three things that matter the absolute most to you and pour the most energy into that. Everything will come together and it will be the best day ever, so don't take every little detail too seriously. It's so easy to get caught up in the little things, but don't be afraid to take a step back and come back with a fresh perspective. And just have fun with it!
Couple @shelbylaayne @tyler_k_wheatley
Photo @valeriethompsonphotography
Venue @eventsatthearlo
Catering @cateringbymopsie
Cake @michellespatisserie
Hair & Makeup @beautybymaty
Gown @a.b.Ellie @bonbride
DJ @atlastentertainment
Bartenders @oliveortwist_bartending
Signature Scent @jomalonelondon
Bride Shoes @cultgaia