Classic yet modern looks of the bride and groom, a private villa surrounded by rolling foothills, an exquisite banquet, and a custom cocktail menu - this was the wedding of Taylor and Ben. We learned all the details of the preparation of the celebration from the bride, as well as her love story. 
How did you meet?
Ben and I met in Chicago and were friends until I moved to New York City. A year later, Ben was walking to work and recognized me on the cover of The Knot bridal magazine. He reached out, telling me he saw the cover and hoped that I was doing well in New York. Crazy enough, I remember almost skipping out on the casting, thinking that I was too young to actually get on the cover of a bridal magazine. On the day of the casting, I was walking around and ended up where the casting was taking place, so I decided to go in, and I booked the job that would bring us together again. Sometimes the smallest decisions can change your life forever. 
What was the concept behind your wedding, and how did you find your inspiration?
We wanted an intimate wedding. Only the closest of friends and family to support us on the biggest day of our lives. I started my search by looking at garden venues in Southern California. I wanted to be surrounded by nature and have the environment speak for itself. I had envisioned a property that was palatial and majestic. A peaceful setting that gave space for people to wonder if they choose, provided by lighted trees after sunset, and a broad sky.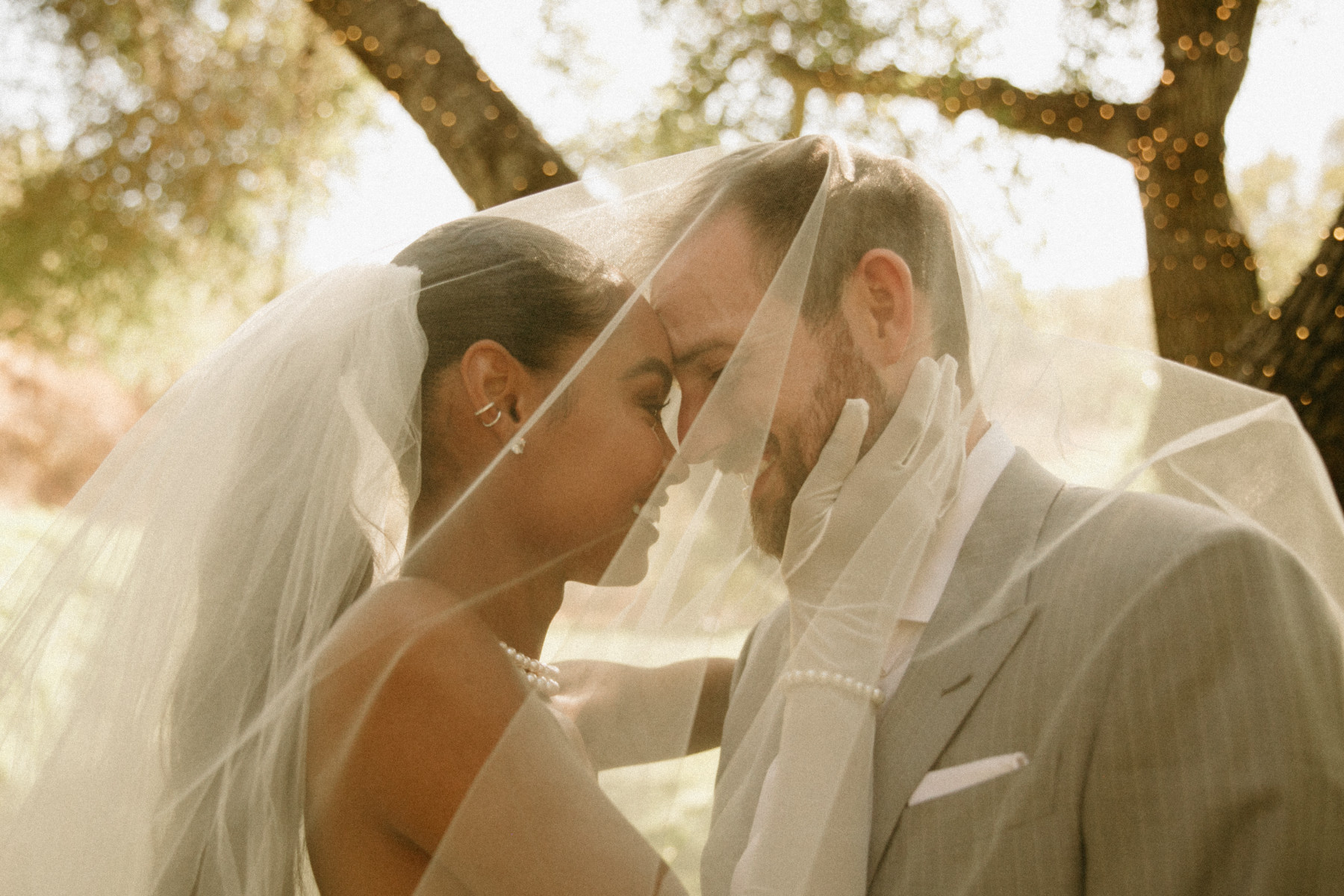 Where was your wedding? Why did you choose this venue?
We decided on Los Willows Wedding Estate in Fallbrook, CA. It was my first search, and it ticked all the boxes. Walking up to the property, I knew it was the place we'd get married. It is a stunning setting. They really made it easy for us. Due to my unpredictable, and often travel-heavy work schedule, they truly made it easy to handle all vendor communications, keeping with our expectations of quality. 
How many guests did you have?
We had a guest count of 46. 
Tell us about your outfits.
I got my hair done at RVM Salon and my makeup done by the talented Jen Budner. I wanted a timeless, glamorous look. Classic and beautiful. My wedding dress was from Marie Gabriel Couture and the designer was Nouvelle Amsale. I switched dresses during the reception, so I could dance freely and cool off from the Cali heat. My reception look was from Nana Jacqueline. Ben was wearing a full custom look from Zegna.
What was your first dance song?
We didn't do the first dance. However, we did an entrance boogie to Luther Vandross's "Never Too Much".
What flowers did you choose for the bride's bouquet and why?
Our flowers were done by Sheehan Saleahi. We gave her the freedom to do what she does best with the request of incorporating deep purple. I attached my great-great-grandmother's blue pendant to my bouquet for something blue. 
What was your wedding cake like? And where did you order it?
Our wedding cake was from Elegance on Display. We went with an almond cake with raspberry filling, topped with cream cheese icing. Redtail Catering also provided brownie bites and an assortment of cheesecake bites. Delicious. 
Are there any vendors that you would like to tell us a little more about?
Our caterer, Red Tail Catering, knocked it out of the park. It was so hard to choose what we wanted to serve because everything was so delicious. We selected Ahi tuna Poke, fried sweet potato ravioli, and mini pesto chicken Wellington to be served at cocktail hour. Wedding salad, crab-encrusted sea bass, bacon-wrapped filet mignon, along with brussels sprouts and garlic mashed potatoes for the main course. Exceptional. Both of us love a great cocktail, so naturally, we took a moment to craft his and hers options to be served along with the open bar. 'His' cocktail was a fig and vanilla bean G&T. 'Hers' was a raspberry margarita. Both were gone before dinner was served.
Bride @taelorthein
Groom @benjamin_a_montgomery
Photo @cambriashelley
Venue @loswillows
Makeup @jenbudner
Floristry @ba_nu_ba_nu
Catering @redtail_catering
Cake @eleganceondisplaybakery