The wedding of Teresa and Jay was a stunning combination of their cultural traditions and their experiences as professional artists. Every aspect of the event was filled with great meaning, including the various locations that they carefully selected for their backdrop. We asked the bride about all the details of the big day and also discovered Teresa and Jay's love story.
How did you meet?
We met in a Toronto ad agency briefing meeting in the late spring of 2017. Jay, a strategist, and me, a newly hired designer waiting to be briefed (by Jay) on a big project at the agency. In a meeting of 10 people, we connected immediately because we shared a passion for creativity and problem-solving. We both knew that it was the start of something - but had no idea what was to come. Our professional connection was one that we maintained for several years, often brushing off co-workers who suggested that we would be perfect as "something more." As our working relationship grew into a strong real-world one (you know that moment when work friends become real friends?), our romantic connection soon became impossible to ignore.
Our creative mind-meld that we developed in a professional setting soon became the thing that makes our relationship so special. We are both consistently excited by the possibility of life, and our ability to be creative with how we live it. We make each other better by the simple act of being together - and are each other's biggest fans.
How do you like to spend time together?
We both want to see and experience as much of the world as we can in our time on earth - so we're working on some major travel plans in the next year. We love to eat and we love to cook. Any spare time that we have outside of time spent with friends and family is spent taking our giant German shepherd mix, Bruno, to all of his favorite places: dog parks, the beach, Muskoka, the couch.
What was the concept behind your wedding and how did you find your inspiration?
The Chinese symbol 'Double Happiness' 囍 was the core of how we approached the wedding. Bringing our two worlds and two cultures together in a way that felt inclusive, fun, and above all else - happy. Whenever we had to make a difficult decision along the way, we'd come back to our "brief" and ask each other: Will it be fun? Will it make people happy? We wanted the day's warmth to flow into the night's euphoria.
I wanted to be sure that the evening honored and displayed pride in my Chinese heritage. We wanted to find ways to invite everyone in, and to share important pieces of Chinese culture with every guest all throughout the night. The wedding itself was combining two families, two cultures, and we wanted to extend that sense of inclusion and fusion with everyone in attendance.
The Double Happiness symbol was used on our Save The Dates and at our Engagement Party. We printed these in a way that allowed people to hang it in their homes, an homage to Chinese tradition, where the community would rally around the newly married couple and use the symbol to spread love throughout the world. Our color palette for the wedding was inspired by a mixture of Chinatown and vintage MahJong sets, which extended into our floral arrangements and table scape. A few additional flourishes that allude to Chinese heritage were our take home knitted grocery bags, packed with nostalgic candy, our fruit bowl centrepieces designed and hand-made by Becky McMaster, and our lucky waving cat at the entryway to the venue. 
Lastly, because we wanted to showcase as many of our guests as possible, we created a custom drinks menu with each individual drink and fun write-ups inspired by many of the guests at our wedding.
Where was your wedding, and why did you choose this venue?
Our wedding was in Toronto at the Gardiner Museum. We chose this venue because I love pottery (and make it), it's practically down the street from our home, and it made for a great destination for out-of-town guests!
How many guests did you have?
We had 150 guests.
Tell us about your outfits.
Jay's suit was custom-made at Harry Rosen with guidance from Roger Das. We had my last name "譚" or "Tam" stitched inside his suit jacket. I wore a dress by Jenny Yoo, and my party dress was from Savannah Miller. Both were purchased at Blush and Raven in Calgary, Alberta. The shoes were Aquazurra, and the veil was from Untamed Petals.
What was your first dance song?
Our first dance song was "Hand Me Downs" by Mac Miller.
What flowers did you choose for the bride's bouquet, and why?
The flowers we chose for our wedding were inspired by Chinese watercolor paintings. We wanted them to be big, juicy flowers bursting with color. For the bouquet, we went with a softer arrangement, which was whimsical but still contemporary. We had myrtle vines in the bouquet as a tribute to Jay's parents - Jay's mom had myrtle in her bouquet at their wedding 40 years ago.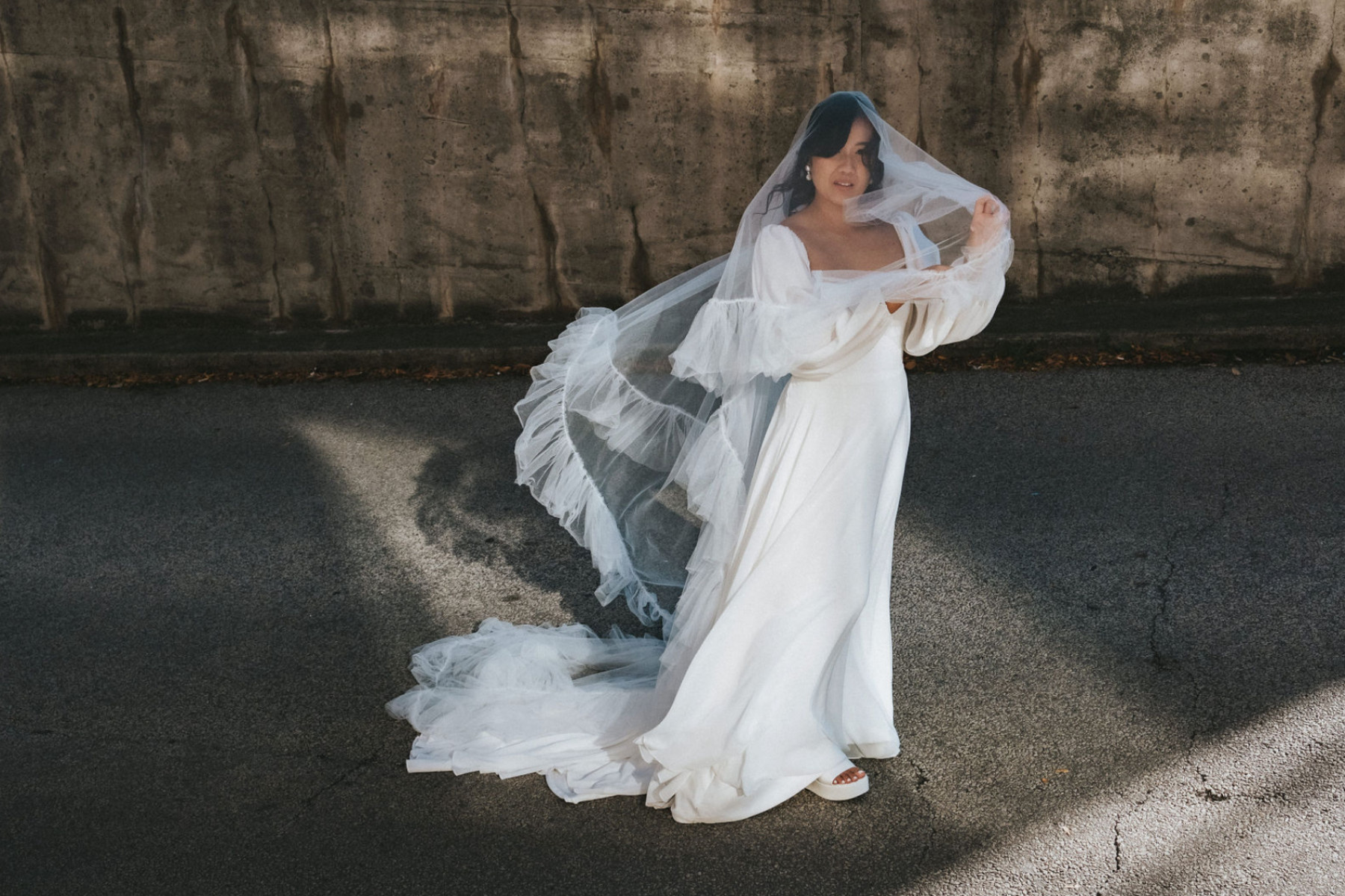 What was your wedding cake like, and where did you order it?
Instead of cake, we did a toast of sparkling sake! It's a drink that we discovered together on a trip to Banff and wanted to share with our guests.
Are there any vendors that you would like to tell us a little more about?
We'd like to mention Joel and Justyna (photographers) and 3B photography (videographers). We decided that the things we'd splurge on were the things that would last the longest, so for our photography and video, we went with the absolute best we could find. Our photographers and videographers were both "working couples," which also fit with our story and how we wanted to celebrate the day. One of our fondest memories of the entire wedding day was driving around with the six of us taking shots at our favorite places in the city.
We also had an intimate dinner at home with our families on the Thursday night before the big wedding on Saturday. At this dinner, we signed our legal documents and had a tiny ceremony on our front steps with just family. The photos from that evening were taken by our talented friend Michelle Liando.
Bride @tambambambambam
Groom @jayfleming33
Planner @lexingtonandco
Venue @gardinermuseum
Photo @joelandjustyna
Video @3bphotography
Dress @blushandravenyyc
Tux @harryroseninc
MUAH @judylim.makeup