Escape to the lush wine estates of Cape Town, South Africa, where Xanika and Jeff tied the knot in a festival-inspired wedding. The couple infused their love for Burning Man into their week of festivities, with a variety of activities, settings, and dress codes to help guests open up and get to know one another. In this interview, Xanika shared the inspiration behind their wedding concept and how they brought it to life.
Tell us a little about yourselves.
We met 12 years ago when we were young kids living in Santa Barbara. We dated briefly and fell in love but Xanika moved to South Africa at the beginning of 2011 so we fell out of touch for a while and dated other people. We had a couple of cheeky meet-ups during those five years which left both of us feeling like we had something special, but we were never physically together long enough to know for sure. So when Xanika finished university in 2015 she spontaneously moved to LA to give a relationship with Jeff a try. We moved in together almost immediately and have been together ever since! Now Jeff works in diamond jewelry design and Xanika is soon launching her interior design and design consulting business. We just bought and renovated our first home together in Venice, CA!
Where was your wedding? Why did you choose this venue?
The wedding was held in Cape Town, South Africa at one of our favorite wine estates, Boschendal, in the Franschhoek region. Having the wedding in Cape Town was always a dream for us but we were afraid it was too far away for our American friends and family. However after the pandemic hit and people couldn't travel for so long, we realized a destination wedding would be fun for our guests, and definitely the most meaningful to us. So we decided to go for it and see what the response was like. We were so shocked and overwhelmed that 70 people RSVP'd within 24hrs of the invites being sent out! Everyone was so keen and excited to make the journey down to SA and we were truly humbled by the response.
What was the concept behind your wedding and how did you find your inspiration?
Since we decided to have a mostly "friend" wedding and do something separate with our families, we designed it kind of like a festival – hence the name JIKA FEST (Jika is our names combined). We are burners at heart and just went to our fifth Burning Man together, so we wanted our week of festivities to flow kind of like a burn, with a variety of activities, settings, and dress codes to help guests open up and get to know one another. When it came to inspiration for the aesthetic design, Xanika leveraged her own design background to infuse the wedding with an African aesthetic (her favorite) and utilize as many indigenous products and services as possible! For example, on our wedding day, we had tons of African pots, vases, stools, etc to decorate the pre-drinks area, rather than sourcing traditional flowers and seating. This made the wedding feel authentically African while also paying homage to Xanika's design project. The vision would not have come to life without the brilliant help and execution from our wedding planner, Anne Mann, and her incredible team!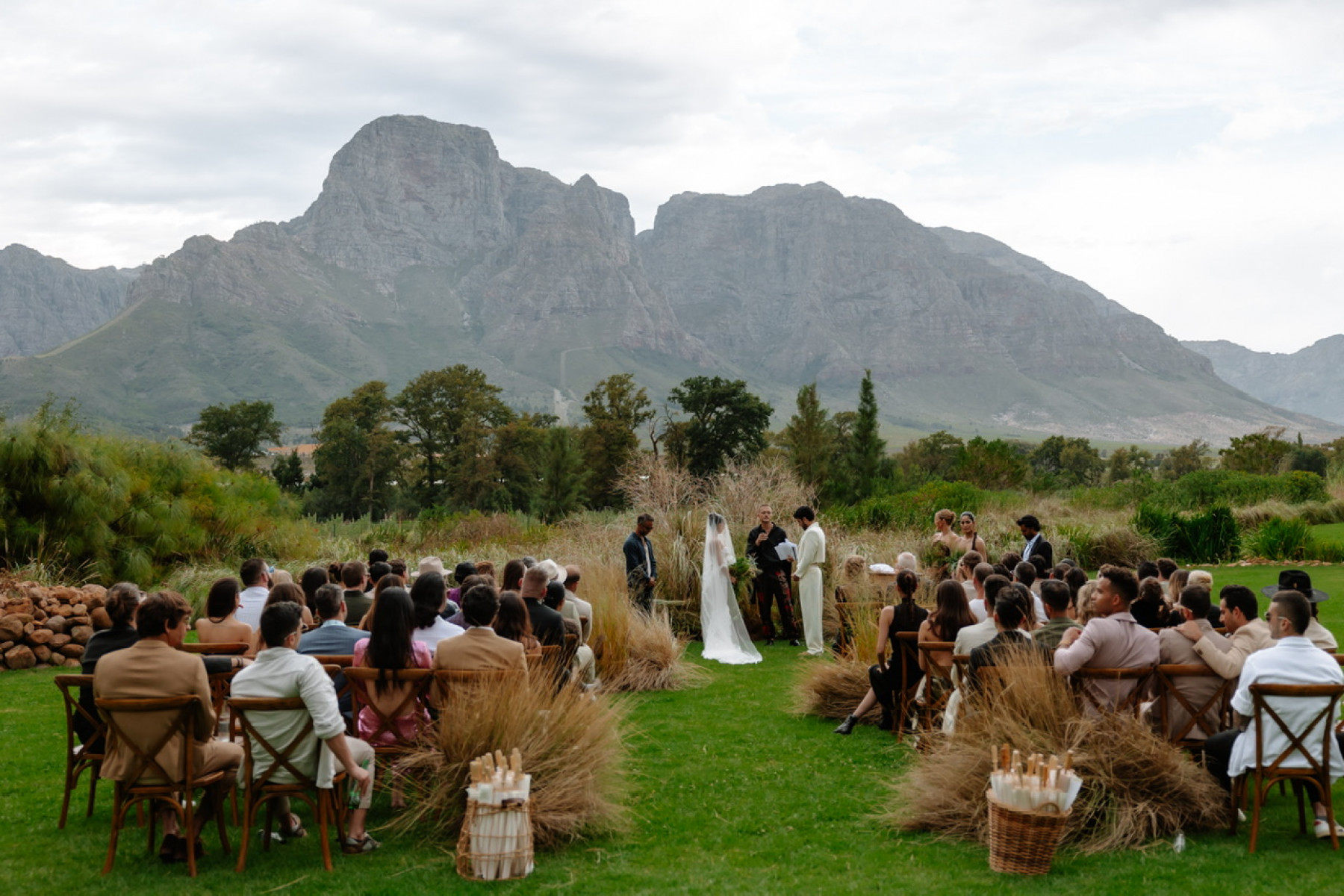 How long did it take to plan your wedding? Did you encounter any challenges during the planning process?
We planned our wedding in six months, and it felt like the perfect amount of time to get everything organized properly without having too much time to obsess over little details. It was challenging to plan a wedding in South Africa while we were in LA with a 10hr time difference from our wedding planner, so we had many late-night Zoom sessions to keep things on task, but it was all worth it in the end!
Did you have any pre-wedding events, like a rehearsal dinner or bridal shower?
It was funny because we always wanted to have a two or three-day wedding, but once we decided on Cape Town, we realized that we needed to give our guests a few days of buffer time on each side of the wedding since a) it's such a long flight from the States and b) it's a 10 hr time difference. Because Xanika also wanted to show off the best of what Cape Town has to offer, we decided to add in a few 'optional events' for guests staying in Cape Town before and after the wedding. But when we sent out our wedding website, all of our guests RSVP'd for every event… so we suddenly ended up with a five-day/seven-event wedding! A beach day in Clifton, a night out in the city center, a day party at the Boschendal Mountain Villa, a rehearsal dinner, the wedding day, the after-party, and a yacht day. We put one day of rest between the wedding party and the yacht day so that guests could recover, and I highly recommend doing this for anyone hosting an event after their wedding day. This gave guests the opportunity to nurse their hangovers and chill so that everyone was excited to come back together one last time before departing.
How many guests did you have?
We ended up being 74 people in total, and it was a perfect number – perfectly intimate while still offering guests ample opportunity to mingle and build new friendships. The majority of our guests flew in from LA and New York, but we also had guests fly in from Australia, London, Hong Kong, Mexico, and Israel… not to mention a handful of local South Africans. We were truly blown away by how beautifully everyone embraced each other and celebrated us.
Tell us about your outfits.
Wedding Day. Xanika wore a custom gown and veil by Kim Kassas Couture and Aquazzura shoes. Jeff wore a custom suit designed by Bo Metz, an LA-based designer and good friend, and Jacquemus shoes. Rehearsal Dinner. Xanika wore a corset top by MANURI and a skirt by Fleur Du Mal. Jeff wore Amiri pants and a vintage Givenchy blazer from The RealReal. Other Notable Designers. We both wore Jacquemus and Dion Lee a lot throughout the week, but our favorite look was Xanika's yacht day dress by Brazilian designer and friend Andrea Almeida!
Did you have any special performances or entertainment?
We wanted to embrace African art and music as much as possible throughout the wedding, so we had several Afro-beats/Afro-house playlists going throughout the weekend. On the wedding day, we incorporated local South African drummers, and for the wedding party, we flew in one of our favorite international DJs that we first discovered at Burning Man in 2017. CRSTO played a 5-hour set on our wedding night and a 3-hour set on our yacht day. Both were absolute fire!
Did you have any special or unique elements (such as a signature cocktail or a fragrance)?
We had African woven handbags made for each guest upon arrival at the wine estate, and at the welcoming party, we gifted each guest a piece of jewelry handmade by an Ethiopian street vendor we met during one of our prior visits to Cape Town! It was special to give each person a bit of Africa to take home with them.
What was the most memorable moment from your wedding day?
The unexpected lightning, rain, double rainbow, and insane sunset all emerged right after we finished saying our vows!! Nature was truly a part of our ceremony – it was awe-striking and unforgettable.
Are there any vendors that you would like to tell us a little more about?
Our wedding planner was truly a legend! She does weddings in Africa and Europe so check out Anne Mann Celebrates if you're planning in either of those regions! Our African wedding decor was sourced and provided by Jana Gouws who went above and beyond to execute our aesthetic vision. And we had the most incredible floral installation for our wedding dinner and rehearsal provided by Heike Hayward. And finally, our amazing photographers and friends who went above and beyond to document our week of festivities!
What advice would you give to couples who are currently planning their wedding?
It's not going to be absolutely perfect no matter how hard you try, so roll with the punches and don't sweat the small stuff! We battled changing weather forecasts throughout our wedding week due to a cyclone off the coast of Madagascar that was causing erratic weather patterns in Cape Town. It was challenging for us but no one else seemed to mind and it was important for us to not let that affect our moods and get us down. For brides: don't worry if you aren't feeling absolutely perfect and beautiful on your wedding day – I was actually throwing up the whole night before my wedding and felt so sick on the wedding day, but it all turned out fine in the end. In short, don't overthink it, and just enjoy that everyone is there to celebrate your love!
Bride: @xanikacovington
Groom: @instachabs
Wedding planner and executor: @annemanncelebrates 
Decor: @altijd_janagouws
Florals: @fleurlecordeur
Photography: @ayeh.kphotography @emmabilmes @johnhenryweddingphoto
Videography: @lesvaques
Music: @crstodelaselva
Wedding Dress: @kimkassascouture from @kinsleyjamescouturebridal
Groom's Suit: @bommestudi