Yael and Wiz made a conscious decision to veer away from conventional wedding norms and instead embraced elements that resonated deeply with their values. This led them to create a truly special wedding that exuded a spirit of playfulness and a focus on the culinary experience. As you continue reading, you'll discover all the intricacies of the wedding preparations, while also exploring the concept in Sav and Cam's captivating shoot.
How did you meet?
We were both newly arrived in New York City and exploring all that the city has to offer, including food, art, and Hinge matches. I was deep into my cartooning phase and linked my Instagram doodles to my Hinge profile. His opening line was a compliment on my doodles, and he mentioned that he was also dabbling in doodling and taking painting classes. On our first date, he gifted me a framed bell pepper painting, the one I had deemed his "best one yet." As a one-year gift, he got me a gold bell pepper necklace. Art and food have been recurring themes that we carried into our wedding.
What do you do for a living?
Careerwise, I'm an Art Director (graphic design and copywriting) for the bidet brand Tushy, and he has his own VC firm called Spacecadet, where they invest in companies dedicated to creating a "better future."
And for fun?
When it comes to hobbies, Wiz is really into cooking and specifically mastering weird styles of cooking like fermentation and open-fire cooking. He also has a tendency to buy more cookbooks than he could ever finish. On the other hand, my vice is buying too many impractical shoes. Together, we go on food-based expeditions around New York City and beyond, host game nights, read at overpriced coffee shops, take our dog Lola to chase squirrels at Fort Greene Park, and go on long walks where I try to turn everything into a game. Over the past year, my hobby has been getting both inspired and overwhelmed by wedding Pinterest. 
Can you share your engagement story?
Wiz proposed around our two-year anniversary. I was 60 percent sure it was going to happen then. It was around Thanksgiving, and both our families were visiting. He planned a very "New York day" full of surprises. We decided to leave our phones at home and took only a disposable camera. We started with tea at the Russian Tea House, which had a delightfully gaudy Wes Anderson vibe (I booked this one). Afterward, we strolled around Central Park, went on a helicopter ride over the city, and then headed back to Pete's Tavern, the historic bar where I had ordered french fries for dinner on our first date. There, he presented me with a love letter that ended with a proposal and a cute lil' art deco Jennie Kwon ring. I happily said yes!
Following the proposal, he whisked me off to Bemelmans Bar, where friends and family were eagerly waiting with champagne. A piano man played "New York, New York" to celebrate the occasion. The night continued with a stay at the Carlyle, where we ordered room service and spent the time enjoying each other's company, recovering from the excitement of the day. We even ditched work the next day and indulged in watching "When Harry Met Sally" in bed. And then, as the rom-com came to an end, we returned to our regular life, engaged and excited for the journey ahead.
Where was your wedding?
It was held at Waimea Plantation Cottages in Kauai. We're both from the West Coast, and we were drawn to tropical landscapes, which led us to Kauai. We wanted a venue that felt like a "tropical summer camp," intimate enough to interact with all our guests and play nostalgic lawn games together. Waimea Plantation Cottages, with its 60 retro cottages on a grassy, beachfront property, perfectly fit that description.
How did you come up with the wedding concept?
Before we planned anything or even opened Pinterest, we took out a notebook and brainstormed what our ideal wedding would look like and what creative, new ways we could infuse a wedding with rituals that reflected our values.
The concept behind our wedding was inspired by a wedding my mom had attended at a kibbutz, where the community came together to create the joyous event. We wanted our wedding to be more about creating joy, closeness, and sharing traditions with everyone rather than just putting on a show. We incorporated interactivity, games, cultural moments, and a sense of community. Instead of following traditional wedding norms, we focused on what truly mattered to us.
To infuse the wedding with our interactive, playful, food-forward energy, we drew inspiration from the interactive dinner parties like "Build Your Own Tamale Night" or "Wizakaya" which we hosted throughout our relationship. Aesthetically, we were drawn to a mix of palm springs and wavy whimsy, using peaches and pinks to represent peaceful Hawaiian sunsets and dark green to reflect the lush greenery.
How long did it take to plan your wedding? Did you encounter any challenges during the planning process?
We planned the wedding over a year. The biggest challenge was not getting overwhelmed by options and inspiration.
How many guests did you have? And what was the seating arrangement at the wedding like?
Our wedding had 86 guests, and we arranged the seating with 10 tables. We wanted to create a sense of intimacy, so we sat with a group of friends but also with our families on either side. To add a fun element, we asked each guest to submit a fun fact in their RSVP, and we printed different fun facts on each name card so that guests had to guess whose fun fact belonged to whom.
Tell us about your outfits.
Ever since "The Parent Trap" came out, I became one of those kids who daydreams of being a wedding dress designer. So, designing my dress was something I had thought about and doodled for a while (minus that weird white top hat). My mom had her dress custom-made (that was the thing in Uruguay), so I had this fantasy of doing the same. After googling "custom wedding dress," Instagram showed me House of Deane on my explore page (finally, all the data sharing paid off!). I got on a call with Diana, and when she described her dresses as "having a sense of humor," I knew she was the one (sorry, Wiz). It's safe to admit I had a wedding mainly for the dress. I decided to do a capsule wardrobe with her, and together we designed three dresses.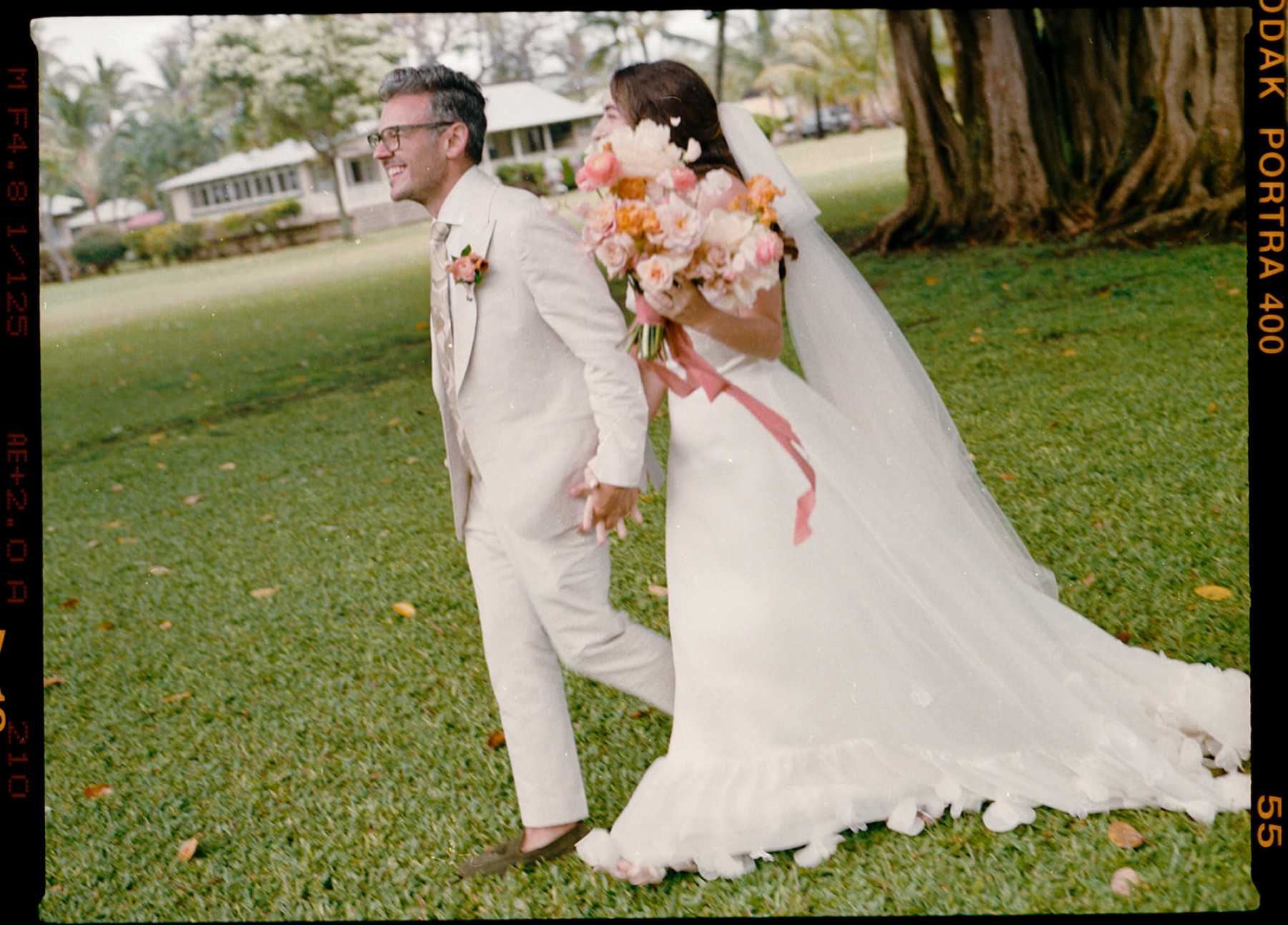 For the welcome party, she knew I was deep in my daisy era, so she came to me with a French, 3D daisy fabric. From there, she sketched a floral mini with a poofy strap detail for the welcome party, which was floral-themed.
For the ceremony dress, I knew I wanted to keep the scallop motif I'd been using on the invitations, napkins, and website. It felt playful and mimicked the beach—the sand and the waves. The bodice of the dress was Mikado silk with a scalloped edge, and the skirt was a sheer layer of organza over-fitted Mikado. At the first fitting, my mom had the idea of adding applique flowers all around the base of the skirt to mirror the floral landscape of Hawaii and the wavy curves of the scalloped bodice.
I created a set of doodles that represented our story and relationship, such as palm trees, bell peppers, our dog, the national flower of Uruguay, etc., and used these as motifs throughout the wedding, including on the website and embroidered on the napkins. I sent Diana three of these doodles to hand-bead onto a shiny party mini for my second look. We enjoyed this collaboration so much that we've actually started a project together to offer this doodled dress service (plus embroidered napkins and more) to other brides who want to add a sweet personalized flair to their wedding. I'm calling it "Something Doodled."
It was a really special experience to be able to collaborate with House of Deane and include my mom in the creation of a dress that was unlike anything I was seeing in stores.
Did you have any pre-wedding events?
We wanted to include our guests in the wedding as much as possible. We had a floral-themed Shabbat Asado Welcome Dinner where Wiz and his friends prepared a delicious meal. Guests also strung leis that later hung from the chuppah, symbolizing our future home. We also hosted some games, including an egg spoon race, for everyone to enjoy.
Were there any national/religious traditions at your wedding, and how did you implement them?
We had a lot of cultures to include. My parents are Uruguayan and Jewish, and his are Arab and Portuguese. We tried to incorporate all these cultures into the wedding through food, music, the chuppah, the Horah, an asado, and the 7 circles.
One of the unique elements we included was the floral chuppah adorned with leis. It was a mix of my heritage and a new tradition we created, where everyone participated in stringing the flowers for it. A funny story happened with the chuppah: Right when it was built, we realized it didn't have a top covering, which is a must in Jewish tradition. We quickly looked for a solution, and luckily House of Deane had sent me two veils — one with a bow and one without. We used the backup veil as a makeshift cover for the chuppah, and it worked perfectly. It was a beautiful oops moment.
Did you have any special or unique elements at your wedding?
Many! We had the lei chuppah, made with some of the leis and notes that the guests strung. We had babka flown in from NYC because it's something we ate and baked a lot together in New York. We had custom scalloped napkins embroidered with one of my doodles of us that the guests got to keep. We had secret missions that were funny things the guests had to do throughout the weekend without being called out (i.e. get someone to compliment you on your eyebrows, do find out someone's Dad's middle name). We had our custom song! My friend Kelsey made some pottery for the table since she couldn't be there. For the seating chart cards, each of them had one of the doodled icons to represent their table. We hung the name cards on mini clothespins that later served to hang polaroids from. I found some glow-in-the-dark clothespins online that made that whole display light up once it got dark.
What was your first dance song?
For our first dance, we chose "Turn Time Off" by David Myles, a song we listened to a lot when we first met. The only problem was one line in the chorus is a bit raunchy for a wedding. So, I asked my brother Ben, who writes and produces music, to recreate it. A friend sang the song with new lyrics, and it turned out so beautiful.
Did you make a gift for guests, and what was it?
As for gifts, we gifted everyone a custom mini tote bag with a doodle of a palm tree on each side—one side had Wiz-like glasses, and the other had me-like lips. Inside, we included sunscreen packets, macadamia nuts, a welcome postcard with the schedule of events, and Advil. Guests could also take their polaroids and embroidered napkins home as souvenirs.
What gift from guests do you remember the most?
When we returned home we had a big box of nice fancy meats waiting for us from a couple who couldn't make it. This may sound like a weird one, but it led to another barbeque with family and friends that eased the post-wedding blues.
What was the most memorable moment from your wedding day?
A significant reason we chose this part of the island was because the weather in that area is supposed to be very dry. May is supposed to be sunny. The weather listed sunshine all week. And then, an hour before the wedding, storm clouds appeared and poured onto all the tables. The linens, flowers, and the chuppah were all getting soaked while I had my makeup done. I was crying my mascara off and trying to stay positive. We had no backup tent booked. That morning, Wiz and I had lain on a hammock and set our intentions for the wedding, and I had said, "I want to stop lamenting how things could be and live in a grateful, go-with-the-flow state." It was like the weather heard that and was like, "oh yeah?" I ended up calling Wiz, crying, and he came to my room to give me a hug as I was in my robe and hair and makeup. What you're not supposed to do, but it felt so necessary. Friends and family and my baby niece also came in to cheer me up, and having everyone come together like that to commit to making the day beautiful either way felt like it gave the moment extra weight and meaning. We stalled the wedding by 30 minutes and then went for it. The rain petered out right as we came down the aisle. Fittingly, Wiz happened to walk down the aisle to "Here Comes the Sun." The rain made the menus all wet and my hair all frizzy, but it also gave me a chance to cry and release all these emotions I hadn't realized I had bubbling up. It also gave me a chance to feel supported and loved, able to overcome forces of nature together, and just overall added to the plot.
Are there any vendors that you would like to tell us a little more about?
Throughout the planning process, we had wonderful vendors who supported us in bringing our vision to life. Krisy Zietz, our on-island planner, was patient with our unconventional ideas. House of Deane created my dream dresses. Sunrise Blooms helped bring our lei chuppah concept to life and decorated the tables beautifully.
What advice would you give to couples who are currently planning their wedding?
For couples currently planning their weddings, our advice is to focus on what truly matters to you both and create traditions and customs that represent your values and personalities. Don't worry about perfection and pageantry; instead, focus on creating joy and being present with your guests. If you feel anxious about the big event, consider getting legally married a bit beforehand to take off some pressure.
Planner: @kzietzweddings
Photography: @sav.and.cam
Venue: @waimeaplantationcottages
Dress: @misshouseofdeane
Design: @something.doodled
Catering: @destinationeventshawaii, @wizeatz
DJ: @kevinmiso
Hair and Makeup: @artistrybystefanie
Website: @oakhousecreative