@rebeccaburtphoto, @serracinna
Once you've decided on a date and location for your wedding, it's on to the difficult task of choosing your wedding dress, the menu for the reception, the song for the first dance, and the list goes on and on. One of the most difficult creative tasks is to choose the overall style of your big day. Then you've got to choose the table toppers, aisle decorations, and the bridal bouquet to fit that aesthetic. Luckily, there are plenty of professionals in the US ready to provide the most stylish floral solutions. In our selection, we've found 15 of the best in the country.
Molly Ford
Molly Ford opened a floristry studio three years ago in her tiny kitchen in Bushwick. Soon, the small business spread to other parts of the apartment, and Molly realized she was on to a good thing. Flowers by Ford recently moved to a standalone studio in Brooklyn, New York. Their bouquets are always luminous, a bit funky, exciting, and full of light. Their creations match the main mission of the studio – to create special moments and memories, spreading joy and love.
Lou Flowers
For the founder of the studio, Lindsay Cummins, floristry is not just a job. Since opening Lou Flowers in 2017, she has been aiming for a more fulfilling lifestyle. Her goal was to live in the flow with nature and the cosmos. For Lindsay, flowers are a reflection of the universe. Therefore, each florist's bouquet is charged with special energy and filled with deep meaning. Lou Flowers is based in Los Angeles but takes orders from all over the US.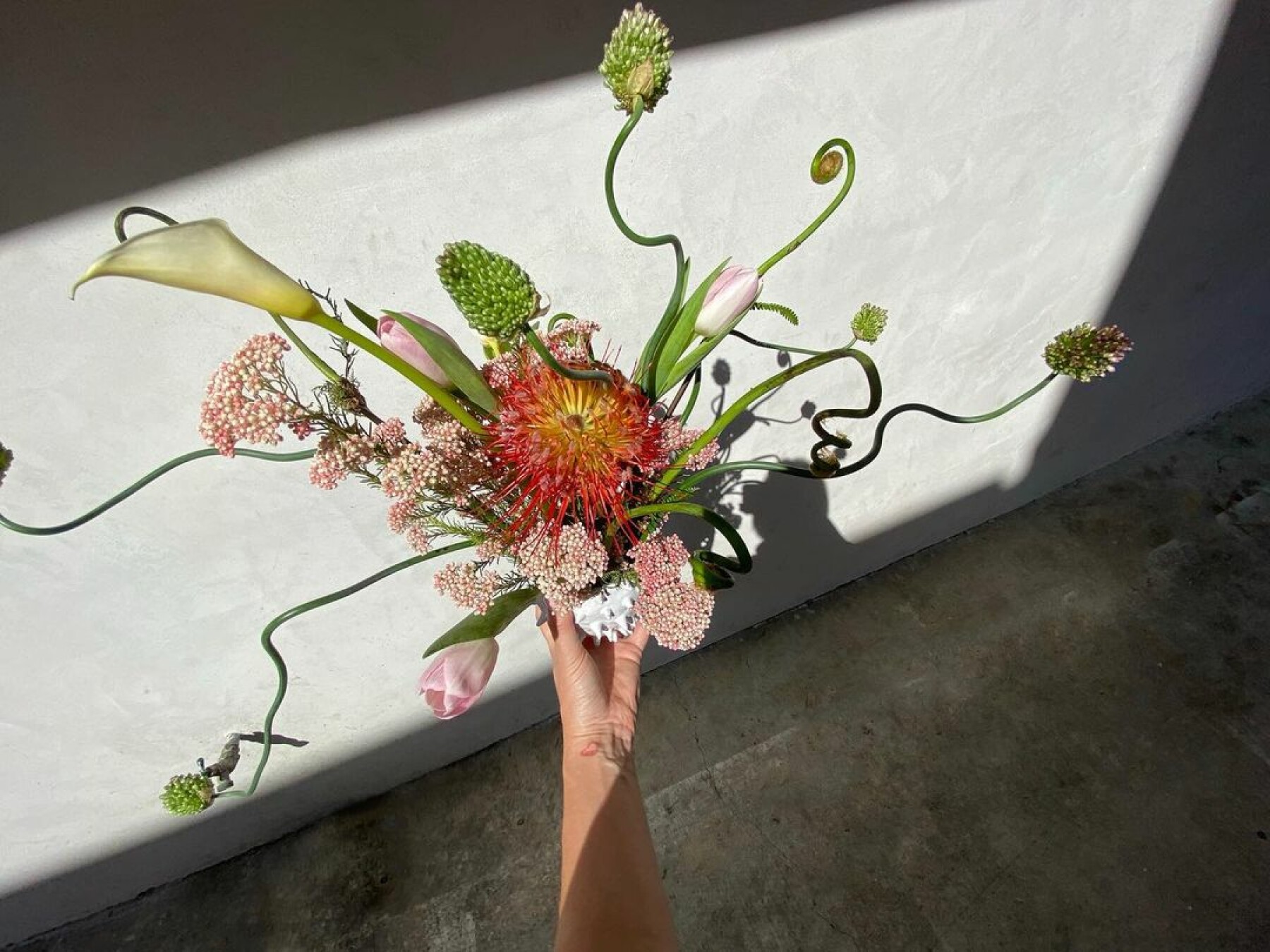 Jenn Sanchez
Jenn Sanchez is a painter. She learned to convey emotions through colors and textures from an early age. In 2014, her talent for painting was revealed in the flower business. As a California coast resident, she has the privilege of finding sources from many unexpected places to carry out her projects: from farm fruits to canary grass growing in a forgotten field. And of course, all works of the florist are unique and created individually for each client.
Taylor Anne Co.
Taylor Anne Co. is part of a curious and inspiring project that brings together three talented female entrepreneurs now known as Flowers, Fabric, and Fine Wines. Anne, of course, handles the flowers, which she calls "a way of love, and healing." Her work is dominated by soft soothing colors and classic designs reimagined in a timely manner. The florist creates in California but is ready and excited to travel for wedding projects.
Siren Floral Studio
Siren Floral Studio is based in San Diego, California. Their designs are inspired by an endless love for nature and they differ from the designs of other florist houses because of the edgy design elements. The studio believes that quality is more important than quantity. Therefore, only flowers from local farmers are used in their compositions and their floristic menu changes from month to month.
Puni Petals
Puni Petals is a flower studio based in Los Angeles. Its company calling card is that they only use carefully selected full-color flowers, fresh from the morning market, in their floristic designs. Their designs are particularly bright, full of color, shapes, and textures because they do not use filler florals or greenery.
Vessel and Stem
Vessel and Stem's floral designs are inspired by fresh flowers and harvested Virginia foliage. The studio uses local materials, so seasonality plays a key role for them and their design process. Clients define the palette and overall atmosphere of the event, and the team at Vessel and Stem creates individual concepts for each special occasion with florals to match.
Blue Jasmine Floral
Before devoting herself to flowers, Paulina Nieliwocki worked as a high school language teacher and translator. In 2014, she dared to challenge herself and opened Blue Jasmine Floral, which was named after her grandmother's favorite flower, in Berkeley Heights, New Jersey. She wanted to bring her idea of beauty to the world - wild, whimsical, artful, and sophisticated. The florist is inspired by nature itself and tries to convey the uniqueness of its components in each bouquet.
Isa Isa
Isa Isa is a floral design studio based in Los Angeles. Founded in 2014 by Sophia Moreno-Bunge, the space was named after her Argentine grandmothers, both named Isabelle. Isa Isa creates arrangements that are charged with emotion and, by their own admission, a little strange. They are crafted from mostly local flowers, herbs, and fruits. And Emily Ratajkowski follows them on Instagram!
Rana Flora
The founder of the Rana Flora studio comes from South Korea, which is clearly reflected in her work: balanced, meaningful, measured, and concise. Such flower arrangements are ideal for minimalist intimate weddings. You can get acquainted with the works of Rana Flora in New York City, and via her Instagram account!
Lambert Floral Studio
Lambert Floral Studio style combines elegance and sophistication with the unexpected and edgy. Florists are inspired by the spirit of the natural world - changeable and contrasting. They love to play with shades and textures, combining tradition and modernity. Lambert Floral Studio is based in San Francisco, California, but is ready to travel on demand.
Serracinna
Serracinna specializes in indoor floral arrangements ranging from orchids and cacti to locally grown flowers and foraged specimens. Its mission is not only to illustrate the deep and meaningful beauty of the natural world around us but also to interact with this world. Among the studio's clients are Gucci, Chanel, Spotify, and other global brands. But Serracinna also works with weddings. They only take a limited number of clients each season, so you'll need to book the studio well in advance.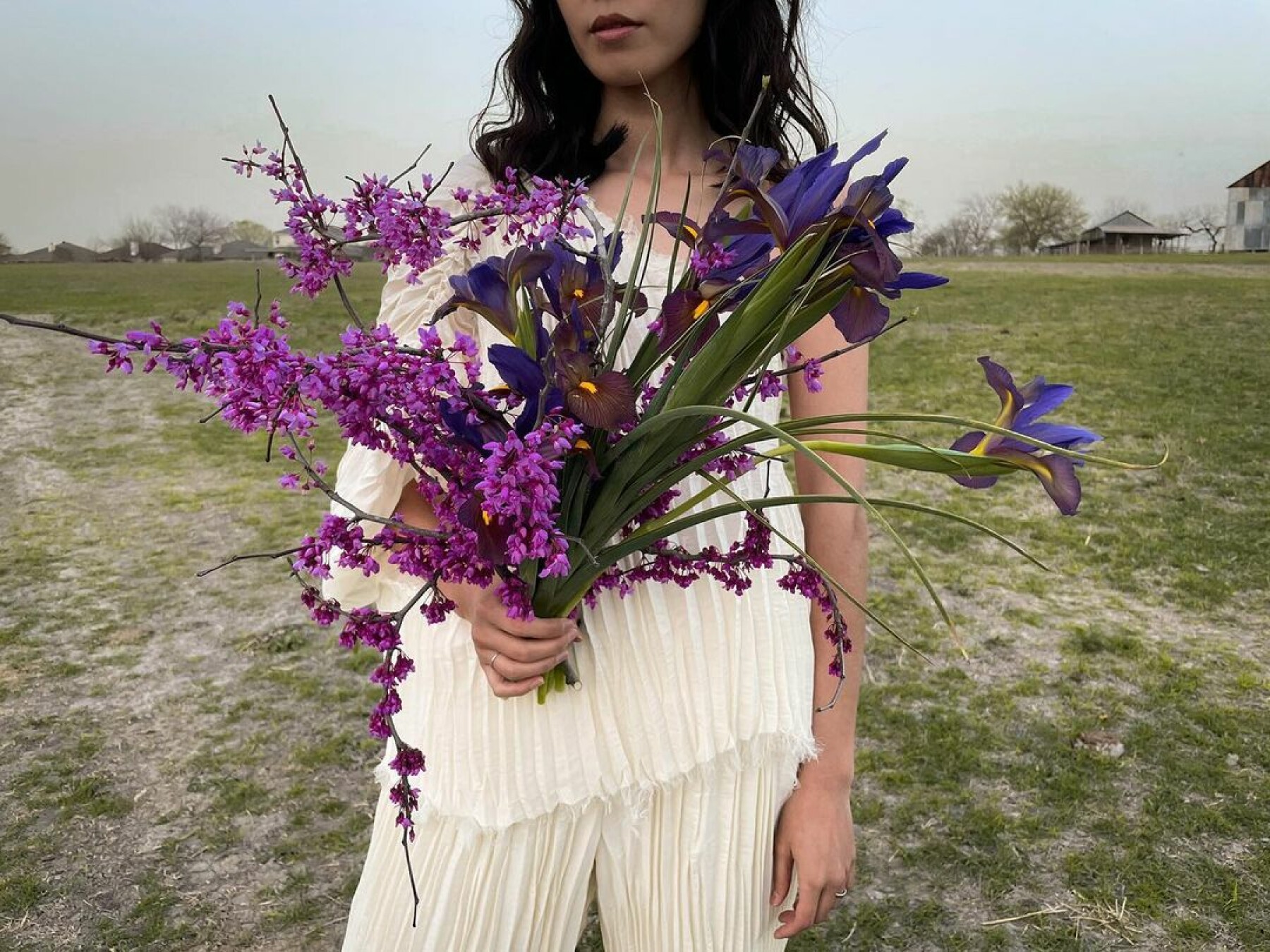 Ash and Oak
Ash and Oak is a California-based studio. Their style is airy, creating bouquets with seasonal and organic flowers of unusual and at the same time muted color palettes. Besides working with clients (weddings, elopements, events, and brands), they conduct master classes for colleagues, where they share professional secrets.
Fox Fodder Farms
Fox Fodder Farm is a floral design studio based in Brooklyn, New York. Its founder, Taylor Patterson, makes every effort to minimize harm to the environment, which is why she uses mainly seasonal local flowers and greenery in the arrangements. Besides weddings, Fox Fodder Farm handles delivery, subscriptions, events, and installations. Their portfolio includes Moet x Virgil Abloh and Carolina Herrera Madison Avenue projects.
Calma Floral
The founder of Calma Floral, Elizabeth Jaime, is a former worker in the New York magazine world. In 2018, she returned to her native Miami and began creating floral arrangements for family and friends. Soon, this hobby turned into a business. Jaime draws inspiration from the tropical vegetation of the region, she loves bright colors and modern designs. The florist worked with Nike, Dior, and Urban Outfitters. And, of course, since she's on this list, she does weddings.