On the magnificent hills of the Amalfi Coast, where history and luxury meet and unite, Anne and Justin organized their dream Renaissance wedding. The gorgeous city of Ravello was the perfect platform for this marvelous event, recreating a renaissance ambiance with its historic castles and medieval streets. From the bride and groom's stunning outfits to the lavish décor and unique elements of the celebration, every detail immersed guests in a world of beauty and art. Read through to learn more about Anne and Justin's wedding, steeped in the charm of the past and the sophistication of modern Italy.
Tell us a little about yourselves. How did you meet? What do you do for a living? What are your hobbies?
We've lived in NYC for a decade now and currently reside in Flatiron, with our bichon, Katie. I am a buyer at Bottega Veneta and Justin is a VP at Carlyle, a private equity firm. We met late summer 2013 on a dating app (Tinder), basically straight out of college and within our first years of living in the city. Our first date was me meeting him at a finance happy hour and pretending I knew a thing or two about football. The date was probably one drink max and I must've made an impression because he asked me out on a proper date shortly after that, which was at a Brazilian steak house because apparently I had also mentioned that I loved steak during our first meeting. He properly "courted" me for several months, escaping investment banking hours every once in a while, to go on a date — this is when I knew Justin was committed. Right before Christmas, he officially asked me out in Bryant Park skating rink and we've been together ever since. We both love food and binging tv shows (me more so than him, but I appreciate that he sits with me through them).
Did you have any pre-wedding events, like a rehearsal dinner or bridal shower?
Yes! We actually had quite a few to ensure our guests had enough quality bonding time to build up to the big day. I celebrated my bachelorette in Capri 5 days before. 2 days before the wedding, we hosted a Beach Day at Capo Di Conca, a beach club run by a local family that Justin and I have gone to each time we've been on the coast. The day before the wedding, we held a Welcome Dinner for all our guests at Trattoria Da Lorenzo…another family owned business. We wanted to create the atmosphere of a large classic Italian family dinner party and surprised our guests mid-way through the meal with a classic Italian quartet that "crashed the party". The quartet got everyone up on their feet dancing for the rest of dinner!
Where was your wedding? Why did you choose this venue?
Villa Cimbrone, an 11th century villa that sits at the top of Ravello, a town above the Amalfi coast. I've never been one to dream about my future wedding and no place I've ever visited has made me as emotional as stepping into the crypt of Villa Cimbrone. During our Amalfi vacation in September 2018, we decided at last minute to make a pit stop to Ravello. I remember it was a gloomy afternoon and on the verge of a torrential downpour. We didn't have much time, so we toured only 2 spots: Villa Cimbrone was one of them. When we strolled along the Infinity Terrace and walked inside the gothic-arched Crypt, I literally thought to myself: Wow, I could see myself getting married here. The Villa had it all: situated in a small quaint town but had the most magnificent view of the Amalfi coast. It housed a collection of Roman statues, columns, and gothic architecture. The Renaissance was my favorite period in art history, and Villa Cimbrone felt like a living version of that.
What was the concept behind your wedding and how did you find your inspiration?
Old world romance of the Renaissance. It wasn't hard to formulate the concept because the venue spoke for itself. My main goal was to play off the architecture and enhance the elements of the Villa. Because every event would take place in different parts of the Villa, I wanted each event to have its own distinct aesthetic. The ceremony in the crypt was in a lighter, more ethereal mood. Mostly greenery with touches of pale florals to highlight the grandiose arches. The cocktail hour was on the Infinity terrace, which speaks for itself. I wanted to keep it super simple to not take away from the view and the statues lining the railings. Reception was in the garden so I wanted to contrast the minimal vibes of the ceremony with a more maximalist table set up. We installed arched chandeliers, and the tablescape was inspired by a Dutch Renaissance painting: rich colored florals, deep burgundy and navy candles, bowls of grapes and pomegranates spilling across the table.
How long did it take to plan your wedding? Did you encounter any challenges during the planning process?
2 years! We got engaged in 2020, and we both wanted a long engagement with no real need to rush into a wedding…especially during COVID times. We secured the venue early in 2021 because we suddenly learned that Villa Cimbrone, which we thought was our hidden gem, was actually one of THE most popular wedding venues. Lol. Guess we weren't so original after all. Based stories that I have heard from our friends and ones that I've read, our planning process was very seamless with little to no major issues. The one thing Justin and I did have to get used to was the Italian way of working! Having lived in NYC for a decade, we are used to a fast-paced lifestyle and constant communication. The Italians were not that! They moved at a much more leisure pace, with little stress, so we had to adapt early on. We made one visit to meet our planner and some vendors in August 2022 and that trip helped us not only realize and see the cultural differences but gave insight on these vendors' professionalism. Many of them work 500+ weddings a year along the coast so they could do it all with their eyes closed! We were much more relaxed and confident after that because they proved we were in good hands.
How many guests did you have? And what was the seating arrangement at the wedding like?
We had 83 guests and it was the perfect size. We're still amazed at just how many of our friends were willing to make the trip to Ravello, especially when there were almost no direct flights into Naples! The ceremony seating was tricky because of the large columns in the crypt that easily blocked views (it's not a suggested ceremony site for this reason), but the team at Cimbrone worked their magic. The reception seating was 2 imperial tables with 4 circular tables in between. Both Justin and I's immediate families are small, and my parents had invited a number of their close friends to attend so we wanted to make sure they were all seated at an imperial table together. As for the rest, we have a diverse group of friends from all aspects of our lives (childhood, college, work, NYC) that live in various parts of the country. We made sure people were seated not just near people they knew, but also mixed with people they didn't know but had shared interests. Our goal was to melt our friend groups and create new friendships with this wedding…the beach day and welcome dinner we held helped too. Justin and I sat with our friends at the other imperial table. We didn't want to do a sweetheart table because we didn't want to be so far removed from our guests.
Tell us about your outfits. How many different styles have you tried?
I originally had 3 dresses, but never ended up changing into the 3 rd (afterparty) dress because I didn't want to leave the dance floor. I casually shopped for 2 years. Working in fashion, I always needed to know what next season had to offer so I didn't want to settle too quickly. For the ceremony, I wore Viktor & Rolf. I tried the dress on in 2020 at Loho Bride and fell in love with the cape. I knew I wanted something voluminous, off the shoulder. This cape, when I tried it on, took my breath away. It was architectural and gave this half-hazard, yet very elegant vibe as if I just rolled out of a bed of taffeta sheets, clutching it as I ran down the aisle — this was the vibe. It was Rihanna 2015 Met Gala. The bow on the dress added a touch of sweetness and the gentle tulip hem contrasted the cape perfectly. I was in LOVE. I paired the dress with long pearl earrings from A.B. Ellie and Dior J'Adior slingbacks, in white with gold embroidery, which matched the regal, renaissance aesthetic. My veil was from Ofrenda, it had hand embroidered flowers that added more texture to the dress and the team at Ofrenda custom embroidered "I love you 3000" onto the veil, a quote that both Justin and I love. 2 nd dress was the reception look, Monique Lhuillier. This dress was the opposite of the ceremony dress. It's a ball gown with floral jacquard, but had a high slit and straight, strapless, neckline that made it modern. There was very little fabric underneath so it's very easy to move in and it looked as if I was floating when I walked. I added pockets to the dress because, why not? The dress was perfect for the reception in the garden, and I paired it with a vintage pearl choker and large baroque earrings for that "old-world" vibe. For shoes, there was only one option: Prada platforms with all over crystals. 
What was your first dance song? Did you choreograph or improvise?
First dance was a remix our DJ created for us of a slower song and a more upbeat song: 'I Love You 3000' by Stephanie Poetri & Jackson Wang, and 'Her Name' by Charleon. 'I Love You 3000' is sung by two Asian artists and funnily enough, the lyrics are very similar to our real-life proposal. The title of the song is a phrase Justin and I favor from Iron Man in Avengers: Endgame (we are Marvel fans and Iron Man is our favorite superhero). 'Her Name' is possibly one of the best mood-lifting jams ever. It has sax in it, and we hired a sax player for our wedding, therefore, it had to be played. We had a friend teach us a simple choreo for 'Her Name' that we practiced for 2 hours. However, the dance floor was slippery so I accidentally slipped during the start of the choreo so we ended up improvising the entire thing.
Did you have any special performances or entertainment?
ALL of our musical performances were incredible! We never spoke with them directly, but had our planner send them a list of songs that we wanted to play to create iconic moments throughout the wedding day and they all absolutely nailed it!! Our pianist for the ceremony played the La La Land theme song as guests entered the crypt. It was magical. The string quartet played Merry Go Round by Joe Hisaishi from Howl's Moving Castle on loop as guests walked into the garden for reception. Absolute Bridgeton moment according to the guests. Our sax player, Ernesto Dolvi, was incredible. He had so much energy and presence and knew exactly how to hype up the crowd. He led the guests from the ceremony to cocktail hour, played the full hour of aperitif, and then again with the DJ during dancing. The electric string quartet, led by Simona, executed our vision of a real-life Chef's table. They played a remixed version of Vivaldi's Four Seasons: Spring as the Villa's chef assembled our wedding cake (a classic Millefoglie) in front of the guests.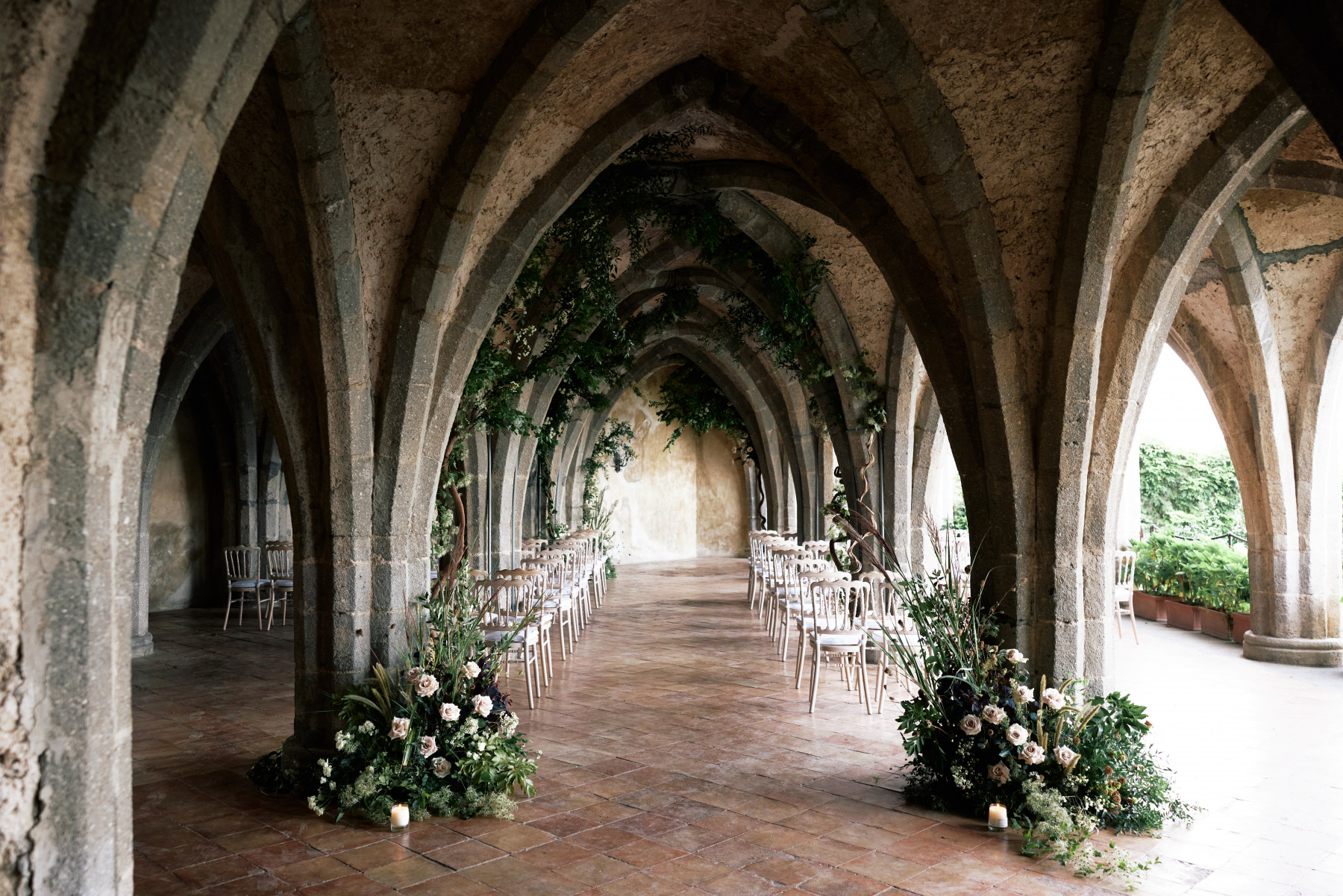 Did you have any special or unique elements (such as a signature cocktail or a fragrance) at your wedding?
My favorite scent is Le Labo's Santal 33. Not only were each guests' welcome baskets stuffed with a sample size, but I had 2 Santal candles burning during the ceremony and had my planner spray Santal 33 perfume on all the flowers, seats and in the air right before guests entered. I love the subtle elegance of the scent, and at the entrance of the crypt, you could really smell it everywhere! Some guests thought the smell was a special flower the florist used!
Did you make a gift for guests, and what was it?
Upon arrival at Ravello, we delivered custom beach towels that just said "Wedding Favor» on them for guests to use on beach day. Nestled in the beach towel was also an itinerary for the week and a map of Ravello painted by Miller & Me Design Studio. Because our dog, Katie, couldn't make the trip to the wedding, we had a custom sticker developed of her sailing a boat full of lemons for the guests. At the welcome dinner, we had tiny straw welcome baskets filled with essentials for the guests: Supergoop sunscreen, Le Labo Santal 33 travel size perfume, collagen eye masks, Vaseline, roll-up ballet flats, and of course, Advil and electrolytes for the day-after! Along with the welcome baskets, we had custom tiny tambourines with each guests' names to use for the surprise band performance.
What was the most memorable moment from your wedding day?
I have two moments: The first was when the cake rolled out and the chef came out to start assembling it as the first notes of Vivaldi started to play. It gave us CHILLS and was exactly like watching the intro to Chef's table. The 2 nd moment was when our DJ and the electric violinists started to play 'Opus' by Eric Prydz. If you've been to Tulum, you'll know this song because that's where we originally got the idea of a DJ x Electric Violinist idea. The cold fireworks went off when the beat dropped. It was epic. Are there any vendors that you would like to tell us a little more about? Our photography/videography team, Dear Vincent. They are so creative, and understood the vibe and the mood to a T. They were stealthy with capturing just the right candid moment in a cinematic manner, and knew exactly how to hype the guests and us to get the shots they needed. We are beyond thrilled with the previews they've shared so far. Our DJ, Fabio Vuotto, is a genius. We only had 40 min of dancing due to the hard-stop time from Villa Cimbrone, and he created a playlist that was hit after hit, and allowed both Ernesto (sax) and Simona (electric violin) to perform to perform seamlessly together. There wasn't a single person NOT dancing those last 40 min! Just Bloom Capri, Mary Scala our wedding planner. She was referred to us through a mutual friend and honestly, exceeded our expectations. She knew exactly when to push the vendors to create our vision. She helped plan my bachelorette in Capri (which was 5 days before the wedding), our beach day, welcome dinner, AND the wedding itself! She was meticulously detailed, in constant contact with all the vendors throughout the day, and had her eyes everywhere to ensure nothing went wrong. She was a superstar and we couldn't be happier to have had her help plan the wedding! 
What advice would you give to couples who are currently planning their wedding?
Trust the process and don't overstress on the small stuff. Get all the details sorted out at least 2 weeks ahead and the days leading up to the wedding, just enjoy the excitement. Let whatever happens happen, not everything will go exactly as planned, but just embrace it because your wedding is only as memorable and fun as you make it.
Bride: @annesunnn
Wedding Planner & Design: @justbloomcapri
Photo & Video: @dearvincent 
HMUA: @makeupartist_jane
Venue: @villacimbrone 
Flowers: @malafrontefiori
Furniture: @g&gpartyservice
Lighting & Structures: @lkevents_wedding
Dj Set: @fabiovuotto
Sax: @ernestodolvi
Electric Trio: @simonasorrentinsta
Stationary: @miller_andme
Rehearsal Dinner Venue: @trattoriadalorenzo