A beautiful urban wedding is an art. Danielle and Tyler celebrated theirs in Toronto, Canada at one of the city's finest view restaurants. It was a warm, sunny day, with their closest friends and family, who couldn't have been happier for the couple. The exquisite cuisine and sleek, modern decor added to the magic of the day. We had the pleasure of discussing all the wedding details with Danielle. Experience the love that enveloped them on this special day through the photos captured by Ha Nguyen, a member of THE WED.
Tell us a little about yourselves.
Tyler and I met on a company boat cruise in the Toronto harbour about 10 years ago. We chatted the entire night and became fast friends for years. Our interests aligned from the beginning, whether it was exploring the city, going to concerts, visiting markets on weekends, or having a chill night over wings and beer.
Where was your wedding? Why did you choose this venue?
We held our wedding in Toronto at Canoe, one of Canada's best restaurants that pays homage to the country through its design and menu. It's located way up on the 54th floor and offers panoramic cityscape views, especially at sunset. We picked this spot knowing the food, service, and views would be amazing and that it would provide a unique experience for our friends and family, whether they were local or traveling into the city. The venue itself is stunning and was recently renovated, so we were excited to walk in and know it'd be a formal affair only requiring some finer details from us.
What was the concept behind your wedding and how did you find your inspiration?
We wanted our wedding to have a modern, romantic feel and really offer a different Toronto experience for everyone attending. Early on, we toyed with different location options, but ultimately settled on being downtown given a good portion of our guests were traveling in and this would allow them to make the most of their trip. Our vision was to create a day that not only we'd love every minute of, but that our friends & family would too.
How long did it take to plan your wedding?
Finding the right location took about a month, and then we took six months to plan the rest of the event. In choosing Canoe, so much was already taken care of, so we only needed to fixate on the finer details and personal touches, like florals, music, stationery, and ceremony seating.
Did you encounter any challenges during the planning process?
Our first big challenge was actually picking a date. We were mid-Covid and coming out of lockdowns but needed to pin down a date to lock in the venue. Because of this uncertainty, we pushed our date out by a few months, which ultimately worked in our favor as September offers some of the best weather in the city. In the lead-up to our wedding, for a variety of reasons, we had more vendors change on us than we'd like, including hairstylist, day-of coordinator, our point person at the venue, DJ, and our photographer. Despite those changes, everything worked out lovely, and we were so pleased with everyone that contributed to our special day.
How many guests did you have? And what was the seating arrangement at the wedding like?
We had 110 wedding guests, and everyone was seated restaurant-style around the venue. Tables ranged in size from 6 to 12, with some tables closer to the windows and some elevated on a riser. The entire layout of the restaurant is an L-shape, allowing everyone to experience the panoramic skyline views. For our ceremony, Canoe has a very unique setup where the altar is positioned in the center with guests seated on two sides facing one another. We absolutely loved this and it made our ceremony feel more intimate as we could look in any direction and see our loved ones all around us.
Tell us about your outfits. How many different styles have you tried?
Tyler put together a Pinterest board of suit ideas that was quickly vetoed. Without showing her exact dress, Dani proposed some options to match that were far more modern, elegant, and fashionable. For the groom, we landed on a cream-colored jacket to give a timeless look that would perfectly match Dani's statement dress. His outfit was completed with bespoke black pants, black patent leather loafers, a tuxedo shirt, a black bowtie, and cuff links made of Nova Scotia tartan (the province where Tyler grew up).
Dani tried lots of different styles of wedding dresses, but ultimately was interested in something that felt like a modern evening gown. She found a dress from a local designer and it was love at first wear. Her dress was a backless, strapless, long train gown produced by local designer Ines Di Santo.
What was your first dance song? Did you choreograph or improvise?
For our first dance, we chose "At Last" by Etta James. We skipped on the choreography, aside from knowing that Tyler would dip at a key moment during the song. We chose this song because it's one we dance regularly at home in the kitchen with the lights turned low.
Did you have any special performances or entertainment?
We wanted the whole event to feel like a celebration, so getting the music right was essential. Tyler was a DJ in a prior life, so he put together a sample playlist to showcase the vibe we were aiming for across cocktails, dinner, and the dance party. We're so fortunate to have had an incredible DJ serve up the energy for our evening. We received a ton of feedback from our guests on how much they loved the music - DJ Bianca Lee absolutely crushed it and deserves all the accolades.
What was the most memorable moment from your wedding day?
When we sit back and reflect on our day, there are so many moments that stand out. But the biggest was probably our first look. We invited our immediate family to a historic part of the city where they would be waiting. Dani was last to arrive and slowly walked towards Tyler, her dress trailing behind her, and placed her hand on his shoulder. Our photographer captured this moment so perfectly and it really set the mood & energy for the rest of the day.
Are there any vendors that you would like to tell us a little more about?
All of our vendors were truly amazing. We are forever grateful, however, for our photographer Hà's ability to capture all the moments on our wedding day. We honestly cannot say enough about how special Hà made us feel and how supportive she was through all the moments to make sure we were very present during our day. She took a weight off our shoulders, made us feel relaxed, and captured the day so beautifully. She is not only our wedding photographer, but a friend for life.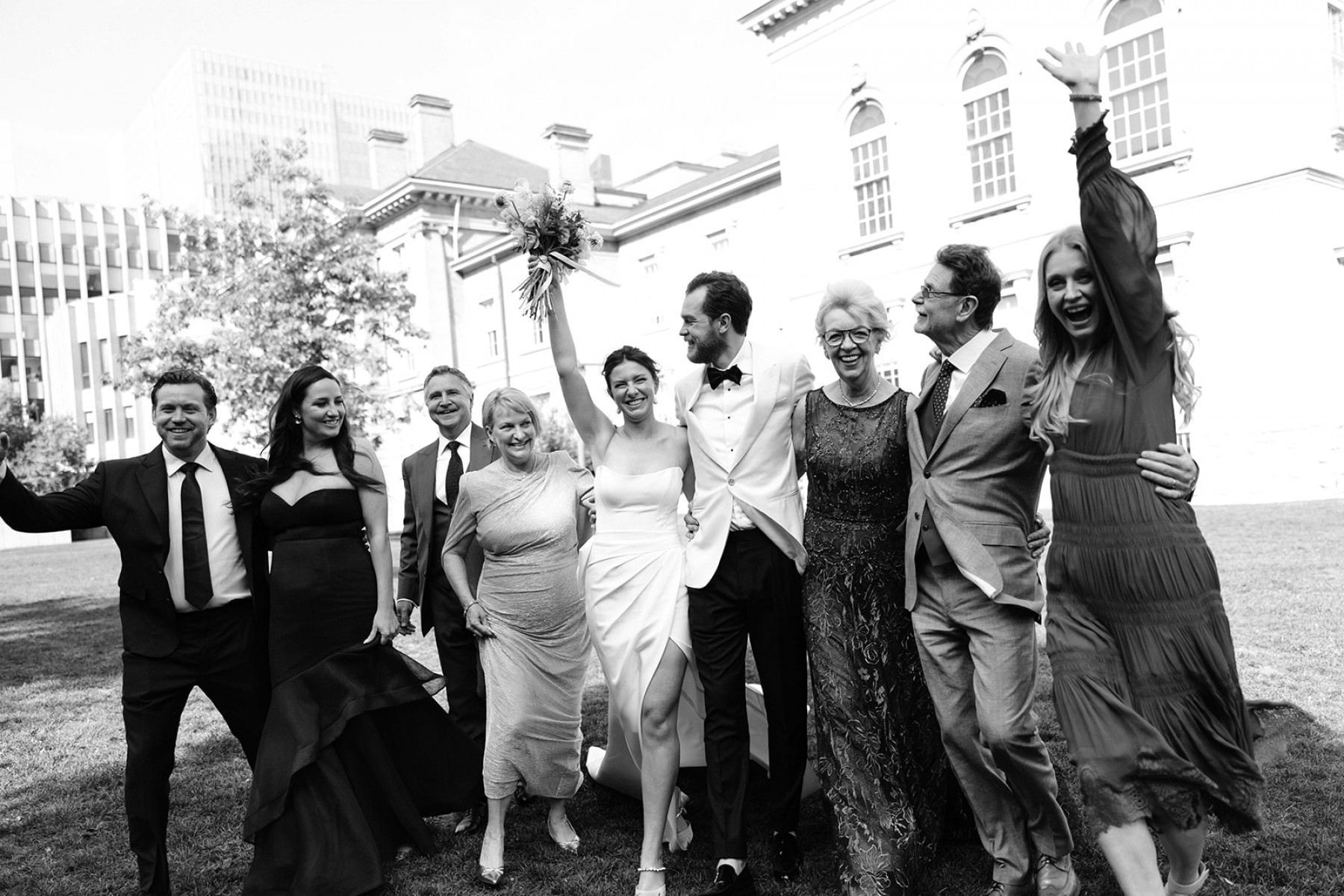 What advice would you give to couples who are currently planning their wedding?
The best part of our planning process is that it allowed us to be fully present and stress-free on our wedding day. We did not work with a wedding planner, but having a Day of Coordinator on site for the day was essential. There's no way we could have pulled it off without Nikolina. There were also extreme moments of indecisiveness, trying to balance our vision and budget, amongst other things. A family member said something one day that really helped us break through these moments and it couldn't be more true: "It's your day, do whatever you want to do."
While we'd hired an incredible photographer, we also placed a few black & white disposable cameras on select tables. As millennials, it not only harked back to our youth before cell phones but also allowed us to see the event through our guests' eyes. We wish we'd given out more of these, as the photos are hilarious and you'll never have this moment again.
Bride & Groom @dlorigibson @helicopterben
Photographer: @hanguyenphoto
Venue: @canoerestaurant
Planning: @424eventgroup
Florals design: @timberlost
Makeup: @karimasumar
Hair: @twentyseventoronto
DJ: @withbiancalee
Dress: @inesdisanto
Suit: @suitsupply