Sometimes the wish to organize a cozy and modest backyard wedding in the process grows into a meticulously and perfectly planned event, which can be called a dream wedding. That is the case for Jaimee and Simon, whose celebration of love, family and trust was one that they and their loved ones will remember for a lifetime. Elegant, and minimalist décor, the bride's sophisticated gown, the planned outfits of the bridesmaids and the incredibly beautifully adapted wedding garden with mazes and uniquely prepared floral arrangements all made the couple's wedding experience stunning and personalized. Scroll below and enjoy Jaimee and Simon's story captured by our talented member, wedding photographer Dean Snushall.
Tell us a little about yourselves. How did you meet? What do you do for a living? What are your hobbies?
Simon and I both worked in radio advertising sales, however we sat on opposite sides of the building so apart from the occasional passing in the hallway, we had very little to do with each other. A colleague of ours was moving interstate so at his leaving party we were finally properly introduced and we ended up talking and being the last ones to leave the venue when the lights were turned on at 2am! Thursdays became our date nights and very quickly they turned to every night of the week. We moved in together after 6 months of dating and the rest is history!
Can you share your engagement story?
We booked a pre Christmas holiday in 2020 in one of our favourite places, Noosa. I booked the accommodation so my husband insisted on booking our activities / restaurants for the trip which is completely normal behaviour for him! When we arrived he let me know he had booked me a massage and dinner at our favourite restaurant that night. Again this wasn't out of the ordinary so I just lapped it up! After the massage I came back to our room and he had put together a wine and cheese board and was playing our favourite playlist from Tom Misch. I made my way over to the table and he had made a sign that said 'will you be my JT' and he was on one knee and proposed! We didn't tell friends or family until the next day that we were engaged so we got to lap our night up in our perfect love bubble. He nailed the most dreamy intimate engagement full of my favorite things. 
Where was your wedding? Why did you choose this venue?
Our wedding was in Adelaide, for no other reason than we fell absolutely in love with Mandalay House and Garden and Deb the owner of the property. She has transformed her home and garden into the most picturesque wedding venue and it literally ticked all of our boxes. Beautiful gardens, marquee wedding, BYO food and drink and a big one for us, a very late curfew! Having both of our family from outside of Brisbane where we live, everyone assumed that naturally we would get married in QLD. It was a bit of a running joke at the wedding that we chose Adelaide of all places (as it wasn't necessarily a destination that meant something to Simon and I, we just loved the venue) and made everyone travel but it definitely evened the score for the interstate and overseas travelers and we have 0 regrets on a destination wedding!
 What was the concept behind your wedding and how did you find your inspiration?
Our wedding concept was constantly evolving, initially we wanted a backyard wedding that had very casual and long lunch vibes, which is laughable now considering how it ended up being! We engaged with Haus of Hera very early on in the process (a literal lifesaver) and her vision and ideas helped us to bring to life the most dreamy, contemporary yet timeless wedding. I'm sure I drove Christie completely crazy with how often I was referencing the fact that we wanted our guests to feel like they were out for dinner at a fancy restaurant with us, while showing pictures of the complete opposite from weddings we'd found on instagram. Somehow Christie worked her complete magic and married both visions to bring to life our dream wedding! 
How long did it take to plan your wedding? Did you encounter any challenges during the planning process?
We had a longer engagement which we decided on from the start after getting engaged during covid and not wanting to risk any of my family based in NZ not being able to make the wedding. So we planned solidly for 2 years, as mentioned with all of our planning owed to Haus of Hera. We engaged her from the start and she did quite literally everything! From sourcing the venue, to all of the trades involved, the only challenges we encountered were having to pick between the incredible selects she came to us with (while maintaining budget!). Having the extra time up our sleeve was such a blessing as we never felt rushed in any decisions and were able to select our dream team. 
How many guests did you have? And what was the seating arrangement at the wedding like? 
We had 68 guests which we seated across 3 long rows. We decided against having a bridal table as we didn't want to separate any partners from each other. The middle table was where we seated and surrounded ourselves with our best friends and had our family and parents seated directly behind us so we could have our chairs next to theirs during speeches.
Tell us about your outfits. How many different styles have you tried?
My maid of honour knows me well enough to have suggested I start the wedding dress search early as I am incredibly indecisive and never had a solid picture of what type of wedding dress I wanted. We visited almost every bridal shop in Brisbane / QLD before stumbling across Mariana Hardwick and falling in love with the Camille dress. My usual style is generally fitted dresses so I was completely surprised that the dress I fell in love with was the complete opposite! For this reason I also decided on a reception party dress and I knew I'd also have this done by Mariana as I was completely blown away by their fabrics and flow of the dresses. I ended up customising their Amina gown which was a more fitted style. Seriously nothing else compared when it came to quality and design! I ended up working directly with the team at Mariana and flying to Melbourne for dress fitting appointments which was a dreamy experience in itself. My husband's outfit choice was a much easier and simpler process knowing from the outset he wanted to wear a classic black suit and bow tie. He researched tailors locally and ended up having a suit custom made with Institchu in Brisbane.
What was your first dance song? Did you choreograph or improvise?
For our first dance we were really particular about not making a song and dance about it (literally) so we just asked the DJ to play our song 'All Night Long' by Lionel Richie so we could share a special moment between just the two of us. Those who are our closest also knew this was our song so they naturally gave us space on the dance floor to have our moment without any announcements of a first dance etc. 
Did you have any special performances or entertainment?
Can you call our MC special entertainment?! Our MC was an incredibly close friend of ours and the Husband of the Maid of honour. He absolutely blitzed it. As a content director in radio he utilised his resources and pre recorded custom produced entries into the reception with the typical radio voice which completely blew everyone away when it came on. He nailed everything from start to finish and he was such a highlight not only for us but for our guests! Some of our guests even told us he was the reason our wedding was so great - so it just goes to show how important a choice an MC is! We also used Entertainment Adelaide for our DJ and sax duo and we gave them a little guidance in the vibe we hoped for on the dance floor and they took over the rest! We had so many compliments on the song choices made the next day and the dance floor was literally never empty. 
What was the most memorable moment from your wedding day?
This is an almost impossible question to answer but if it boiled down to one moment it would have to be the ceremony. Walking down the aisle was something I was so incredibly nervous for and when the moment came I quite literally couldn't have been more excited as the thought of marrying my best friend overwhelmed any other anxieties. It started to rain during our ceremony and our wonderful planner and coordinator handed out umbrellas and the show went on — we were so excited that we were so unphased by the rain! Once we were announced husband and wife I literally jumped up and down and fist pumped the air — which really isn't my usual go to hahah so the excitement truly took over! Nothing compares to that feeling of knowing it's official that you get to spend the rest of your life with your person! 
Are there any vendors that you would like to tell us a little more about?
I've made mention throughout but our wonderful planner Christie from Haus Of Hera. Our ride or die! Christie was also 36 weeks pregnant at our wedding (yes she even flew in from QLD!) and so she sought assistance from Roslin to be an on the day coordinator and Roslin was an absolute dream! She was everywhere you needed and thought of all of the tiny details to make the day run smoothly for the bride. Dean from Dean Snushall Photography. We are so obsessed with the images captured on the day and love that we have these to cherish forever. He made us feel so comfortable and in the most special moments we didn't even notice his presence yet he managed to capture them. Sol our videographer from Fragment Films is so talented and bottled up all of the emotion of the day into an epic film that we honestly watch weekly.  Jemma Millar this girl has been my dream makeup artist since I was 18 and to have her do my bridal makeup was genuinely a dream come true. No make-up artist more talented, kind and genuine.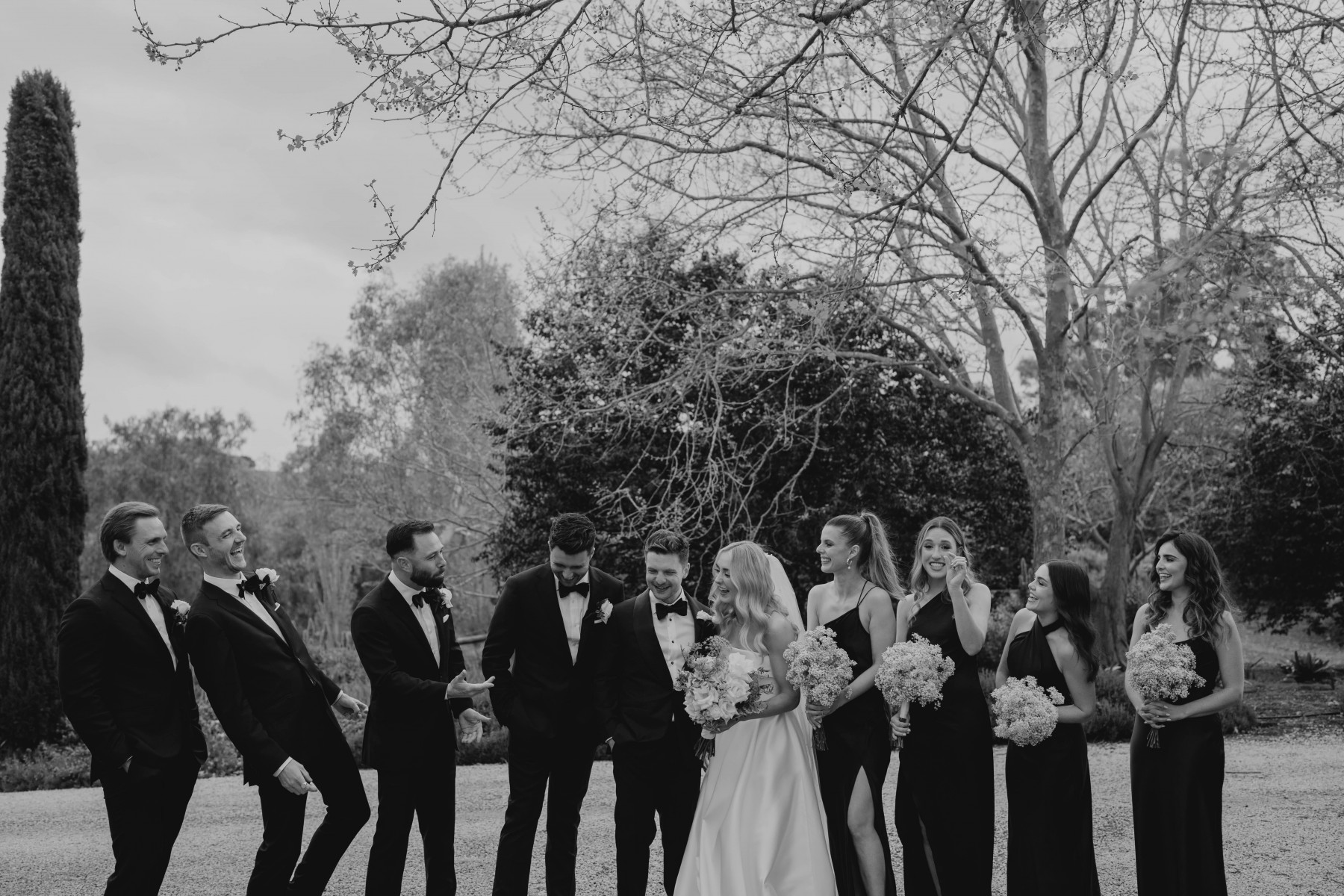 Sinead, the hairstylist, also nailed all of the hair — each bridesmaid wanted something completely different and she killed each style. Catering done by Fine and Fettle Asian fusion food is our favourite and was something we really wanted at our wedding and Fine and Fettle absolutely nailed the food. Guests raved about it!  Bartending done by Are You Being Served. This team was such a professional service, glasses were full all night and the staff nailed our signature cocktails that didn't stop flowing all night. Florals by Studio Botanic: when we found this dream team on Instagram we knew we had to have them be a part of our day. Entertainment by Adelaide Musicians Live for our ceremony and cocktail hour and reception music by Entertainment Adelaide. There are so many more I'd love to mention but these people truly made our day what it was.
Did you have any special or unique elements (such as a signature cocktail or a fragrance) at your wedding?
We had dedicated vibe wranglers at each table. Under the menus of 2 guests at each table we made custom cards informing them of their duties, to ensure that tables' vibes were high all night! Once our MC announced these cards under the menu our bar staff bought out a bottle of tequila for each vibe wrangler to use as they see fit. Spoiler: majority was drunk by the vibe wranglers themselves hahah. There's a reason we picked the people we did! 
Did you make a gift for guests, and what was it? What did you give each other as a gift?
We opted against favours and instead donated the equivalent dollars to charities near to our hearts for loved ones lost who were unable to attend our wedding. We donated to Cancer Council Australia, Dementia Australia and Mental Awareness Foundation.
What advice would you give to couples who are currently planning their wedding?
Get a wedding planner — they are worth their weight in gold in time and money. We couldn't have done our wedding without Christie and honestly it was the sole reason our day ran so smoothly and without any anxieties or concerns from me or my Husband!
What helped you cope with the anxiety before the wedding? 
Having a wedding planner that felt like a best friend who just handled absolutely everything! We also had family and friends arrive in Adelaide early where we did catch ups / dinners and drinks with them beforehand which helped to relax us and see our special people before the big day.
Bride: @jaimeetessmann
Groom: @simontessmann
Planners: @hausofhera & @sundayloveevents
Photographer: @deansnushallphotography
Videographer: @fragmentfilms
MUA: @jemmamillar_mua
Hair: @sineadmarian_hair
Catering: @fineandfettle
Bartending: @areyoubeingservedadl
Florals: @studiobotanic
Entertainment: @adelaidemusicianslive
Reception music: @entertainmentadelaide