Maresa and Michael's wedding was a princess's dream come true! Hydrangeas, sparkles, a cathedral-length veil, 220 guests, a five tiers cake, and the longest aisle in Michigan. We talked to the bride to find out more details of such a dreamy celebration, as well as Maresa and Michael's beautiful love story and their engagement at Yellowstone.      
Tell us a little about yourselves.
We met when we were 11 years old at Parcells Middle School. We didn't start dating until 15 years later, when our fathers, who are in the same tennis league, set us up. Monsignor Zens who was the officiant of our ceremony, called them our Cupids, which was really cute and fitting. We love that our family set us up because who else knows us better? We dated long distance and then got engaged a year and a half later on our vacation at the top of Artist Point in Yellowstone this past May. It was absolutely idyllic.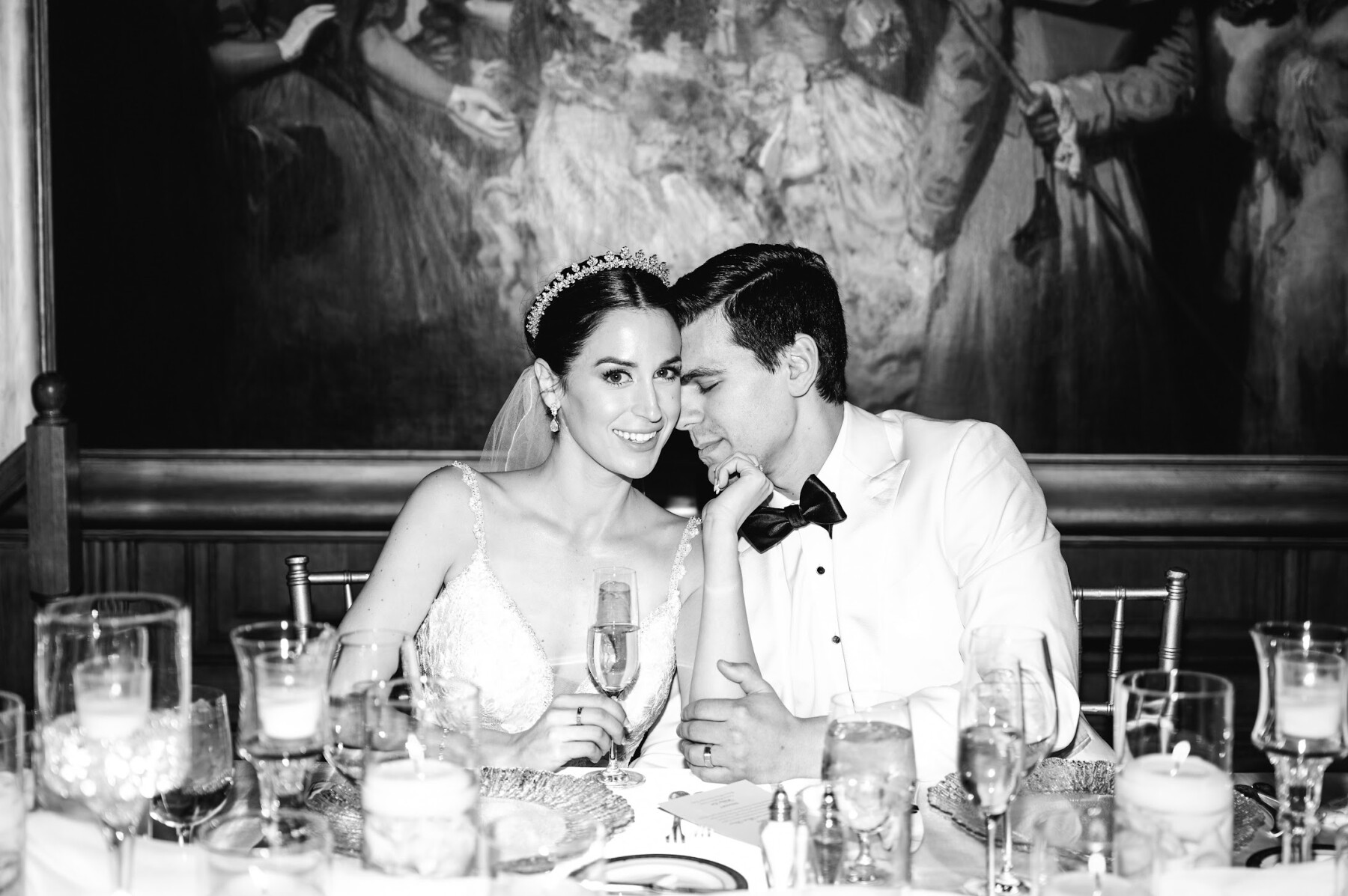 What do you do for a living and for fun?
I work in sales at Twitter. Mike is an orthopedic surgeon, currently in his third year of residency. We love going to the farmers' market near us, trying new restaurants, going to the movies and playing trivia. We're only here in Kansas City for two more years, so we love to get out and see what the city has to offer. 
What was the concept of your wedding and how did you come to it? 
I went for classic romantic bridal with ivory and baby pink roses and hydragenas and tons of candles. I wanted timeless bridal. We had huge vases wrapping around the bottom of the staircase as guests walked up into the reception room. We got married around Valentine's Day so my bridesmaids wore ballet pink gowns and had little cubic zarconia heart earrings. Mike and I exchanged Valentine's the day of. We had those classic candy hearts in the welcome bags. It was a very subtle theme. I mostly just wanted people to walk away and feel the love from the night.
Where was your wedding and why did you choose the venue?
Our ceremony was at Sweetest Heart of Mary and reception at Detroit Athletic Club. I chose Sweetest Heart of Mary because I stood up in my cousins wedding there and never forgot the way it made me feel. It puts the spirit of the Lord in you just by it's sheer beauty (vaulted ceilings, longest aisle in Michigan). The venue is iconic in Detroit and has a classic aesthetic with a huge wrap around marble staircase and gold plated elevators. Plus their service is unparalleled. Both venues also accommodated our 220 guests perfectly.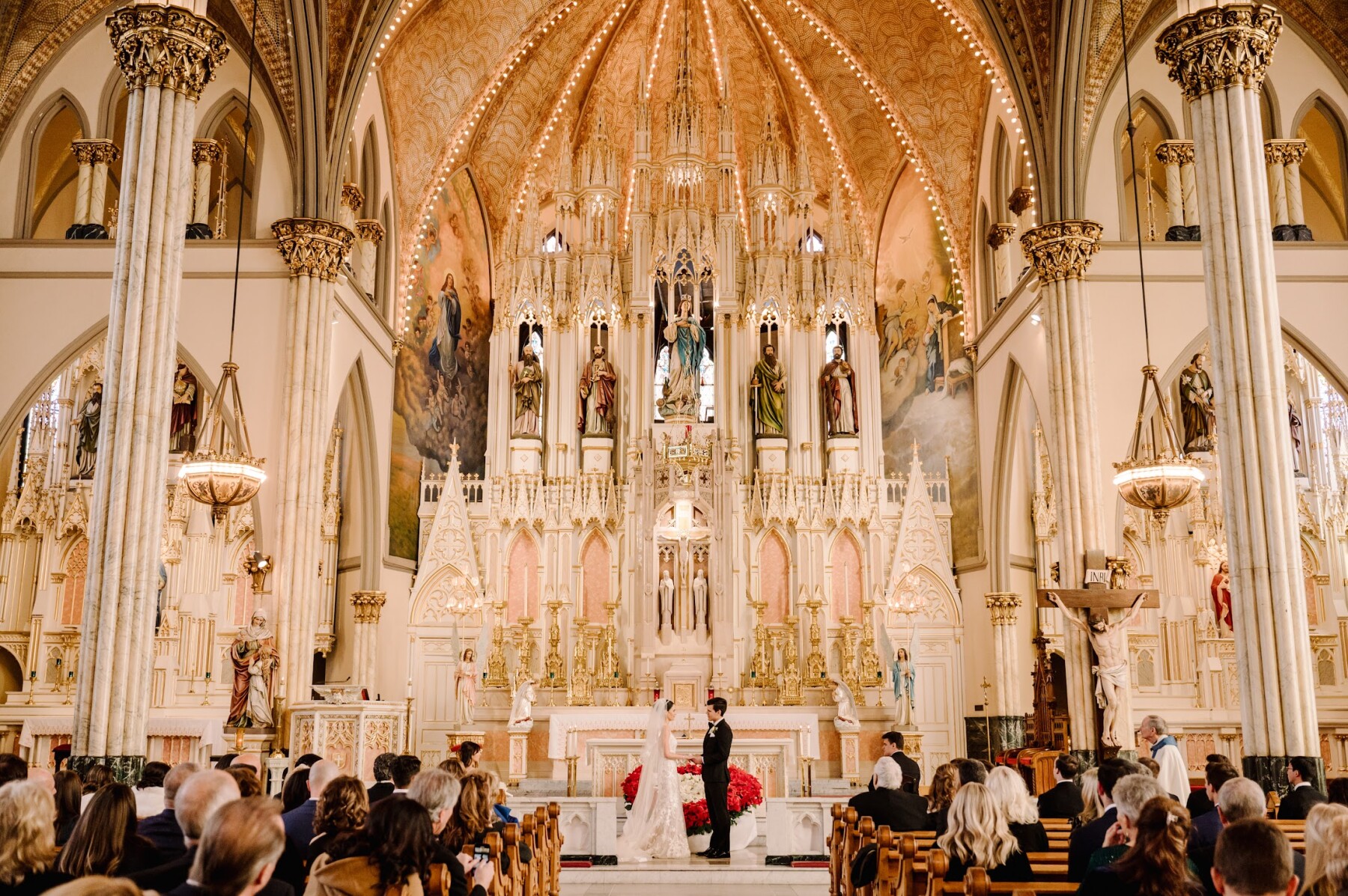 Tell us about your outfits.
I knew I wanted something timeless that I could look back on and feel proud of. A lot of it was instinctual - my hair up and sleek. Some sparkle to add dimension and focus. An ivory dress was most flattering for my skin tone and a low back was just me. Also, a long dramatic veil with blusher. Simple silhouettes look best on my frame and helped draw the eye to my face, which is ideal because I wanted everyone to see how joyful I was on this day. For the reception, I eventually changed into a nude pearl encrusted trumpet gown by Mon Cheri. The very end of the night we went bowling, and I wore this white floral sequin Jovani gown. I wanted to make sure Mike had a moment of his own, so for the reception, he changed from his black tuxedo to a white overcoat. We love how it turned out. 
What was your first dance song?
We had a choreographed waltz to O Sole Mio by Luciano Pavarotti. My maternal grandma Angela who was like a second mother to me adored Italian opera so that was our ode to her. 
What flowers did you choose for the bride's bouquet and why?
I chose a small pearl bouquet. I wanted something simple yet different. 
What was your wedding cake like? And where did you order it? 
Our wedding cake was five tiers, which I designed with the very talented executive pastry chef, Jeff Hammer, from the Detroit Athletic Club. It featured a layer of ribboned fondant, a layer of spray painted gold sprinkles, cascading flowers, and our monogram. The flavor was alternating layers of Bavarian white chocolate and lemon and raspberry. It was surrounded by small votive candles and pictures of all of our grandparents and both our parents on their wedding day. 
Are there any vendors that you would like to tell us a little more about? 
I was so grateful to have with my hair done by the amazing Angela Kiryakos. She adorned my slicked back bun with the most perfect tiara. A true princess moment! Also to the VIP of the day Justine Castle our photographer. She shot really editorial looks for us which is exactly what I wanted. She's a visionary and extremely talented.
Photography @justinecastlephotography
Videography @3rdstreetfilms
Florist @emeraldcitydesigns
Venue @dac_detroit
Music @thejerryrossband
Hair @angelakiryakos
Makeup @marygracemakeup