Ally and Andrew wanted a grand wedding with 300 of their very best friends and loved ones. For an event of this magnitude, finding a suitable venue is not easy. The couple decided to take a non-traditional path: they held their ceremony at a yacht club. They served gelato and bespoke cocktails, and after that, they had a reception with beautiful views of Melbourne. We reached out to Ally to find out how she arranged her amazing wedding, as well as her love story with Andrew.
How did you meet?
Andrew and I met at a wedding where we both knew the bride, but not each other. I was a young and impressionable 14-year-old and spotted a cutie at the entrance on arrival and I was immediately excited for the night ahead. Being a Macedonian wedding, with lots of Macedonian dancing (and being of Macedonian background myself), I was in my element and was dancing the night away. I actually almost even forgot about the cutie at the door and did not leave the dancefloor. My cousin - who was friends with Andrew's family - came over to me and asked that I teach Andrew and his sister how to Macedonian dance. I was beyond happy, but super nervous all at once. Andrew must've been super keen on me too because I've since learnt that he is not into dancing like I am and does anything to avoid it! We eventually swapped MSN addresses, and the rest is history! 
What do you do for a living and for fun? 
I'm a product manager at a consulting firm and Andrew is a sparky (for those non-Aussie's, that's an electrician in Australian slang). We both have very big families and we truly love spending time with them. We also have the very best friends that we go on many weekend adventures with! We live by the coast and enjoy surfing in the summer while in the winter time, you will see us cheering our favourite AFL team (Go Doggies!) or sitting by a fireplace.
What was the concept behind your wedding and how did you find your inspiration? 
I'm not too sure if this would be considered a concept, but our primary goal for the wedding was for it to be lighthearted and enjoyable for everyone. We steered as far away from traditional wedding aspects and focussed on the "fun" side of things like ensuring there was a gelato cart and plenty of music for dancing. Our wedding was during one of the most perfect summers we've had in Australia for a while, so we decided to have white and pastel stationery and florals. 
Where was your wedding? 
I spent a while looking for the perfect ceremony and wedding space. I was initially set on an outdoor garden-themed wedding, but our large guest list meant that finding a space to fit everyone was essentially impossible. I got a little caught up in it all and started to look at places that were 'Instagrammable', but when I went to visit some of these spaces, they just didn't feel right. My mum suggested a local yacht club that usuallay doesn't hold wedding for our ceremony as it was just down the road from our home. When I thought about it a little more, the yacht club made the most sense as it meant that we'd get married in our hometown which we adore so much! Our reception venue was at Carousel (Albert Park, Melbourne).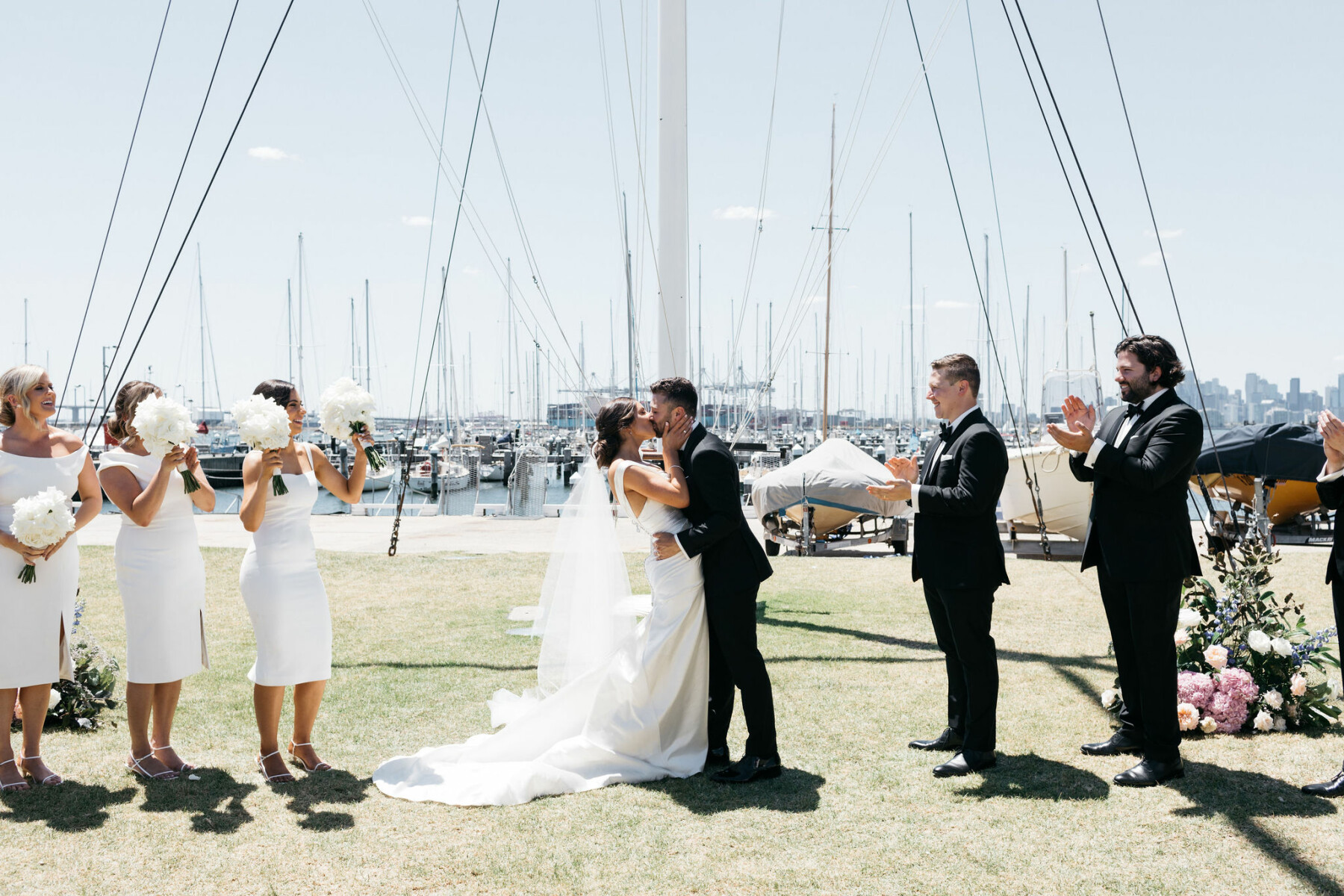 How many guests did you have? 
We had around 300 on the day. We were actually expecting to have a few more people, but sadly COVID-19 meant that some of our guests couldn't make it because of travel restrictions.
Tell us about your outfits. 
I knew as soon as I got engaged that I wanted two dresses for my special day. I had the most talented and creative dressmaker in Holly Butler. Before I found her, I went to a few other designers, but I didn't feel that I connected with them as I did with Holly. She was just starting out and made the stressful design process so much fun! Her studio was in this gorgeous apartment in the city that gave me NYC vibes and made me so happy to be there. I had two very different dress designs, and she nailed them both! My first dress was Christina Aguilera "Burlesque" inspired and my second dress was just full of sparkle! The gents all had classic and timeless black tuxedos from YSG Tailors and my beautiful birdesmaids all wore different white dresses from Friend of Audrey to match me. 
What was your first dance song? 
"Say You Won't Let Go" - James Arthur.
What flowers did you choose for your bridal bouquet and why? 
White roses. I loved the crisp, classic and timeless look and feel. 
What was your wedding cake like? 
To be honest, we aren't wedding cake fans, but we went with a classic white choc and raspberry cake. I shared the theme of our table florals with our cake maker and gave her full creative authority on it so it was a complete surprise and was very sweet and tasted delish! 
Are there any vendors that you would like to tell us a little more about?
We had the sweetest and most beautiful celebrant Kate Adkins. We absolutely loved the way she told our story and guided us through the day. She was a perfect balance and made our ceremony so memorable.
We had a local DJ who used to DJ at house parties when we were younger, a Macedonian band for all the traditional music, and a family friend to be our MC for the night who nailed the light-hearted and joking brief we were hoping for.
Emmanuela Costaras and her team did a superb job in entertaining everyone at the ceremony and sang me down the aisle while Bianco Latte kept us all sugared up with delicious gelato at the ceremony.
Little Stag Floral Couture provided all the stunning flowers for our ceremony reception.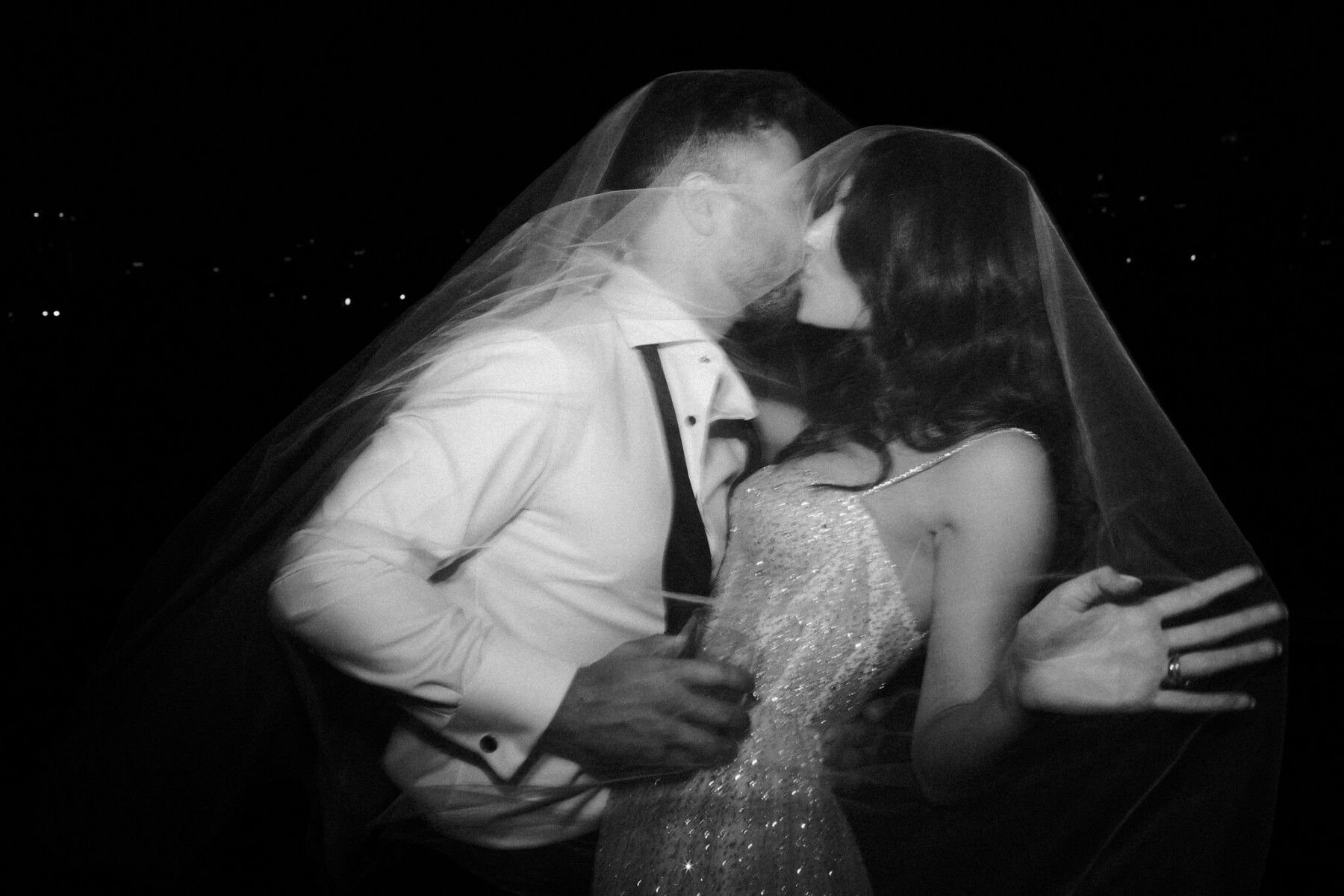 We had the best team around us to capture our special day in Chloe May + co. with her editorial perfection of photos, Luca Zarik our energetic videographer and Lei Lei Clavey to take some evening shoots that were a little more whimsical (specifically to capture my second wedding dress as I spent the whole night on the d-floor and didn't get enough photos in it!)
Sharni Rose dolled us all up while Lewis hair co. did our hair and nailed the looks!
Photo @hellochloemay, @leileiclaveyphotography
Venue @carouselalbertpark
Video @luca.zarik
Gown @hollybutler_au
Tux @ysgtailors
Makeup @sharnirosebeauty
Hair @lewis_hairco
Cake @madaboutcakesaaustralia
Celebrant @kateadkinscelebrant