A wedding ceremony amongst family and friends is an incredibly cherished and valuable event. It is particularly wonderful when loved ones support and help each other both in the planning process and during the ceremonies. Ellie and Alex organized a wonderful wedding, bringing in elements of the religious tradition that are so important to their lives and relationship, not forgetting about elegance and style. Their Brisbane Hauntingly Romantic-styled wedding was filled with love and affection. As we dived into the details of the wedding planning from the bride and groom's perspectives, we saw how much the genuine emotions of the couple helped in creating a special wedding atmosphere. Read about Ellie and Alex's wedding in more detail below, and dive into the magical floral story created by our talented member, Mrs. Gibbons Flowers.
How did you meet? What do you do for a living? What are your hobbies?
Alex and I met through at a late night cafe in the West End, called "The Three Monkeys", as we were both leaders on an outreach program in the Sunshine Coast. After multiple group social catch-ups Alex asked me to coffee. We went on a date and then I rejected his offer for a second. We then spent a year seeing each other through social sport and parties. Eventually I realized that I was madly obsessed with Alex and asked him out almost a year to the day he firstly did. Alex is a Civil Engineer and I work as a Disability Support Worker and Florist. Alex loves rock climbing and piano and I love sewing and baking. We both paint together.
Can you share your engagement story?
It was the day after my birthday and I had organized a coffee date with two of my friends — Bianca and Maddie. I thought that I was the orchestrator of the day's events, however they had secretly persuaded me under Alex's instructions to lure me to the stop where we (and my parents) had our first official date, the Newstead Botanical Gardens. While walking to the destination I mentioned to the girls that I wouldn't mind being proposed to here. I am surprised they didn't crack then. We arrived at the spot and Bianca and Maddie gestured to Alex saying, "Who could that be?". I didn't have my glasses on so it took me a very long time to notice it was him. After calling him silly for being there and checking for a ring box in his pocket I thought it was just a spontaneous date. Until he asked me to open the picnic basket where there was a McDonald's Happy Meal and a toy inside with the ring box. On our first date (which was also Valentine's day) I gave Alex a Happy Meal toy as a last minute/terrible gift. He then got on one knee and asked for my hand.
Where was your wedding? Why did you choose this venue?
Ceremony place: High Church, Brisbane. Alex and I have always valued being married in a Church as we have grown up in Church and this space was perfect — it's arches and stained glass window features.
The venue: Smoked Garage, Brisbane. We chose this venue for the reception as it gave a complete contrast to the chic white chapel that we were married in. The darker tones with romantic lighting were a perfect pairing with the styling.
What was the concept behind your wedding and how did you find your inspiration?
Hauntingly Romantic — a concept that was derived from our love of classic period piece romance and love for ethereal style.
How long did it take to plan your wedding? Did you encounter any challenges during the planning process?
We had six months to plan our wedding and with health battles on Alex's side it was difficult to keep to this timeframe. However, I am glad that we had the support of our family and friends.
How many guests did you have? And what was the seating arrangement at the wedding like?
We had 150 at the ceremony and 100 to follow at the reception venue. We endeavored to seat our family and friends in a comfortable dynamic while also making it easy for them to have multiple social interactions with others at night and create an intimate environment.
Tell us about your outfits. How many different styles have you tried?
Alex wore an MJ Bale classic tuxedo with a silk bow tie (which he definitely should have practiced tieing before the day haha) — which brought in the elegance and chic look we were after. I wore a Danielle Frankel Dress after trying on multiple diverse designs. I fell madly in love with the romance of how it draped and was so carefully and thoughtfully designed.
What was your first dance song? Did you choreograph or improvise?
We had our first dance to Ella Fitzgerald and Louis Armstrong's "The Nearness of You". We dearly love both artists and how they create the most romantic setting. Alex and I would google tricks to do and choreographed our dance in our living room.
Were there religious traditions at your wedding and how did you implement them?
Alex and I have both grown up in Church and it has been the foundation of our relationship. This was seen through the Bible verses and worship songs that we read and played in our ceremony.
What was the most memorable moment from your wedding day?
For Alex it was seeing his soon-to-be wife walk down the aisle, with the nervousness of waiting and standing at the front with everyone in attendance disappearing, pausing for a moment to take in all of his surroundings. For me It was the car ride to our first photo destination. This moment was so surreal and gave us a chance to fully grasp and live in the purest form of joy and deep love that I have ever felt. It was just us.
Are there any vendors that you would like to tell us a little more about?
Mrs Gibbons Flowers is the florist that perfectly curated the concept and styled the wedding florals and decor. Amber and David (owners) are family to me and created the most awe inspiring showcase of their talent. Each venue was beautifully constructed and nailed the brief given. The reception venue could not have been more perfectly styled from its draped bows of fabric to the handmade candle holders. Each element was so carefully designed and I knew 'Florists choice' would allow Amber and the team to shine their brightest. 
George Bowden was our photographer on the day and not only was she one of the most professional and talented of vendors but she has now become a dear friend. George makes it her mission to deeply understand her clients and through this she captures the most raw moments throughout the day. George had an amazing tact to capture every moment of the day which didn't impede on Alex and I being present with each other. She is truly a gem and I will never stop recommending her.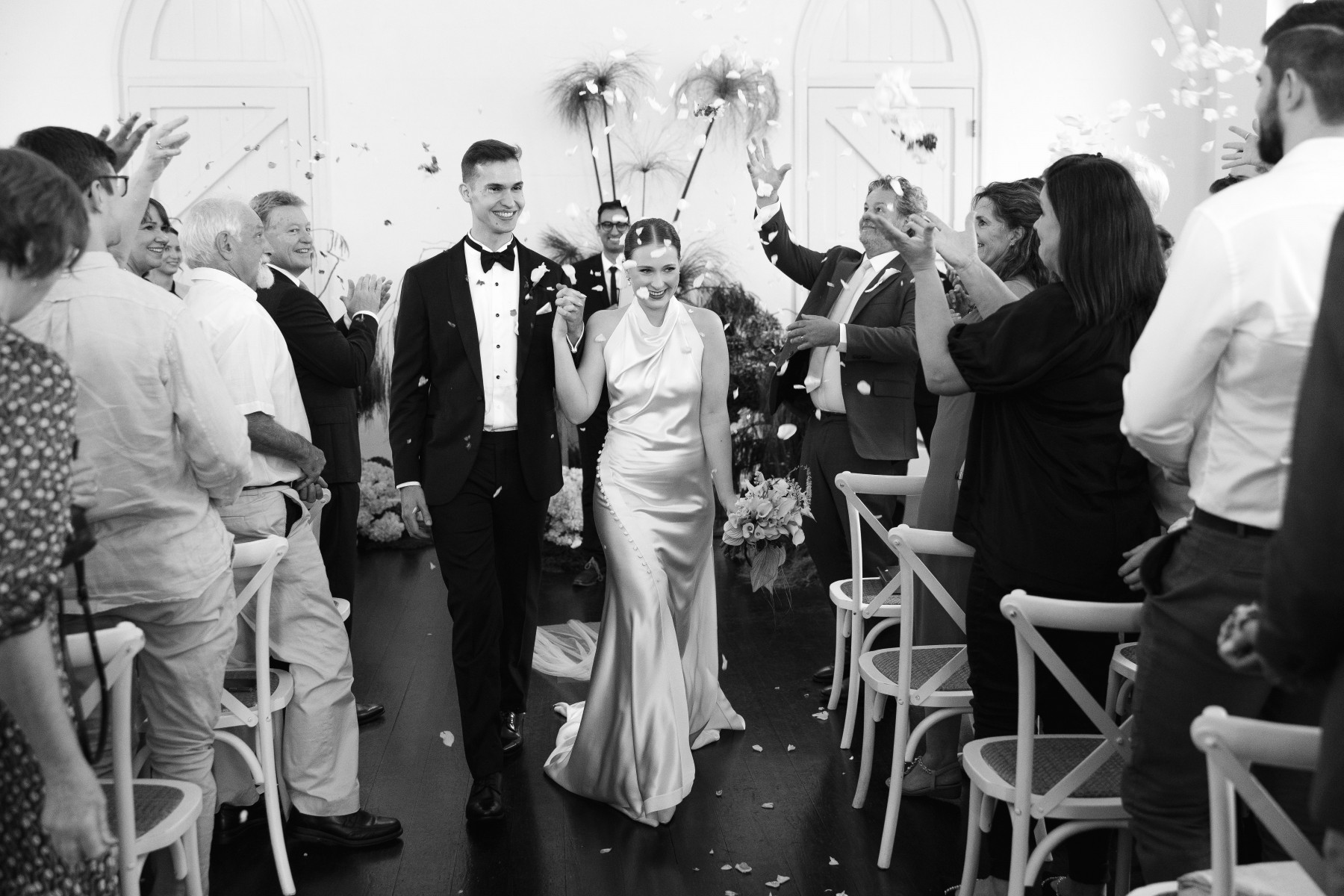 What advice would you give to couples who are currently planning their wedding?
Take time to discuss and be present in everyday life as the busyness of planning this event can become all encompassing. Make sure that during the preparation you remind each other of the reasons why you are taking this next step and do not get lost in the planning.
What helped you cope with the anxiety before the wedding?
For myself it was easy to cope with the anxiety before and on the wedding day knowing that my family was supporting me for every step. We have always been an extremely tightly knit family and I could not have survived the stress and challenges without them. 
Bride @elliestrimaitis
Photographer: @georgebowdenphoto
Florist & styling: @mrsgibbonsflowers
Videographer: @jcr.eative
Dresses: @daniellefrankelstudio, @bloom_australia_
Makeup: @sophygonmua
Suit: @mjbale
Ceremony: @highchurchbrisbane
Dj & music: @mccothom
Venue: @smokedgaragebrisbane