Luxurious and minimalist, grandiose and intimate, Gatsby-inspired and ultra-modern. Emily and Jared's wedding can be seen as a real benchmark for those who want everything at once in their celebration. We talked to Emily and learned all about how she arranged her stunning wedding.
Tell us a little about yourselves. 
Jared and I go way back! My mother and Jared's mother were friends at university. They met working in a science lab in the 1970s. My dad and Jared's dad were neighbors in the same apartment building. Jared's parents met at a Davis Cup tennis tournament in Sydney – they were both members of the same tennis club. They started dating and eventually got married. My dad asked Jared's dad if he knew of any "nice ladies" they could introduce him to and that's how my parents met! Jared's parents (who were now living together), invited my mother for dinner one night. A knock sounded at the door, and there stood my dad asking for a cup of sugar. So, I guess I have Jared's parents to thank for me being born!
What do you do for a living and for fun?
I'm an accountant and Jared is in sales at a start-up company. I've always had an interest in art. At university, I studied commerce and art history, and now I have an Instagram page about artists, dogs, and clothes. Jared and his family are mad golfers and tennis players. We spent most of our weekends at the driving range, golf course, or the tennis court. Jared has been teaching me how to play golf and I'm finally starting not to hate it.
What was the concept behind your wedding and how did you find your inspiration?
We worked with a fabulous event stylist and planner - Laice from Lb.Styling. The main brief focused on creating an elevated, mysterious and playful event. She had a hard task – the Pinterest board I created for the wedding was all over the place! Interiors, acrylic sculptures, art installations, homeware, fashion, and she did an amazing job of bringing them all together to create something cohesive. After a series of lengthy lockdowns, we were certainly excited to throw a big party. We drew inspo from the Great Gatsby and wanted to surprise our guests with entertainment throughout the night. Two synchronized swimmers entertained our guests during cocktail hour performing to 'Crazy in Love' by Jay Z and 'Young & Beautiful' by Lana del Ray - both of which were featured in the Baz Luhrman Great Gatsby soundtrack. We also had a saxophone player who weaved through the guests and led them from the ceremony space to the cocktail hour venue and again to the reception space once we were ready. Our color palette for the ceremony was white. Moving into cocktail hour and then the reception venue, we injected more color. We set the tables for dinner with forest green velvet napkins and custom-made 1-meter tall forest green candles. The florals, menus, and place settings were fuchsia and orange.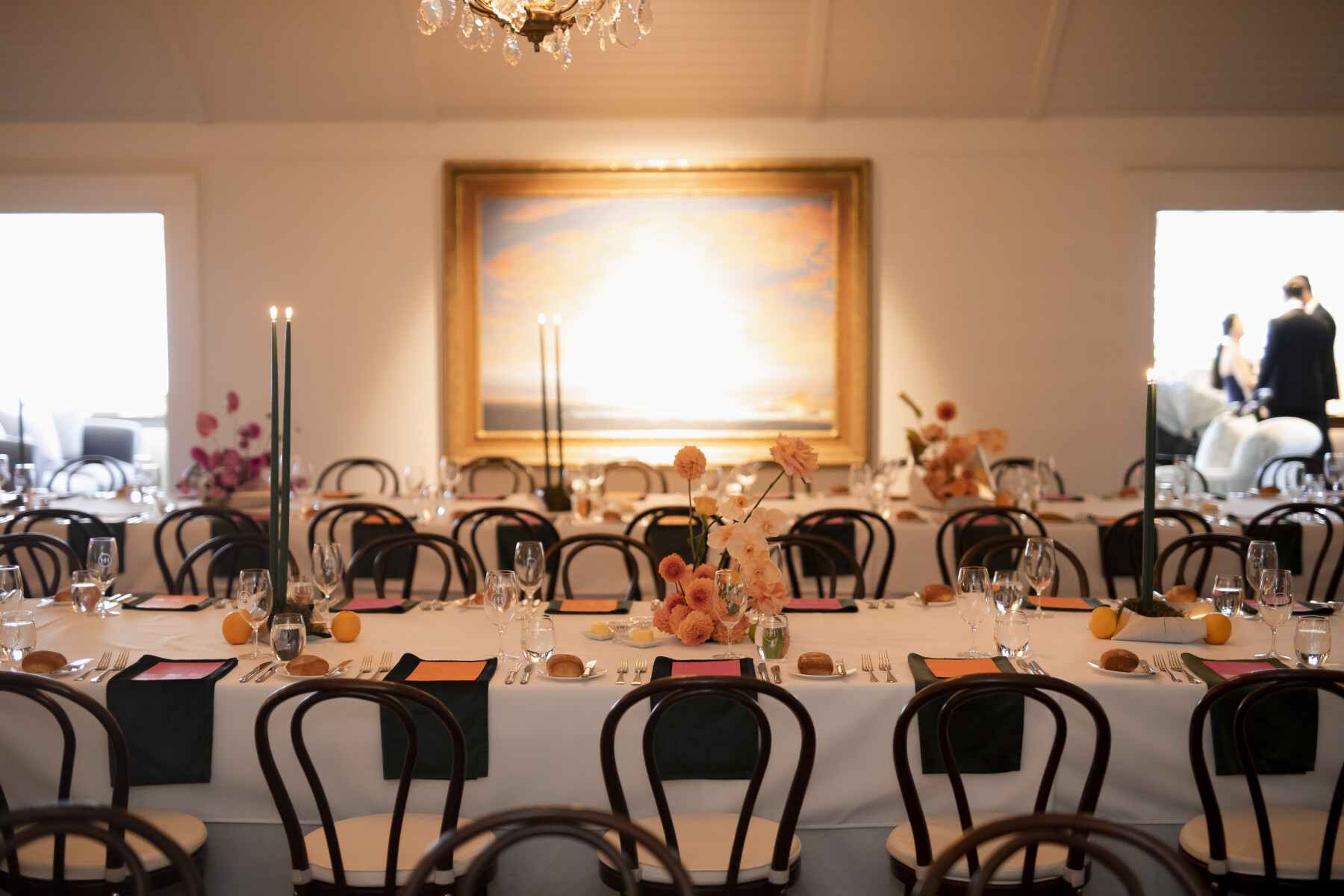 Where was your wedding? Why did you choose this venue?
Our venue, Hopewood House, is the home of my favorite Australian artist, Tim Storrier. His paintings and sculptures are placed throughout the grounds and oscillate between the surreal and the real. It was important to us that the styling of the ceremony and reception spaces highlighted and matched his artworks as they are truly breathtaking to see in real life. We wanted to add to that "art gallery" feel and not distract from it. The gardens are whimsical and have that classic English garden feel to them, albeit interspersed with modern art sculptures. We've had a lot of rain in Sydney so the grass was beautifully lush and maybe a little wet! The venue is an hour and a half south of Sydney. My parents have a country home 10 minutes away from Hopewood; we knew we wanted to find a venue nearby as we had planned a recovery pool party for our guests the following day. Laice also styled this event for us and we went with a Slim Aaron's vibe - a 70s Palm Springs color palette and sensibility.
How many guests did you have?
We invited 150 but unfortunately had 28 pull out the week before the wedding because of COVID.
Tell us about your outfits.
I really struggled to find a wedding dress! I'm usually very decisive so it worried me that I found it difficult to pick one. I ended up buying five dresses, wore two of them, and have since sold them all. I knew I wanted to have two "looks" - something more formal and impactful for the ceremony and something a little slinky and sexy for the reception. I originally bought an Alex Perry ball gown for the ceremony and a Rachel Gilbert fitted dinner dress for the reception. I was still unsure about both of them and was keeping my eyes peeled for something that spoke to me. Four weeks before the wedding, I found a Vivienne Westwood Cora Cocotte gown online. Vivienne Westwood is not available to purchase in Australia, so I wasn't sure if it would fit or suit me. I took the plunge and ordered it. It arrived two weeks later and fit like a glove - an absolute dream dress, the construction is immaculate. I didn't even need to alter it. When I put it on - I finally had that moment - I remember thinking to myself that "this is what it feels like to find the one".
For jewelry, I kept it simple as I didn't want to take away from the dress. The earrings I wore were from Pierre Winter. I like that these were a modern twist on a traditional bridal look. I wore Tom Ford nude lock sandals. I couldn't bring myself to buy white shoes as I wasn't sure I'd ever wear them again! They're a 10cm heel but my husband is 6'4 so I needed a bit of a boost! For my second gown, I sold the original Rachel Gilbert dinner dress and purchased a white Michael lo Sordo silk dress from Net-a-Porter (on sale!). I styled this with an ostrich feather boa, a crystal hairpin saying "taken," and simple crystal drop earrings.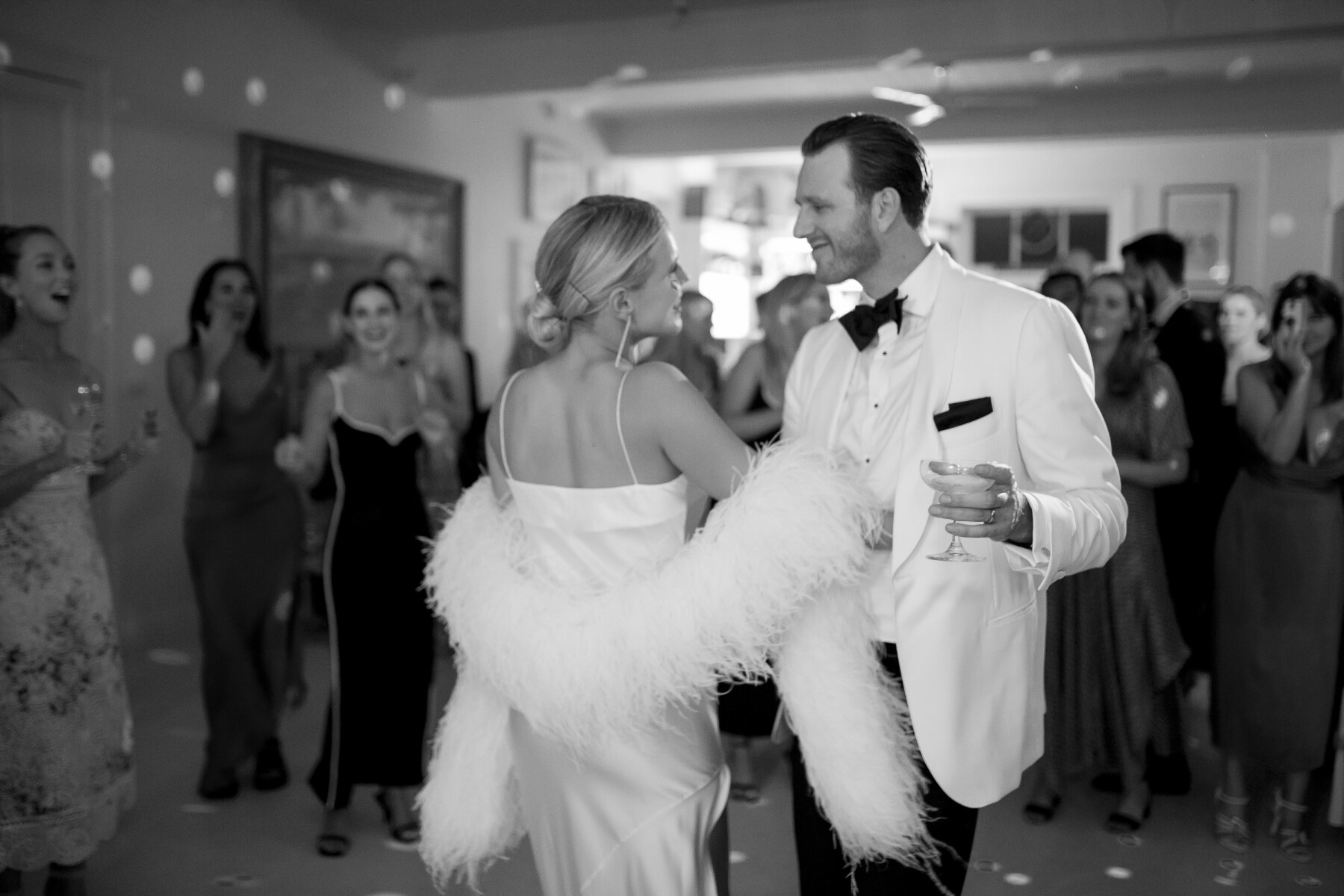 What was your wedding cake like? And where did you order it?
Our wedding cake was from By.Gigi. Our fabulous planner, Laice, had worked with her before. I'm not much of a cake fan but my husband adores cake. Especially wedding cake! At every wedding we go to, he has to have at least three pieces of wedding cake. He was in charge of the flavor selection. We matched the silver and forest green from the dinner tables - a forest green square base with a foiled silver circular top.
Are there any vendors that you would like to tell us a little more about?
Laice from LB.Styling was integral to bringing our day together and creating a reality that was true to what we wanted. I originally came across her on Instagram – she was featured on the pages of Vogue after having done the styling for a wedding dress designer in Sydney. I loved she was avant-garde and non-traditional. She's not afraid to take risks and do something a little different. That's exactly what we wanted - something playful and surprising. Laice works as a team with her husband Doug and it was sensational having them both there on the day to take care of all the little details. She has an exceptional personal style (think Kelly Wearstler) and I have left the experience with a lifelong friend. 
Laice presented a concept to us of a 2-meter wide by 12-meter long flower aisle for the ceremony space. It ended up being 1400 single stem roses stuck in the ceremony lawn to create an aisle. I loved this idea - it was simple and chic but glamourous. It also created a big buffer between Jared and myself, and our guests - it made us feel like it was just us and we were enjoying an intimate moment. Our poor florist, Carla from TheIvyLeague enlisted a team of three others to pull all the florals together. I think they may have gotten heatstroke that morning setting up as it was about 30 degrees Celsius.
Laice also introduced us to a fabulous graphic designer, George Saad. George had never done wedding stationery before – he works primarily in publishing. We were looking for something to stand out and not be traditional for a wedding, so this worked great for us. He did an amazing job with our menus, invitations, signage, and place settings. He created custom logos for us we utilized throughout the day (including a sticker on the mirrors in the dining hall). We found this to be a very cost-effective way to add a lot of impact.
Our photographer, Bayleigh Vedelago, was so chic and graceful. Her images are so classic and crisp - like the pages of Vogue! She was very non-intrusive & incredibly efficient. Jared and I only had two 10-minute photography sessions which meant we could enjoy our day and be with our guests rather than off taking photos.
Bride: @emwesto
Photos: @bayleighvedelago
Venue: @hopewoodhouse
Gowns: @viviennewestwood, @michaellosordo
Floristry: @lb.styling
Stationery: @_georgesaad
Cake: @by.gigi