Haley and Owen live in a ski resort, and their wedding took place there as well. A classic ceremony in such a place would be too boring. Therefore, couple arranged a mountaintop ceremony and skied down in their wedding attire, après-ski for guests, and a party at the iconic western hotel in town. We talked to Haley and learned all about how she arranged the celebration, as well as the love story with her now husband.
Tell us a little about yourselves. 
Haley is a full-time artist & muralist and Owen is a full-time Big Mountain freeskier. We met almost 4 years ago on a random summer evening at the park in town playing a game of sand volleyball (though we've both lived in this small town for about 10 years.)
What do you do for a living and for fun?
We both live in the town of Jackson, WY, which is just outside of Grand Teton National Park, so we began doing adventurous things together like hiking, boating, paddle boarding, going to Hot Springs, cliff jumping, skiing, and traveling. It was a really fun and exciting way to get to know each other. I would say most of our hobbies together involve traveling, adventures, and eating charcuterie.
What was the concept behind your wedding and how did you find your inspiration?
We knew we wanted to have a winter wedding since we live in a ski resort town and both love to ski, so right as I was starting to plan it, I watercolored a small piece featuring a bride and groom riding a ski lift as our vibe and inspiration. We ended up using the piece for our invitations and the theme of the wedding kind of spread from that.
Where was your wedding? Why did you choose this venue?
Our wedding ceremony took place at the very top of Jackson Hole Ski Resort in Teton Village, Wyoming. Everyone had to ride the 10 minute tram to the top to watch it. After the ceremony, a number of our guests skied down with us to the bottom and we met up with the other guests who took the tram down to have our après-ski celebration party featuring champagne and charcuterie. Then we all drove a half hour back to downtown Jackson, Wyoming and our reception took place at the Silver Dollar Saloon inside the Wort Hotel, which is the most historic and iconic western hotel in town.
How many guests did you have?
75, with most of them flying in from around the states.
Tell us about your outfits.
I went to school for fashion design and at one point was designing and sewing wedding dresses, so picking out an epic dress was really important for me. I looked at hundreds (actually probably thousands) of styles online and ended up finding a woman, Pippa, who designs the gowns of the label Bon Bridé, and I totally fell in love with the style BB:05. However, I didn't find it until a month before my wedding. Typically, you have to order around five months out. But after chatting with her, she said she had one in stock at her studio and so I went for it and she shipped it to me from London. I paired it with Charlotte Stone white leather booties and changed into Betsy Johnson rhinestone platform sneakers to dance in later. 
Owen wore an all black suit by Theory with a black linen tie that I sewed, paired with Ponto Footwear black shoes. 
Owen changed into black ski boots and I changed into white ski boots for our ski down, and I painted his poles black and mine white and also applied black vinyl to the top of his skis and white vinyl to the top of mine.
What was your first dance song?
Conversations in the Dark Remix - John Legend & David Guetta. We wanted something we could do a few slow dance spins to, and then break out into a fast, fun dance at the end.
What flowers did you choose for the bride's bouquet and why?
I worked with a girl I found on Etsy (Decor Flower Bar) to design my bouquet and the other main flowers of the wedding. After searching for a variety of florals, I decided on her because I wanted to go with preserved flowers since I knew it was going to be an unpredictable winter weather and I was also going to ski down with them. However, she happened to be out of Kyiv Ukraine (we worked on the design this past January so it was before any of the conflict broke out) and two days after she put my flowers in the post, the war began, and the tracking stopped for a month. About 20 days before my wedding, the tracking still hadn't changed, and I assumed they were stuck in Ukraine. So I decided to buy a second bouquet to have just in case.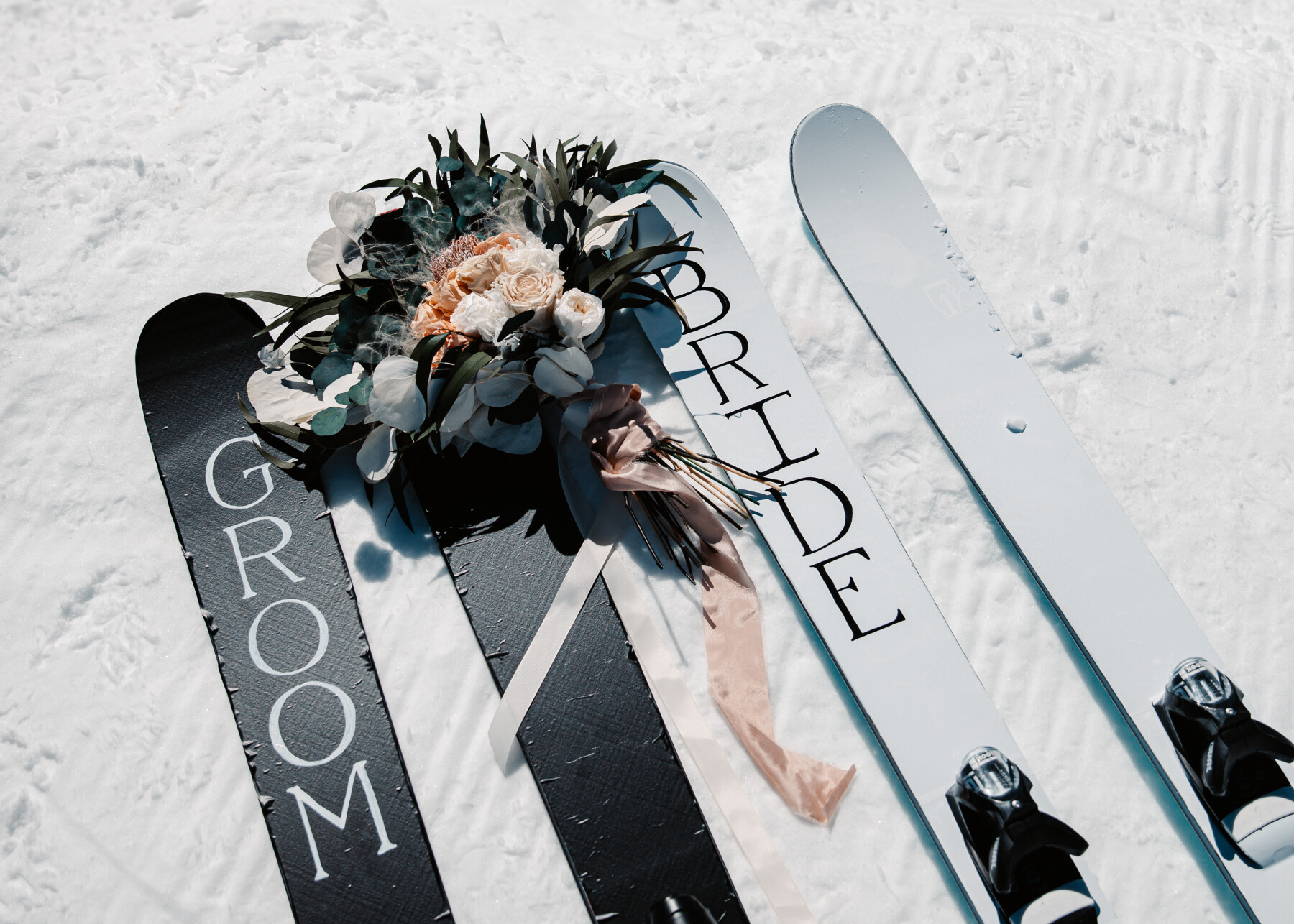 I bought my second bouquet from another Etsy seller who uses preserved flowers but lives here in the USA, called Fern + Sunpalm. The day after the new bouquet arrived, my flowers from Ukraine miraculously arrived as well, so I had two bouquets to choose from. I ended up using the backup bouquet to walk down the aisle with, as it was more white, and allowed my dress to stand out more. I used the Ukraine bouquet to ski down with because it had darker greens around the flowers and it stood out better.
What was your wedding cake like? And where did you order it?
My first job when I moved to Jackson was at a bakery in town called Persephone. They make the most delicious chocolate chip cookies, so we wanted to incorporate those as part of the dessert table. We started with tiers of those and then had a smaller cake to top it off, which was made by my absolute favorite cake artist in the area — Lindsey Johnson.
Owen and I both love coffee and bourbon, so we went with an espresso chocolate cake with layers of Wyoming Whiskey salted caramel and a bourbon buttercream. Lindsey then decorated it with some mountains with touches of dusty rose, grays, and gold and had 2 skiers skiing down. 
Are there any vendors that you would like to tell us a little more about?
I really loved the centerpieces we created. My dad cut large slices of wood to put down the middle of our long tables and Owen drilled small holes in the top of the wood and I ordered preserved flowers from a vendor out of Ohio, called Afloral, to stick into the tiny holes around the edge of the wood slice. I painted the outside of a bunch of pillar candles to have silver and gold skiers coming down and put those in the center of the wood slice. 
For our wedding favors, I had custom silicone wine glasses made with an illustration I drew of Owen and me skiing down from the tram, spelling our names in the snow. We hope that all our guests will take them on their own adventures.
Bride: @haleybhop
Groom: @o_leeps
Photo: @roundtheworldgirl
Venue: @worthotel
Gown: @bonbride
Cake: @ladyinthewildwest
Floristry: @afloral
Bouquet: @fernandsunpalm, @decorflowerbar