Katie and Alex's wedding was inspired by the fashion shows of Giorgio Armani Prive, Kirsten Dunst as Marie Antoinette and Wes Anderson's film style. Can you imagine a combination of these three aesthetics? We talked to the bride, Katie, to find out more details about her dreamy celebration, as well as her and Alex's beautiful love story. 
Tell us a little about yourselves.
I grew up on Long Island but I've lived in New York City since I was 17. Alex is from Maryland and moved to New York after college for a job in advertising. We met on Tinder, we had one brief conversation, and then didn't speak again. One year later, we matched again on a different dating app and decided that we had to meet. We hit it off instantly. We were so entertained by each other because we're so different, but are very similar in all the best ways. We never left each other's side after that first date. Six years later we got engaged, exactly how we always pictured it, just the two of us, on our own time, and in our sweatpants. 
What do you do for a living? What are your hobbies?
I own a second-hand fashion reselling business called @jelli_vintage. Alex works as a Creative Director at an advertising firm. We love being social and trying new restaurants with our friends and family, taking our dog Sunni to the park, watching films together and going to concerts. 
What was the concept behind your wedding and how did you find your inspiration?
We wanted a fun and casual party weekend with all of our closest friends and family. I had this vision of creating a dream-like atmosphere using monochromatic colors and soft florals. I took inspiration from places I didn't expect, like ruffled crinoline and sheer corsets from a Giorgio Armani Prive collection and the pastels and pink hues in Sofia Coppola's 2001 film, Marie Antoinette. I made a lot of unorthodox design decisions, like creating custom dyed babies breath clouds and using oversized velvet fabric to cover the tables, but it came together like a beautiful dream. Our floral designer Monika blew us away with her creations. It looked like something out of a Wes Anderson film. 
Where was your wedding? Why did you choose this venue?
Our wedding was at Casa Marina, a beachfront hotel. It was designed by the same architects who designed the New York Public Library and the Metropolitan Opera House. It has so much history, like being the hotspot for Hollywood in the 1940s with guests such as Rita Hayworth and Ethel Merman. We choose Key West because Alex's parents have a beach house there and we have so many amazing memories as a family, which makes it feel like a second home to us.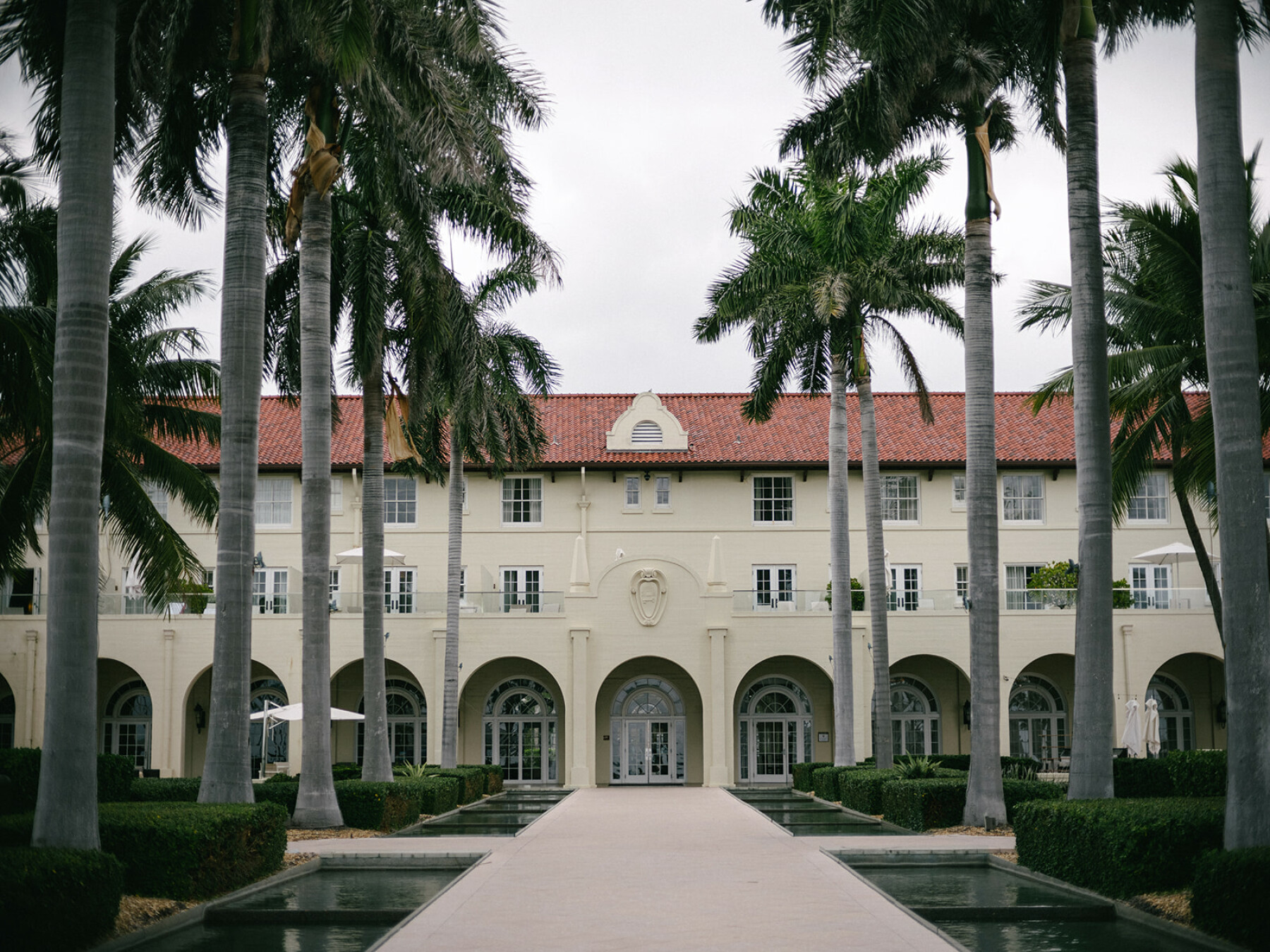 How many guests did you have?
Originally 115 but it was more like 85, because it was right in the middle of omicron so for safety reasons many people had to cancel, including some of the bridal party and we were completely understanding of their choices. Our wedding planner also canceled on the day of so Alex's sister Jess and husband Dan graciously stepped in and made sure that everything went smoothly, for which we are forever grateful. 
Tell us about your outfits.
My dress was Galia Lahav. Originally, I wanted a simple silk bias cut silhouette, but then I came across this sheer lace dress and it was so beautiful I had to try it on just for fun. I ended up loving it so much I bought it moments later. Originally, it was long sleeves with a draped neckline and an extreme slit up to the hip. It was too much fabric on my small frame so I showed my seamstress a photo of my one of my favorite vintage Giambattista Valli gowns to use as a guide for the silhouette I wanted, she altered it to feature a sleeveless sheer corset top with thin straps and closed up the slit. I wore white satin Manolo Blahnik heels, and I borrowed my mother in laws custom made gold link bracelet that her parents gave to her as a child. It was so special to me. 
Alex had his suit custom made by an amazing New York Men's atelier called JMueser. He worked with the designer to create a beautiful double breasted ivory suit jacket made of raw Italian silk. His pants were cut to a classical straight leg, the bow tie was voluminous black satin, and his shoes were plain toe Oxfords by Ferragamo. 
What was your first dance song?
Our first dance song is actually not an actual song, but it has a lot of meaning for our relationship. We've spent countless nights singing and dancing to this song. It's a 1981 YouTube video of Stevie Nicks singing backstage with her piano player while she is getting her makeup done. She's singing 'Wild Heart' but a version that was never produced on the album. Alex showed it to me when we first met and it became our song. It reminds me of my mom's beautiful singing voice and how she would have loved him if she had the chance to meet him. It's so intimate and her raw singing voice sounds so beautiful. We had a friend who's a sound designer digitally remaster it, so it sounded clear in a large ballroom.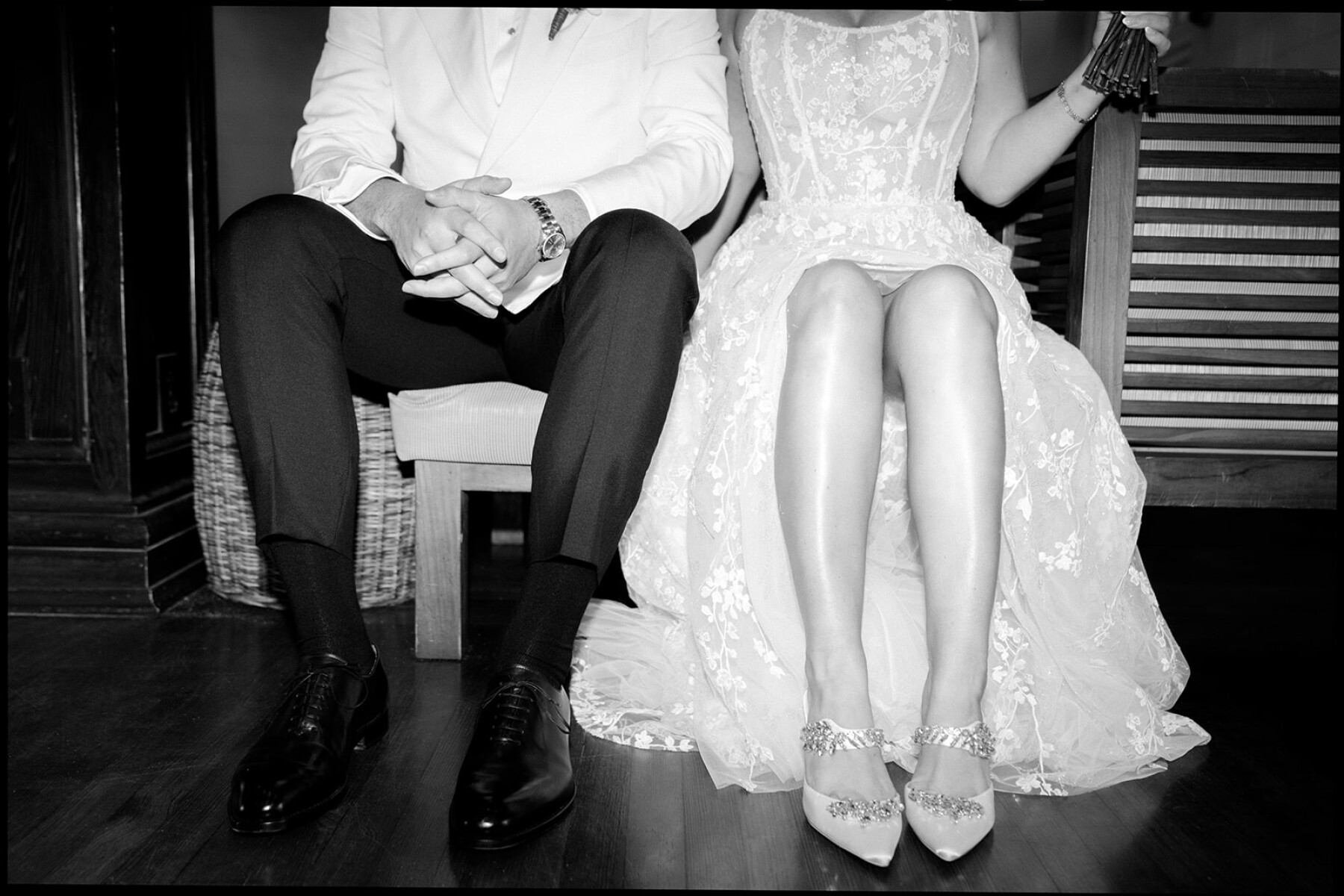 What flowers did you choose for the bride's bouquet and why?
I wanted something soft and oversized. I didn't use any greenery purposefully because I didn't want it to compete with the textured lace of my dress. It was just a few pink O'Hara garden roses, and they smelled heavenly. 
What was your wedding cake like? And where did you order it?
We didn't have a cake. Instead, we ordered 150 mini key lime pies from a local baker. For the rehearsal dinner, Alex's parents surprised him with a custom made Slimer (from Ghostbusters) cake as an ode to his childhood favorite character. They threw us a rehearsal dinner that will go down as one of the best nights of our lives. They even had a steel drum band! 
Are there any vendors that you would like to tell us a little more about? 
Our photographer, Bailey Ann, was an absolute dream. My childhood friend recommended her, and we were so impressed by her portfolio, her style stood out, especially her cinematography work. From our first phone call to the actual wedding weekend, I found she was one of the most professional, talented and positive people I've ever met. She has this candid and calm way of capturing people in their most flattering moments. Seeing our photos afterwards gave us the nostalgia that we will remember forever. 
Our florist Monika from Duarte Floral Design is a local Key West bespoke floral designer. I can't say enough good things about her. I am still texting her to this day about how beautiful our wedding turned out. She is so creative yet poignant, which was so much fun to work with. Nothing is out of her realm because she has so much experience with design and knowledge of florals. I was completely blown away with what she created for us. It was better than I imagined. You can trust her and her team to execute every last detail down to perfection. 
My hair and makeup team, Glam by Maggie for makeup and my hair was done by Jessica Chen. I got extremely lucky that they were willing to do my wedding because of how experienced they were. They normally only work in editorial and for large high end fashion brands. They were one of my favorite parts of the weekend because they are so talented and they made me look like a million bucks. It was so much fun getting ready with them. They are genuinely some of the nicest people I've ever met. Plus, they just make you feel you have two cheerleaders in your corner who want you to look and feel your best. They even ushered me to the aisle last minute as the wedding planner was missing!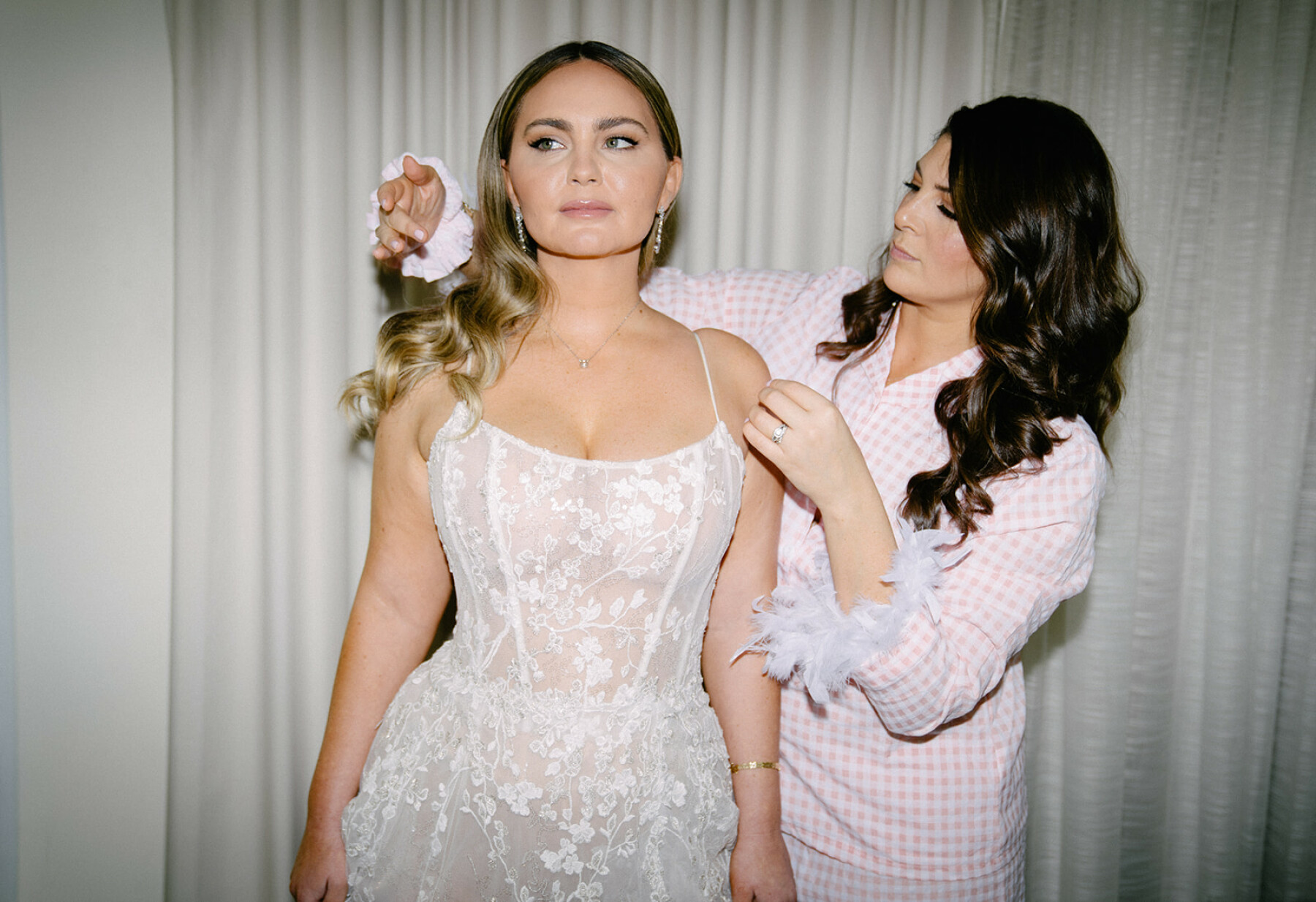 Malike, our DJ, was phenomenal. We found him through a google search but he had so many amazing reviews and such a cool portfolio that we thought he would be great for us. We barely gave him any direction, but he came in with a three piece band and played the best music at all the right times. He's rooting you on to make sure you have the best time on the dance floor. A truly trustworthy and talented person this guy is, I would recommend him time and again. 
Photo @taco_bail
Florist @duartefloraldesign
Makeup @closetrichh
Hair @jessicachanbeauty
Music @dj_malike_
Location @casamarinaresort