Wedding traditions are just that, traditions, and they can be whatever you want them to be. The key is that you feel comfortable, and that the most important moments revolve around you. Kenya and Jeannie embraced many aspects of traditional weddings, from the timing of the ceremony to the outfits for registration, and they executed them beautifully. We had the opportunity to speak with the brides about their wedding concept while learning about their love story simultaneously. Keep scrolling for an interview and photos captured by THE WED member Jenny Losee.
Tell us a little about yourselves.
We actually met on a blind date during the summer of 2020! A mutual friend of ours set us up. Naturally, this friend was the officiant at our wedding. Jeannie was living in Ketchum, Idaho, working as a high school English teacher and had come home to visit her family who live in Salt Lake City, Utah, where Kenya was living at the time. Kenya had moved back to the states from Australia a year prior and had just finished her "year of no dating". Little did she know she'd jump back into the dating sphere for the last time! Both of us went in with low expectations, but we ended up staying up all night talking! Well, mostly making each other laugh. That's our mutual hobby: Laughing. Otherwise, Kenya loves baking, acting in local theater productions, and hosting little events for our friends. Jeannie loves telling stories, listening to audiobooks, and spending time in nature.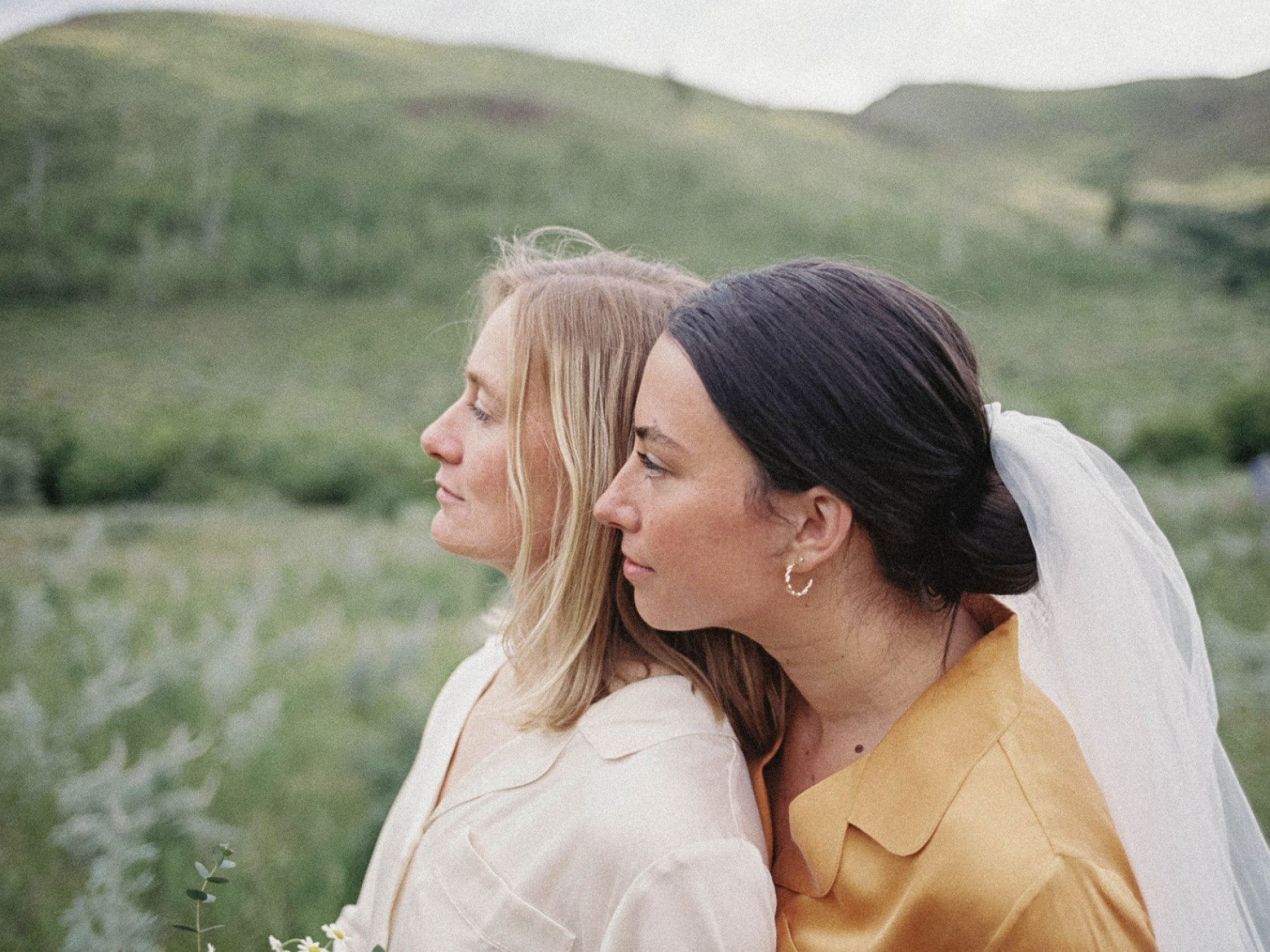 Can you share your engagement story?
Jeannie always believed she was going to propose first. But Kenya's a little stubborn and competitive, so she knew she had to beat Jeannie to it. It was June of 2022. Jeannie had been teaching summer school, and we had plans to drive to Salt Lake City for a friend's art show once Jeannie was done for the day. Kenya had made a beautiful picnic and told Jeannie to pick Kenya up by the river close to their house. Unfortunately, between Kenya setting up the proposal and Jeannie getting off work, Roe v. Wade was overturned. Jeannie showed up at the river, and Kenya could just tell this was not the time. So Kenya put the ring in her pocket, and we packed in the car. Our drive to SLC was hot, and by the time we got there, we were both grumpy and hungry. As a final stop on the way to our friend's art show, we decided to stop by the capital to participate in a protest in reaction to Roe v. Wade. We were bickering (we were hangry, okay!) and Kenya got out of the car in a huff to get something from the back. When Kenya got out of the car, Jeannie saw something glimmering on the seat. The ring had fallen out of Kenya's pocket! Jeannie poked her head out of the car, the ring in her hand, and said, "Kenya, I think you dropped something." Kenya's response was "Noooo!"
In other words, our proposal story is this: Kenya proposed to Jeannie by accident at a protest at the Salt Lake City Capital. And it was perfect.
Where was your wedding? Why did you choose this venue?
Our wedding took place in Hailey, Idaho, just south of Sun Valley. Because Sun Valley is a tourist/ski town, the wedding venues here are all gorgeous but can get pretty pricey! We learned from a friend that the local Humane Society had a perfect venue in the most stunning location: just inside one of the many little canyons that pepper our valley. We chose this venue because it was affordable, available, but ultimately because the venue coordinators were incredible to work with, so flexible to our needs and concerns. And yes, the guests all found their way to the cat room! Which was such a pleasant bonus. Ultimately, it was more beautiful than we could have ever imagined.
What was the concept behind your wedding, and how did you find your inspiration?
While we were planning our wedding, we ran into a lot of roadblocks when it came to wedding "traditions" not making sense when there are two brides (and we both love the idea of being able to invert tradition anyways). So we found we had to rethink many of the more typical choices in a wedding. For example, with us, it didn't feel right for one of us waiting at the altar. Instead, we made two aisles, and we walked down at the same time and met each other at the altar. We also love mornings and being cozy, so we decided if we were going to profess our love to each other in front of our friends, we wanted to be cozy doing it! We decided on getting married at sunrise in our pajamas. We asked our guests to arrive in their pajamas and we provided coffee, tea, and pastries for everybody. We wore matching silk pajamas and slippers. Then we and our guests came back later that evening all dressed up for dinner and dancing.
How long did it take to plan your wedding? Did you encounter any challenges during the planning process?
We got engaged in June of 2022, so we planned the whole wedding in a little under a year. We are very impressed with ourselves! We planned every detail of the day and could have only done that together. Early on, we decided we cared most about 1) the photos/photographer, 2) our guests feeling like they were at a party. From there, we determined the details. Our biggest challenges stemmed from the ways Jeannie and I are different! Jeannie works much better under pressure and has a harder time envisioning and acting on plans set for months in advance. Kenya, on the other hand, loves to plan. So about 10 months out, it was difficult to be on the same page. But once we got about 6 months away (and Jeannie could feel the burn) Jeannie and I began to work as a team. On the wedding day, we could really see the ways we built our wedding together. It was so rewarding!
How many guests did you have? And what was the seating arrangement at the wedding like?
There were about 150 people in attendance. Jeannie had 9 brides-people, and Kenya had 8, so our head table was all our brides'-people plus their partners in a last-supper-esque set-up. From there, the other guests were seated 10 to each table. We tried to keep groups together – people that knew each other or were in similar spheres. We wanted to make conversation between our guests as seamless as could be!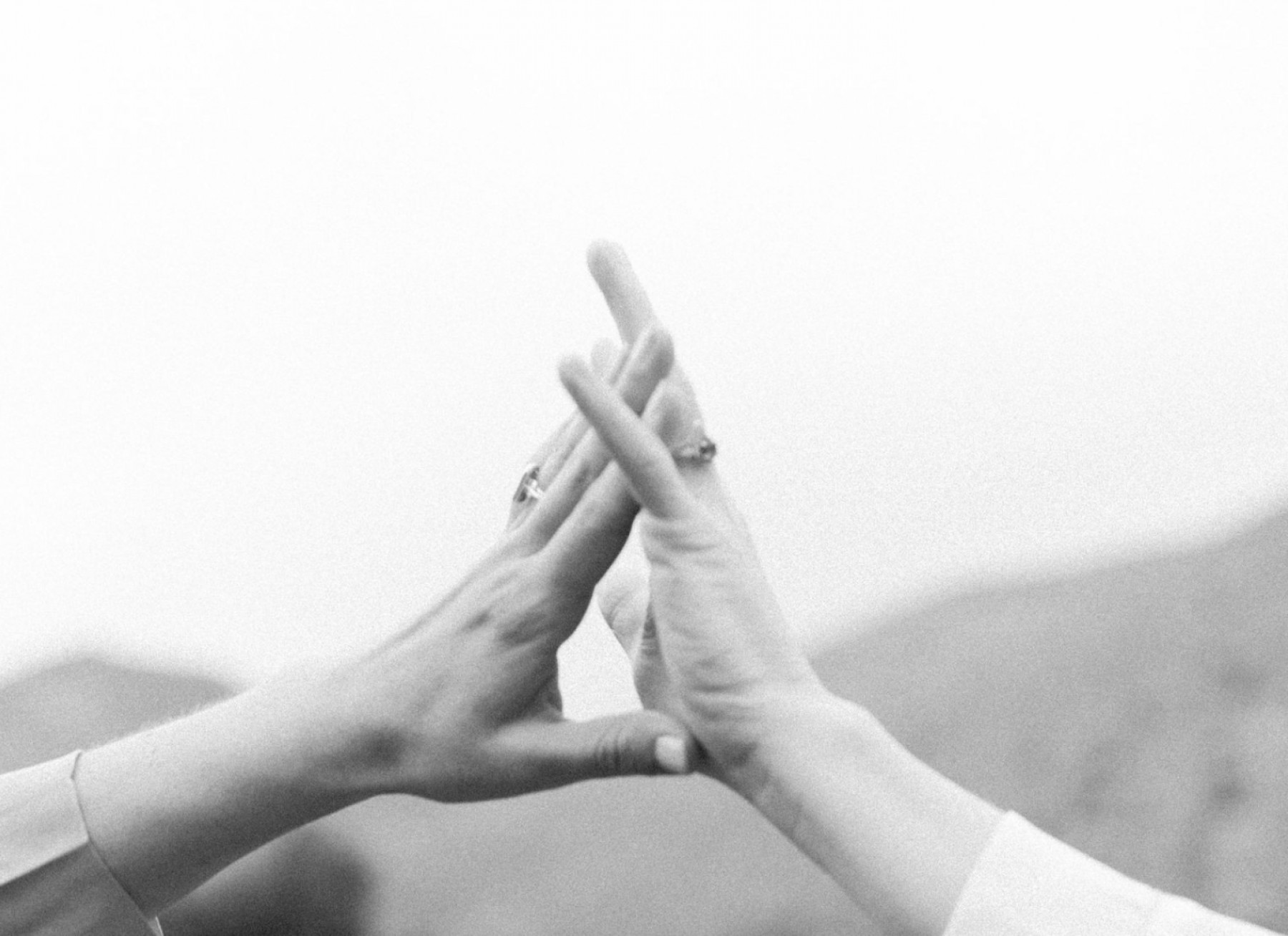 Tell us about your outfits. How many different styles have you tried?
Living in our small town made it difficult to try on a bunch of different outfits. We knew we both wanted dresses; even though Jeannie was thinking about wearing pants, we all know the attention is on the dress, and Jeannie was not willing to give up that attention! It was also important to us that our dresses flowed together. Because of that, we decided we could go dress shopping together without ruining anything. A "first look" wasn't super important to us anyways. We visited Jeannie's sister in NYC in March of 2023, and she took us to Bhldn to look for dresses. We both had ideas of what we were looking for – Jeannie really wanted a deep v-neck dress and long sleeves. Kenya wasn't as sure, but felt confident she'd know when she saw it! We were excited to check "getting a dress" off our lists, so we were perhaps slightly impulsive, which caused some anxiety later. Though ultimately we both felt happy, we'd recommend taking your time to find the right look.
What was your first dance song? Did you choreograph or improvise?
We had gone to a Brandi Carlile concert with two of our friends at the Gorge in Washington State the weekend before our wedding. We drove to the concert, and for part of the trip, we listened to Brandi Carlile's autobiography. She had so many beautiful things to say about what it means to be queer and raise children and be married. Jeannie had been a fan of hers for a while, but Kenya hadn't yet been converted to a fan. But after listening to her book, and watching her perform live (which was electric) we decided she would be our first dance. The song we chose is titled "You and Me on the Rock". It's so joyful and makes you want to dance, but also speaks to the soft but sturdiness of love. We related to it. But on the day, our dance was a little messy. Kenya hated the attention, Jeannie loved it. So maybe it's better to say the "first dance" was us dancing to that song in the kitchen before our wedding date.
Did you have any special performances or entertainment?
Kenya's sister is a professional harpist with the voice of an angel, and we had asked her if she'd write a song for us. She did, and everyone was in tears. About a month before we got married, she called us and asked us a million questions about our relationship. In the final song, she perfectly captured the essence of what we'd said. Here are a couple of lines to give you an idea:
"I'd been building a heart wall for a long time Maybe my whole life Before we met
Every brick in my fortress Was an old friend Helping to protect My loneliness
Then you appeared with a reason I could believe in And then in the distance Heard that Jericho sound You busted all my assumptions Leaving me dumbstruck Gentle and patient Now the wall's coming down".
Were there national/religious traditions at your wedding, and how did you implement them?
There were no religious traditions at our wedding; but we are both spiritual and love starting new traditions, so we started our ceremony with a meditation. It was awesome! It allowed us to really fall into the moment.
What was the most memorable moment from your wedding day?
Kenya: There are a few special moments. But the one that stands out is getting lost dancing in the drunken, loving crowd of my friends and family, only to have the crowd part and I see Jeannie with a bottle of wine in her hand, draped in glow sticks, having the time of her life.
Jeannie: An impossible question. I bawled and laughed through every person's speech. Kenya's vows were perfect. The sunset was the most unbelievable thing you've ever seen. But the dancing was exactly what we wanted. We wanted a club vibe – like we were out on a Saturday night with our friends, care-free. And once the glow-sticks came out, it was all over.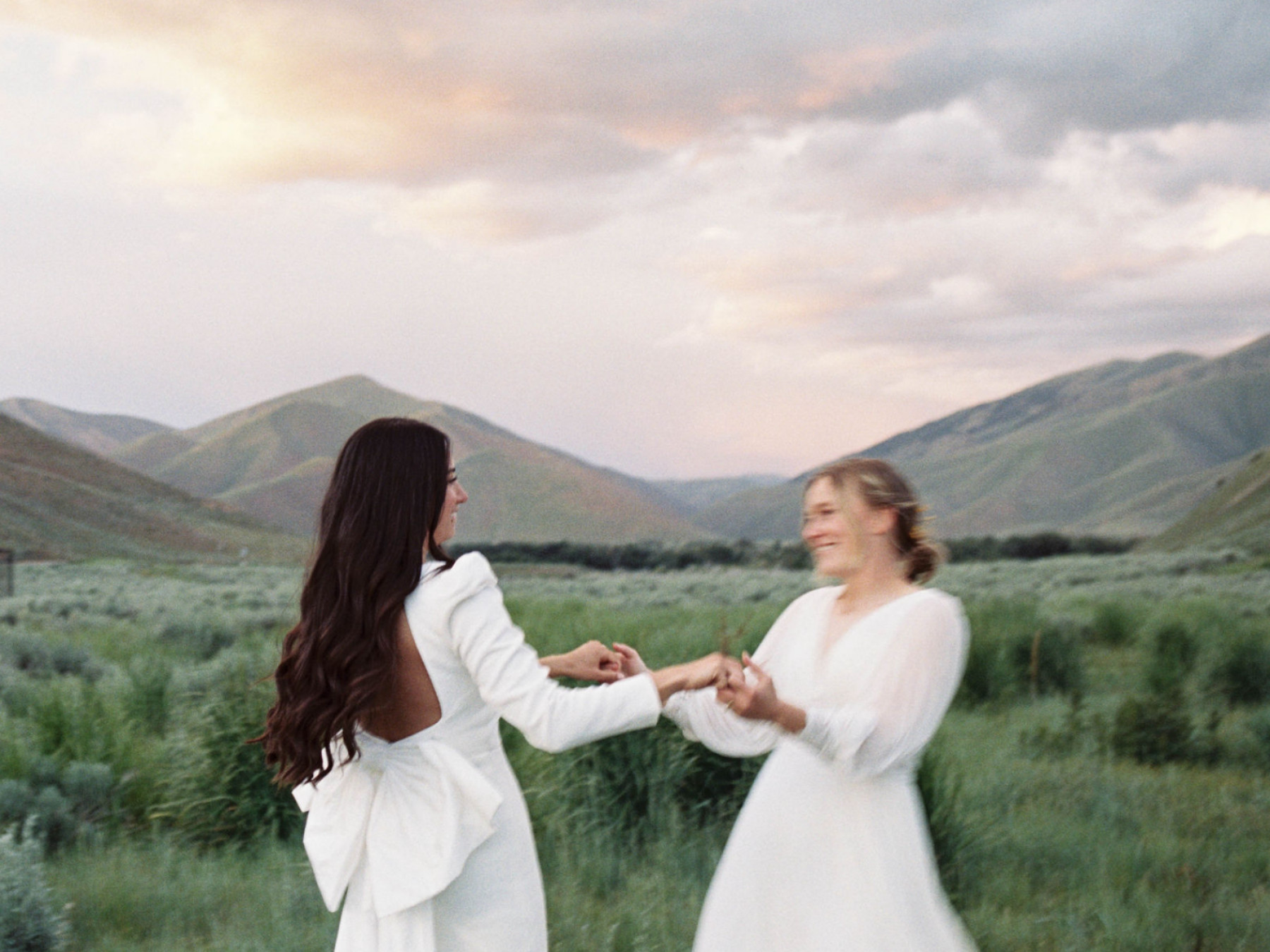 Are there any vendors that you would like to tell us a little more about?
Obviously, our photographer, Jenny Losee, was the most remarkable thing to happen to us!
What helped you cope with the anxiety before the wedding? 
I'm not sure anything did! It was when all our family started arriving that it all felt real. When family and friends arrived, and we got a few extra helping hands, that's when we could finally let it go and say "we did everything we could." And we had! It was a perfect night!
What advice would you give to couples who are currently planning their wedding?
Decide what three elements of your wedding are the most important to you and put time and energy and money into those things. Maybe it's the dress/outfits, maybe it's the food, maybe it's the DJ or the photographer! You know what you value – what is really important to you. Once you've identified these things, trust yourself and your partner. Don't be afraid to ask for help. In the end, you'll figure it out! What other options are there! And it'll be exactly as it's supposed to be.
Brides: @jmwoller, @kenyacramer
Day-of coordinator's: @pressed.in.time.sunvalley & @meganmahoney27
Caterer: @horsewoodcatering
Event location: @mountainhumane
Flowers: @fiftyflowers
Photographer: @jennylosee_
Cake: @jenna_hall
Harpist/songwriter: @allegracramer