Imagine a special celebration of love and family values in perfect harmony with nature, draped in 60's aesthetics, and surrounded by meticulously chosen vintage décor. Luella and Brock don't have to imagine it — this was precisely how their wedding day unfolded. The couple ensured that every minute detail was infused with history, affection, and significance. Rich with backstory and references, the nostalgic ambiance of their wedding was nothing short of enchanting. Luella and Brock not only preserved traditional and heartwarming elements but also introduced touches that were uniquely theirs and reflective of their personalities. The entire event was beautifully captured by THE WED photographer, Sebastian Paynter. Dive deeper into the couple's captivating love story, their journey in planning the wedding, and its heartfelt and elegant details.
Tell us a little about yourselves. How did you meet? What do you do for a living? What are your hobbies?
Brock & I met on New Year's Eve in 2018 at a rooftop party in Newtown, Sydney. Neither of us were out and about looking for anything serious, I had ended a relationship some months earlier and Brock was in the Navy with regular overseas deployments. After finishing the evening in true NYE style (messily, hazily and definitely the next morning) we parted ways. 
Thankfully I'd had the liquor fueled idea to write his number on my hand, he texted me back a few days later and we had our first proper date at a Redfern jazz bar called 'Moya's Juniper Lounge'. Brock proposed over pizza at home four years later. 
Since the wedding we have relocated interstate to Canberra where I work as a Marketing Specialist  and Brock works as a Consultant. During wedding planning I was a Senior Account Manager at an out of home company, where we regularly executed campaigns that lean heavily towards the experiential. This definitely gave me the edge over planning as I was used to liaising with multiple vendors, production timelines and events. 
Most weekends we can be found with coffee in hand, at Farmer's Markets and thrift stores. I have a passion for anything old and interesting and am constantly filling every available space in our home with trinkets and furniture that 'just needs a bit of sanding'. Otherwise, our favourite place on earth is my parents farm up on the Mid-North coast where we entertain friends and family and get back to nature. 
Where was your wedding? Why did you choose this venue?
Originally, our dream was to get married at my parents farm, Mahogany Creek. Alas, renovations coincided with our wedding year and we had to look elsewhere. When we came across BoxGrove Bathurst, I fell in love with Kayla & Mel's story. They are two sisters who inherited their grandparent's B&B, turning the site some years later into the wedding venue it is today. If we couldn't have our wedding at Mahogany Creek, I wanted to find somewhere that had the same atmosphere and BoxGrove with its rich family history instantly felt right. BoxGrove ended up being the only venue we went to see, from the moment we stepped onto the white gravel driveway we knew this was the venue for us. BoxGrove is breathtaking on its own as well as being the perfect blank space for any aesthetic to reign free. 
Having an outdoor reception was really important to us, we wanted our guests to relax in a natural, comfortable environment in more of an outdoor long lunch style than a formal dinner style. The terraced gardens at BoxGrove were ideal, on the lower terrace we had cane lawn furniture, white umbrellas and the bar with a grazing table full of the Central West region's best produce and freshly baked sourdough from our caterers who also own a bakery. On the middle layer, we had a three piece band who serenaded the guests throughout cocktail hour and dinner, turning DJ in the barn at night for the party! We had our reception dinner on the upper lawn, two tables with oak cross back chairs and a head table for ourselves and our bridal party, my two sisters as maidens of honor and Brock's brother and childhood best friend as his best men. 
What was the concept behind your wedding and how did you find your inspiration?
I have always enjoyed art and history, our wedding was inspired by renaissance and pre-raphaelite paintings from the likes of Sandro Botticelli and John William Waterhouse. I wanted our wedding to embody the raw natural landscape as well as indulge in bountiful florals that elevated the surroundings with texture and colour. Other inspirations included a mixture of Italian and English aesthetics with lots of texture and interesting details including the costuming from 'Much Ado About Nothing' (1993) and 'Sense & Sensibility' as well as LPA designer Pia Baroncini's 2019 nuptials and Lisbon creatives CENTÁ. 
Elements of the 1960s wove themselves in organically, from our 1960s church, my 1960s inspired reception dress and the 1960s Jag that drove us to our reception. Naturally, I gravitated towards more artistically lead publications like The Wed and Anti Bride for real wedding inspiration. I used Pinterest to organise my thoughts and am still guilty of adding to multiple wedding boards, despite my day having been and gone.
I also knew that I wanted to include as many vintage or second hand items in our wedding as possible, this meant 12 months of weekly visits to antique stores, thrift shops and collectors markets. I sourced all the vases we used, as well as clam shells to serve butter in, an antique champagne bucket, statues from mythology and all the silver and glass serving ware for our dessert table. The decor ended up being representative of all the road trips Brock and I did in 2022/23. We had items from the Blue Mountains, Bathurst, Nabiac, Coffs Harbour, Grafton, Canberra and Avoca to name a few. No one else would know of course, but when we looked at each item on our wedding tables we felt they told the story of us and our adventures in the last 12 months. 
How long did it take to plan your wedding? Did you encounter any challenges during the planning process?
We planned our wedding in a little over a year and to be honest, six months in I was wishing we could be married sooner. All major vendors were booked within two weeks! I knew from the start who I wanted our photographer to be, having admired Seb's work for quite some time. Videography was a slight challenge, I've never enjoyed traditional wedding videos with speeches dubbed over the top or cheesy editing (beautiful for others, but not for us). We ended up having the wedding shot entirely in Super 8mm film, our videographer Brad is such a purest and his love of the format made for some incredible creativity on the day. 
Our wedding was certainly made easier by BoxGrove, we opted for their styling package and floristry, Blooms by Kayla — co-owner Kayla just happens to be an incredibly talented florist and stylist. Luxe, the onsite hair and makeup studio took care of our beauty needs, with the hair and makeup artists kindly coming to our sweet cottage Airbnb the morning of to make for a very relaxed and enjoyable start to the day. BoxGrove also arranged transport for guests, all the furniture, accommodation for 40 people and liaised with our vendors in the two week wedding 'crunch time'. We couldn't have done it without their constant support and expertise. 
We arrived in Bathurst a few days before the wedding and the weather was awful. Strong winds, freezing temperatures, threatening rain and oh my god we're having an outdoor wedding. At one point, I lay on the grass on the upper lawn where our tables and chairs were meant to go and just stared up at the sky, willing sunshine to appear like a dramatic character from a Jane Austen novel. Thankfully, we couldn't have had more beautiful weather despite each day either side of the wedding day being absolutely horrid. 
How many guests did you have? And what was the seating arrangement at the wedding like?
101 guests. I have a very large family and Brock a very small family, it was important to us that we kept everything as balanced as possible. This number of guests felt intimate but still enough for a big party.
Tell us about your outfits. How many different styles have you tried?
I fell in love with a 1972 lace wedding gown that I spotted on Gumtree of all places. Sadly, we weren't meant to be — the entire dress would have needed to be taken apart and reconfigured to make the changes I had in mind and I couldn't face doing that to such a beautifully preserved piece. For my ceremony, which took place in a 1960s Catholic church at a convent in Perthville just outside of Bathurst I ended up going to Oleg Cassini. I knew I wanted long sleeves and from a quick browse online it seemed they had plenty of options. The store was so accommodating and size inclusive, with my whole family there (Dad included of course, as a Father of three girls he was not missing out on such a significant 'fashion parade') I opted for an off the shoulder, long sleeve gown with floral motifs, it felt timeless and classic. 
I never had 'the dress' moment other brides gush about, I didn't ever feel like it was 'the one' but on my wedding day I have never felt more beautiful. Accessories can often make or break an outfit and this was certainly true of my ceremony dress. I wore a dramatic mantilla veil that I purchased online having not had much success sourcing one in bridal stores. It originally came from Paris, with a gorgeous floral lace border that framed my face just so. I wore Nina Armando shoes, which were so comfortable in the most supple ivory leather, baroque pearl earrings from Evoka Mosman and a vintage beaded bag which I bought at some markets in Coffs Harbour — Brock's hometown. 
For my bouquet, I tossed around a million ideas from a cascading Princess Di style bouquet to a sweet posy. In the end, I chose the flowers that mean the most to me. My father has always bought my mother lilies and Brock has continued this tradition since we started dating. An understated bouquet of Casa Blanca lilies felt so right, after the wedding I took them to my Grandfather's grave and placed them there in thanks for the good weather we had. 
Arguably I was more excited about my reception dress, my 'something blue'. By Rachel Gilbert, the Emiko balloon sleeve maxi dress was part of a collection lending 'inspiration from the decedent high society of Italy's Lake Como during the 1960s' which just felt so perfectly aligned to the aesthetic of our wedding. I changed into silver ballet flats by Walnut Melbourne and large gold and rock crystal chandelier earrings circa 1980s which feature venetian mask like faces from an antique store in Leura. 
Brock wore a custom black suit with some tuxedo features, that would take him from day to night, the groomsmen wore tailored Oxford suits. They opted to forego boutonnieres in favour of chic linen pocket squares. My bridesmaids wore butter yellow dresses from Leave Her Wilder and cream heels from Sol Sana. 
Brock and I, in addition to our wedding rings by Grew&Co, wore custom signet rings by Henson & Gold which we had made a year earlier, repurposing Opals from an antique Victorian ring. These rings will be family heirlooms, neither of us had spoken about wearing them on the day and yet we both did, which speaks volumes about the connection we share. 
What was your first dance song? Did you choreograph or improvise?
We opted for a 'first boogie', an informal first dance that kicked off the dancefloor but didn't require everyone to stand and watch us. After we cut our vintage inspired cake, we led everyone into the barn. Our cake was two tiers, with the top tier a fruit cake made lovingly by my grandmother. We cut the cake with a knife that has been used by generations of Brock's family to cut christening cakes. 
We improvised some moves to 'Signed, Sealed, Delivered' by Stevie Wonder with classic jazz numbers featuring throughout our day. Our ceremony songs included 'My Girl' by the Temptations, 'A Sunday Kind of Love' by Etta James, 'What a Wonderful World' by Louis Armstrong and 'This Will Be' by Natalie Cole. After our first bougie, we went straight into a dancefloor classic, '500 Miles' by the Proclaimers honoring my strong Scottish heritage and of course, bringing everyone onto the dancefloor in one excitable crush.
What was the most memorable moment from your wedding day?
As the sun set and we were off taking photos, our guests got up to dance in and around the long linen clad tables, whilst one of my friends took over the live band's microphone for a rousing rendition of 'I Wanna Dance With Somebody' by Whitney Houston. Brock and I watched them all from a distance and it really was one of the most beautiful moments from the day, so unscripted and entirely the guest experience we had in mind. 
Are there any vendors that you would like to tell us a little more about?
All our vendors made for a seamless experience for us particularly our venue, however we would like to make special mentions of our photography and videographer, afterall apart from your spouse — they are who you spend your wedding with. 
Our photographer Sebastian Paytner who we flew in from Adelaide, was the most incredibly talented, generous and warm person from the get-go. Seb's background is in fashion and he is heavily influenced by film photography, giving everything a dreamy nostalgic feel; it's no wonder his wedding work has now been featured in Vogue. For our wedding, he shot in both digital and 35mm film. 
Seb instantly put everyone at ease. He blended seamlessly into the chaos of the day, capturing all the heavenly in-between moments as well as all the big moments. Seb has a way of coaxing the magic from the mundane, an empty plate with knife and fork askew can look so beautiful through his lens. Brock is usually less than comfortable in front of a camera (in fact, refuses to have photographs taken at the best of times) and yet with Seb's guidance he was transformed into the most easy going, GQ-esque model. 
Our videographer Brad who founded his Super 8 videography company Crear Bello, has been using the format since 2013 and unlike many other videographers who shoot in 8mm film, Brad hand processes the film himself in his lab and then converts it frame by frame into a moving digital image. Brad has such pride and passion in the format, his creativity was wonderful to experience. 
Seb and Brad worked so well together, our guests couldn't believe that they had never met before our wedding. The two of them were our ultimate cheerleaders on the day, they made us feel incredible about every detail and decision. 
What advice would you give to couples who are currently planning their wedding?
Make everything personal, if it doesn't feel like you as a couple — leave it behind. 
Did you have any pre-wedding events, like a rehearsal dinner or bridal shower?
We had our rehearsal dinner at Church Bar, very appropriate for a wedding rehearsal dinner as it's an old Anglican church hall that has been converted into a wine bar with a spectacular pizza menu and delicious cocktails. Brock had wanted pizza for our wedding dinner, however, we also wanted local caterers and pizza was sadly not on the menu so it was wonderful that he could get his fix the night before. Friday night pizza is now a tradition of ours, we've been trying a different pizza place in Canberra since moving here. 
Did you have any special or unique elements such as a signature cocktail or a fragrance at your wedding? What about the wedding menu?
When we got engaged, Brock and I purchased our wedding scents. We would then wear these each time we did anything wedding related in the hopes that when we smell these perfumes, we are reminded of our day. Both were from Maison Margiela's Replica collection which coincidentally is a collection designed to 'relive personal memories through scents'. Brock chose Jazz Club and I chose Autumn Vibes. Given that we were married in Autumn and Jazz was an important part of the soundscape of our day — we couldn't have chosen more perfectly. 
Despite having a very traditional Catholic wedding ceremony, our day was filled with untraditional elements to keep it from feeling stuffy and outdated. 
The chapel that we were married in did not allow any confetti or flower petals, so instead we had our guests form a guard of honor with ivory ribbon wands that had little bells attached. We ran through the centre with everyone cheering and celebrating us as the newly minted husband and wife which was so fun and really transitioned our energy from serious ceremony to light hearted reception. 
We kicked off our reception with a champagne tower, with a rogue cork shooting off early — luckily caught by one of the groomsmen. We served Piper Heidsick all evening to the delight of our guests, the dance floor was mostly definitely fuelled by champagne. We had a signature cocktail, an Elderflower Spritz which we chose due to its lightness and crowd pleasing sweetness. 
Brock and I usually eat dinner early, so we decided to do the same for our wedding. We allowed a full two hours for our guests to leisurely eat share platters of vodka rigatoni, ravioli in burnt sage butter, spatchcock chicken and slow cooked lamb. For speeches, we opted for very little. My father was our MC, my mum gave the traditional 'Father of the Bride' speech and then Brock made a speech on behalf of the two of us. 
Our guest book was a last minute addition, originally we were going to do an 'At the Beep' guest book however, left it too late and questioned whether it was something our guests would enjoy. Instead, we opted for a tablecloth — during my childhood my grandmother would hem a tablecloth that her children and grandchildren would sign and decorate. The tablecloth would be used at Christmas until it was so faded, it was time for a new one. Our guests used fabric pens to write us messages, sign their names and draw little pictures and we now have a very special tablecloth — practical and sentimental. 
Dessert ended up being a highlight of the evening, my mother and sister spent the week prior baking all sorts of treats including rocky road and mini caramel slices. We also included my family's tradition of a 'lolly bowl' at any major event with jaffas, dark chocolate liquorice bullets, snakes and liquorice allsorts. Slices of wedding cake also accompanied the table of delights, which was strategically positioned next to the dancefloor. 
The other highlight of the evening was the late night McDonald's delivery. We had burgers, chips and nuggets delivered to the venue and then served on large silver platters. The reactions from our guests were priceless, with some cramming fries into their suit jackets and purses for the ride home.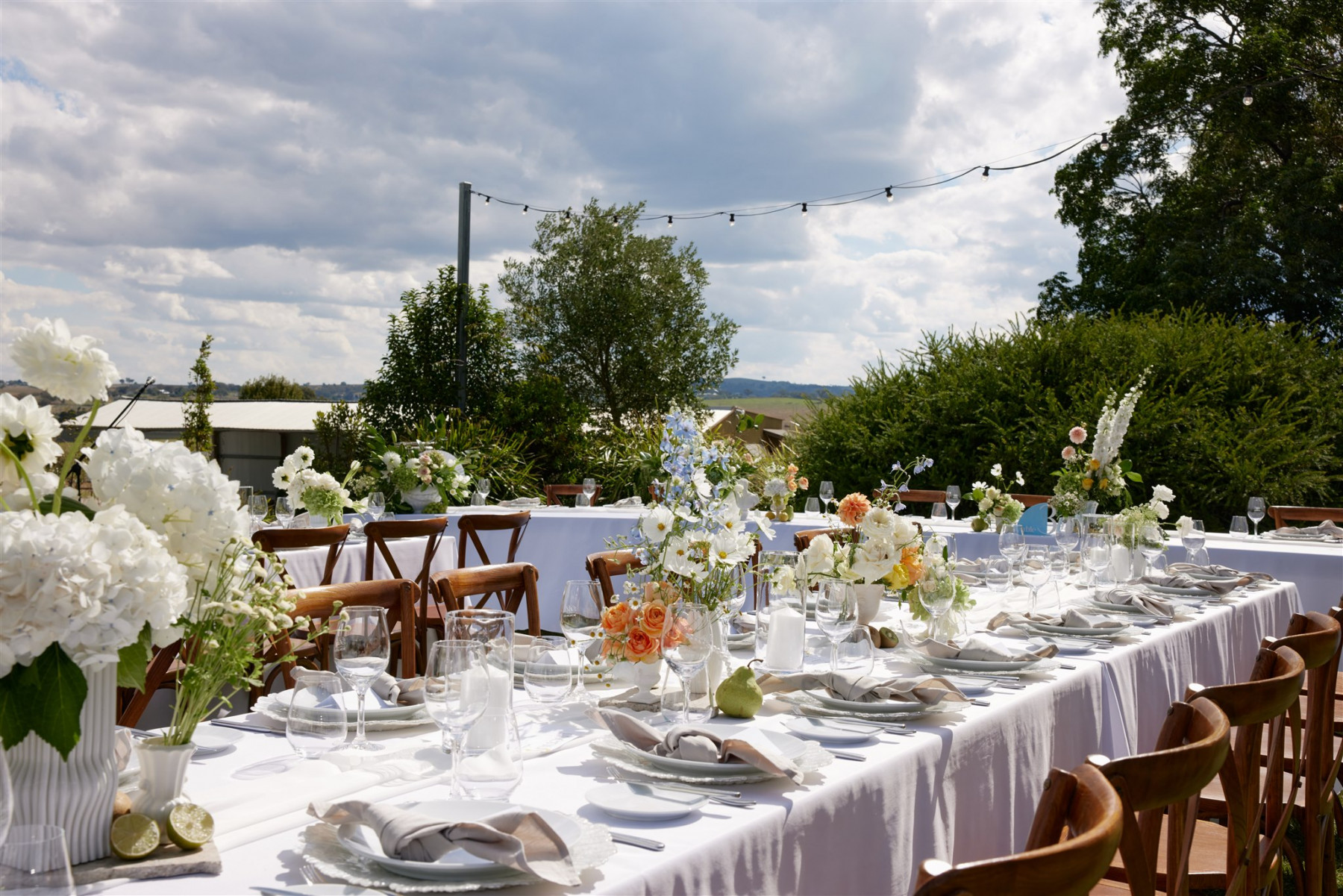 What gift from guests do you remember the most?
The night before our wedding at our rehearsal, my friend Lewis gifted me a book he found whilst cleaning out his grandmother's house. From 1945 and titled 'A Marriage Manual' it provides practical tips for marriage which made for some amusing reading. He wrote me the most beautiful note inside the cover, with the book first and foremost being a symbol of his love and affection. The sentiments he included in his note carried me through my wedding day, it was so touching and memorable. 
What helped you cope with the anxiety before the wedding?
We both trusted in the foundations of our relationship, honesty, communication and respect. We made sure to take time away from wedding planning and to remind one another that at the end of the day, no matter what happens, the day is a success if we end it husband and wife.
Reception Venue: @boxgrovebathurst
Ceremony Venue: St Joseph's Perthville 
Hair & Makeup: @luxehairandbody
Florals & Styling: @bloomsbykayla
Photographer: @sebastian_paynter_photo 
Videographer: @crearbello
Music: @thewhitetree
Catering: @bootlegbakerybathurst
Bride Ceremony dress: @olegcassini
Bride Reception dress: @rachelgilbertau
Bridal Alterations: @sarahtaibridal 
Bride Ceremony shoes: @nina_armando
Bride Reception shoes: @walnutmelbourne
Groom shoes: @juliusmarlow
Bride Ceremony earrings: @evokasydneymosman
Bride Reception earrings: @leuravintage
Signet rings: @hensonandgold
Bride Engagement Ring & Wedding Rings: @grewandco
Bridesmaid dresses: @leaveherwilder 
Bridesmaids shoes: @solsanathelabel