Madison and Alex wanted a wedding that was traditional but still fun and special. Their day began in the cathedral, where they go every Sunday, and by the evening, turned into a party. We talked to the bride to find out more details about how it was, as well as the romantic history with her now husband.
How did you two meet?
We met on a dating app called Hinge. At the time, Alex was an investment banker, and I was doing my MBA, so neither of us had much free time. We got to talking and instantly felt at ease. We ended up having so much in common and having very similar life goals. It was definitely meant to be. 
What was the concept behind your wedding and how did you find your inspiration?
We had a winter wedding mostly due to scheduling conflicts and the fact that we didn't want to be engaged any longer than a year, as we are Catholic and were waiting to move in together. I had always envisioned a spring wedding, but the winter wedding gave me a whole new creative challenge. I went really minimal and modern with whimsical florals to give our wedding a unique feel. I didn't want the basic wedding colors or "theme" so I went with my gut and decorated our wedding like I would our home.
Where was your wedding ceremony?
Our wedding ceremony was at the Cathedral of Christ the King in Atlanta, Georgia. This is the church that we go to every Sunday, and I personally think it is the most beautiful Catholic Church in the Atlanta area. There was no second guessing where our ceremony would be. The church has beautiful glittering gold mosaic tiles behind the altar and it's a very special place for us personally.
Which venue did you select for the reception?
We had our reception at Upstairs Atlanta in Atlanta, Georgia. I selected this venue because I wanted something cool and modern that would add character to our wedding. It is a historic building nestled among a couple of other really pretty historic buildings. Not only was the inside of the venue stunning with its white walls and painted beams, but they did a fabulous job modernizing the space with their custom bar and beautifully renovated bathrooms. The travel experience to the reception was important to us and we loved this venue was in a scenic area of town, so our guests had a really pretty spot to pull up to. 
How many guests did you have?
Just under 100 — we wanted to keep it small and intimate.
Tell us about your outfits.
The dress — this is the one thing I get the most compliments on. It was the Amber from Suzanne Neville. When I tried it on, I knew I was in for trouble because I had already purchased a bigger, more elaborate one. But it felt way more "me". I loved the structure that made the gown look modern and a bit funky, yet classy and sexy at the same time. I also loved the idea of a long sleeve in winter, especially because our wedding ceremony was happening within the context of a Catholic Mass. 
Since for the ceremony I had a rather formal dress with long sleeves, I wanted a party dress. I love to dance, so I wanted a bit more freedom when the dance floor headed up. I opted for a short white beaded fringe dress by Nadine Merabi. It was a total hit, and the pictures were so fun with the extra movement in the dress. I was going to decide if I wanted to stay in my gown the whole night or change into my party dress on the wedding day & I am so glad that I opted to change.
Shoes were Jimmy Choo glitter pumps, earrings were from Ring Concierge, feather bag from Nordstrom.
The engagement ring is from Sabri Guven in Alpharetta, GA. Our wedding bands are from our grandparents that have passed.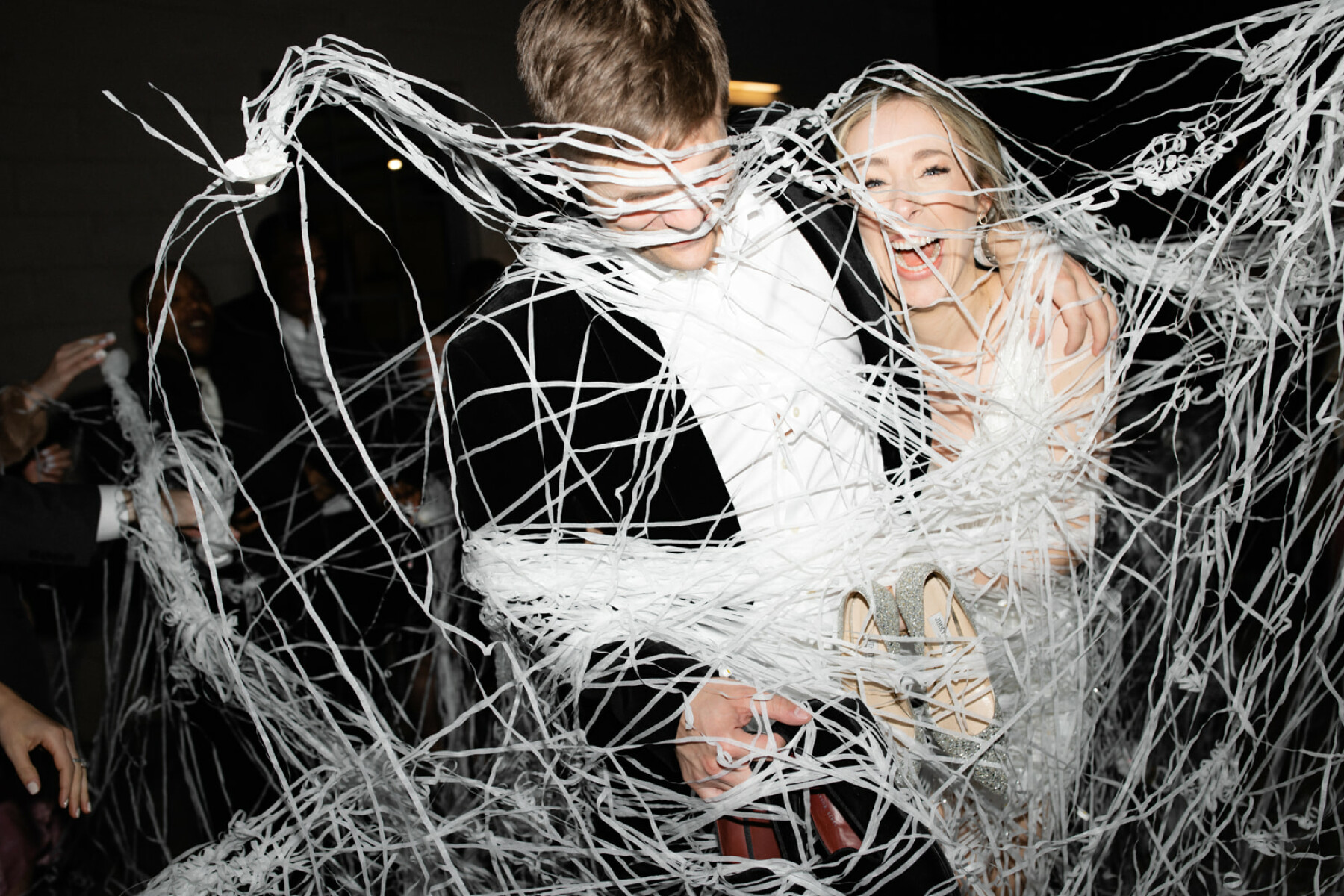 How did you spend the morning before the wedding?
The bridesmaids and I got ready at the Kimpton Sylvan Hotel — a beautifully renovated mid-century modern hotel. I absolutely loved the chic and minimalist decor in the space. Plus, they had a perfect hospitality suite for the bridal party. We lounged around, ate, did our hair and makeup all together, the bridesmaids got dressed, and then I did a dress reveal with them because most of them had not seen my attire aside from my mom, my husband's mother, and sister, and a friend who came to my alterations appointment to learn how to bustle it. I then did a first look with my dad, and then my husband, and then we took group photos before heading off to the church for the ceremony.
What was your wedding cake like? And where did you order it?
We went the untraditional route with our wedding cake and had a friend (who has her small home Lil T's Bakery) make it. Neither of us like a really sweet cake and all the tastings we went to were just not cutting it. Our friend made us a tasting kit and her cake was absolutely delicious. The entire cake was gone, and I had several comments from guests that it was the best wedding cake they've ever had.
Are there any vendors that you would like to tell us a little more about?
One of the first vendors I booked after getting our date with the church was a live painter, Watch Maggie Paint (Maggie Kuhn). She is so talented and captured the moment perfectly. I loved the idea of having a painting in our home celebrating our marriage while also entertaining our guests all at the same time. It was a splurge, but so worth it.
I absolutely loved my photographer Mary Hannah Harte. Her style is fabulous and I love the way she captures organic moments — those are truly some of my favorite photos from the day. She also did film shots for us that turned out magical.
Mary Hannah Harte referred me to Rachel Carter for hair and makeup and it came out perfect! I don't wear a ton of makeup and I wanted a really natural look for the wedding. She was also amazing and was willing to work with me on my hair until it was just right. 
We took dance lessons with International Dance Studios, and it was a blast. Highly recommend.
I used Weddings by Epic as my planner and they were very helpful getting everything organized and kept me sane. 
Lovely Bride Atlanta is where I purchased my gown. They were amazing when I came in by myself in a panic that I didn't like my first dress anymore. White Orchid Bridal was my seamstress, and she's amazing! Such stunning craftsmanship and talent. Could not recommend enough.
Invitation suites were designed by me through Magnet Street, as well as all the stationery. I made our seating chart myself as a little DIY project.
Venue: @upstairsatlanta
Planner: @weddingsbyepic
Photos: @maryhannahharte
Gowns: @suzanneneville, @nadinemerabi
Tuxedo: @nordstrom
Hair & Makeup: @rachelcarterbeauty
Catering: @boldeventsatl
Cake: @lil_t_bakery