Therese finds endless inspiration from her travels to Los Angeles and Mexico with her fiance Daniel. Therefore, at the wedding, she wanted to recreate the holiday mood, which is why the couple chose an amazing wedding venue near Melbourne - a large historic blue stone manor - and incorporated a boho-chic-inspired aesthetic. We spoke to Therese about how she prepared for her amazing wedding as well as her love story with Daniel.
Tell us a little about yourselves.
Daniel and I first met at the age of 15 at our high school's Year 10 dance. As soon as we met, we instantly connected, became best friends, and had soon fallen madly in love. We were together for seven years until 2015 when we decided to part ways for a little while. It was extremely hard for both of us, but in the end, it was probably the best decision we have ever made. The time apart gave us a chance to grow and live independently. When we got back together, our relationship was stronger and more mature than it ever had been before. And, once we had reunited, we both knew we were meant to be together forever.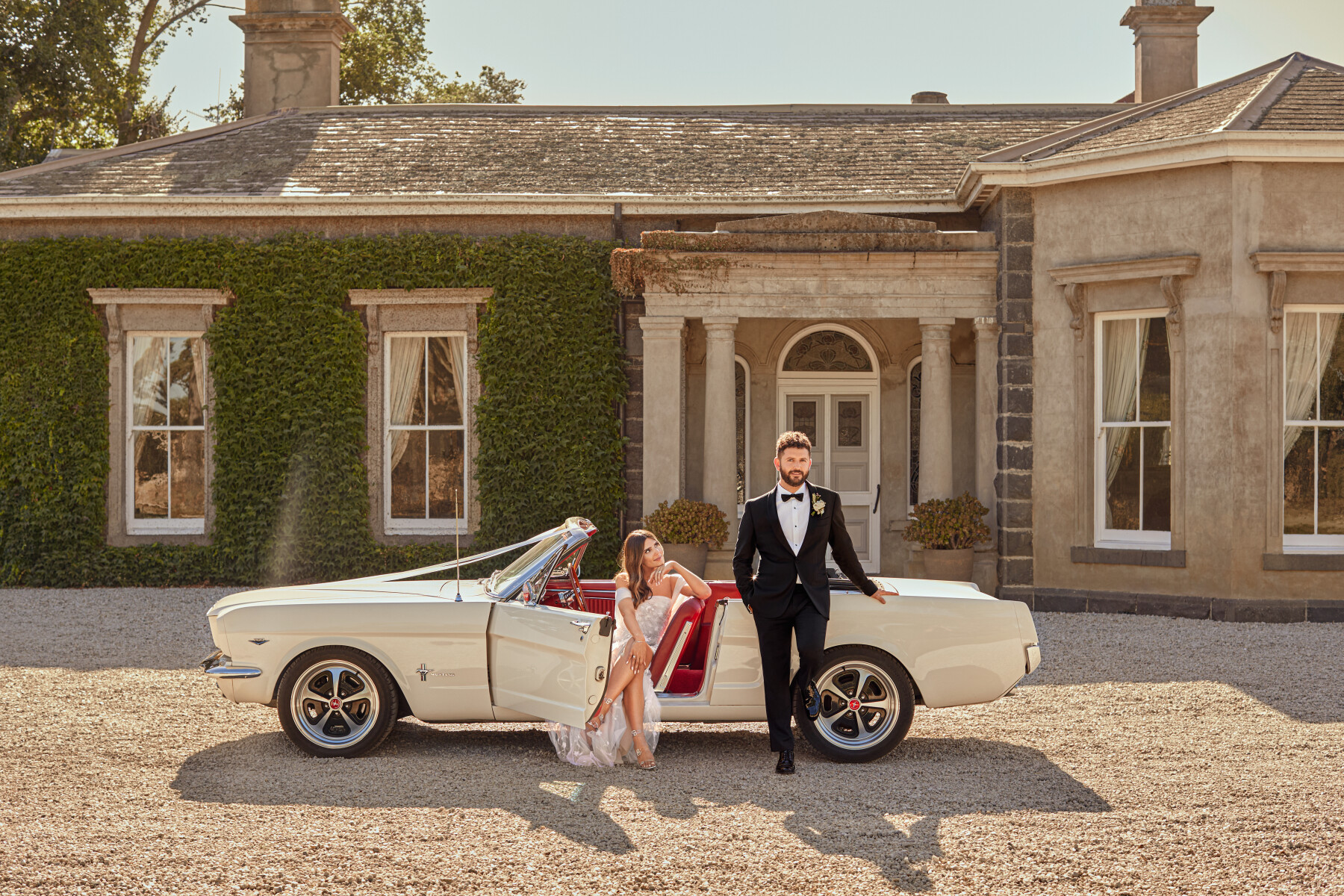 What do you do for a living and for fun?
Daniel is an electrician and runs his own business, and I am an event manager. I love planning and styling weddings, so I knew with our wedding that I wanted to do something special. Daniel and I love traveling together, catching up with friends, and going out to restaurants and bars. Our last overseas holiday was in Mexico and we can't wait to go back to our favorite place, Tulum. 
What was the concept behind your wedding and how did you find your inspiration?
From the beginning, we knew that our wedding would never be traditional. We both wanted to celebrate our love with a weekend getaway to give our families and guests an experience they would never forget. We also wanted to enjoy ourselves and take in every special moment without feeling rushed or overwhelmed with the day. I loved the idea of creating our entire wedding layout with an open canvas to complement the surroundings and picturesque landscape of the estate. My style even before our wedding has always come from the places Daniel and I visited whilst overseas in LA and Mexico. I wanted our wedding to be an exact representation of us and I felt the motif needed to be carried out throughout the entire wedding process. My concept was ethereal, with soft neutral color tones and textures, an overhaul of hanging chandeliers, with white and green florals throughout our tablescape to create a timeless look and elegant feel. I incorporated a boho-chic-inspired aesthetic with a display of crystals, cacti, and rattan furniture. Daniel and I also love the moon and the stars, so this element was carried out in our invitations as well as our table and bar signage. My stylist Laura, owner of Wanderlust Creative, exceeded every detail you could imagine and made our vision for our wedding come to life.   
Where was your wedding? Why did you choose this venue?
Our wedding took place at Barunah Plains, a private estate in Hesse, about an hour outside of Melbourne, Australia. It was the only wedding estate we looked at and we instantly knew it was the one for us. There was a one-weekend date left in February, which happened to fall on my 30th birthday, so we booked to have the wedding held on Saturday followed by our wedding recovery and my birthday the next day. We felt like it was meant to be. We both loved the estate as it felt like a home away from home with a big heritage homestead that could fit both our families and also our bridal party. There is a long bridge that takes you to a breathtaking open field where we built our reception marquee. Everywhere you looked, there would be gardens overflowing with florals and palms. Opposite the homestead was another hidden area with an outdoor pool to entertain guests, which was the perfect spot to hold our recovery brunch. The entire estate was magical and felt so special to us.
How many guests did you have?
We had 168 guests.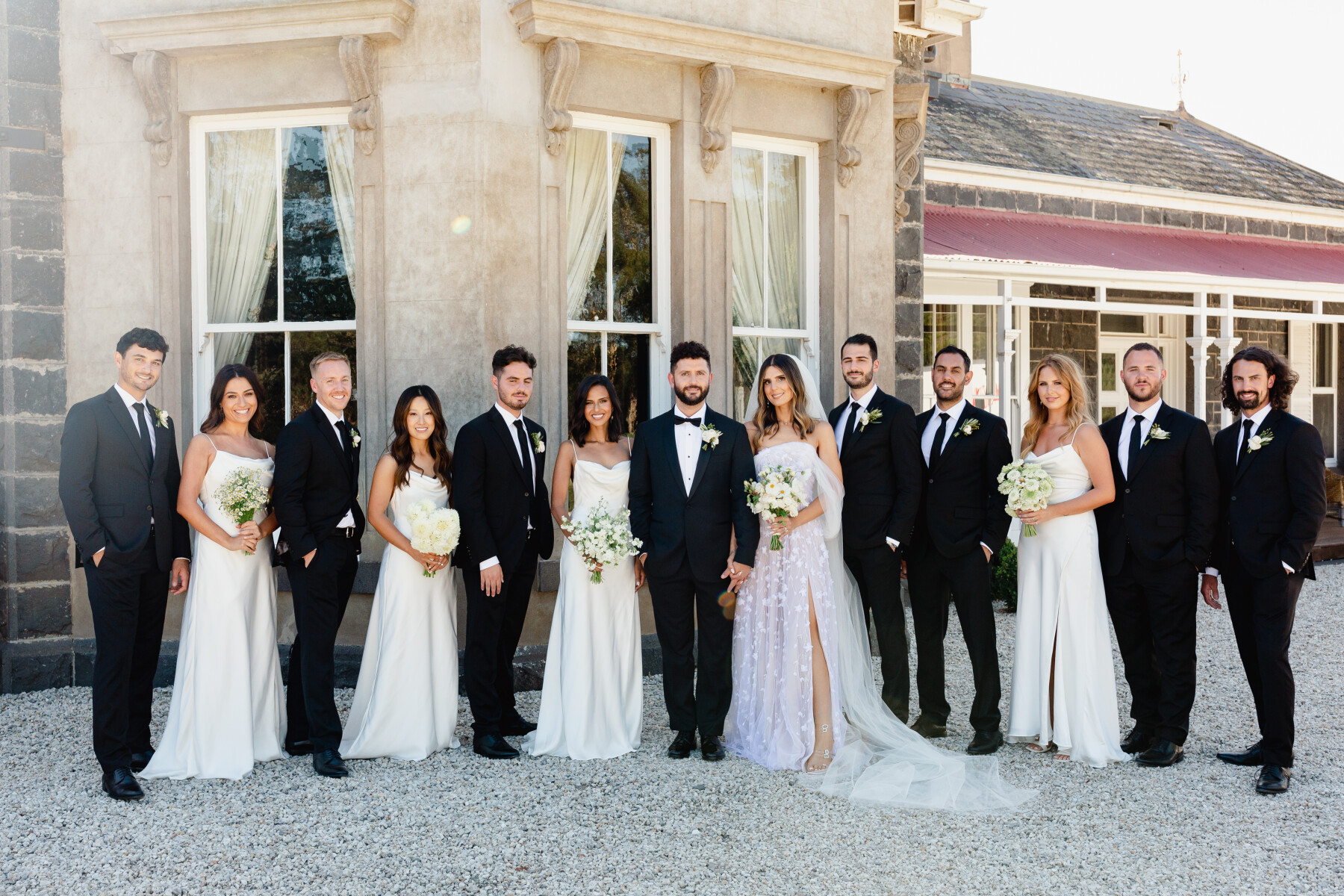 Tell us about your outfits.
My wedding gown was by Elihav Sasson. It was made up of sheer white sweeping tulle with delicate embroidered flowers, embellished with crystals and pearls flowing down the gown. My favorite part about it was that it's backless with mesh holding the gown up and two pieces of tulle effortlessly draped off the arms. The bottom half of the original gown was completely sheer, with no underlay, and had a split across the bust. I decided to customize parts of my gown by adding a soft neutral underlay and I removed the split. My wedding gown was everything I had ever dreamed of and more, as I had always envisioned it to be a reflection of my style, but also with a romantic, elegant, and timeless look. I accented the gown with Amina Muaddi crystal heels and a pair of vintage Givenchy earrings. Daniel wore a black tuxedo from MJ Bale, a bowtie from Hugo Boss, and patent leather shoes from Doucal's. 
What was your first dance song?
Our first dance was 'Can't Take My Eyes Off of You' by Lauryn Hill. We wanted a song that would be a little more upbeat than slow to suit us as a couple and to set the tone for the rest of the evening. It's such a beautiful and meaningful song and it is so special to us. 
What flowers did you choose for the bride's bouquet and why?
My bridal bouquet was a combination of David Austin garden roses and cosmos. During the planning stages, I discussed different floral options with my florist Nat, owner of Wild Flos. I knew I didn't want traditional white roses, so we decided on creating something delicate and soft that would complement my gown.
Each one of my bridesmaids had a floral arrangement made up of a different type of flower. Nat used Zinnia, Dahlia, Chamomile, and Phlox. It was a point of difference as they all had the same dress, which I loved. Nat was able to incorporate these stunning bouquets with the entire ethereal concept, especially showcasing florals with cacti and creating a flow-on effect from the ceremony to the reception. 
What was your wedding cake like? And where did you order it?
Our stunning wedding cake was made by Mirjana, owner of Torte by Mirjana. It was a three-tiered vanilla cake with gin and elderflower berries, with painted light blue and white brushstrokes, little pearls and ruffled fondant brushed with luster dust. The cake was then topped along the sides with a canopy of flowers to complement. Not to mention, it tasted as amazing as it looked!     
Stylist: @wanderlust_creative
Florist: @wildflos 
Photographer: @erinandtara
Videographer: @moonandbackco 
Catering: @blakesfeast 
Wedding Cake: @torte_by_mirjana 
Venue: @barunahplains
Dress: @elihavsassonofficial 
Hair: @cenk.hair 
Makeup: @meggiemmakeup
Suit: @mjbale 
Music: @rutherfordentertainment